Marguerite M. O'Neill Park in Mission Viejo is one of my favorites in this city. Living in Orange County, I've become accustomed to streets, shopping centers, and parks bearing the names "Marguerite" and "O'Neill."
The Rancho Mission Viejo Reserve website recounts the history of the rancho which once encompassed the land spanning from present day south Orange County to where Camp Pendleton now stands.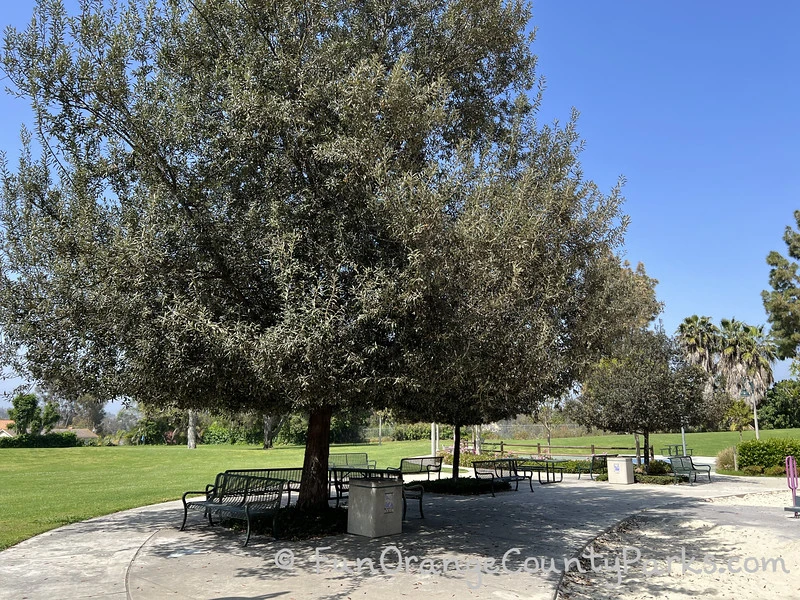 Before going further, I think it's important to acknowledge that ranchos took over native lands. This park is located on the ancestral land of the Acjachemen people. It's important to know whose ancestral homelands we visit, as well as the diverse and vibrant Native communities who make their home here today.
Marguerite O'Neill was a fifth generation Californian and custodian of the land. The website speaks highly of her: "To this day, Marguerite O'Neill's admonition to 'take care of the land, and the land will take care of you' continues to guide the family."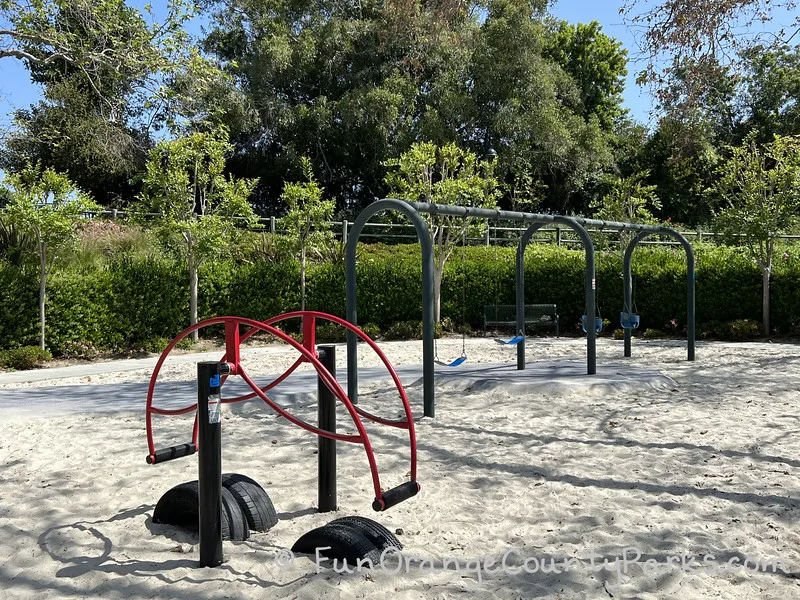 This neighborhood park is not inside the current Rancho Mission Viejo Reserve, but in a suburban Mission Viejo neighborhood punctuated by colorful play structures, shady patches of lawn, and rosebushes.
Directions MM O'Neill Park in Mission Viejo: This fun little park is in a neighborhood close to the freeway off La Paz Road. From the 5 Freeway, exit La Paz and head east. Turn left on Mosquero Lane and take the 2nd left onto San Roque Drive around the Tennis Club. Make your first right on San Doval Lane and park near the fence on the left side of the street. (Park Address: 24771 San Doval Lane, Mission Viejo) MAP to Marguerite M. O'Neill Park in Mission Viejo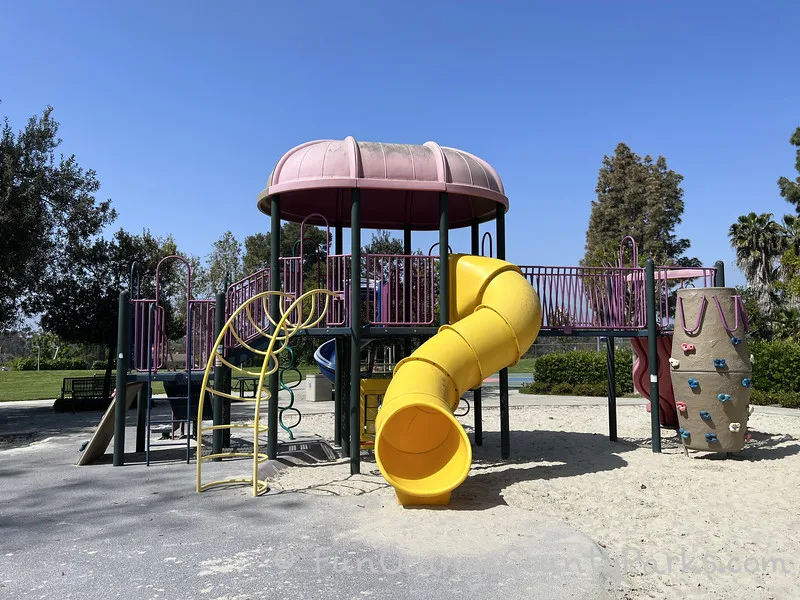 Highlights:
I love the easy viewing of play area from benches and picnic tables — you can see the whole playground from here.
Brilliant yellow, red, blue, green and purple play area
Red standing teeter-totter, tunnel slides, twisty slides
A sidewalk loop around the playground with a big grassy area in the middle (some ups and downs – not flat)
2 baby swings, 2 bench swings
Far away from the road
Lovely grassy area for playing frisbee or ball
Big shade trees over the benches and picnic tables
Basketball court is near the playground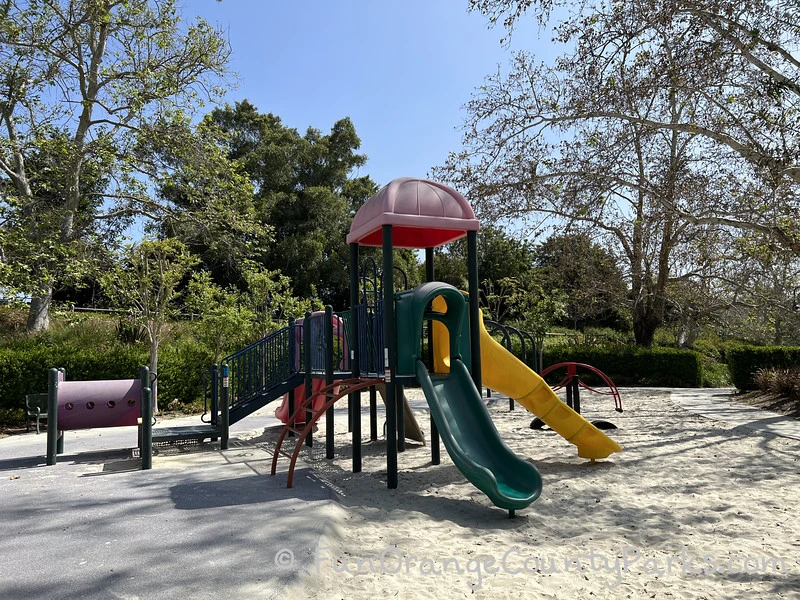 Be Aware:
NO bathrooms
Parents be aware of arches above ladders – you'll bump your head
One large drop-off near top of 3-slide
A little walk up a slope to the play area
It is close to an elementary school so be aware of pick up and drop off times
If you are looking for this address on your nav system, it might come up as MM O'Neill Park rather than Marguerite M. O'Neill Park.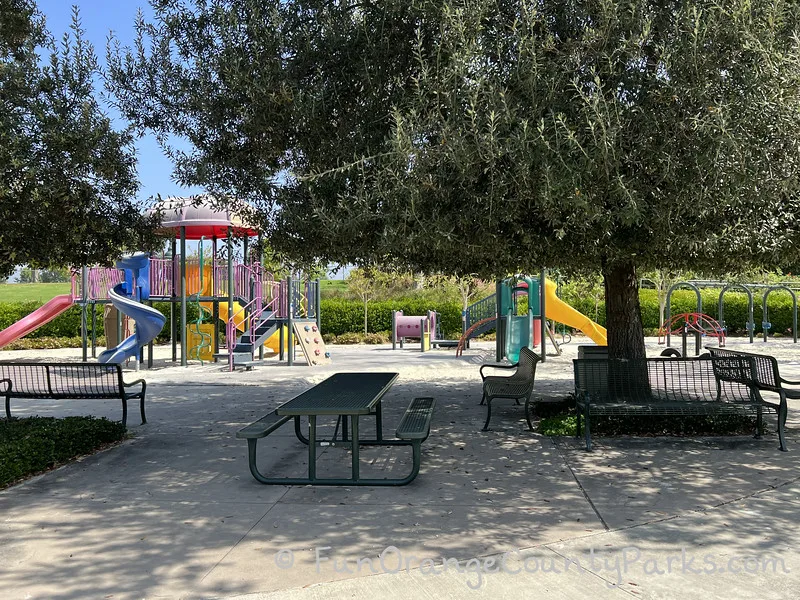 Checklist:
Parking on San Doval (quiet street)
Recycled rubber and sand play surfaces (sand seems especially clean and white here)
NO restrooms
Plenty of shade from crepe myrtles, mature sycamores, pine and olive trees
10 benches for viewing kids and picnic tables
Half court basketball surrounded by rose bushes and separate from playground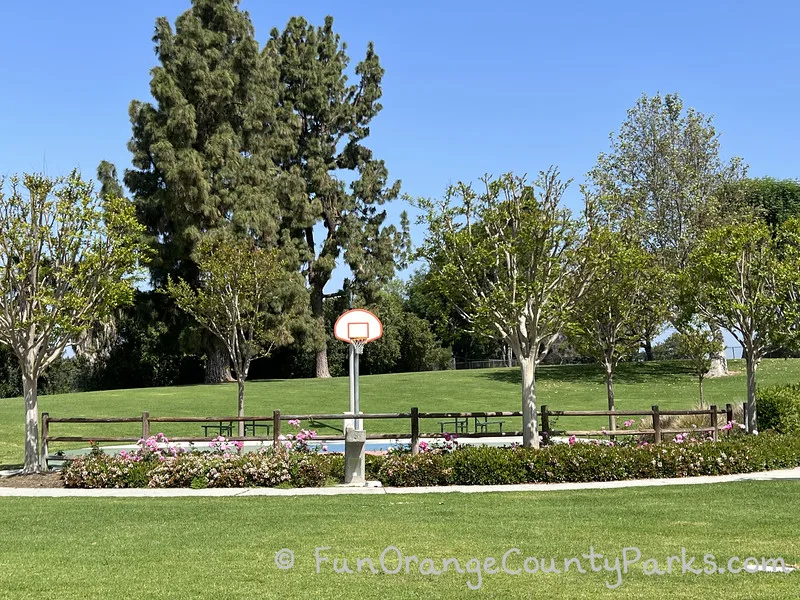 Nearby parks:
Originally posted in January 2009.