Christopher Park in Mission Viejo got an overhaul in Summer 2020 — almost 10 years after I first visited it! It used to be a good little neighborhood park with a too-tall-for-toddlers slide. It's much improved!
You can only understand how much BETTER this is if you compare it to the old playground. I kept photos from my 2011 post about the playground at the end. Scroll all the way to see the improvements.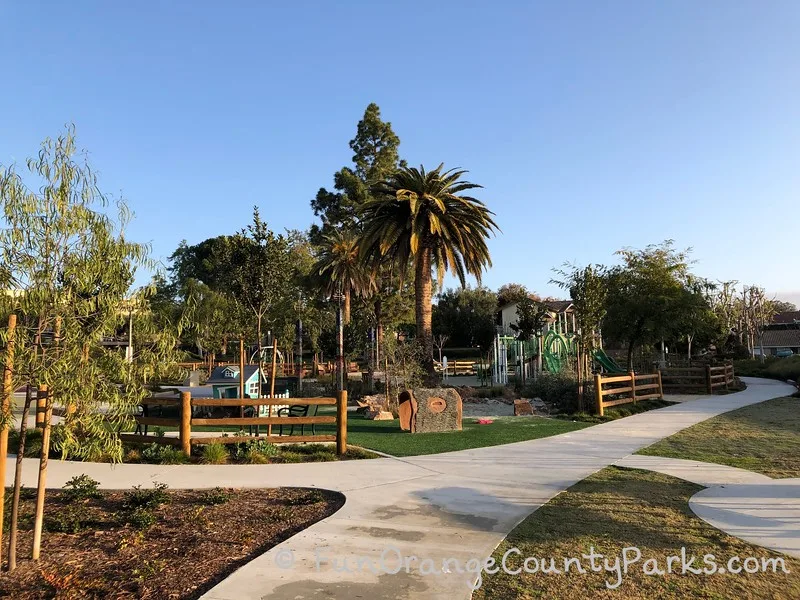 Directions to Christopher Park in Mission Viejo: Christopher Park is in a neighborhood off Trabuco (between Alicia Parkway and Marguerite). From Interstate 5, exit at Alicia Parkway and head towards the foothills. Turn right on Trabuco and take another right on Carlota Drive. You'll see the park straight ahead of you. Make a left onto Valpariso to park. (Address: 26801 Valpariso Drive) MAP TO CHRISTOPHER PARK IN MISSION VIEJO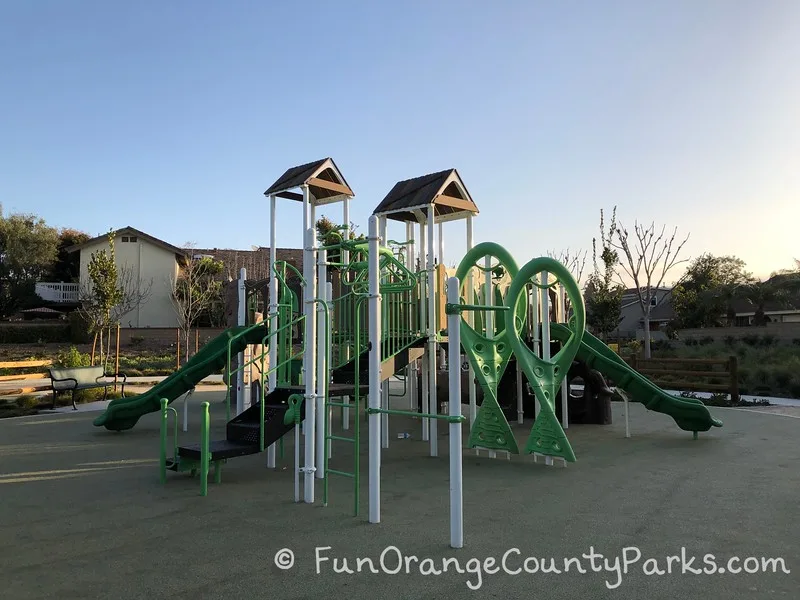 Highlights:
This park in a nice neighborhood surrounded by trees and lush green grass. The park is away from any busy streets.
I felt like we were in a sunken garden with the two massive palm trees providing shade along a little man-made riverbed. It's an oasis!
The seating areas for caregivers are top notch!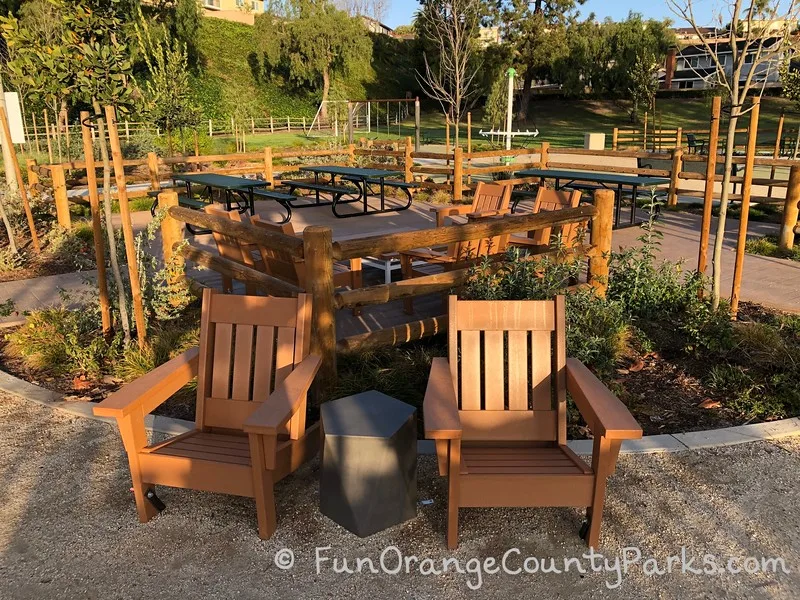 The climbing elements on this playground are unlike any I've ever seen! The overall feel is like a treehouse with logs punctuating every play structure.
I loved that the playground feels like it has different "rooms" so families can spread out and rotate around to different play structures.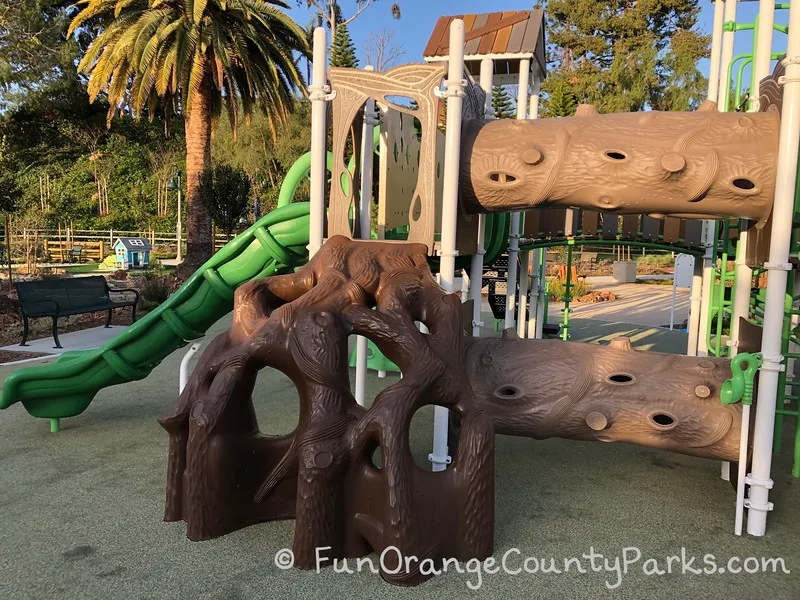 This next feature is probably my favorite because it provides such a challenge and such a reward for getting to slide.
I mean, look at that! You need to walk across different levels, think ahead, and use all sorts of gross and fine motor skills! There are handles, drops, ladders and openings on all sides.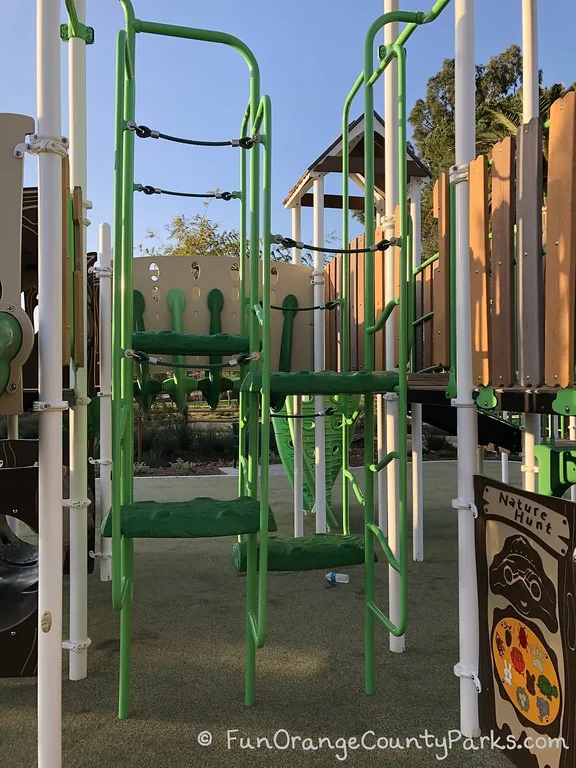 And the monkey bars! And the climbers where you get to the top and have to navigate through tunnels to get to your destination.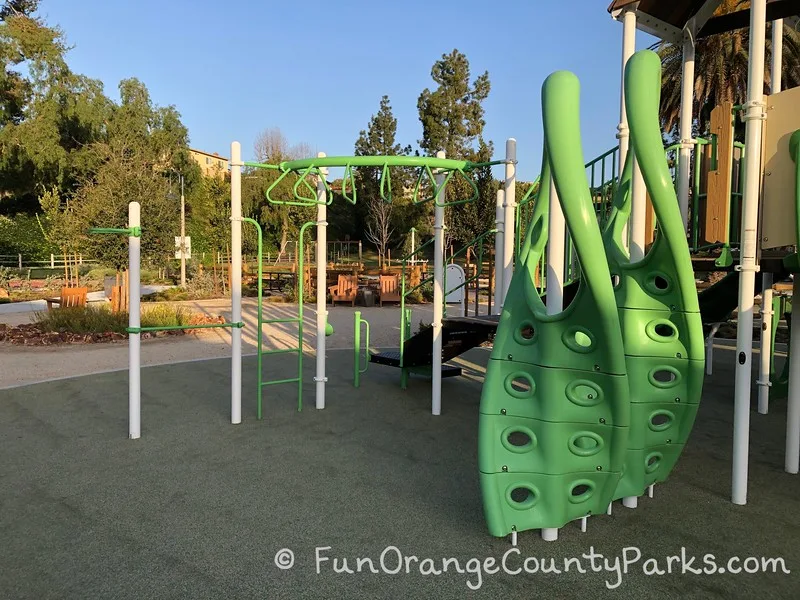 Little ones the tree tunnel and clubhouse near the sand pit. It feels like a little resort property for them. Definitely bring sand toys for shady play in the morning.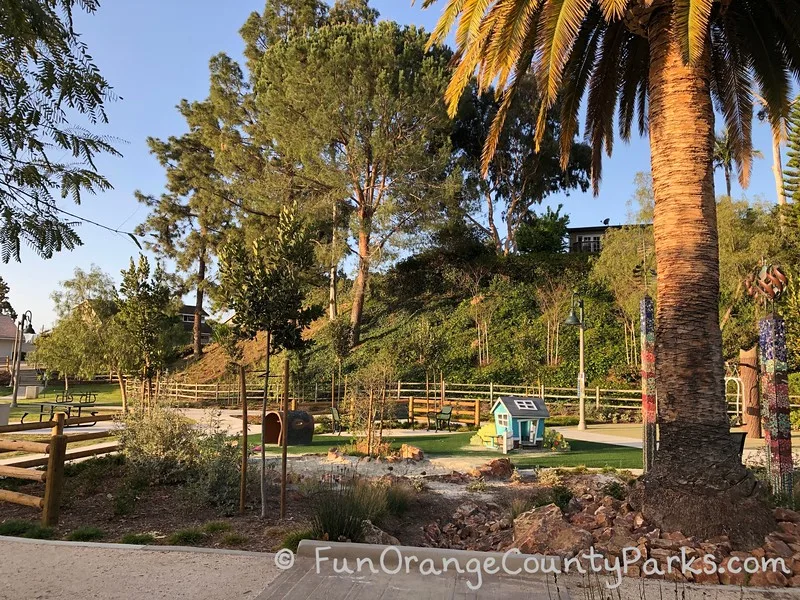 The half basketball court is really nice and very near the playground — so it's great for older kids to play alongside the younger kids.
We had the added bonus of spotting the trash truck on the morning we visited! (Always a treat!)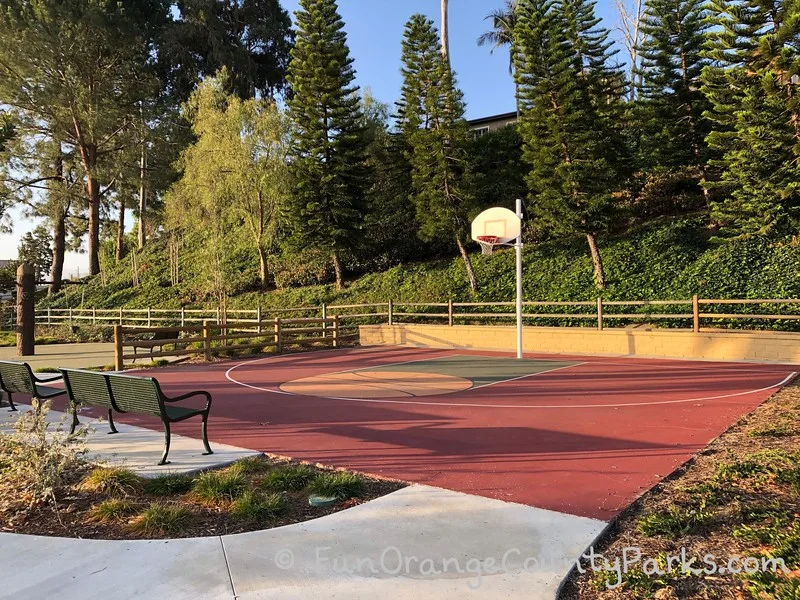 2 bench swings, 1 baby swings, and one "swing-with-me" swing — in separate areas on equipment designed to look like trees.
I have a whole post on these Swing-With-Me swings. Most call them Mommy and Me swings, but siblings, Daddy, and other caregivers can also swing along.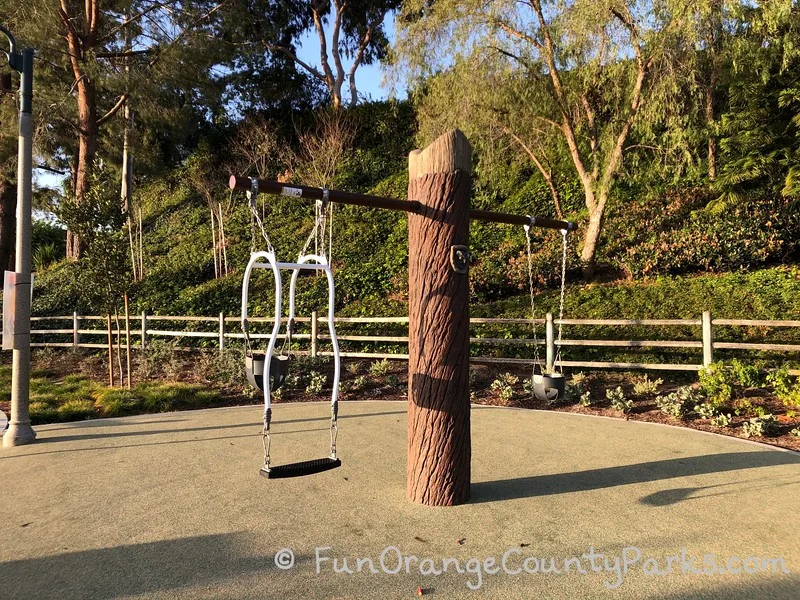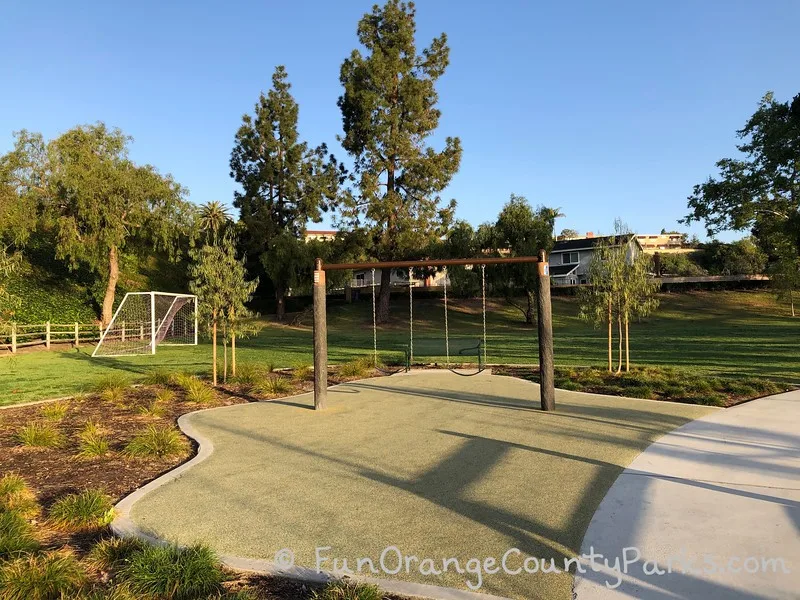 There's a 4-person (and maybe more if kids stand in the middle with the handles) teeter-totter.
You'll also find two spiderweb climbers/spinners at the back of the park near the drinking fountain.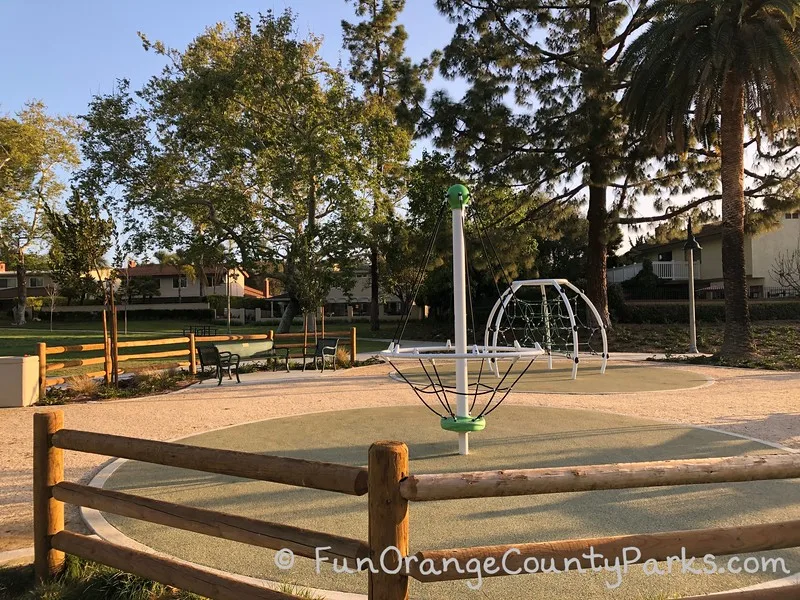 Be Aware:
NO restrooms
P

eople bring their dogs to this park throughout the day

It's definitely hot during the middle of the day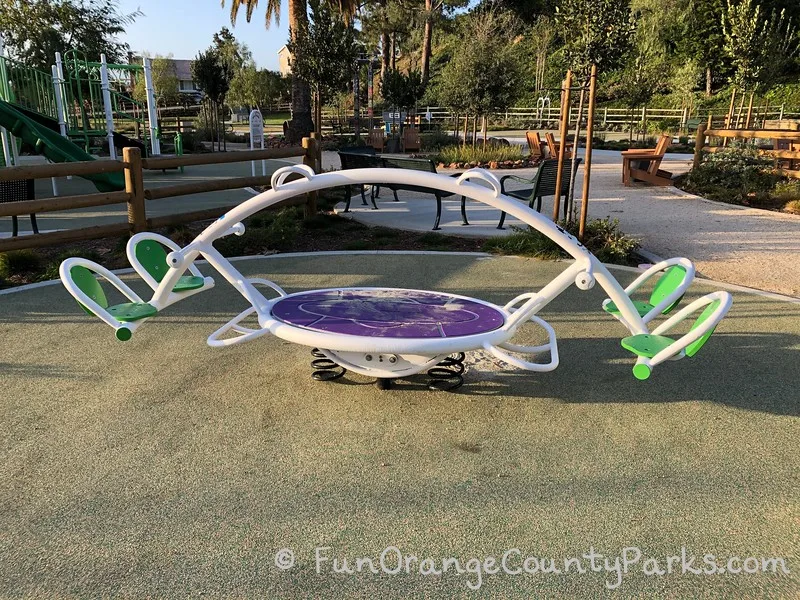 Checklist:
Parking on the street
Play surface: Recycled rubber, turf, decomposed granite walkways, lawn areas
Still NO restrooms (understandable since it's a neighborhood park)
Drinking fountain a little ways from the playground with dog water bowl, too
Picnic tables set up in the center of the park with lounging areas scattered around
Half basketball court and small grassy area
Nearest public libraries: Mission Viejo Public Library
Visit my South Orange County Parks index to find more playgrounds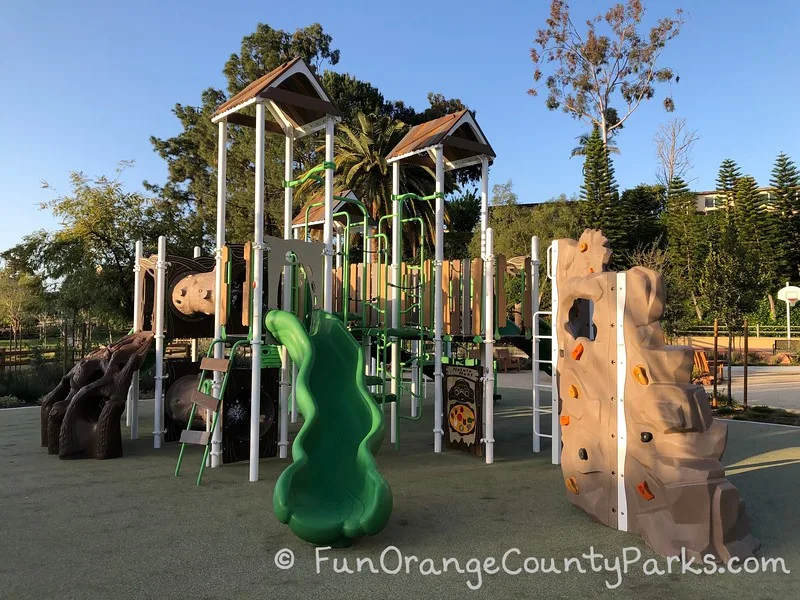 Nearby parks:
Pre-2020 Photo Archive of Christopher Park!
It used to look A LOT different!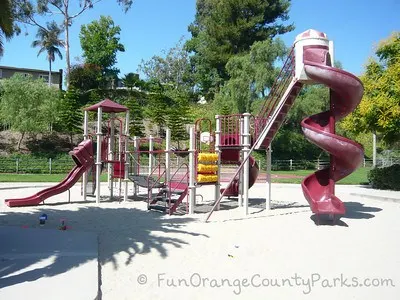 Originally posted in August 2011.