Alicia Park in Mission Viejo is best for younger kids. There's a bench right by the playground and a nice covered picnic area for lunch.
Location: From Interstate 5, exit at Alicia Parkway and head towards the foothills. You will drive up Alicia past Jeronimo and turn left onto Via Linda, then right into the parking lot. Once you enter the parking lot, turn left to park next to the playground. (Address: 23650 Alicia Parkway, Mission Viejo) MAP TO ALICIA PARK IN MISSION VIEJO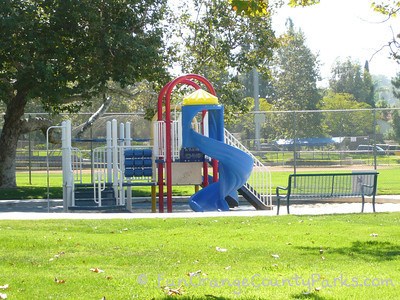 Highlights:
It's a simple little playground for younger kids.
There are nice sycamores providing shade on the playground.
The picnic area is large and partially shaded.
Those with little ones — or planning an event — will like that this playground has a restroom.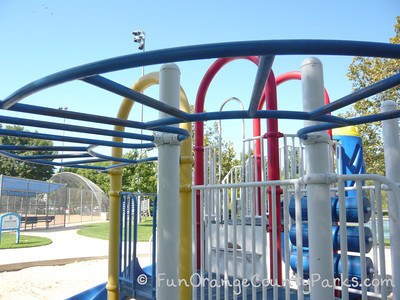 Be Aware:
The playground is near the parking lot, but the parking lot is set away from Via Linda.
Can be busy on game days.
NO swings.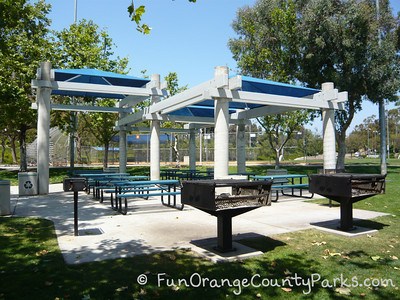 Checklist:
Parking in a dedicated lot
Play surface: Sand
Restroom is a short walk from the playground
Grills in the picnic area and covered barbecues near the restroom building
Drinking fountain near the restroom
Softball fields and sand volleyball courts
Official City of Mission Viejo website
Nearest public libraries: Mission Viejo or Laguna Hills Technology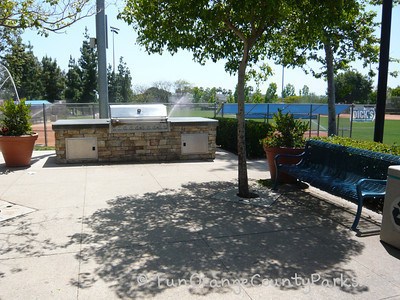 Nearby Parks:
*Added to KaBOOM.org as part of their 2011 Park-A-Day Challenge