El Dorado Park in Mission Viejo is such a great little park near an elementary school. I'm so surprised I've missed it all these years, but I think it's because it got a recent upgrade.
It happens to have "Swing with Me" swings, so some readers pointed me in the direction of El Dorado Park in Mission Viejo. I love the tall slides and the sand play!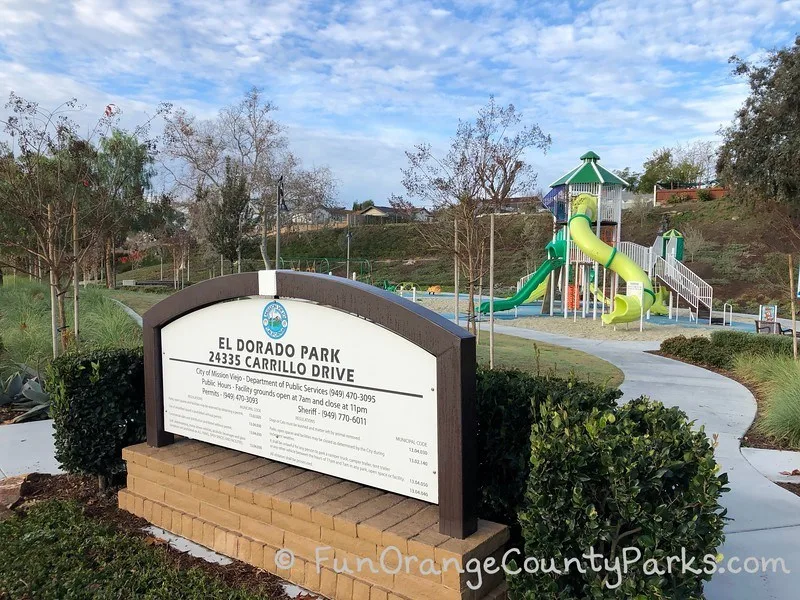 How to Get to El Dorado Park in Mission Viejo
This park is in a neighborhood off Jeronimo Road between Alicia Parkway and Marguerite Parkway. You'd never know it was there, unless you turned off and drove uphill to the park.
If you are approaching from Alicia Parkway, you'll turn left onto Montilla and then take an immediate right onto Papagayo which turns into Carrillo.
The park is towards the top of the hill on your left. Montevideo Elementary School is directly past this park.
There is ample street parking on the same side of the road as the park. [Address: 24335 Carillo Drive, Mission Viejo] MAP TO EL DORADO PARK IN MISSION VIEJO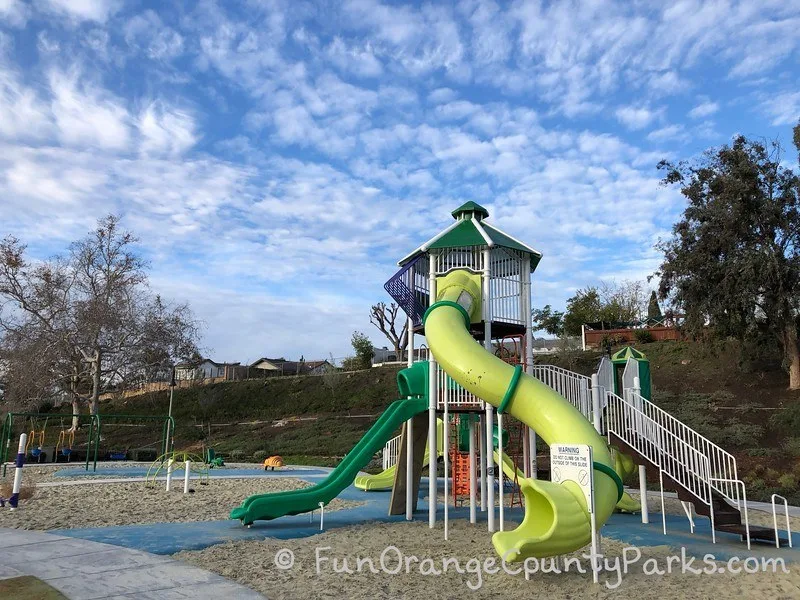 Highlights:
This park is compact and easy to see the kids
Kids will love the TALL tunnel slide, twisty slide, and straight slide on the 5-12 year old equipment
There are also ladders and a climbing wall on the big kid equipment
The 2-5 year old equipment resembles a treehouse and has a double slide for racing, a single slide, plus some chain netting for climbing
Play apparatus where children stand and pedal both their legs and arms (takes lots of coordination!)
Lime green standing teeter totter
Ride-on bumblebee and grasshopper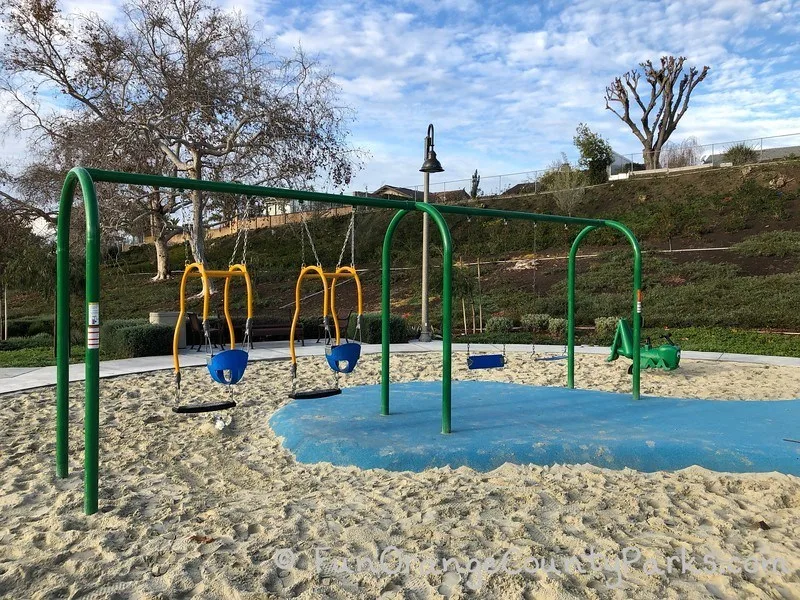 2 bench swings, 2 "swing with me" baby swings
2 steel mesh benches/seating areas right on the playground, plus 2 picnic tables also right on the playground
2 more picnic tables separated and a bit more distant from the playground
Beautiful grassy hill nearby for play and picnics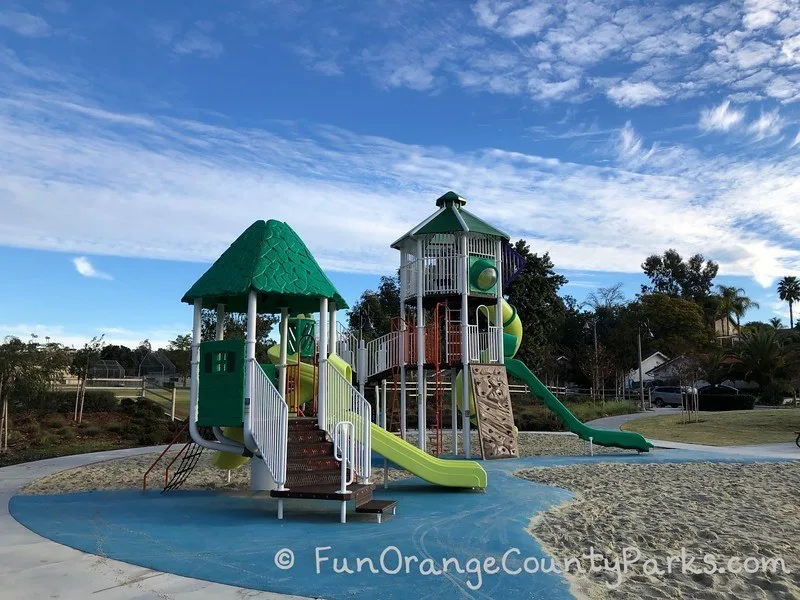 Be Aware:
The tall tunnel slide has pretty protected routes up to it, but there are a couple of "drop spots" where kids could fall at the top of the ladders and climbing wall
Park is somewhat near the neighborhood street and opens at 7am
Since it's right next door to Montevideo Elementary School, there is definitely before/after school traffic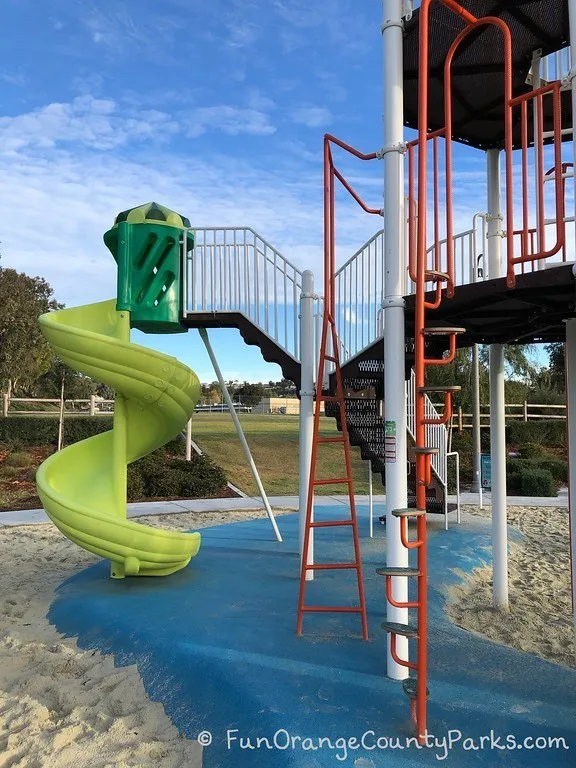 Checklist: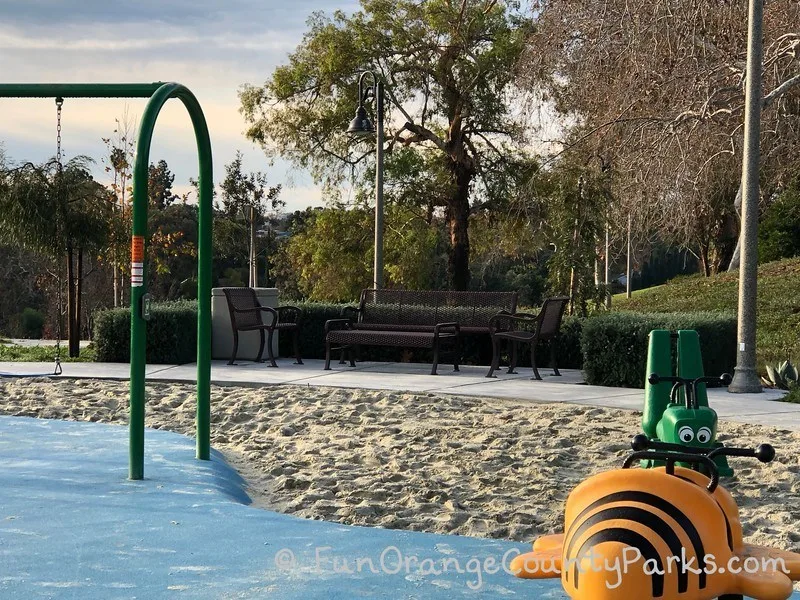 Parks Near El Dorado Park in Mission Viejo:
Originally published in January 2019.