Olympiad Park in Mission Viejo is named for Florence Joyner features a statue of her and artistic details in tribute to Olympic athletes.
See if your child can find the rainbow Olympic torch "burning" in a rainbow of color.
I love this park. It's always a challenge to post because it's always too busy to shoot photos of the equipment.
This park originally found its way to my blog through a reader recommendation. It was seriously a covert operation to get photos of the park before the kids get there to play. I was the focus of strange looks and questions from early morning walkers and adult soccer players, but I completed my mission before any rays of sun brightened the playground.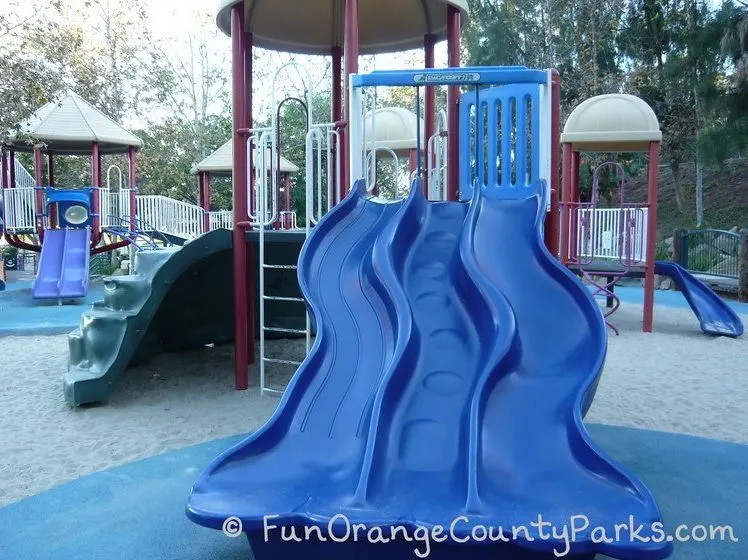 That was my story on my first trip to the playground. It went somewhat the same way on my second trip when a reader informed me of the new area with musical play equipment and new spinners — plus the switch from the long twisty slide to a twisty tunnel slide. (Thanks, Rachel!)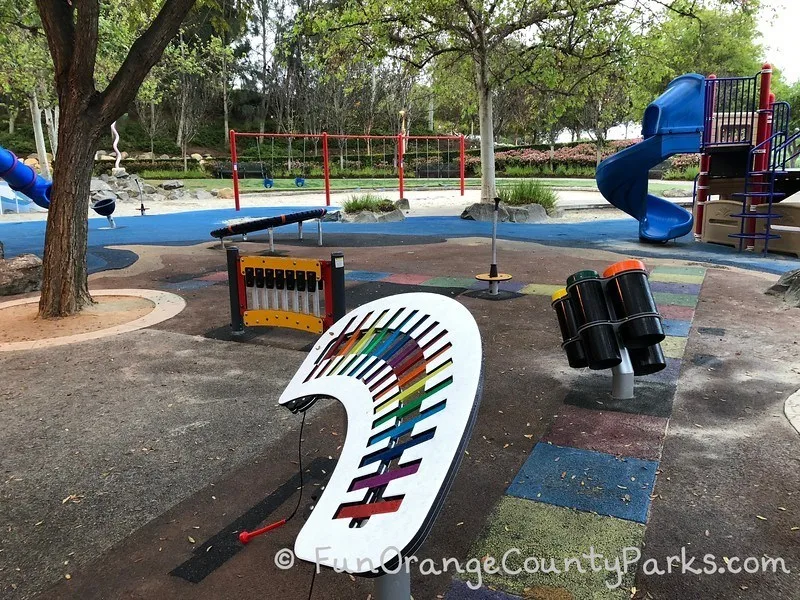 Directions to Olympiad Park in Mission Viejo: Exit Interstate 5 at Alicia Parkway and drive it quite a ways up the hill crossing Marguerite, and driving past Mission Viejo's lake, until you reach Olympiad. Turn left on Olympiad and the park will be your first right. (Address: 22760 Olympiad Rd, Mission Viejo) MAP to Florence Joyner Olympiad Park in Mission Viejo
Recommended by: Jennifer at Tiny Oranges (her comments in italics)
Highlights:
The lower level of Olympiad Park features a pirate ship structure and lots of interactive features for imaginative play.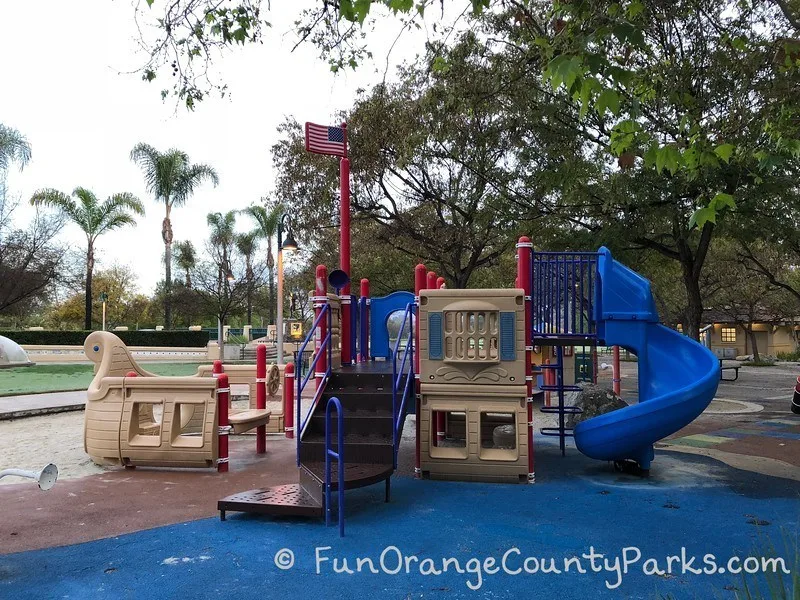 The upper level is full of slides, climbers, tunnels, and bright blue equipment.
Lots of trees and shade providing a real woodsy feel with neat wooden bridges and rocky landscaping.
There's also a line of swings (2 baby, 4 bench).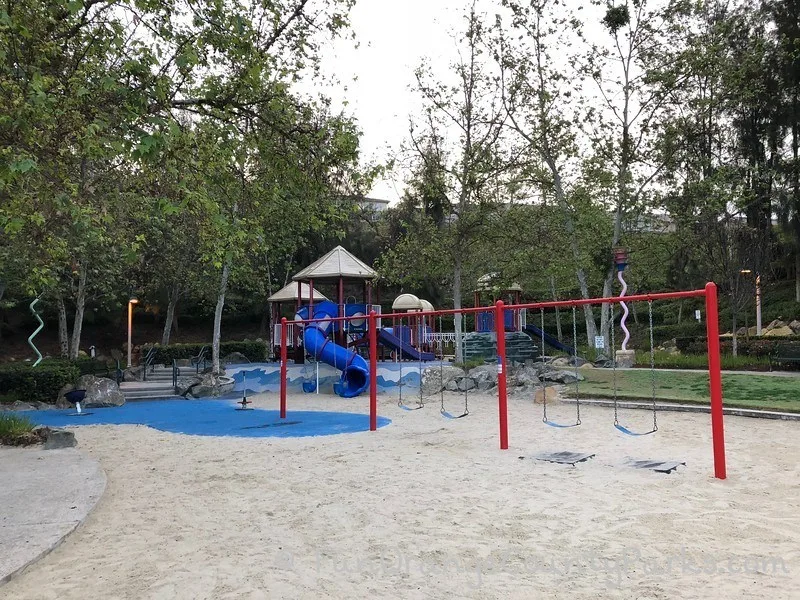 Many adjacent picnic benches close to the equipment. Easy to sit still and keep an eye on your kids.
Great play structure with a tall winding slide that my daughter loved.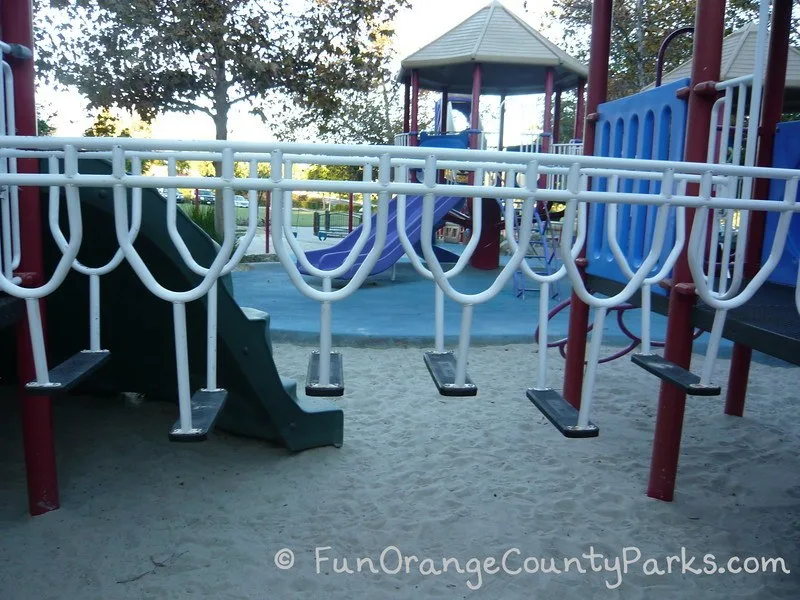 Lots of equipment for all ages.
Huge grassy area for running.
Large covered picnic area with grills.
There's a gas station, Albertson's grocery store, and restaurants at the corner of Alicia and Olympiad if you need refreshments or supplies.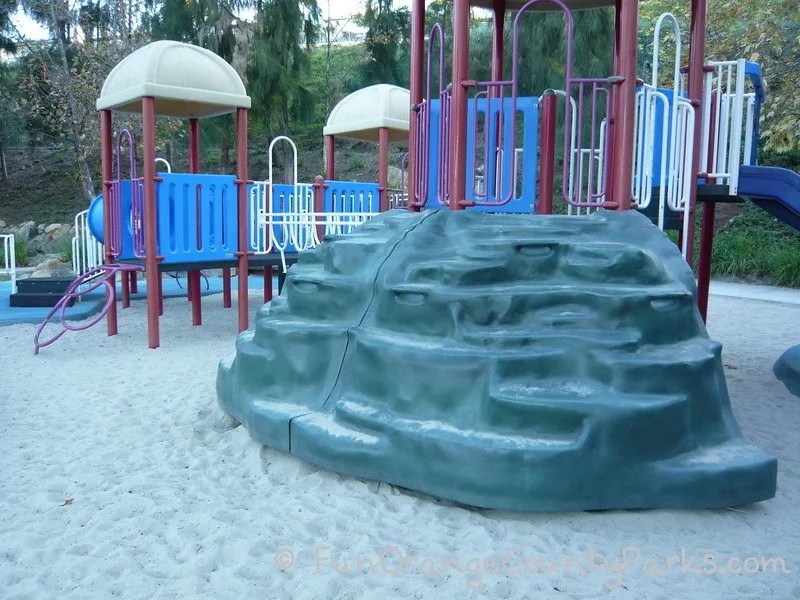 One of my favorite parts of the park is a WATERFALL surprise when you walk away from the playground to the corner of Olympiad and Alicia Parkway. It's like a SECRET PARK! Sssshhhhh.
So cool with tranquil seating areas and even a Little Free Library! So bring your books and trade them out for new ones (take a book, share a book).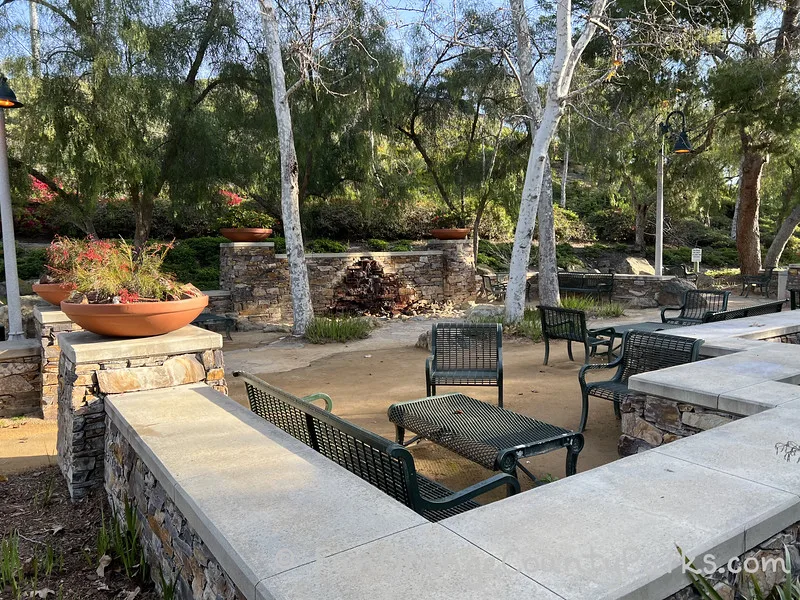 Be Aware
This park is busy at times. There were already tablecloths on the tables for birthday parties when I was there in the early morning hours.
The small recycled rubber slope under the big twisty slide gets super-slippery when covered in sand. It's fun for the kids sliding down, but bad if you are trying to walk down it. I see adults and kids take spills on this slope every time I'm here.
"Do not climb on rocks" signs all over the park. (Huh? I see rocks, I want to climb. Oh, well.)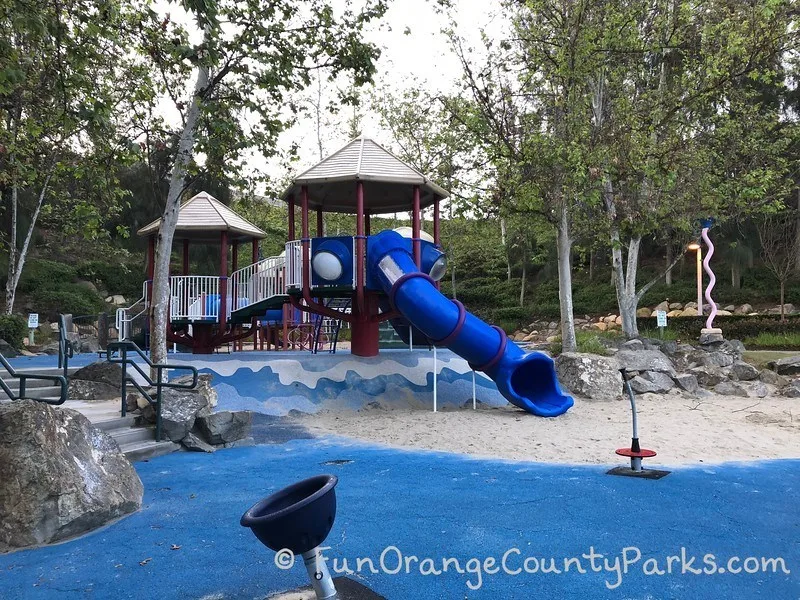 Checklist:
Dedicated parking lot
Recycled rubber and sand play surface
Shade surrounding the park
Restroom and drinking fountains
Soccer fields and baseball diamond
Large covered picnic area with 4 grills
Albertson's grocery store, Dollar Store, and restaurants nearby — Lakeside Chinese Cuisine and Bagels & Brew (think Unicorn bagels!)
For reservations, visit the Mission Viejo City website: "Picnic Shelters can be rented on weekends only from 10:00 a.m. to 2:00 p.m. or 2:00 p.m. to 6:00 p.m. (excluding holidays) by obtaining a permit."
Nearest public library: Mission Viejo Public Library (separate from OC Public Libraries)
Visit my list of 15 Pirate Parks in Orange County for more pretend play opportunities!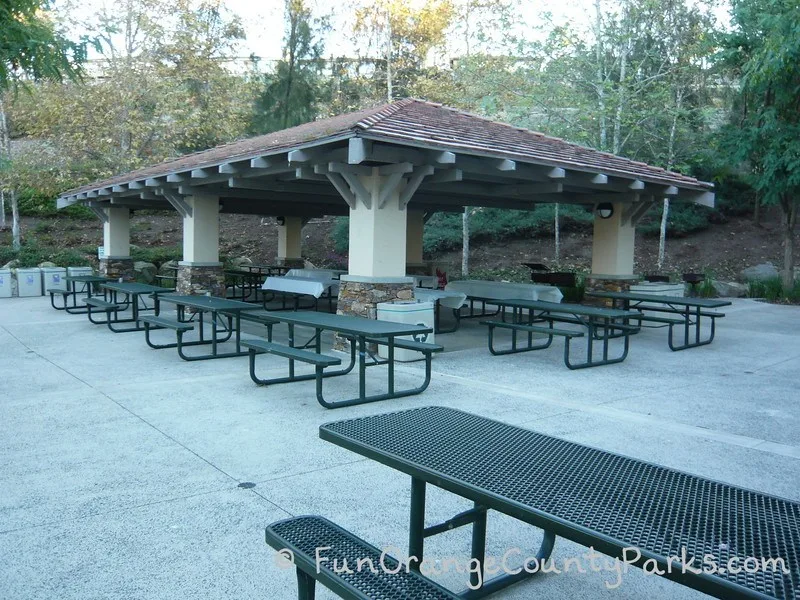 Mission Viejo Parks Nearby:
Originally posted in November 2009.