Coronado Park in Mission Viejo far exceeded my expectations – even after I saw pretty detailed coverage on social media! I was not expecting what greeted me.
I don't know if you've ever driven up Avery Parkway PAST Saddleback College. It dead-ends into Arroyo Trabuco Golf Course which is actually a really beautiful place to enjoy the views with lunch on the patio of the O'Neill's Bar & Grill restaurant there. Most of the traffic on Avery Parkway goes to the college, the golf course, or Capistrano Valley High School.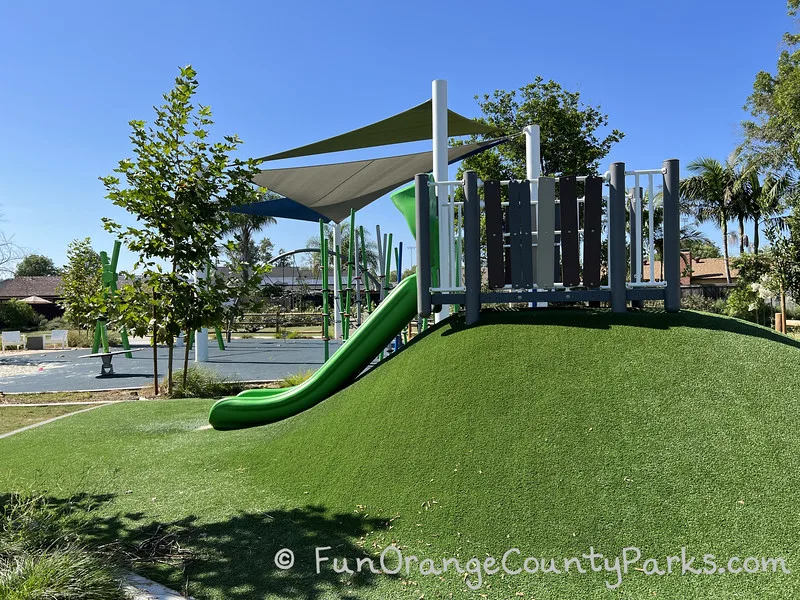 This little park is the sole spot to play in this neighborhood which used to only have a sand lot and simple play structure. It got a luxury upgrade with seating areas and places for the neighborhood to gather in a central area reachable from 3 separate walking paths scattered around the park.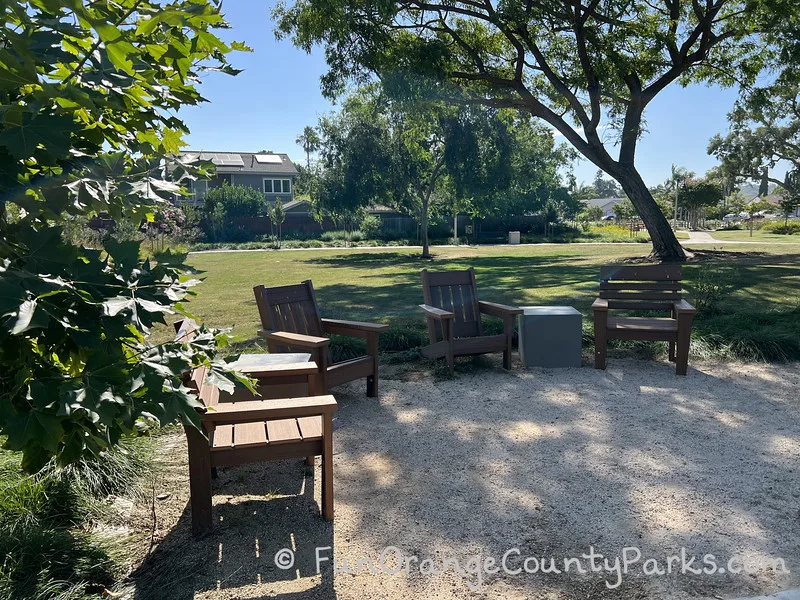 Directions to Coronado Park in Mission Viejo: Exit I-5 at Avery Parkway and head in the direction of Saddleback College. Cross Marguerite and go past the College to the next left on Las Ondas Drive. There are signs about Permit Only parking in the mornings, but my visit was in the afternoon so I entered through the picnic area and butterfly gardens right at the corner of Las Ondas & El Mio Lane. The park is bordered by Las Ondas Drive to Escalona Drive in the back coming around in a loop to El Mio Lane. (Park Address: 26652 Las Ondas Drive, Mission Viejo) MAP TO CORONADO PARK IN MISSION VIEJO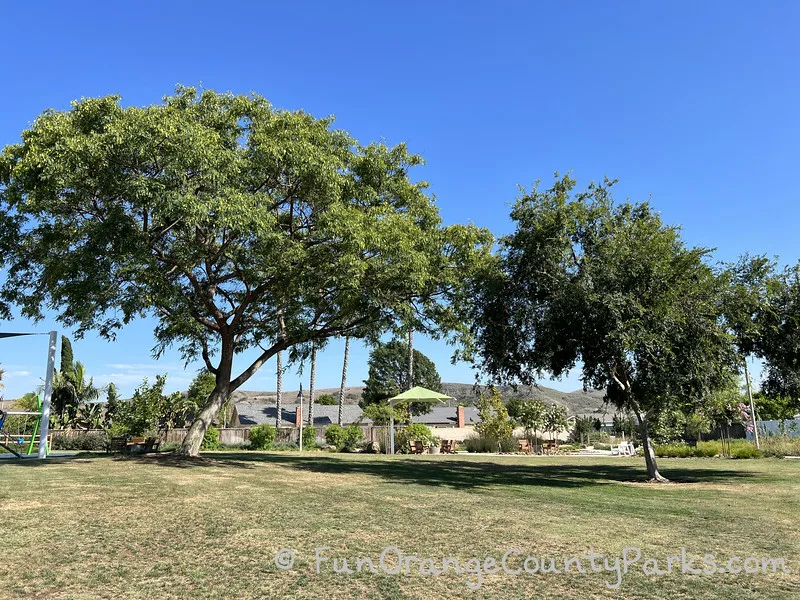 Highlights:
The highlight for me is the big tree in the middle of the park providing lovely shade in the afternoon.
I also love, love, love the green slide on the turf hill!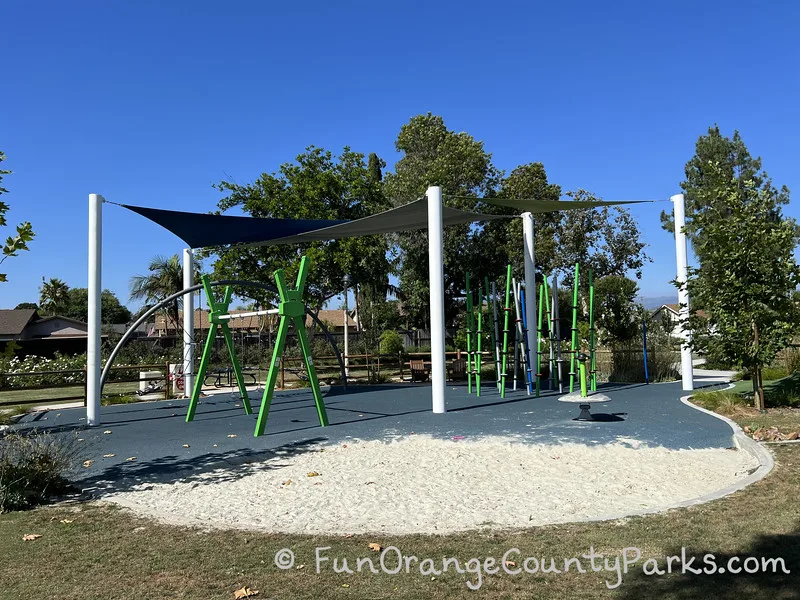 The big kid area (above) features:
a rope course to climb and navigate.
"The Bamboo Jungle of Coronado Park" (I'm serious, there's a sign!). It is a series of poles with footholds and hand grips at different heights. There are game instructions on the sign with degrees of difficulty for navigating through the jungle!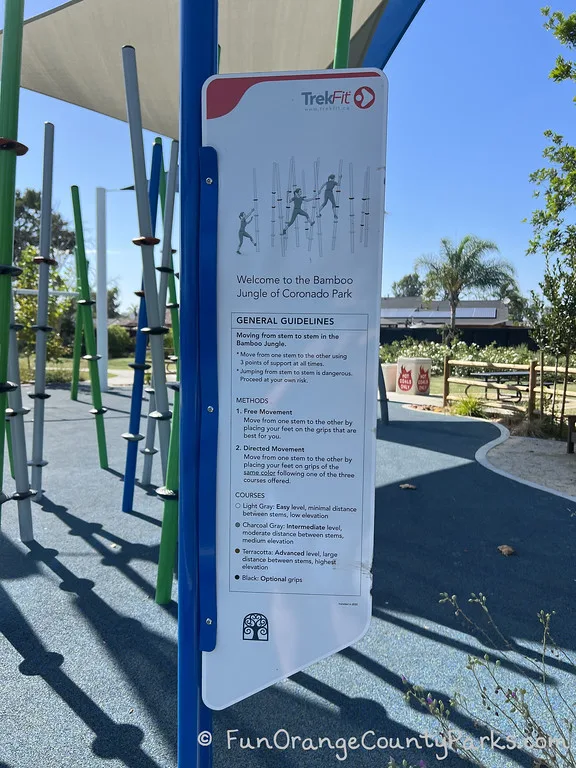 a balance platform.
2 bench swings.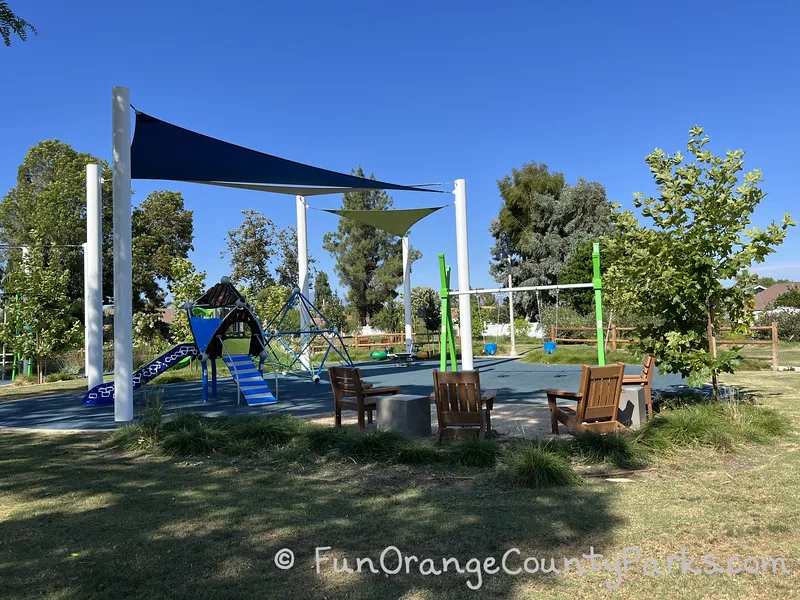 That's separated from the small kid area by the green slide I was telling you about. So on the little kid side, you'll find:
2 baby swings.
A mini-spiderweb climber.
What looks like a mini-treehouse with a couple different ways to climb inside and a small slide that has a dip at the end.
3 rider motorcycle spring toy that bounces when kids lean back and forth (or if they can reach the ground it bounces up and down with pressure on the ground).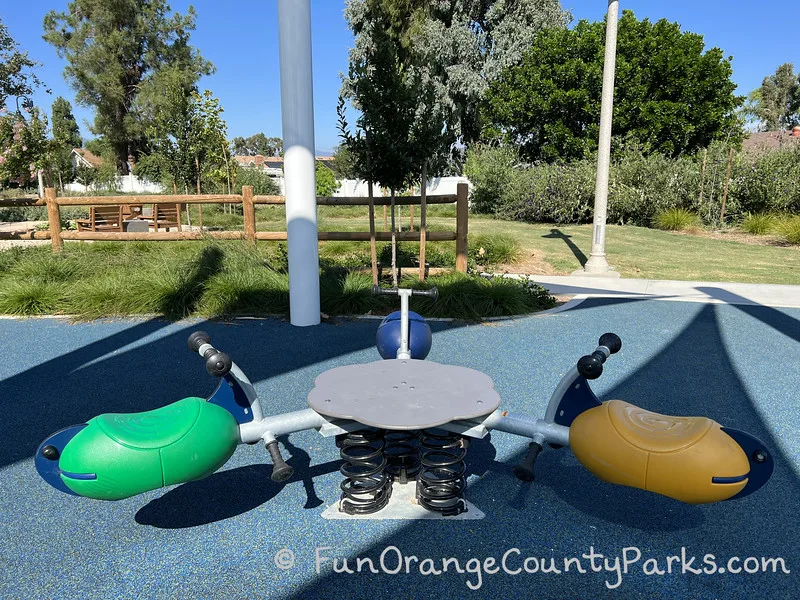 Paths wind around the park so it would almost be a toddler hike if you traveled them all and looked at nature along the way. There's even one part that looks like a bridge over a rocky stream (no water).
There's a Little Free Library and a bench along the fence across from the playground. It would be fun to bring some pillows and get comfy outdoors to read.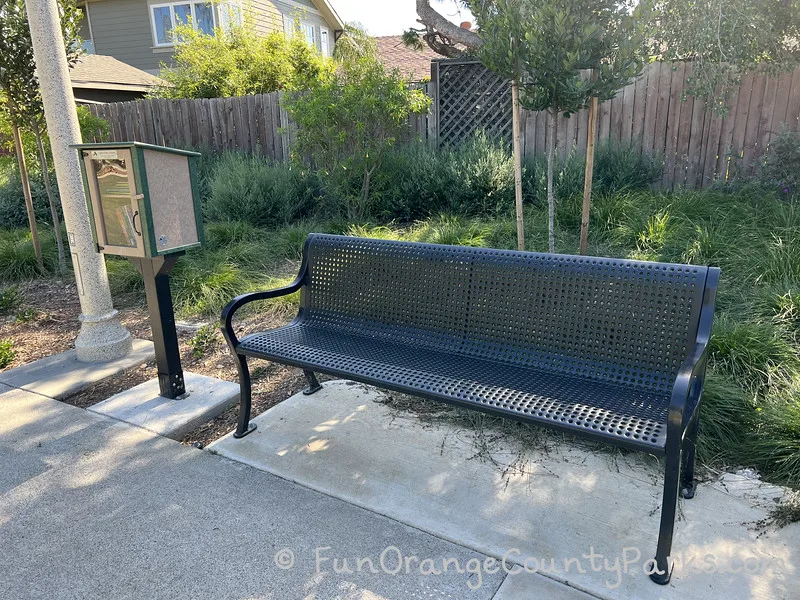 It's close to The Shops at Mission Viejo and all the restaurants just along Marguerite. There's also a mini-Target and Costco off Crown Valley if you need to make a stop.
Tons of seating areas all around the park. You could probably have 5-6 different groups of families and you'd all have your own seating space if you spread out.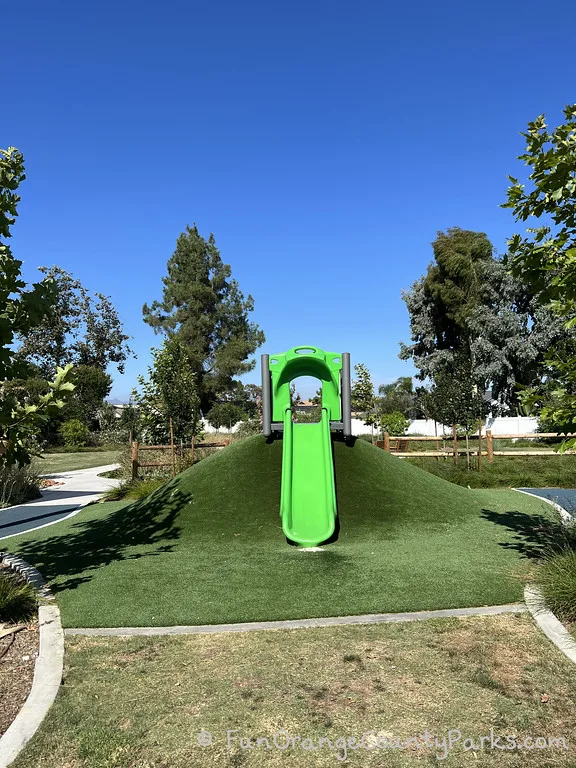 Be Aware:
No restrooms.
This is a secluded neighborhood so please respect neighbors with your parking and also for the many, many houses backing up to the park. Think about how you would act if that was your backyard.
Watch the sun on the recycled rubber surfaces and turf — but as for the weather I found it to have a lovely ocean breeze and it can sometimes be in the fog zone when other parts of the county are sunny. I was there at 4pm in late August and it was the perfect time to play with shade and a breeze combined with the fog starting to make its way back in to cool things off.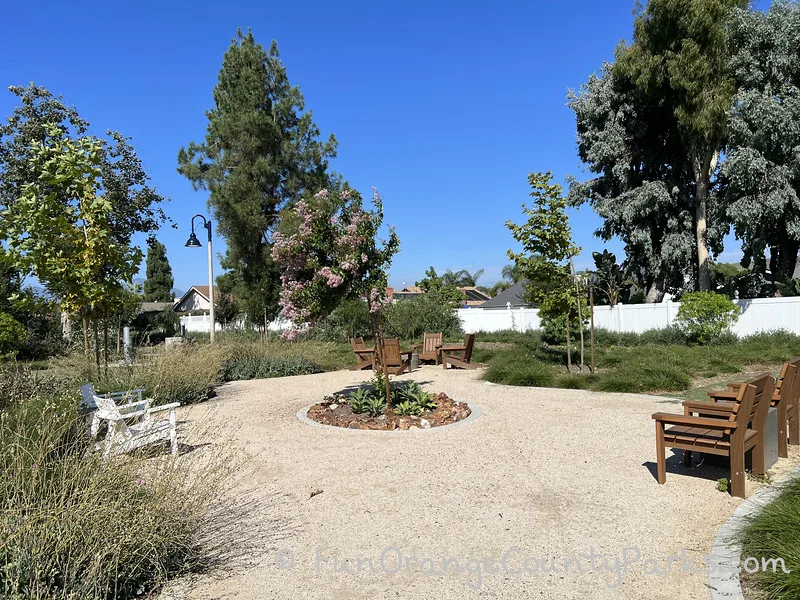 Checklist:
Free street parking (just look out for signs about Permits Required from 9:30am-11:30am)
Play surface is recycled rubber with a small sandbox, plus some turf under the green slide
Lots of seating areas from picnic tables to different arrangements of seats together in groups of 2, 4 and more.
Nearest public library: Mission Viejo Public Library or San Juan Capistrano Public Library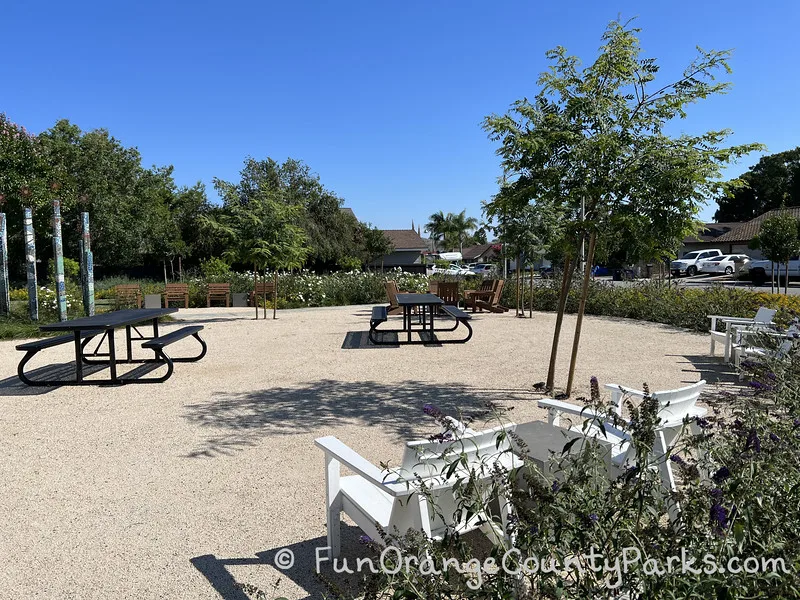 Parks Nearby Coronado Park in Mission Viejo:
There aren't any parks right in this neighborhood, but you can head to the other side of Crown Valley for Granada Park or another Mission Viejo favorite called Cordova Park.