Lower Peters Canyon Park in Irvine, or more officially, David Sills Lower Peters Canyon Park — might win as the park I've driven by the most and not covered on the blog.
If you've ever passed this park which sits on Culver Drive just east of I-5, you know it's location near the busy street makes the location not ideal for straying toddlers. So I wouldn't recommend it if you have a "runner."
However, if you do decide to stop and play you'll realize that the younger age portion of the playground is set away from the street. You'll also realize that it's a very pleasant spot underneath the pepperwood trees.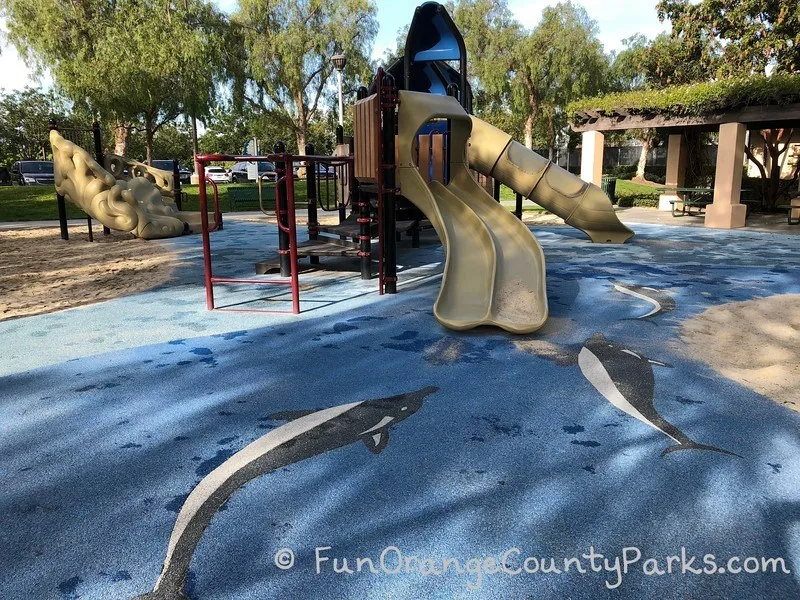 Location of Lower Peters Canyon Park in Irvine: This part is easy. Take I-5 to Culver Drive. Exit and head towards Portola Hills. Turn left onto Farwell Street and enter the parking lot from there. Alternate Route: Somehow I'm always approaching this park from Bryan Avenue which is rich with access to all the "wood" and "tree" named parks (Northwood Community Park, Brywood Park, Pepperwood Park, Blue Gum Park). From Bryan Ave, turn onto Culver towards I-5 and you'll pass the park on your right. Then turn right onto Farwell to enter the parking lot. (Address: 3901 Farwell Ave., Irvine) MAP TO LOWER PETERS CANYON PARK IN IRVINE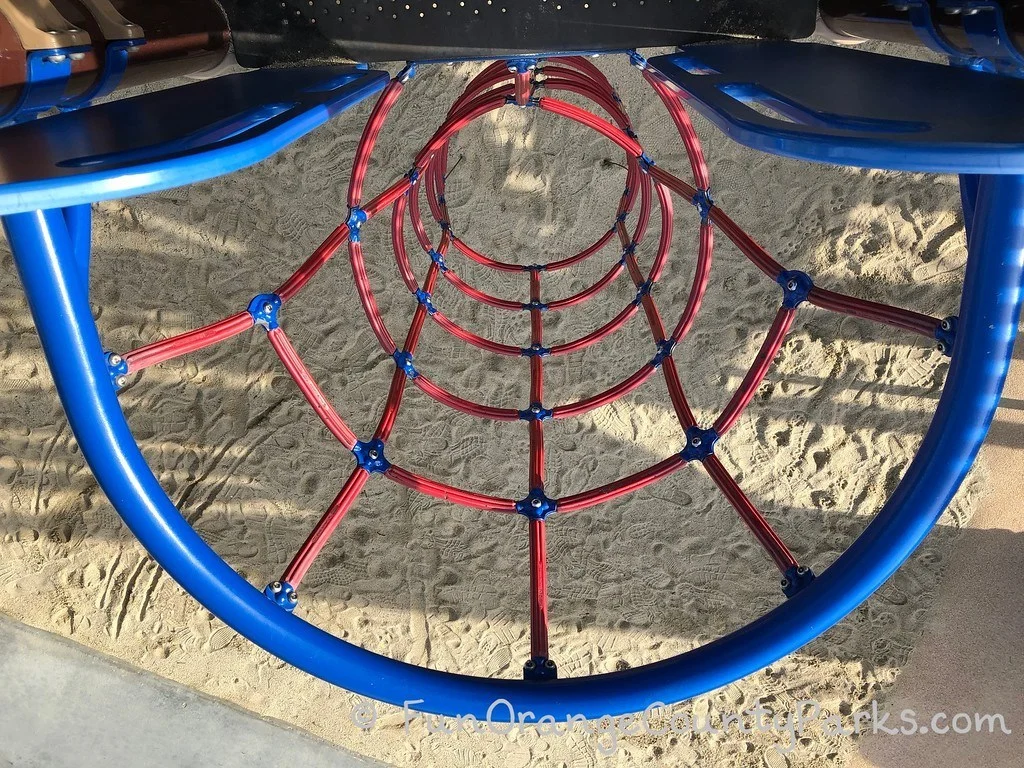 Highlights:
Nice, shady setting with cascading pepper tree branches and even an arbor over the picnic tables with vines
Dolphins on the play surface and a ship-shaped small playground makes you feel the movement of the marine theme and sparks pretend play
Mini versions of a tunnel slide, double slide, and lower-to-the-ground monkey bars on the small playground
Big playground has balancing stumps, a spiderweb climber, zip track, taller tunnel slide and taller twisty slide, plus a couple of challenging climbers
It's a compact park with restrooms where you can park nearby
2 bench swings, 2 baby swings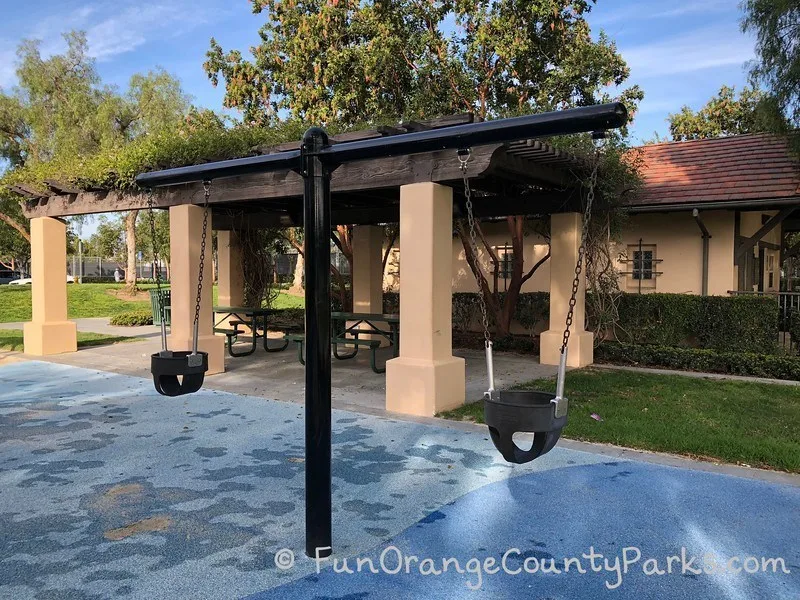 Be Aware:
Very close to a busy street and parking lot
Big kid playground is very tall with some big drops – quite the draw for little ones.
This park backs up to Beckman High School
Parking and "busy-ness" of the park can be impacted by soccer or softball games on the adjacent fields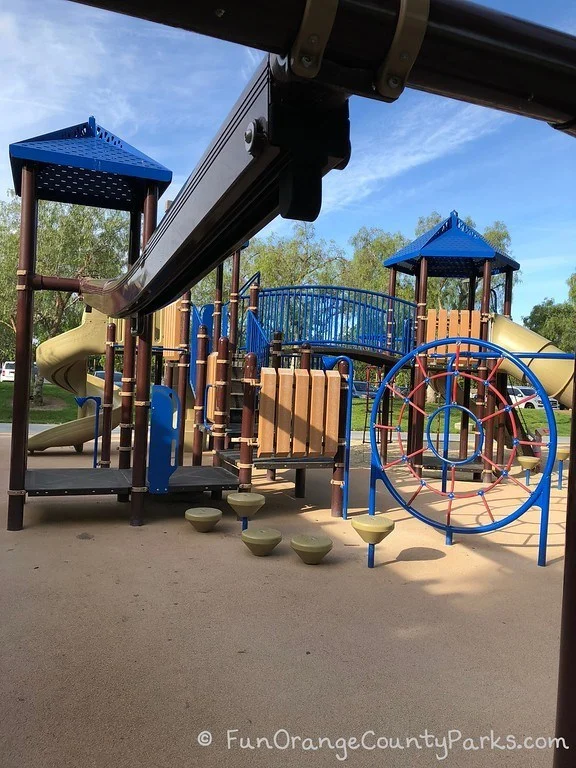 Checklist:
Dedicated free parking lot with plenty of spaces
Play surface = Recycled rubber and sand
Restroom building right near playground
8 tennis courts
A soccer field and softball field
Shaded picnic areas with tables
Nearest public library branch: Katie Wheeler Public Library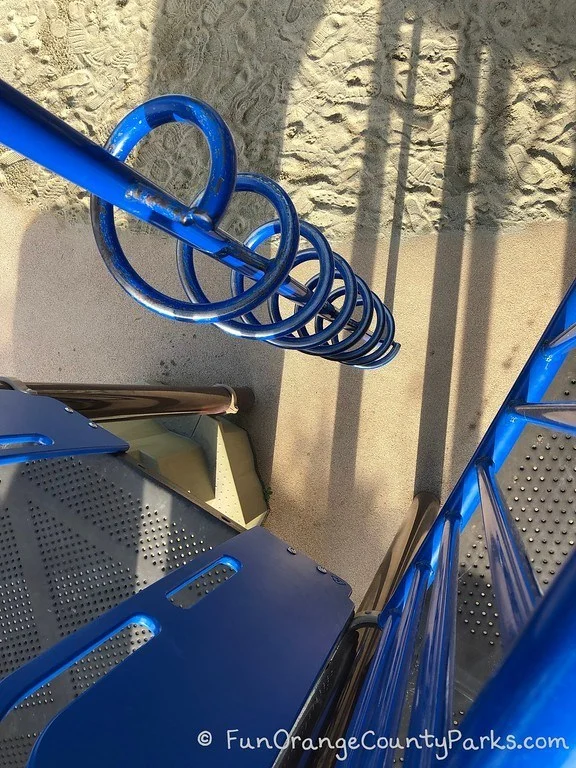 Parks nearby Lower Peters Canyon Park: