San Clemente Pirate Park best describes Forster Ranch Community Park because of its deserted isle feel and pirate theme. There are palm trees, alligators and pirate ships. The safari Jeep is another favorite play piece.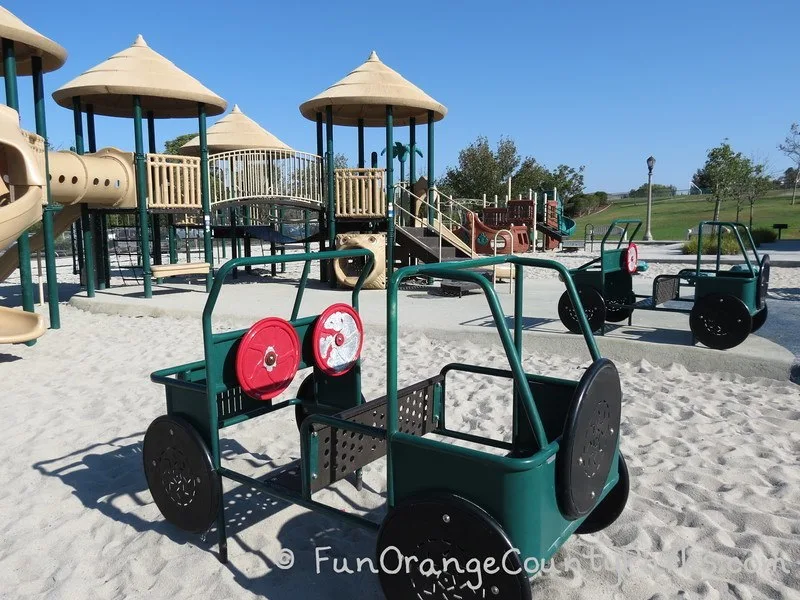 How to Get to San Clemente Pirate Park: Exit I-5 at Avenida Vista Hermosa OR Camino de Estrella. The park is on Camino Vera Cruz between Camino de Los Mares and Avenida Vista Hermosa. Address: 3207 Camino Vera Cruz, San Clemente. MAP TO SAN CLEMENTE PIRATE PARK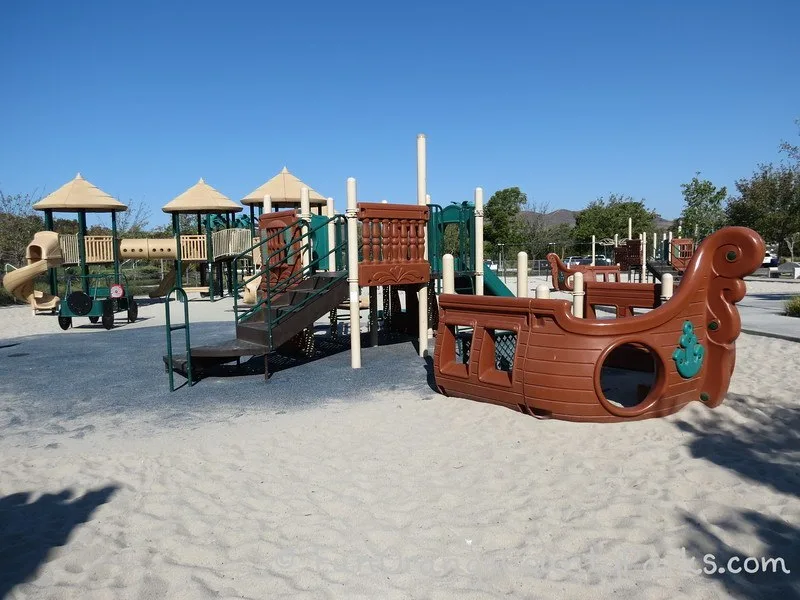 Highlights:
Pirate theme
Great for imaginative play with pirate ships, safari jeep, palm trees, and alligators setting the desert island scene
The rolling log is lots of fun
Easy to spend all day here – appropriate for all ages
I've seen guys fly model airplanes in the grassy area (fun to watch)
Come here to celebrate September's Talk Like a Pirate Day
3 baby swings, plus one accessible swing near the restrooms
4 bench swings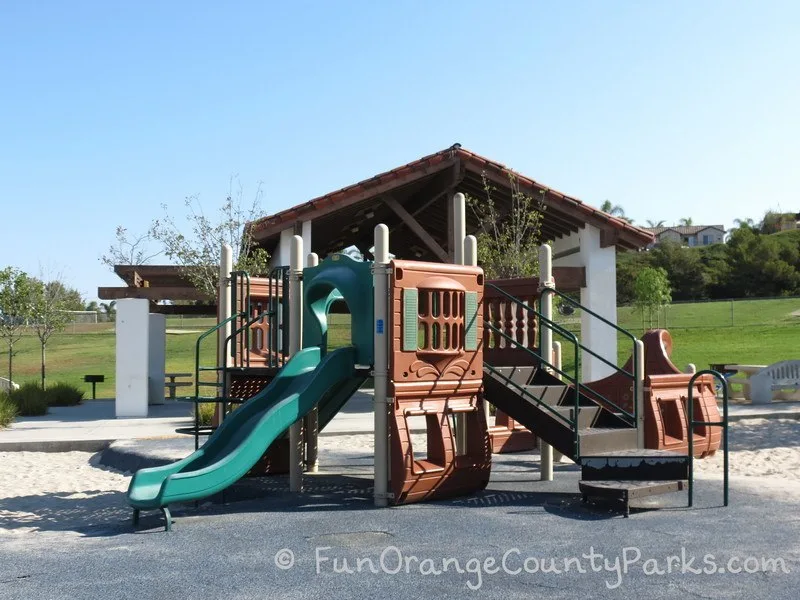 Be Aware:
Some structures are more appropriate for older children

One climbing apparatus on the back side of equipment

There is a school right next door – so school drop-off and pick-up times could impact access to the park

AYSO practices (games?) on upper field which can affect parking and increase playground "traffic"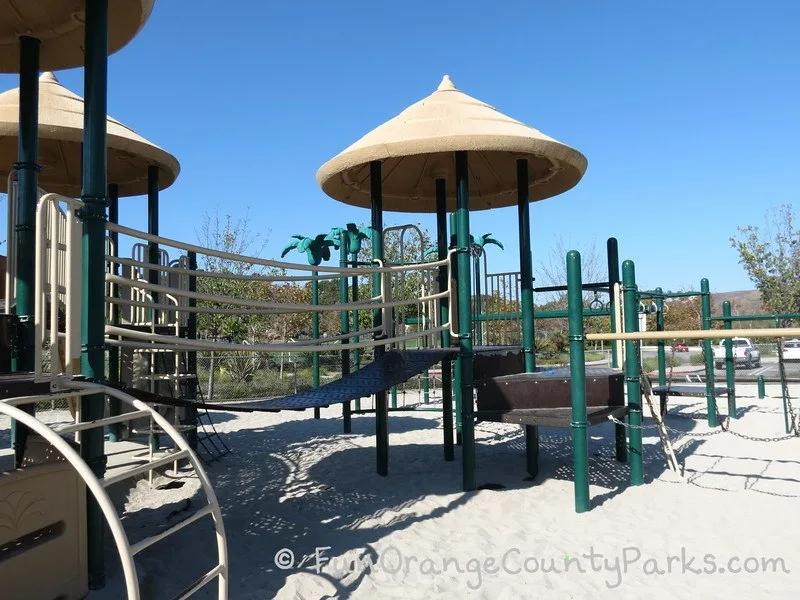 Checklist:
Play surface is mostly sand with some rubber

Covered picnic area with cement picnic tables and benches

Parking very convenient – not far to walk

Picnic shade, but no park shade

Can be hot in the summer

Soccer field located up above the playground area

Fencing around half the park to separate it from parking lot

Nearest public library: San Clemente Library which has an awesome Friends of the Library Bookstore
Visit my list of 15 Pirate Parks in Orange County for more pretend play opportunities!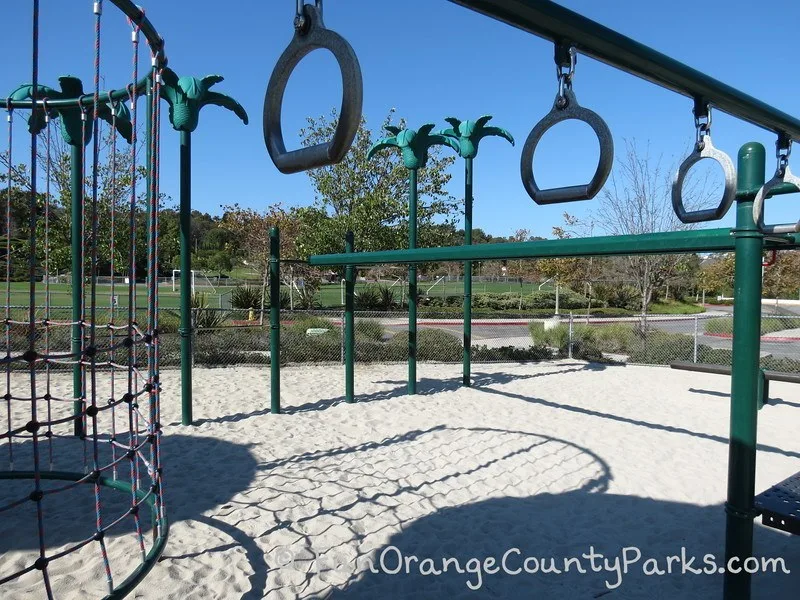 Parks Nearby San Clemente Pirate Park (Forster Ranch Community Park)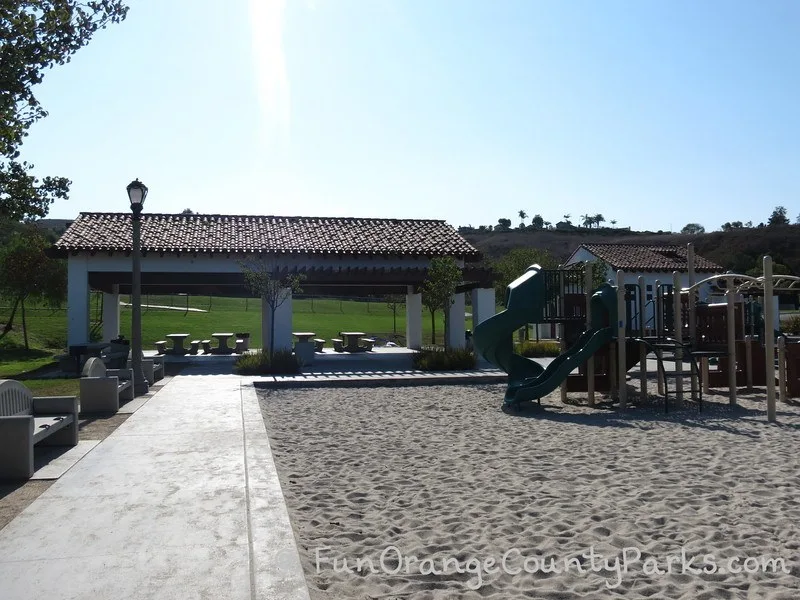 Originally published in May 2008.