San Gorgonio Park in San Clemente has great ocean views. It's hidden from the street, resting next to sports fields and baseball diamonds.
It just got a complete replacement as of September 2023. It's now a wooden Kompan play structure which gives off treehouse vibes, still with views of the ocean.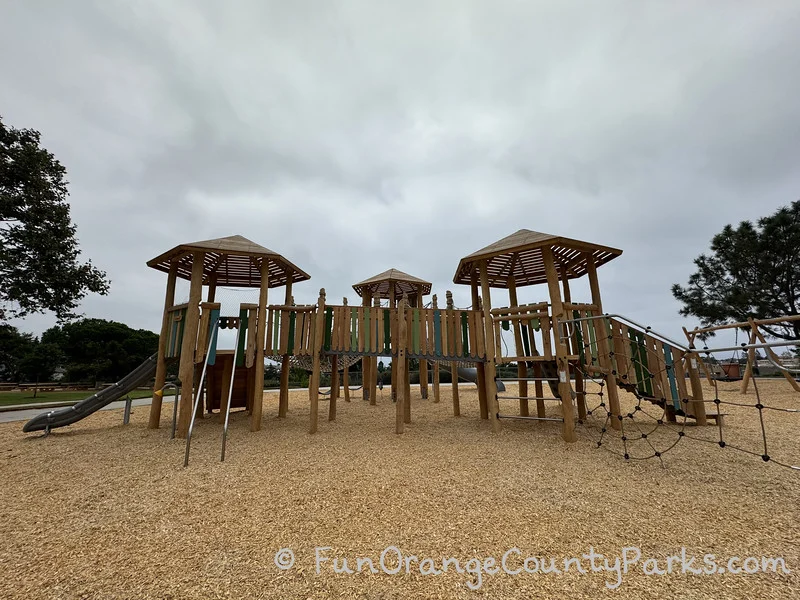 Directions to San Gorgonio Park in San Clemente: Near Shorecliff Golf Course. Use Camino De los Mares or Camino Capistrano to get to Avenida Vaquero to Via San Gorgonio. (Park Address: 2916 Via San Gorgonio, San Clemente) MAP to San Gorgonio Park in San Clemente
One last thing, when you leave the park and you are turning from San Gorgonio back onto Avenida Vaquero, be VERY careful! It's hard to see traffic coming from your left.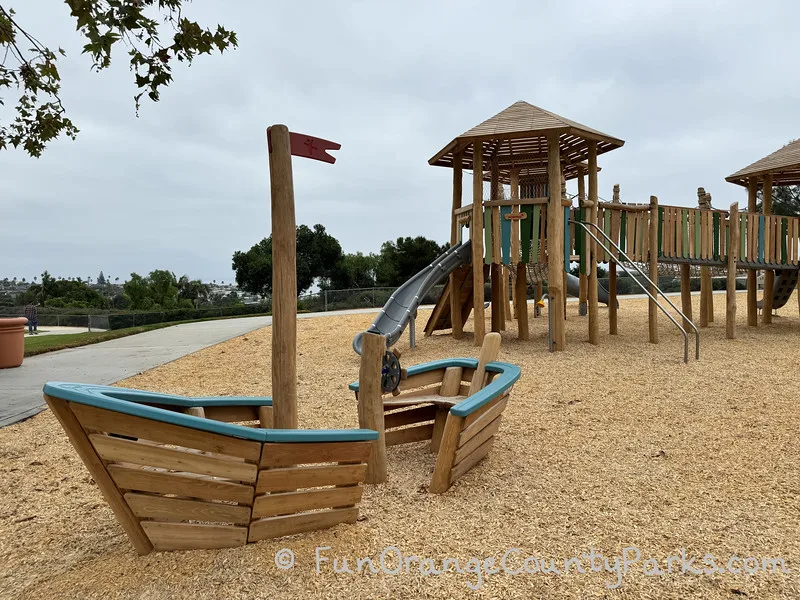 Highlights:
Amazing view of the ocean from this top of bluff park
Only one main slide on the big play structure reachable by two separate rope bridges. It's a tunnel slide and I tried it out — not too fast.
Stays cool all summer with ocean breezes and sometimes morning marine layer clouds.
Great park for bikes and scooters
Kids like the boat and the smaller treehouse for playing house
2 bench swings and one round net swing
Spiderweb and climbing wall
Really feels like a treehouse with the rope bridges and wooden equipment
Plenty of room for big picnic groups and picnic areas equipped with grills
4 permanent pickleball courts AND 4 dual-lined tennis/pickleball courts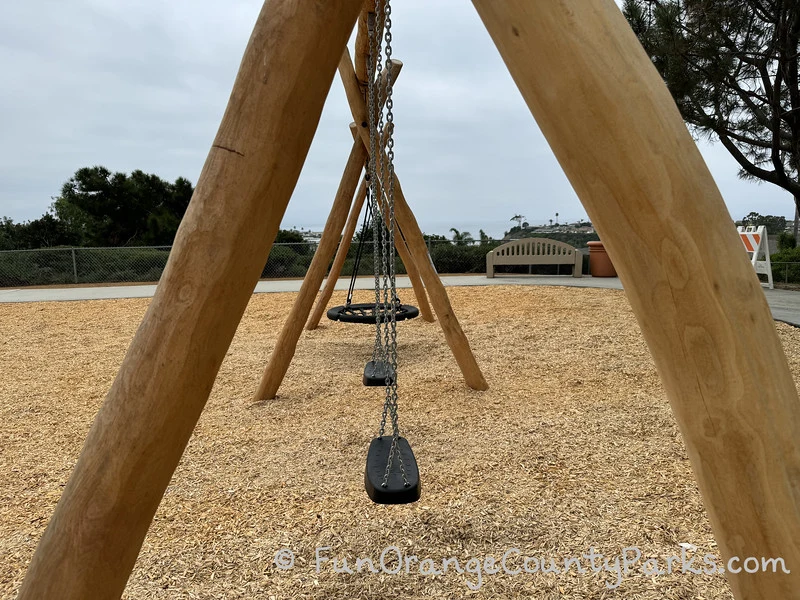 Be Aware:
The playground used to be a good one for smaller kids, because of the lack of big drops. It also used to have a TON of slides. Now it has 2 main slides and a double slide on the small treehouse.
Huge drop hazard for smaller kids at the firepole opening at the top of the tunnel slide. It's probably about 8 feet off the ground at this point. One other drop point at the parallel metal bars
Shares parking lot with ball field and basketball courts. When I was there scouting the new playground there was some inappropriate language happening at the basketball courts that was clearly within hearing distance of the playground.
The only way to get to the tunnel slide is the two rope bridges. The playground is rated for 5-12 year olds and 5-12 year olds will have no trouble with this, but toddlers might find it daunting and it will take them longer to span the distance. It's a good thing, because it's challenging, but I can see it being scary if little ones are up there with big kids running by and rattling the bridge.
The park is a gathering spot for dog trainers, fitness classes, and especially the pickleball courts and sports on the weekend. So it can be really busy on the weekends.
It used to have 2 baby swings and 4 bench swings. No baby swings now.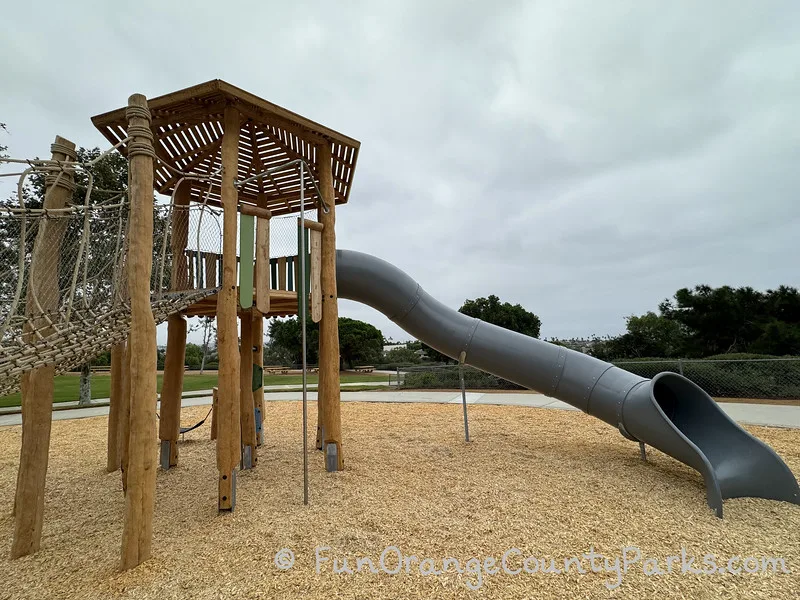 Checklist:
Concrete picnic tables spread around play area, some with barbecues
Plenty of shade surrounding play area – large sycamores
Bark play surface
Tons of parking
Bathrooms are not the nicest and located somewhat far from play area
Nearest public library: San Clemente Library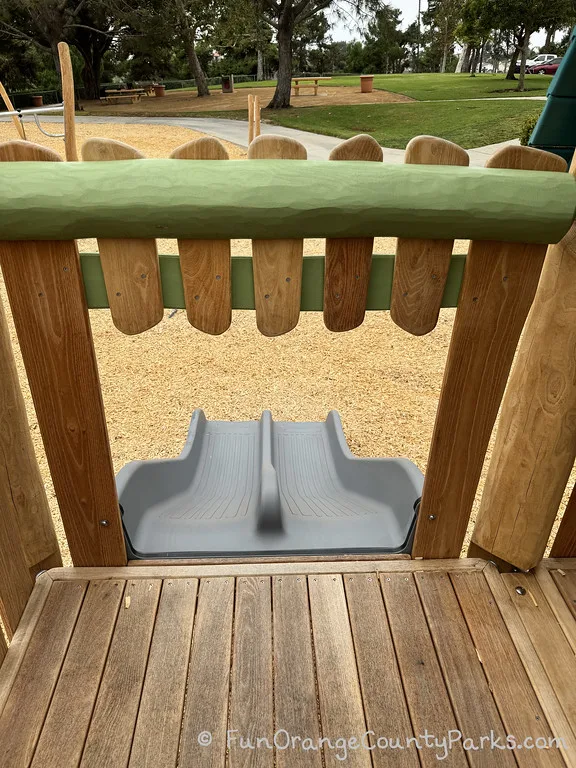 Nearby parks:
Photo archive of the OLD playground: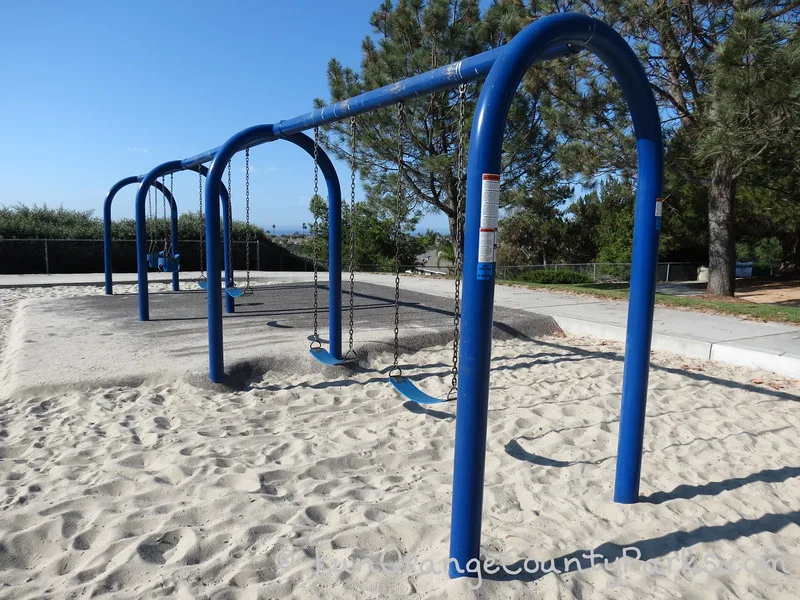 Originally published May 2008.