We came to the Agua Hedionda Discovery Center in Carlsbad to discover the Fairyland, but left feeling like it was one of the best nature centers we've ever visited.
When you drive from Orange County to San Diego, you probably know the lagoon where you see all the jet skis or Sea-Doo's? Well, that's Agua Hedionda Lagoon.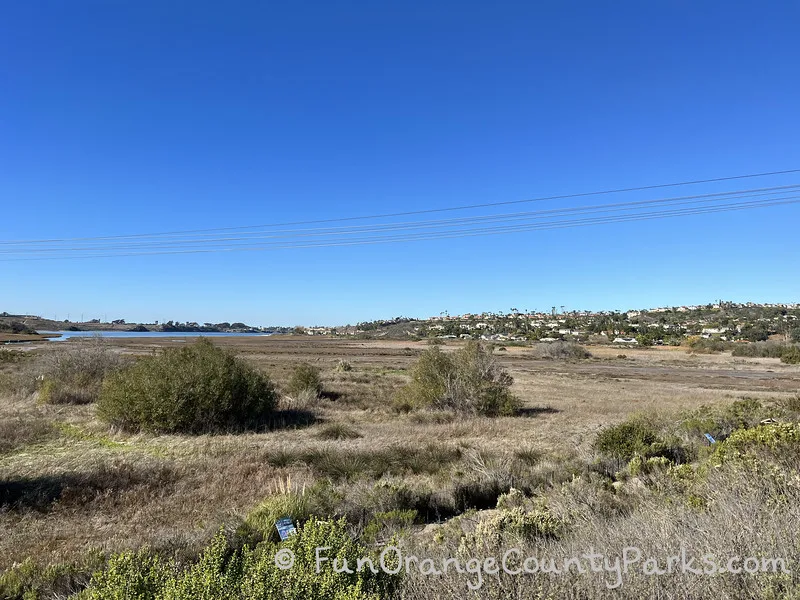 The Discovery Center is at the other end of the lagoon where the water meets the land.
It's on Cannon Road. If you've ever been to Legoland, you know that's pretty close to the outlets and theme park.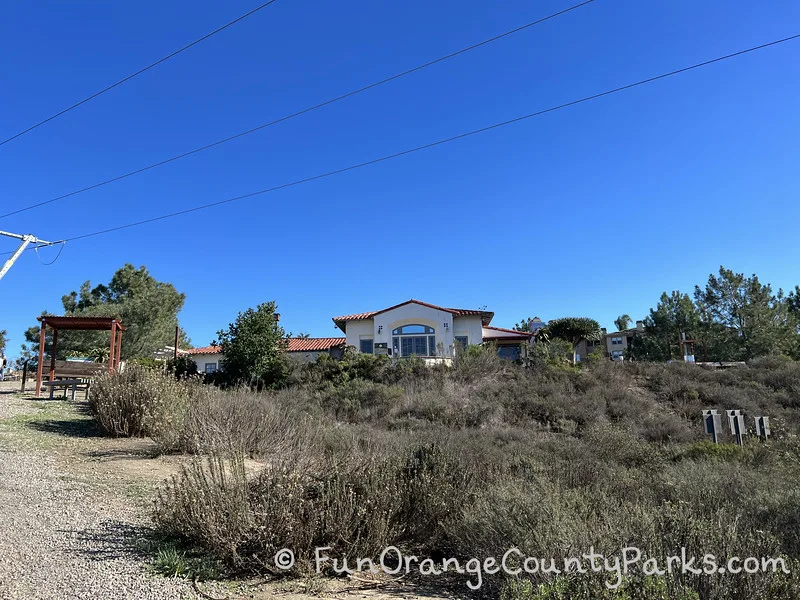 How to Get to Agua Hedionda Discovery Center in Carlsbad: Our smartphone navigation didn't quite get it right and we missed our turn. So study my map a bit before you set out! You'll exit Interstate 5 at Cannon Road and turn left up the hill and away from the ocean. You'll pass Legoland Drive on your right and then Grand Pacific Drive also on your right. Now – get ready for a LEFT TURN onto Faraday Avenue. There is a left turn lane with a green arrow signal, so it's really easy to make it into the parking lot of the Discovery Center. (Address: 1580 Cannon Road, Carlsbad) MAP TO AGUA HEDIONDA DISCOVERY CENTER IN CARLSBAD
Highlights:
You'll feel miles away from the hustle and bustle down the hill!
Pulling into the parking lot, you'll be greeted by whimsical murals on the building and native plants. You will catch glimpses of the lagoon in the distance.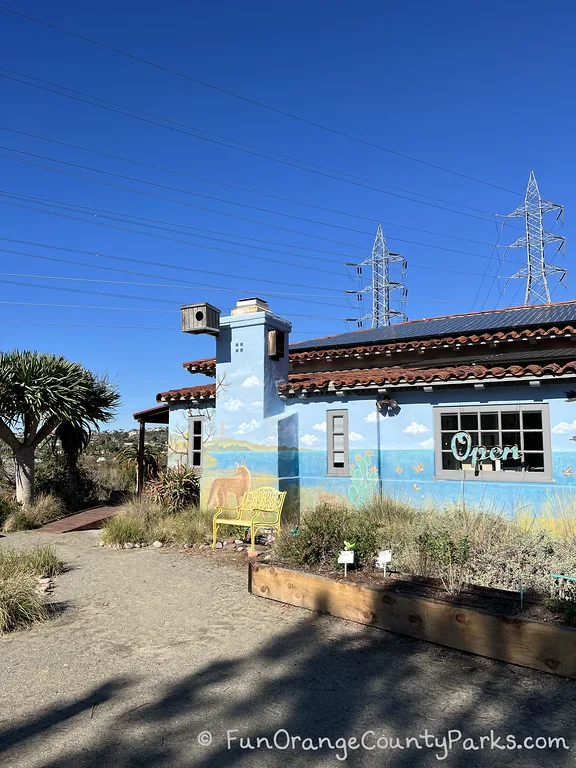 It feels very open air and it's easy to keep track of the kids.
There are all sorts of little touches that make this space feel really welcoming — like, hands-on exhibits, opportunities to hold the animals, a touch tank, a coffee machine for the public, and even scavenger hunts.
These are some of the exhibits you'll encounter:
Mastodon Bones
Birds of Agua Hedionda Lagoon
History Hall
Robert Kelly History Exhibit
Archaeology Digs
Discovery Center Aquariums
Native Plant Gardens
The Column of Life
Live Observation Bee-Aquarium
Aquaponics
Living Succulent Walls
Tire Snake (art installation great for photos)
Pollinator Path
Sanders Pond
Luiseno History and Cultural Exhibit
Fairyland
We loved the touch tank and I will always remember my daughter's face when she felt the shark for the first time. It's rough! Feels like sandpaper.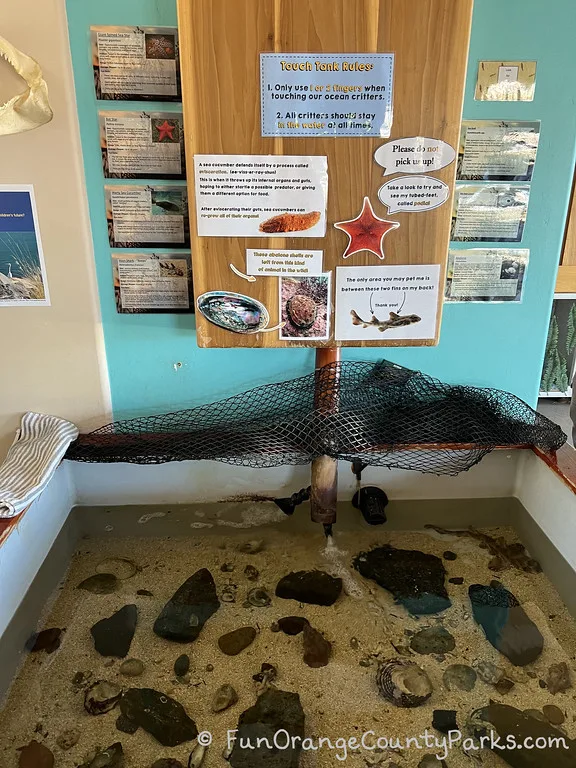 I like that you can get away with minimal reading OR go really in-depth on the things that interest you and your kids.
There are lots of different animals to observe (birds inside and outside), insects, reptiles, small mammals, and sea life. Raptor Ridge is outdoors where you will find a Peregrine Falcon, American Kestrel, Great Horned Owl, and Western Screech Owl.
I was entranced by the chameleon. So beautiful!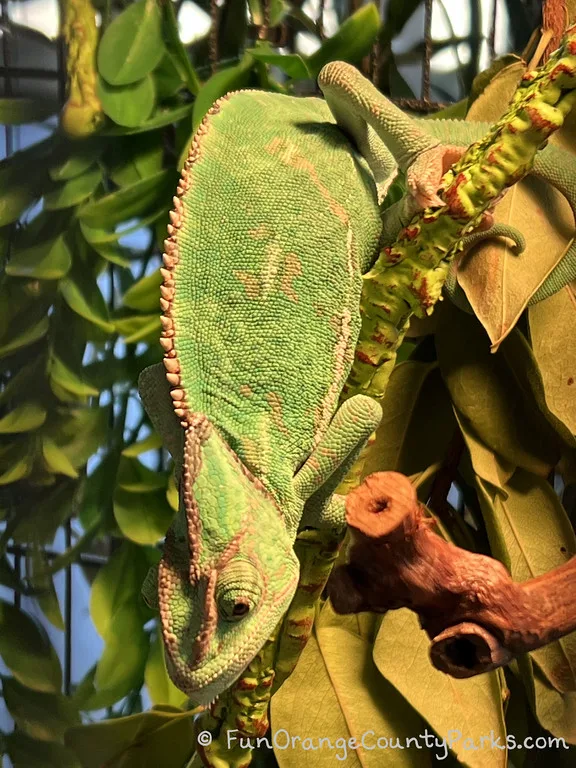 You can get an introduction to these animal ambassadors via the website before you go! If you sign a waiver you can touch some of the animals.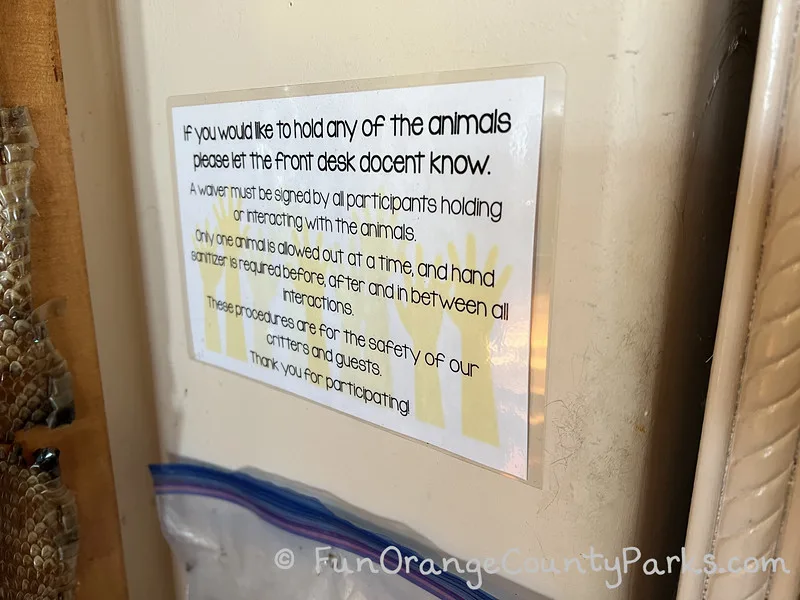 I love that there is outdoor space, as well. There is a trail below the center and the staff can help you decide where to explore.
You will wind through the building going indoors and outdoors with every exhibit space being utilized. Even hallways are worth spending time reading about the timeline of the center and finding interesting artifacts.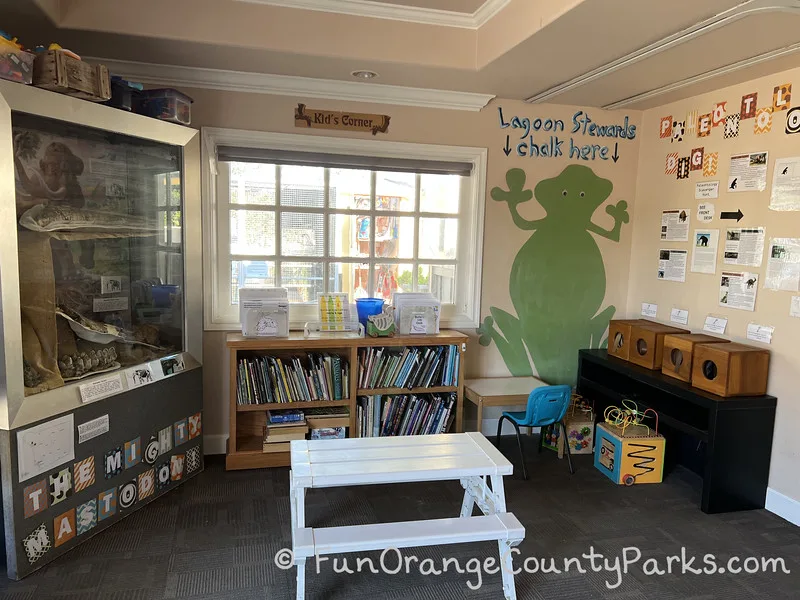 One of my favorite parts and the reason we came to visit was Fairyland! Carlsbad Village Fairies has since moved up to Orange County, but she left a bit of fairy magic here.
On the parking lot side, you'll find an island which you might miss unless you are paying attention.
You can even buy her whimsical Fairy Doors in the gift shop.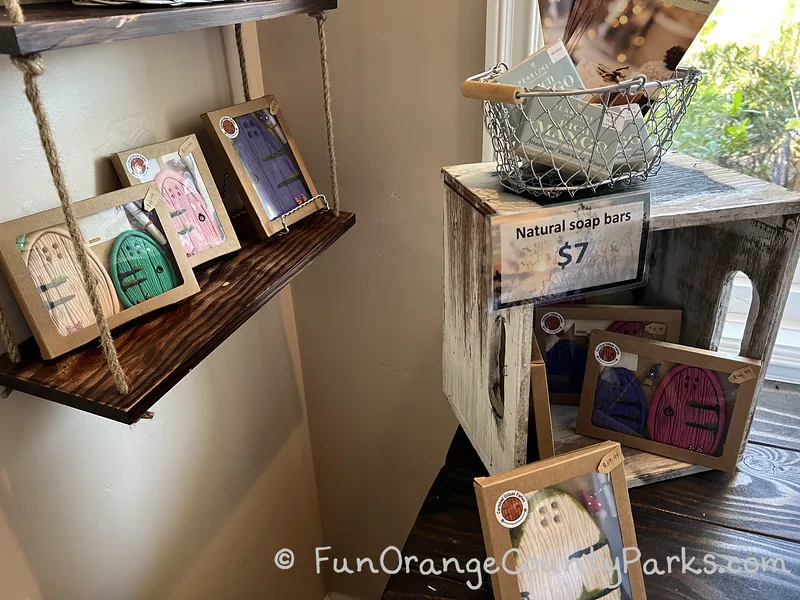 Don't forget to ask about the scavenger hunts available with different themes.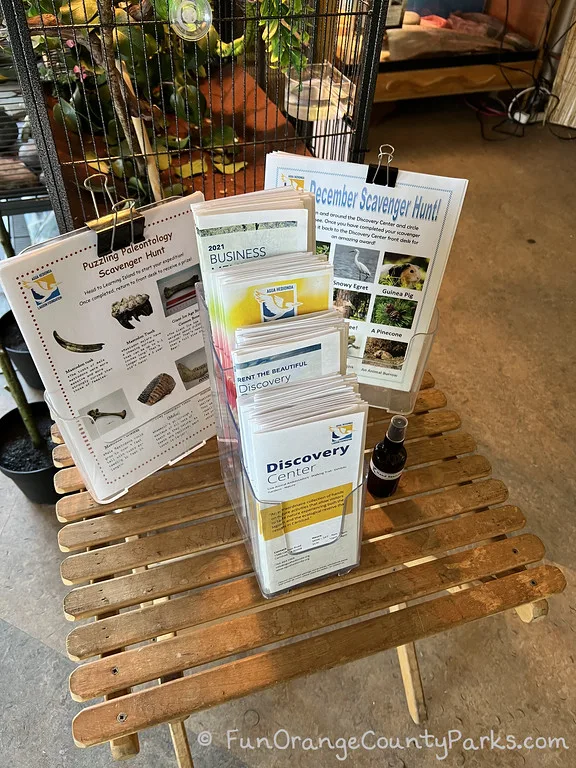 And there are also monthly guided bird walks!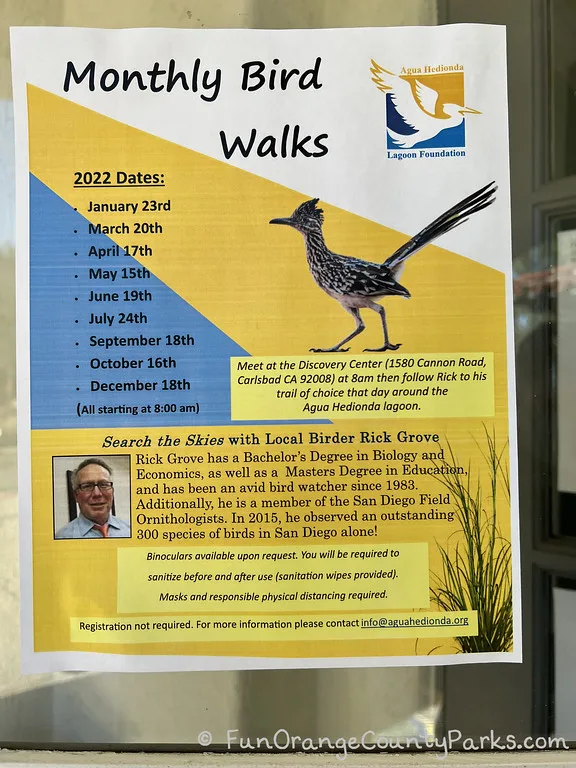 Be Aware:
Open Monday through Saturday 9am-4pm, Sunday Noon-4pm.
My daughter likes to keep her distance from bees when possible (she's been stung 7 separate times!) so the bee exhibit was nice for her to know about and easy to avoid.
There are classes and programs happening here, so please be respectful and enjoy the center without disturbing the programs.
There is no entrance fee, but the Agua Hedionda Lagoon Foundation is the nonprofit that runs the center and suggests a $10 donation per group. There is also membership available for families for as low as $60/year. What a nice contribution to make for to help maintain such an amazing resource!
You will want to visit their Hours page before you go to make sure there aren't any unexpected closures or events planned on the day you wish to visit.
Keep an eye on your kids because they could potentially hike into the parking lot or out the back door and down the trail if you aren't actively supervising. Also, with the animals you'll want to make sure everyone stays safe.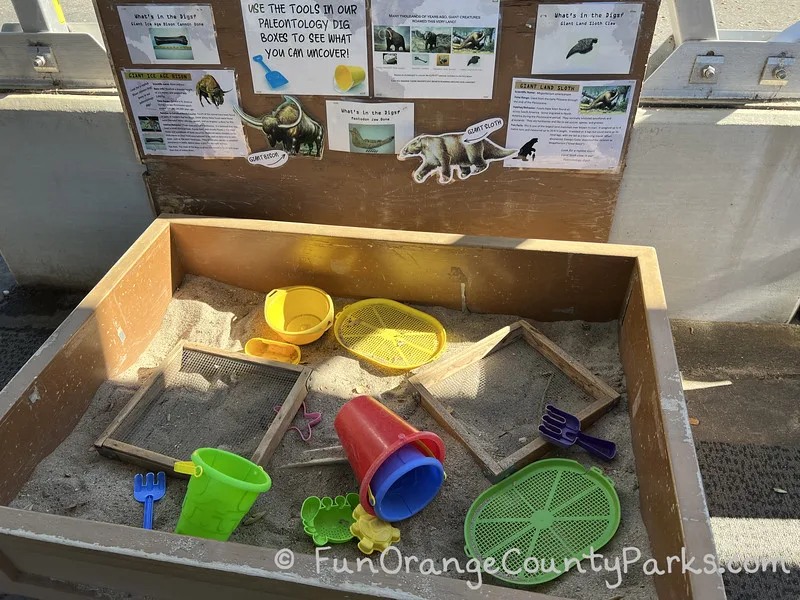 Checklist:
NO playground (nature is your playground here)
Restrooms inside the building
Little coffee station
Scavenger hunts
Gift shop that supports the nonprofit
Free parking in a dedicated lot
San Diego Outings to Pair with the Agua Hedionda Discovery Center:
Some of my other San Diego blog posts: