​Here are 9 places to ride carousels and merry-go-rounds in Orange County.
Whatever you choose to call them (carousels or merry-go-rounds), you probably have a love/hate relationship with these endlessly rotating rides which draw kids in with their catchy music and whimsical animals!
Do you still remember your first carousel ride? Were you scared or did you love it and have fun?
How about your child/children now? Do you end up sitting on the bench to ride instead of racing with the other creatures? Do they like the up/down animals or the stationary ones?
Where to Find Carousels and Merry-Go-Rounds in Orange County
Carousels highlight tend to cost between $2-$4 per ride. Generally works for kids of all ages because an adult can accompany the child. But check official sources for height requirements on some. Always double-check with official sources for the days and hours of operation!
The Santa Ana Zoo Conservation Carousel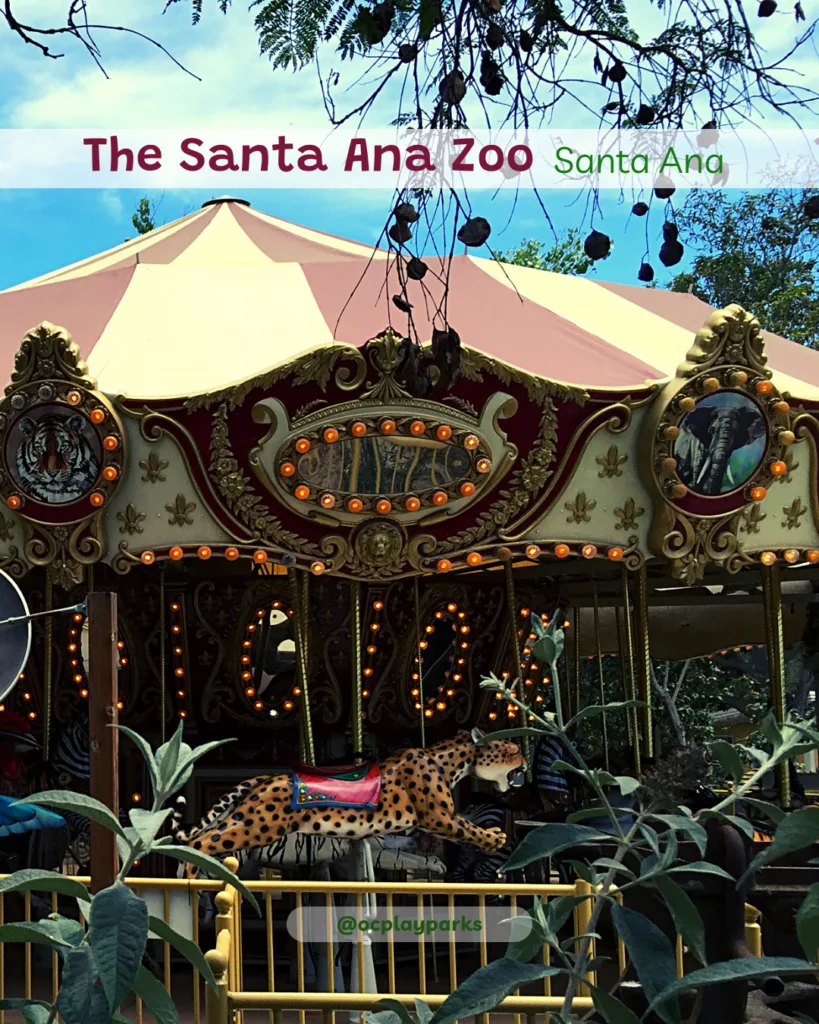 The carousel at The Santa Ana Zoo is called the "Conservation Carousel Featuring Endangered Animals."
It is run by the Friends of the Santa Ana Zoo (FOSAZ) and the money raised from your ride actually benefits the zoo! Each ride is $3 (2 tickets at $1.50 each).
There are also a Ferris Wheel and a Train for rides at the zoo. They have limited hours and mostly run on weekends.
If you are a member of the zoo, you can purchase ride discount books.
Read my post about the playground and all the rides at the Santa Ana Zoo.
Great Park Carousel in Irvine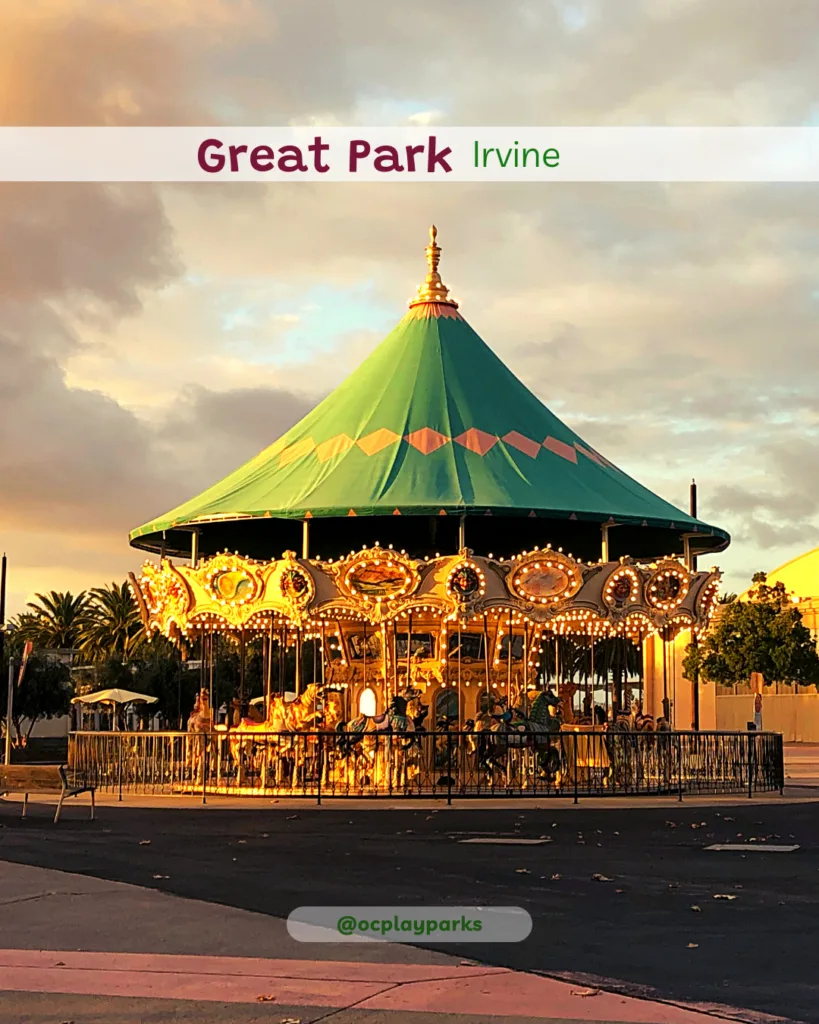 Irvine Spectrum Carousel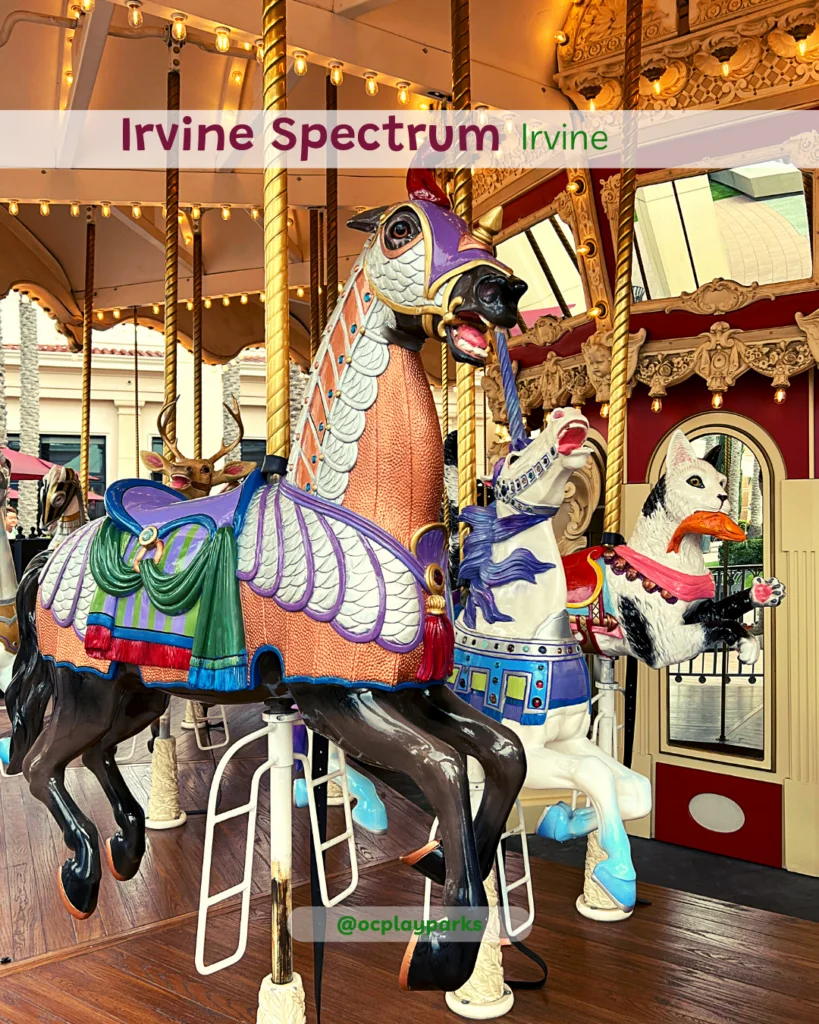 The Irvine Spectrum Carousel is near 85 Degrees and the "potato chip" playground on the Target side of this shopping complex.
It's also right next to the splash pad. It's not just carousel horses here, there are also other whimsical animals to choose.
This one runs long and late. 10am-9pm (Sun-Thurs) and 10am-10pm (Fri-Sat). It's $4 per person for a single ride. Get your tickets online so you don't have to wait in line at the nearby kiosk!
Read my blog post about Splashy Play at Irvine Spectrum + the playground there.
South Coast Plaza Carousels
There are two carousels at South Coast Plaza. One at the aptly named Carousel Court in the main section of the mall and the other across the street at what they call the "Crate & Barrel / Macy's Home Store wing."
Both are on the first floor and neither accepts cash (only credit card, debit card, or South Coast Plaza Gift Card). The rides here may be the most affordable? Rides are $2 per person.
Link: Official information about the South Coast Plaza Carousels.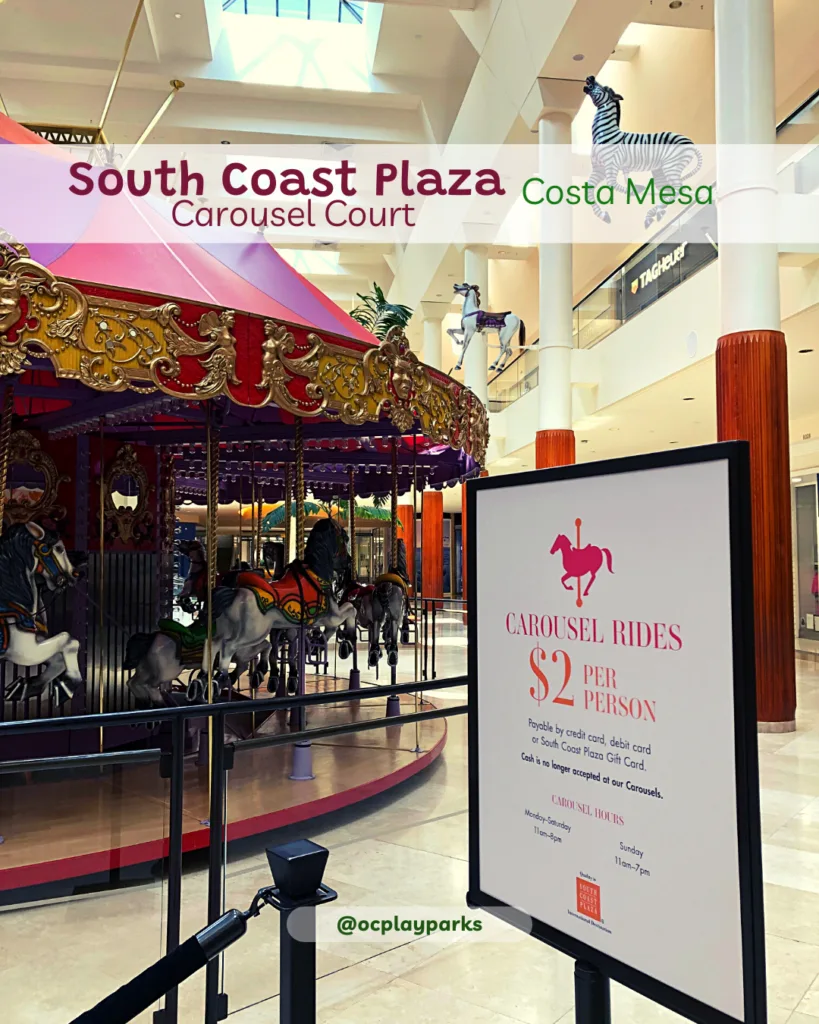 Have you ever noticed the carousel horses welcoming you to South Coast Plaza at the street entrances? It's part of the center's claim to fame and history since 1967.
The largest carousel at South Coast Plaza is in Carousel Court. It's near the Lego Store and the Din Tai Fung wing.
Apparently, this particular carousel "is the only one of its kind in California that changes its sets of animals several times a year" with spring bunnies and Santa's reindeer during the holidays!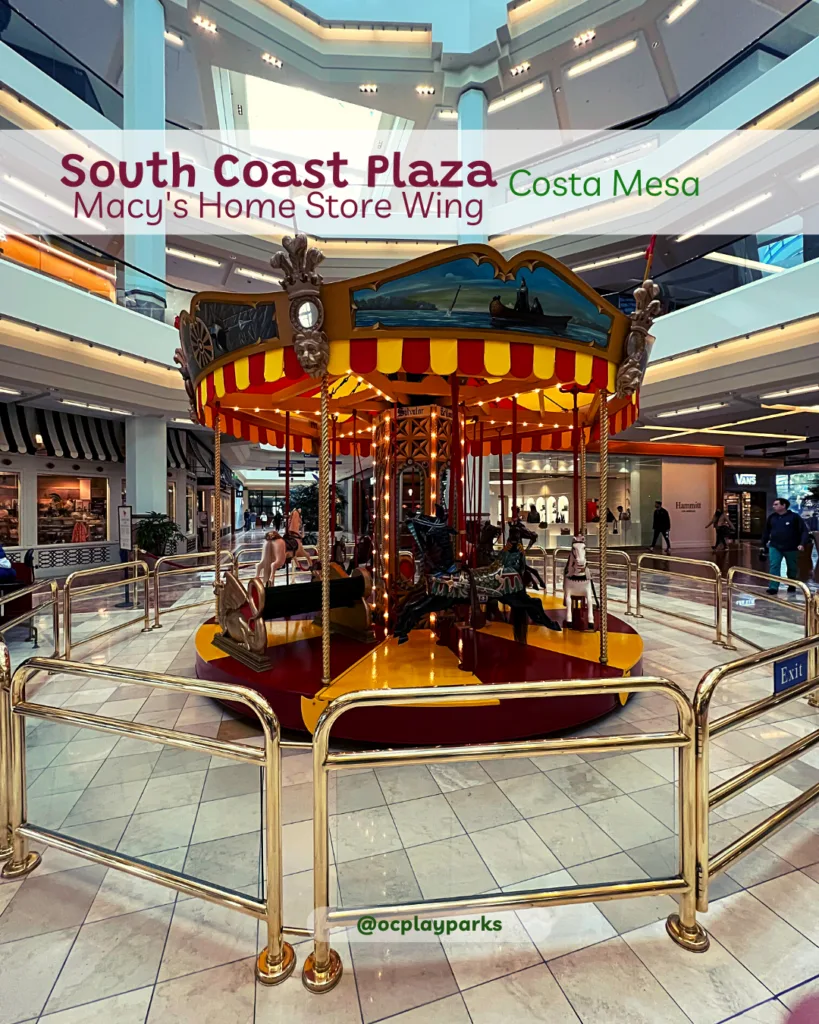 The smaller carousel at the other wing came quite a bit later in 1990 is called Excalibur and themed after King Arthur and the 12 Knights of the Roundtable. It's reminiscent of the Disneyland King Arthur Carrousel.
I, personally, love this side of South Coast Plaza. It just seems less bustling than the other side. If you feel overwhelmed by the balloons being sold and the buzz of the crowds at the big carousel, then this might be a better choice for you?
Disneyland and Theme Park Carousels
Disneyland is not the only theme park with a merry-go-round, but it's the only amusement park in Orange County that plays "classic Disney tunes . . . from the old-fashioned fairground organ" in a ride crafted by the Dentzel Carousel Company.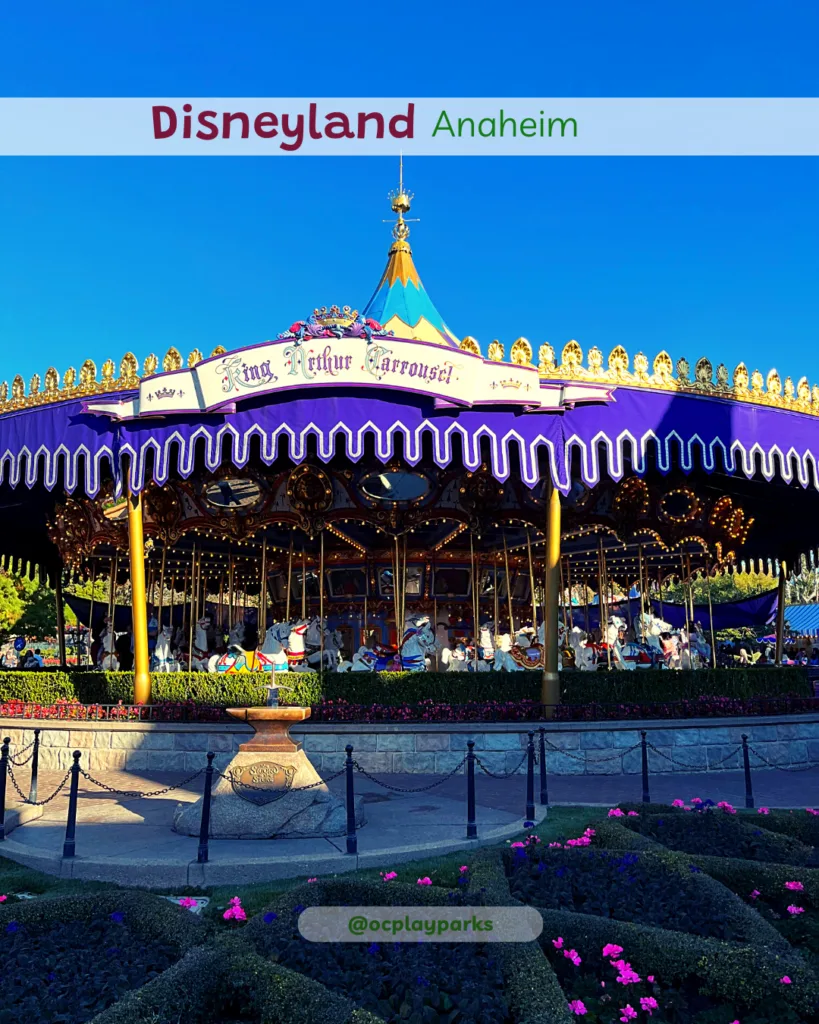 Disneyland's King Arthur Carrousel (is spelled with 2 r's) is all horses for a reason. That's how Walt Disney wanted it back in 1955.
The story goes that "When Walt Disney first purchased the revolving menagerie from this location, it featured horses, giraffes, deer and other animals. He wanted everyone to ride a galloping horse like King Arthur, so additional antique horses were located and incorporated into the renovation."
Here's even more history of the King Arthur Carrousel on the Disneyland website.
Disneyland's California Adventure
California Adventure has its own Jessie's Critter Carousel. It's always been near what used to be Paradise Pier and what is now called Pixar Pier, but it started out as King Triton's Carousel of the Sea with sea animals.
Now it has "cute little desert critters" from Jessie's black and white TV show in Toy Story 2. My favorite is the backwards facing purple skunk!
Read more about Jessie's Critter Carousel on the Disneyland website.
Adventure City
Maybe the most affordable of theme park carousels?
Admission to the park is $26.95/person with FREE parking.
Read my post about Adventure City.
Knotts Berry Farm
The Knott's Berry Farm Merry-Go-Round sits right near the entrance to the park. One of the words often used to describe animals on these rides is: menagerie. And this one definitely fits that definition! All sorts of circus animals to choose between.
It is also a Dentzel carousel like the one at Disneyland.
Read about the Knott's Berry Farm Merry-Go-Round on their website.
Reader Recommended Rides
You always come through with the good ones!!
Carousel Room at The Children's Museum at La Habra
Ashley told me about the small carousel room at this museum! THANK YOU! No one has this on their list, I can guarantee you. This makes TEN carousels in Orange County
I will get photos soon. Until then, you've probably already guessed you will have to pay admission to get into the museum and then rides would be included. There is a special note that there are age and height restrictions on this one. Visit the Carousel Room page on The Children's Museum of La Habra website to learn hours of operation and see a photo of the carousel.
Southern California Carousels Outside Orange County
I can see this becoming a thing by recording rides I find all over Southern California. Because if you're interested in one, you probably want more!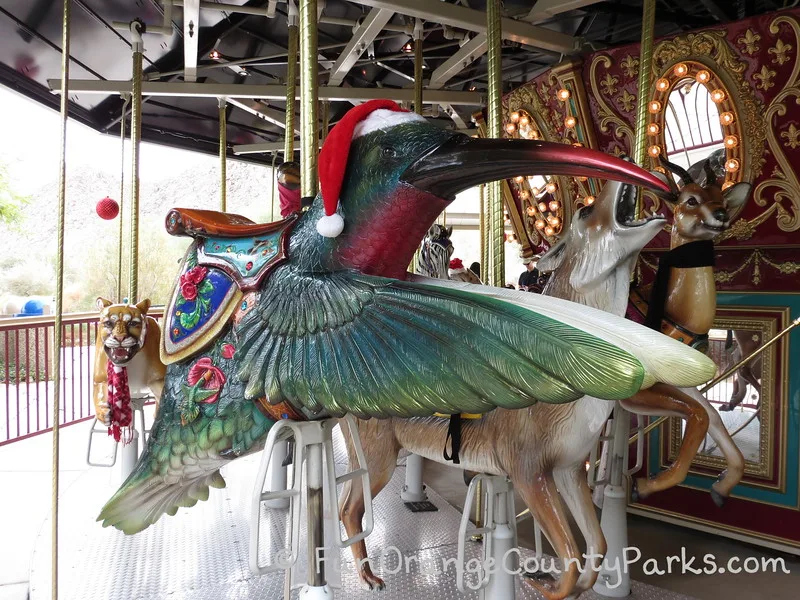 Pelican Pier Pavilion at Shoreline Village Long Beach (not Orange County, but close for some of you!)
Laura told me about this one is inside a pavilion with arcade games and restaurants near the Aquarium of the Pacific.
Living Desert Zoo in Palm Desert
Oooooh! I loved the hummingbird on this one and how they put Santa hats on during the holidays and their WildLights event. Read my post on The Living Desert Zoo & Gardens.
Where else am I missing?
Please send me your spots and I will include them in this blog post! Happy riding!