The Woodbridge Village Center Play Area in Irvine which has always been a fun destination for local families just got a $30 million renovation which includes a climbing structure, expanded seating areas, and an astroturf "lawn" have been added to the center.
My husband and I have been coming here for ages! Ever since our college days at UCI. We know it for its Woodbridge "dollar theater" — it was kind of run-down back then, but they'd show old movies for cheap.
And then there was always the whole breakfast or coffee + browse the bookstore-for-hours outings. You can still catch a movie, or get breakfast, or buy a book — but now it's set up so that you might stay a while.
Recommended by: Nicole (a reader who let me know about the BIG spiderweb climber)
Directions to Woodbridge Village Center Play Area: The center is located on Barranca Parkway between Culver Drive and Jeffrey Road. Overlooking the lake. (Address: 4500 Barranca Parkway, Irvine, CA) MAP TO WOODBRIDGE VILLAGE CENTER PLAY AREA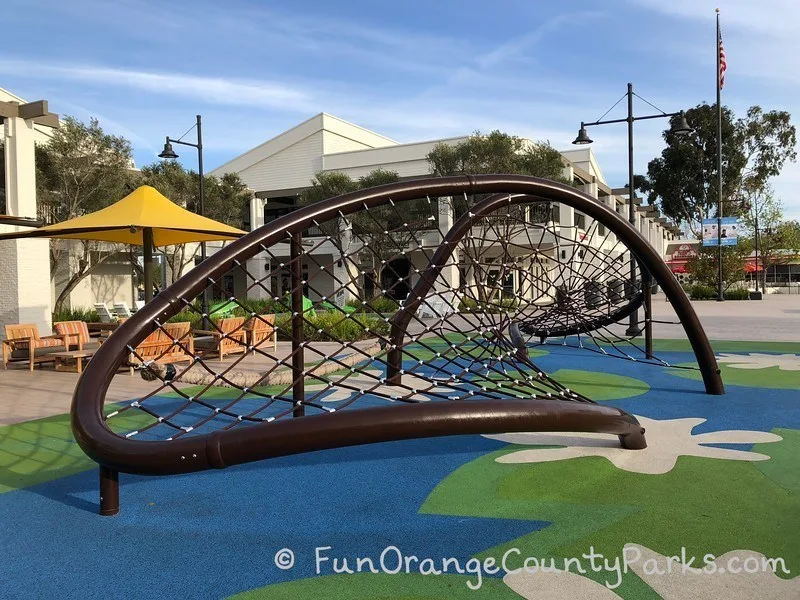 Highlights
This center has long been a community gathering area and now it has tons more seating outdoors. Imagine a HUGE backyard patio overlooking a lake.
The wide open space paved with pavers spreads out with vibrant yellow sun umbrellas spotting the outdoor setting. You can choose big comfy seats or brilliant white Adirondak chairs.
There's also shaded picnic tables for enjoying a meal or snack from a nearby eatery.
An easy bike riding or walking destination because it hooks up to an over-street trail from nearby residential areas. But there's also plenty of parking if you want to drive.
For those who live locally, there are opportunities for kids dance classes, art classes, music lessons, a robotics lab, and even tutoring. For active adults, there are yoga and cardio classes.
When I was there, a little girl was playing her own imaginative game just hopping from lily pad to lily pad – so the designs under the climber can inspire pretend play
Mark my words, I have a feeling the lawn area with the 3 trees will be a hugely popular place for kids and families. There's a much smaller patch of lawn at Irvine Spectrum and every time I'm there, families are crowded into that space.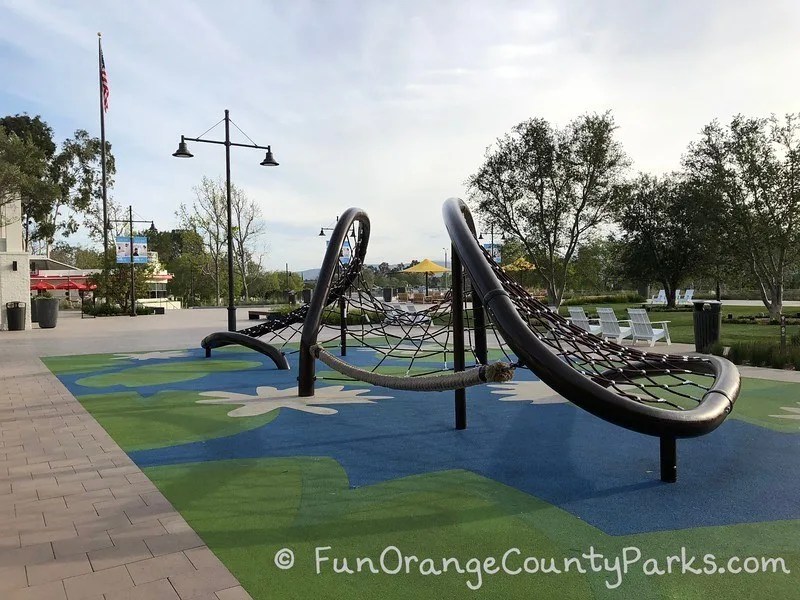 I love breakfast + play outings – so this is perfect for that kind of weekend morning escape. It feels lazy here. Add in the bookstore after 10am and I'm in heaven.
I've written about Sessions West Coast Deli before (when I had the opportunity to taste a complimentary beach picnic and their grom menu). Their other two locations are on the Balboa Peninsula in Newport Beach and Huntington Beach. Now they are bringing their laid-back beach vibe and scratch kitchen inland. But there's still a view of water nearby! I'm looking forward to picnicking at this location while I watch the world go by.
There is also a juice bar and Cha Time milk tea place here.
Be Aware
Dogs aren't allowed on the astroturf areas for obvious reasons.
Play area is designed for children ages 2-12
It can be busy on weekday afternoons with kids and adults using the seating areas for homework and after school snacks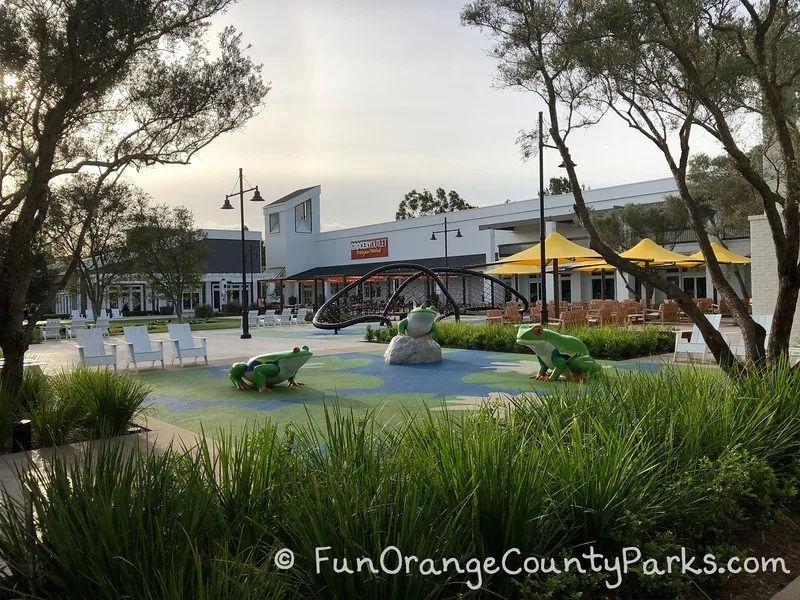 Checklist
Barnes and Noble doesn't open until 10am
Movie theater is called AMC CLASSIC Woodbridge 5
Dining Options

Sessions West Coast Deli Menu with breakfast options like avocado toast and breakfast pizza, along with breakfast burritos and more
Used to be a Ruby's diner here, but not anymore.

Drink Options

CHA for Tea Menu – serving tea, appetizers, and boba with another location at University Center across from UC Irvine
The Lost Bean with breakfast options in addition to coffee

Treat/Snack Options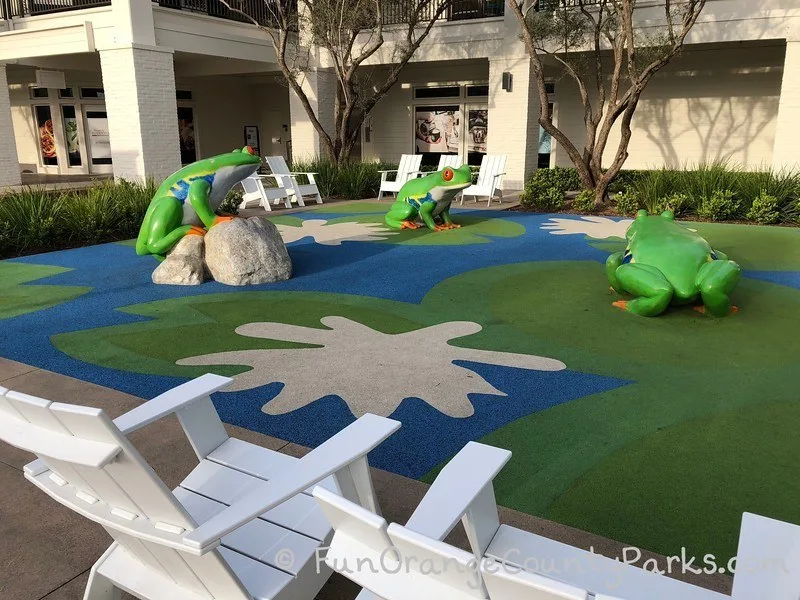 More info on Woodbridge Village Center Play Area:
Irvine Parks Near Woodbridge Village Center Play Area
Originally published in March 2018.