Surfers as well as grab-and-go sunbathers have made Sessions West Coast Deli a locals' favorite, with the restaurant's unique combinations of flavors, highest quality meats on the market, farm-fresh produce and preservative-free bread baked fresh and delivered daily. Since they opened, we've enjoyed dining on a huge sampling of main menu sandwiches and sides, as well as tasting their Grom Menu which debuted for Summer 2016. We enjoyed our meals while watching the waves at the Balboa Pier.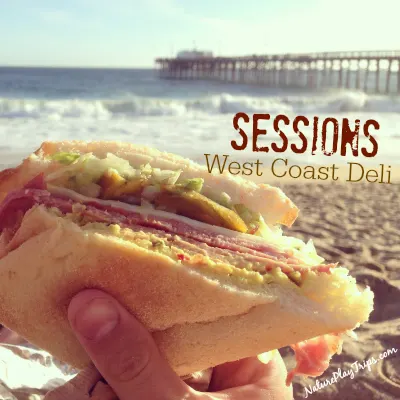 Do you know the Peninsula?
To orient yourself, Newport Beach Blvd is accessible by taking the 55 Freeway right over Pacific Coast Highway (PCH). This is the best way to get to Sessions. However, you can take Balboa Blvd from PCH or even take the car ferry from Balboa Island to reach the Peninsula. As you drive south, Newport Harbor is on your left. The beach and the Pacific stretches out from about 32nd Street down to 21st (where the Newport Pier is located) to Main Street (where the Balboa Pier is located) and then on down to where the numbered blocks hit the alphabet streets until the Peninsula dead ends at the Newport Harbor entrance jetty. Parking is notoriously difficult because of summer crowds, the Balboa Fun Zone and amazing beaches.
Where EXACTLY is Sessions and where should you park to get your food?
Sessions is in the 2800 block of Newport Boulevard. It's a little tricky to find if you're not familiar with the area. But take a look at MY map and I've pinpointed its exact location. At 30th Street, Newport Blvd splits so that the southbound traffic goes the right of a little shopping island. Northbound traffic comes up on the left of the retail area. So basically, you can access Sessions on your way in to the beach for breakfast AND on your way home for dinner – it's a left turn into the parking lot no matter which direction you are going. Now, let's talk about parking. There are only 9 spaces in the lot. We went on a slow Monday night so it wasn't a problem. If it's busier, there is plenty of metered parking along the street which is enforced between 8am and 6pm. If you download the Parkmobile app to your phone before you go, paying for parking by the pier can be a breeze. (You won't need to pay for parking if you are just going to the restaurant and skipping the beach.)
Best Bet
Order ahead so you can just run in and grab the food to take to the beach. We planned to stay at the beach only an hour. But it was so beautiful that we stayed 2+ hours and watched the sunset. Bring jacket or blanket for the chilly ocean breeze that picks up in the evening. Sessions will provide you with paper napkins, plastic forks, and small paper plates — but it would be better for the environment if you brought your own "mess kit" with plates and silverware from home. We only needed forks for the side dishes.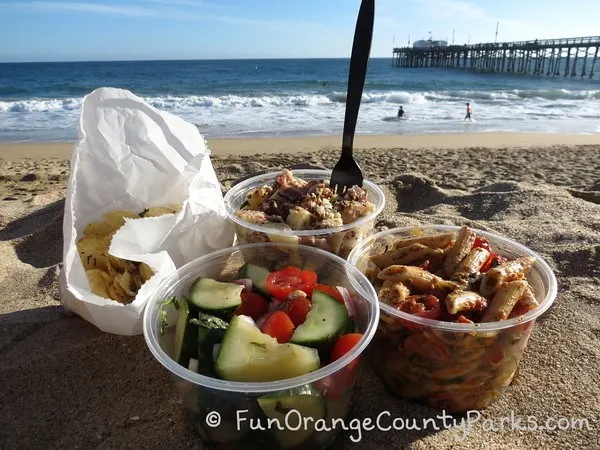 Pictured sides:
Cucumber Salad – marinated cucumber, tomato, corn, and red onion (no longer available – now serving a soup of the day instead)
Potato Salad – bacon and mustard with a sweet vinegar flavor
Pasta Salad – flavorful sundried tomato style penne with grape tomato halves and basil shreds
Shaka Spuds – potato chips flavor-infused with toasted herbs and shaved parmesan
What should grown-ups order?
The best sandwiches for any age are the Summer Zephyr or the Greatfella. If you are ordering for a less-adventurous or picky eater who is not big on spice or tang, I'd ask to have them hold the razor onions (which aren't spicy, but just pickled) and to skip the chow chow and cherry peppers. Either that or make sure you have extra water to wash it all down! I absolutely LOVED the razor onions and my husband thought the extra spice with the chow chow and cherry peppers fit the sandwiches just right. I think everything on the menu looks yummy, but part of the appeal is the unexpected heat from peppers and other ingredients, like sriracha. For kids, the Grom Menu fulfills all the checkboxes on flavor without risking any complaints from little ones about spice.
The signature Shaka Spuds are potato chips with toasted herbs and parmesan shavings. Sooooooo good and they make the restaurant smell so fragrant!
New for 2016 Grom's Menu (Especially for Kids!)
Grom's Menu includes Shaka Spuds & a fountain drink for $7.
Lil' Baller (meatball)
Gobbler (turkey & cheese)
Ham & Cheese
Big Tuna (kids were loving this on the day we tasted!)
Mr. Melty (grilled cheese)
PB & J
Bee El Tee (bacon, lettuce & tomato)
Super Mario (pizza)
Lil' Rascal (kid's club sandwich)
Cheese Quesadilla (watch the pepper jack!)
If your child likes pizza, I'd recommend the Super Mario and the Lil' Baller for something different. They both taste amazing on the fresh brioche.
Where to beach picnic?
Go to your favorite spot if you have one. Try the new Marina Park right down the street from here on your left. We drove down to A Street — just past Main Street — and turned right into the parking lot there. It sits right on Peninsula Park where there is a big grassy area, a gazebo, some picnic tables, and it's very near the playground where there are benches (and restrooms!). If you plan your dinner picnic for after 6pm, then you don't have to pay for parking. We took our picnic up and over the sand berm they've built to keep the big waves from crushing the peninsula. You're just a tad bit south of the Balboa Pier in this spot. We sat directly in the sand and watched the big waves pummel the pier. TIP: Don't feed the seagulls and guard your food. They will try to grab it if they get a chance to get near your plate.
Be Safe
Please be super safe! Sometimes the surf can reach 10ft to 15ft! This is amazing to watch, but your kids should NOT be in the water in this kind of surf. Not even to play wave tag! Save the lifeguards a dangerous rescue, please. We saw big waves come up really fast and go WAY further up the beach than any of the previous sets. One of my high school classmates and experienced surfer died in big surf on this Peninsula in 2010. And, more recently, a Newport Beach lifeguard lost his life rescuing a swimmer. It's no joke. The waves can knock little ones off their feet and the strong current can pull them out faster than you would be able get to them. Stick to being a spectator during these high surf weather events.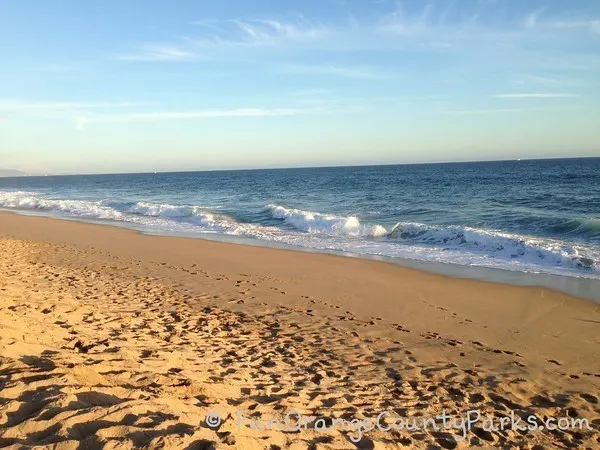 Sessions is located at 2823 Newport Blvd., Newport Beach, CA 92663 and opens its doors to guests every day from 7 a.m. to 8 p.m. See my map! You can follow them on Facebook, Twitter, and Instagram to find out about future deals.
Disclosure: Sessions provided us with a complimentary beach picnic and items from the kids menu so we could review for you! Whenever I have the opportunity, I always try to support our local businesses. Read full disclosure policy.