The 2023 best beach restaurants in Orange County are the family friendly ones where the adults can enjoy some yummy food or drink while the kids play in the sand. That was the inspiration for picking the best and why I call them family friendly beach restaurants in Orange County.
The beach snack bars you remember as a kid are there in spirit, but some are now legit foodie havens with that luxury price tag. (Remember, during summer they are serving tourists as well as locals!)
It has taken me a good six months to research in preparation for Summer 2023! This is going to be one of those beach restaurant lists that grows and changes over time. I will keep adding to it and I always love when you send in your recommendations and experiences for me to include. Thank you to the mom who requested this — I have been on the lookout since you asked and finally researched to get a list together for you!
It is a bit heavy on South County beaches at the beginning of summer, but I should be able to add in Newport Beach and Huntington Beach restaurants soon. Needed to wait for some to open AFTER Memorial Day weekend.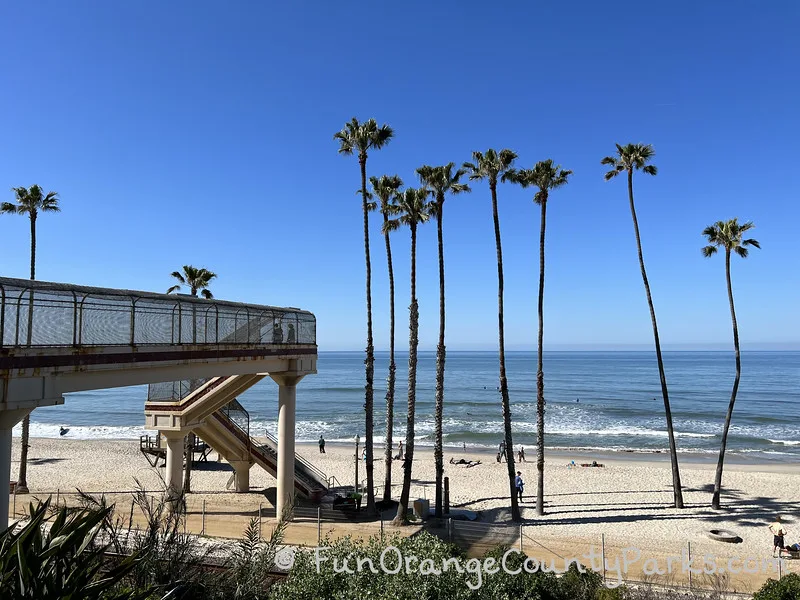 Beach Restaurants: Things to Know Before You Visit
If you aren't from California, you should know there is a MUCH slower pace at the beach. We go there to unwind and relax. It may be the one place we experience in our week where there is no rush.
So, get your California vibe on and be patient and kind. The ocean is right there and remember that this is more than a meal, it's a time to hang out at the beach and enjoy the scenery with your family.
Beaches are busy during the summer and parking can be a challenge
Get there early to have the best chance of avoiding crowds
Please be courteous and respect the staff they are working as fast as they often in small kitchens
You know how I mentioned parking? You will probably need to pay. Sometimes a little and sometimes a lot. So factor that into your budget and try to carpool if you are going with friends or family.
My biggest advice about parking: Research your parking options and if there is an app: DOWNLOAD THE PARKING APP BEFORE YOU GO. You will need to enter your license plate and credit card number and it's a pain if there's slow wi-fi and maybe not as secure as entering it before you leave home.
Do not leave valuables in your car when parking at the beach! Thieves know you are going to be away from your car for a while and these lots can be targets.
Free Summer Beach Trolleys are an option for some of these restaurants! It can be a whole adventure for your family. There are free trolleys available for: San Clemente, Dana Point, San Juan Capistrano, Laguna Niguel, Laguna Beach, and Balboa Peninsula in Newport Beach. Visit my post on 6 Free Trolleys in Orange County and How to Ride Them to find out more! I tried to include relevant trolley stops.
Many of the restaurants offer alcoholic beverages. Friendly reminder not to drink and drive.
These beach restaurants can close, change hours, or change menus based on the season, the staffing, or ingredients available. Be flexible and have a Plan B.
In each city below, I've listed:
links to the websites,
Instagram account handles because sometimes that's the most updated information over the beach restaurant websites,
notes on accessibility for wheelchairs and strollers,
parking options and the ways to pay for that parking,
free trolley stops to reach the restaurants (when it applies),
lists of other nearby options if my top pick doesn't work out,
and finally, links to blog posts I've written to help you make a play trip out of your day.
Let's start at the southern end of Orange County and work our way north!
San Clemente
My pick for San Clemente's best beach eats is West Toast Café.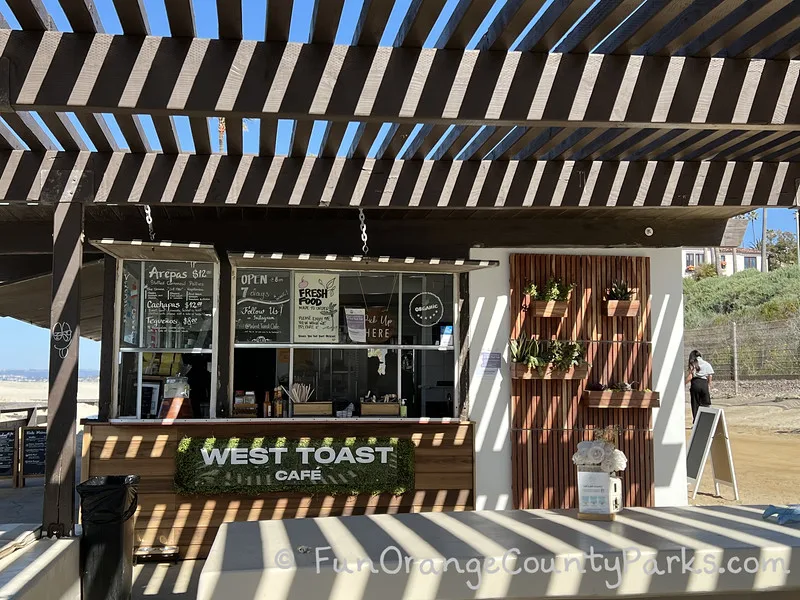 They bill themselves as an Organic and Local Food Café and that's what you will taste when you savor their dishes. Located at T-Street Beach, it's here to power surf sessions and morning runs along the beach path. When I was there it was also clearly a place where parents let the kids play in the sand while sipping on a morning smoothie or coffee.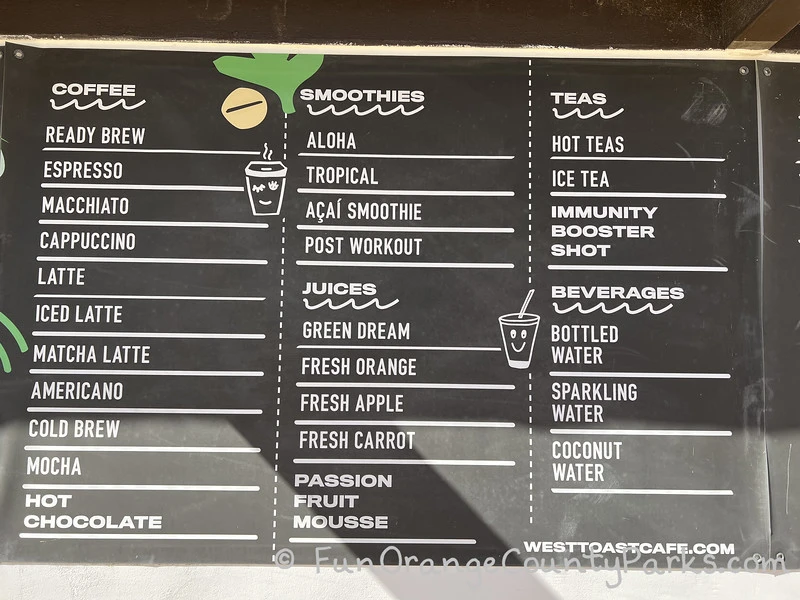 What makes West Toast Café special? The freshness of the food is noticeable and the flavors are truly something to take time to enjoy. There is obviously a kids menu – otherwise it wouldn't be on a family friendly list) and also a Venezualan food section of the menu with Arepas, Cachapa, and Tequeños. We enjoyed the Arepa (The Queen): Gluten Free cornmeal patty stuffed with chicken, avocado mix, mayo and Gouda cheese. Served with our signature guasacaca sauce.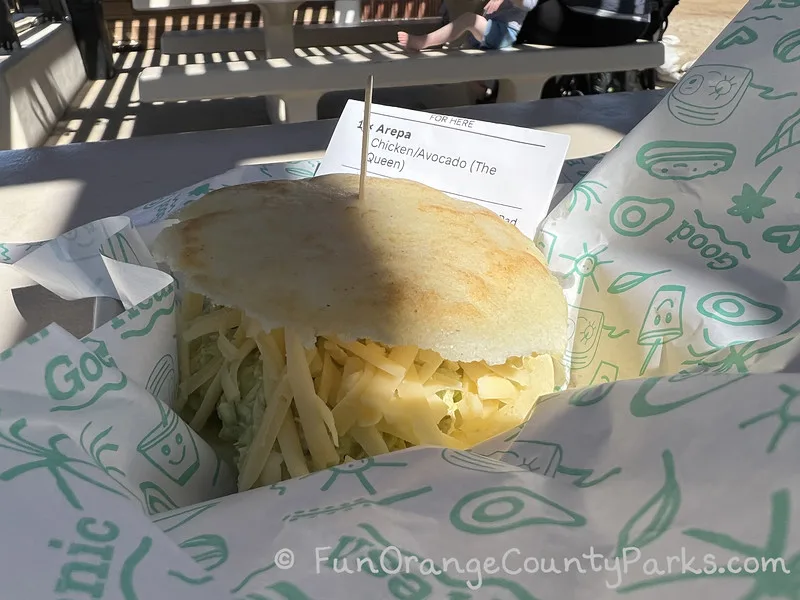 They also have the California breakfast regulars like toasts, breakfast burritos, bagels, and sandwiches.
West Toast Café (Instagram: @westtoastcafe) is located at T-Street Beach in San Clemente. It opens at 8am.
Accessibility: This restaurant is located off a dirt pathway and it's basically in the sand. I included the photo below and the title photo on this post to illustrate what the path looks like. It is possible to reach if you park at the pier and make your way along the path from the pier, but it's not easy or ideal for a wheelchair. I do have other restaurants on this list that are WAY better for that! Strollers work on the trail as long as you are okay getting them sandy. (EVERYTHING will be sandy!)
Parking: You will use the Passport Parking app to pay for your parking. The closest spots are above the beach and then walk across the T-Street bridge and down to the restaurant. So there are stairs! If you want to avoid the stairs, park at the Pier Bowl Parking Lot. Here are parking rates and instructions from the City of San Clemente.
Trolley Stop for the Pier: San Clemente Trolley Stop 1 on Red Line, then walk from the pier along the San Clemente Beach Trail.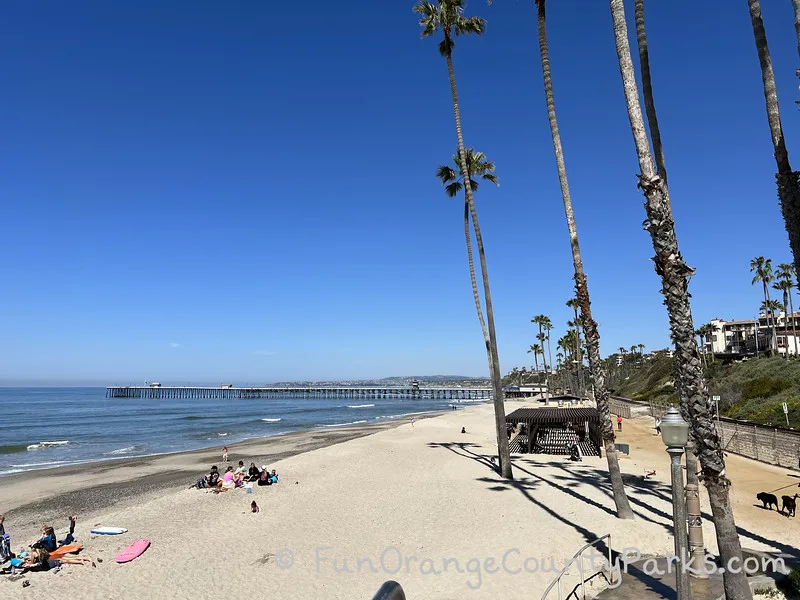 Other beach restaurant options for families in San Clemente:
These are NOT directly on the sand, but nearby.
The Calafia Beach Cafe is the snack bar at Calafia Beach, also known as San Clemente State Beach. The snack bar is located in the center of the parking lot. It was not open when I visited, but it's on my list to return. From the signage, it opens at 9am during the summer. I will swing by soon to update. Parking at San Clemente State Beach where you pay using the Yodel app! Download before you go.
Fisherman's Grotto Restaurant has a more formal sit-down restaurant on the pier, but during the summer they also have a snack bar called The Fisherman's Galley. Located on the beachside of the train tracks, but not directly on the beach. Parking by the pier using the Passport Parking app. Or take the San Clemente Trolley!
Finally, across the street from the pier (NOT on the beach side) there is Bear Coast Coffee, Caterina's Gelato, La Gallette Creperie, Consentino's Pizza, and Pierside Kitchen and Bar.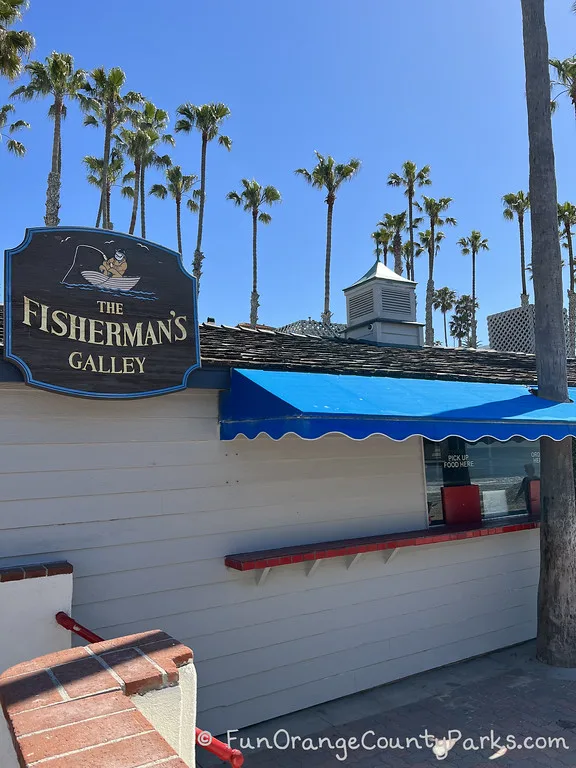 My blog posts which might help give you San Clemente play trip ideas for the day you visit these beach restaurants:
Dana Point
I pick two very different beach restaurants in Dana Point. The one family friendly restaurant right on the sand in Dana Point is the Doho Cafe inside Doheny State Beach. A little further up the coast, after you go through the main part of town is Young's Beach Shack at Salt Creek Beach Park overlooking the beach.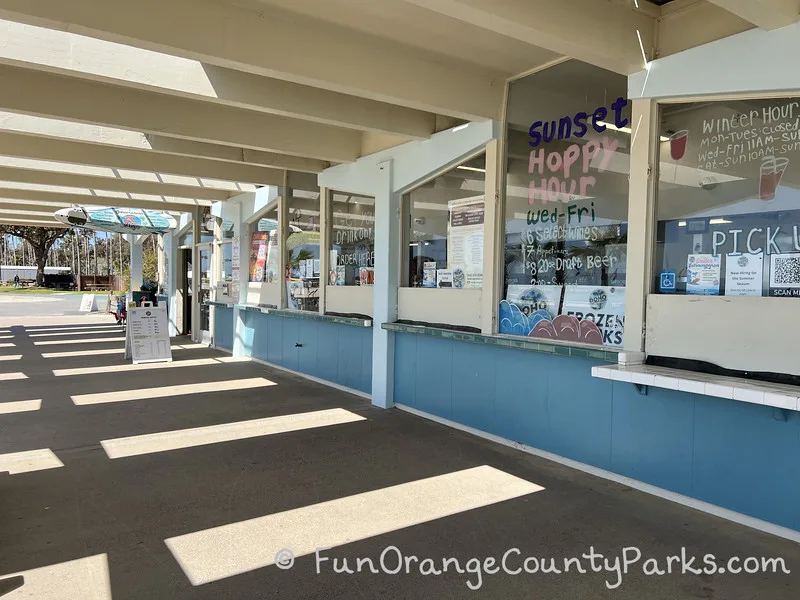 Doho Cafe (Instagram = @dohocafedoheny) is located inside Doheny State Beach. I think the winter hours are posted when it opens at either 10am or 11am. I have to think they will open earlier during summer. I am keeping my eyes out for an update.
What makes Doho Cafe special? It's the perfect sunset spot overlooking the surf beach with peeks into the harbor with boats coming in and out. There's a Happy Hour from 3pm-6pm which includes food items like street tacos, sliders, and chicken wings. Come for an early dinner with the kids. Smaller beach bites and fresh fare on the menu. They also have the fun beach fare like churros, soft pretzels, and fries. This is only beach restaurant that has a Wheel Fun Rentals for renting beach trolleys and bikes to ride along the beach bike paths.
Accessibility: The closest and most accessible lot would be the Doheny State Beach lot. The paths are really wide here. There is a Wheel Fun Rentals here so you may need to navigate around beach bikes and trolleys. Strollers would work great here.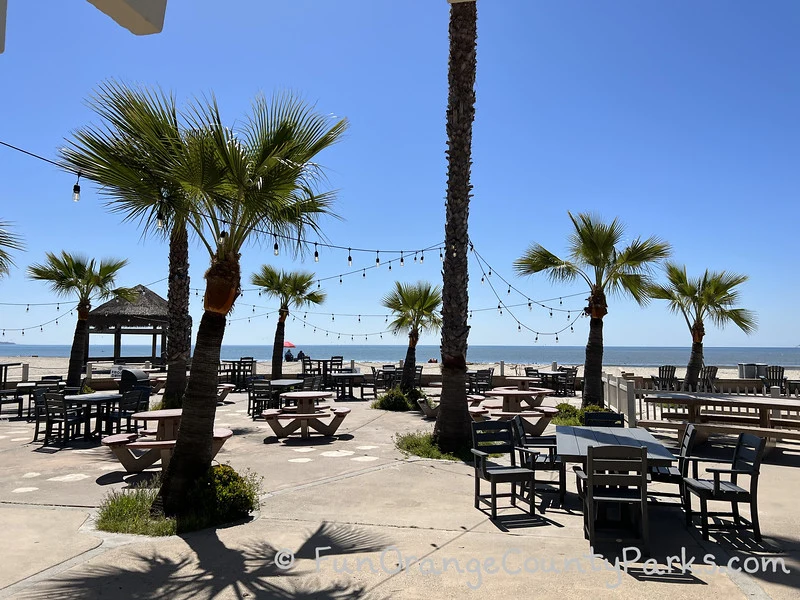 Parking: The Doheny State Beach parking is the most accessible and great if you have a CA State Parks Annual Pass. I believe all state parks and beaches are switching to the Yodel app. You would have to pay for a full day here ($15/day) or there is a Dana Point Harbor lot where you can pay $1 hourly at a pay station, but you have to walk in. We tried walking along the beach in March after the storms and it was a bit difficult, but we did it! Summer may be more inviting? There is a small stairway and it drops onto the beach. You might be battling hopping over the stormwater runoff drainage and you'll need to walk a bit, but it is cheaper. Alternatively, you could walk into Doheny through the official entrance along the sidewalk from this parking lot. Either way it is a walk.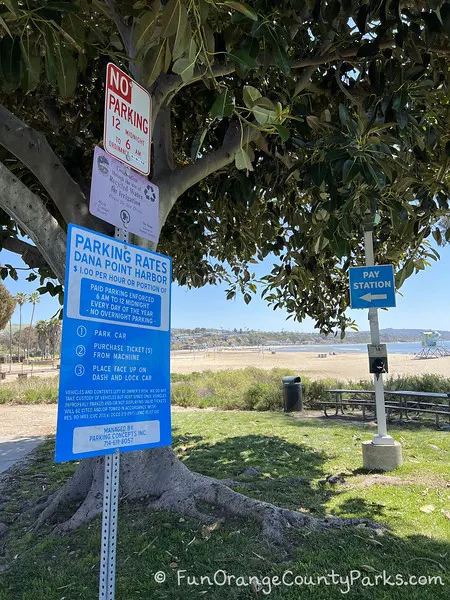 Trolley Stops for Doheny State Beach: Dana Point North Route Stop N7 (blue) or even better is Dana Point South Route Stop S16 (burgundy color on the map)
Here is the second Dana Point beach restaurant pick — only second on my list, not in order of preference. I like them both!
Even though there has been a beach snack bar at Salt Creek Beach Park in the past, Young's Beach Shack just came on the scene in Spring 2023. It's run by The Ranch at Laguna Beach.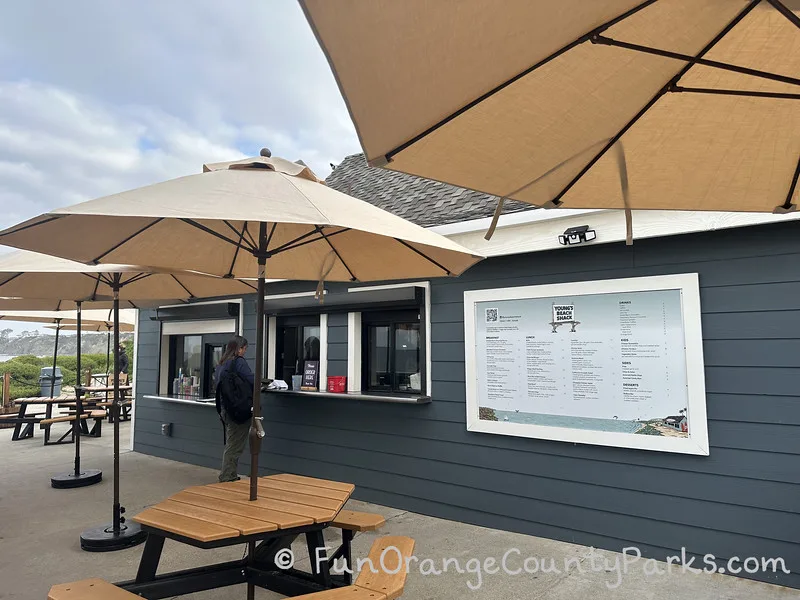 Young's Beach Shack (Instagram = @youngsbeachshack) is located inside the OC Parks Salt Creek State Beach Park. It opens at 7am.
What makes Young's Beach Shack special? You can order anything off the menu at any time. I ordered the BLTA Sandwich for breakfast and the toast was rubbed in garlic and it was just DELICIOUS. My friend liked her breakfast burrito (thanks for the photo of me, friend). Nice restrooms nearby. Unmatched view!
Accessibility: If you know Salt Creek, then it's famous for its STEEP hill down to the beach. I know at some points of the year they run a shuttle down to this point. I will do more research to see if this is the case. Strollers would be okay if you wind through the park to get down the hill or I've seen families go ahead and charge down the hill. So it's your preference as far as a stroller goes.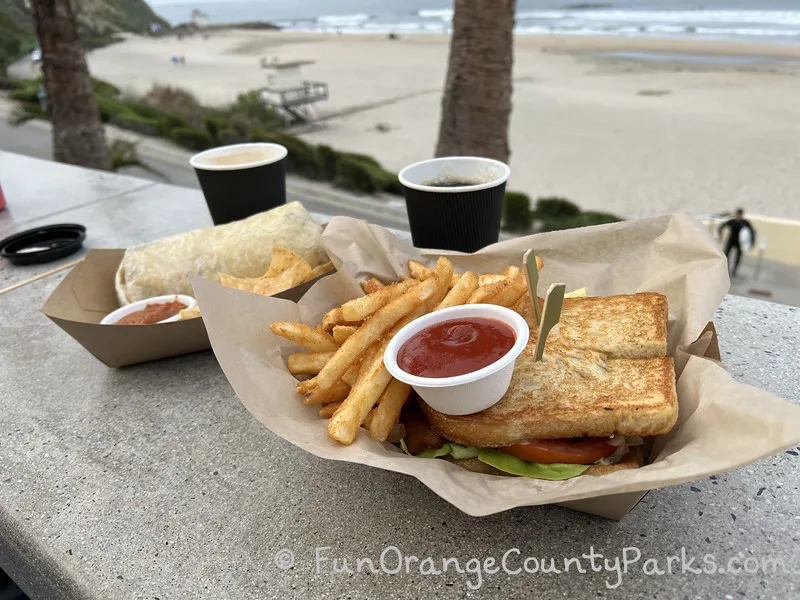 Parking: This spot would be a good option if you have an OC Parks Annual Beach Parking Pass. Otherwise, there are easy pay stations at $1/hour. Check the official parking information from OCParks.com. You can actually walk to this spot if you are out for a hike in Laguna Niguel or nearby. You can take the Salt Creek Trail.
Trolley Stop for Salt Creek Beach: Dana Point Trolley Stop N1 and also a Laguna Beach Trolley Stop on the LONG COASTAL Route (Ritz Carlton Stop 34)
Other beach restaurant options for families in Dana Point:
This restaurant is NOT directly on the sand, but is right on the water in Dana Point Harbor.
I'm a huge fan of family-owned Coffee Importers in Dana Point Harbor for families. It's such a great spot to have a bagel or some ice cream (for the kids) or a healthy breakfast and a special coffee drink for the adults. If you aren't ready to do sand or the beach, you would still have a view of the harbor and it's dog friendly, too. Free parking at Dana Point Harbor restaurant area.
My blog posts which might help give you Dana Point play trip ideas for the day you visit these beach restaurants:
Laguna Beach
Laguna Beach has so many ocean view or near-the-beach restaurants as a popular tourist spot, but Lost Pier Cafe is the only restaurant I'd rate as family-friendly and right on the sand. Same as Young's Beach Shack at Salt Creek, this one is also run by The Ranch at Laguna Beach which happens to be located almost directly across the street from this location.
Big shout out to my friend, Ashley, for getting me started actually collecting the content while dining at these family-friendly beach eats which started with her introducing me to this restaurant back in October 2022!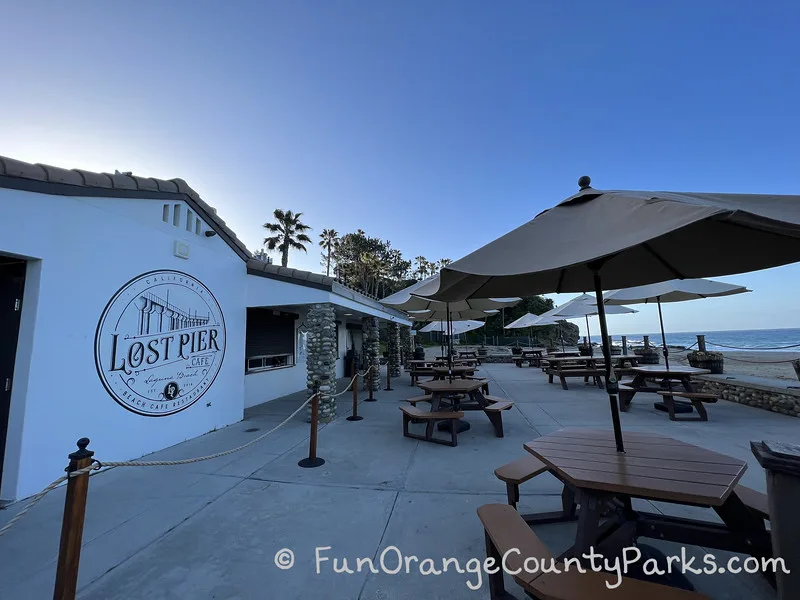 Lost Pier Cafe (Instagram = @lostpiercafe) is located at Aliso Beach Park in south Laguna Beach. It opens at 8am.
What makes Lost Pier Cafe special? I love that they have a beach cam on their website so you can get an idea about the weather on the coast before you go. My favorite menu items here are the Clam Chowder Fries, Grilled Chicken Caesar Salad (still dreaming about how good this was) and the Cheeseburger which was the kind that's so juicy you can't put it down until you are done. I know a lot of people come here to get the hot Paper Bag Beignets which are those fluffy doughy pillows coated in powdered sugar. They rent out Grill 'N Glow portable fire pits powered by propane to customers over 18 years old which you can use in the sand near the restaurant. There is also the playground in the sand at the opposite end of the parking lot!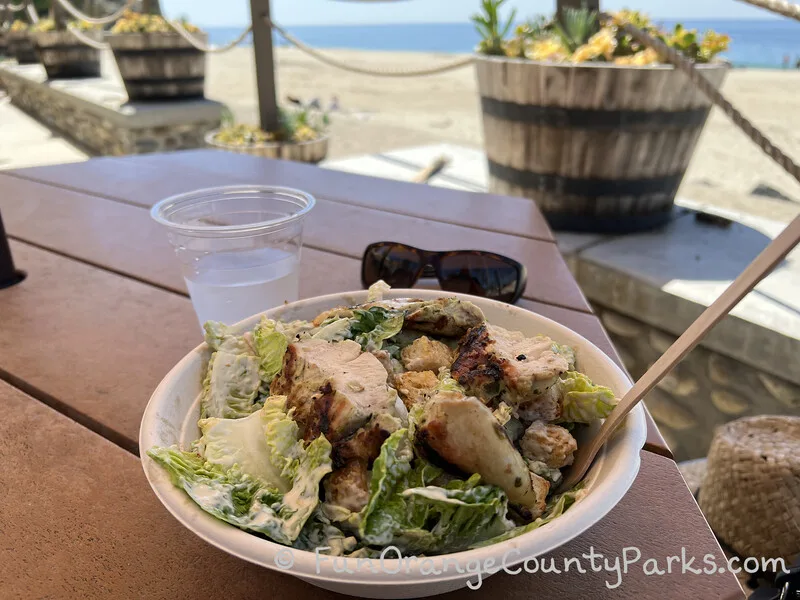 Accessibility: I am not sure about the width of the sidewalk, but the parking lot is flat and if you come early you can literally park a few parking spaces width away from the restaurant. The majority of tables are round with built-in benches, but there are a few long tables with benches only on the sides. No need for a stroller here since you can park right next to the restaurant and the only other walk is to the playground which is pretty close. Everything is paved up to the sand, whether parking lot or sidewalk.
Parking: You will use the Laguna Beach Parking app or pay station kiosks to pay for your parking. If you come early enough, you can park rather close to the cafe. If the beachside parking lot fills up, you can park in the City's auxiliary lot across PCH. You can cross UNDER Coast Highway through the tunnel by the playground.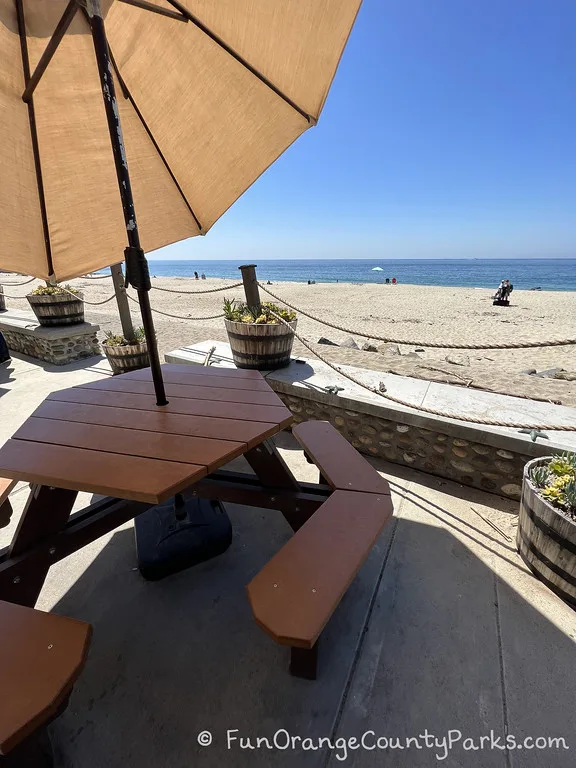 Trolley Stop for the Aliso Beach Park: Laguna Beach Trolley SHORT COASTAL or LONG COASTAL routes (Southbound – Coast Hwy @ Aliso Beach Stop 26)
Other beach restaurant options for families in Laguna Beach:
This restaurant is NOT directly on the sand, but is closest to the Laguna Beach Main Beach Playground and you would have a beach view from the back patio.
The Greeters Corner Restaurant is a big tourist draw, but the menu and setting is family-friendly.
There are also fancy restaurants (at least for not-so-fancy me) like The Deck on Laguna Beach or Las Brisas, but they don't really fit this list because the kids can't play in the sand there and they are not as casual.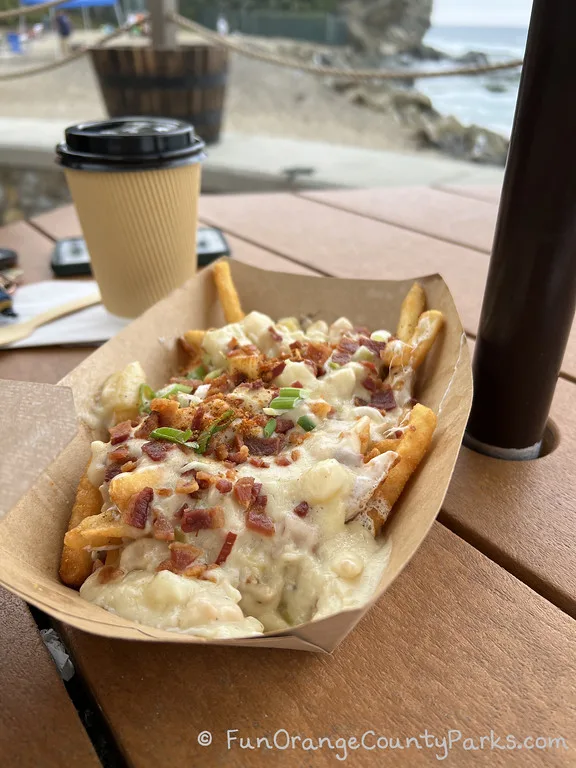 My blog posts which might help give you Laguna Beach play trip ideas for the day you visit these beach restaurants:
Newport Beach
My pick for Newport Beach may not be the obvious one. I'm choosing The Jetty at Corona del Mar State Beach which is probably my favorite family beach in the whole county. Corona del Mar is a neighborhood inside the City of Newport Beach.
The Jetty (Instagram = @thejettycdm) is located at Corona del Mar State Beach right at the bottom of the hill. Closed Mondays and Tuesdays. Open at 11am on Wednesdays and 9am Th-Sun. Don't hold them to the hours or the menu (always subject to change based on staffing and ingredients – this is just one snapshot in time).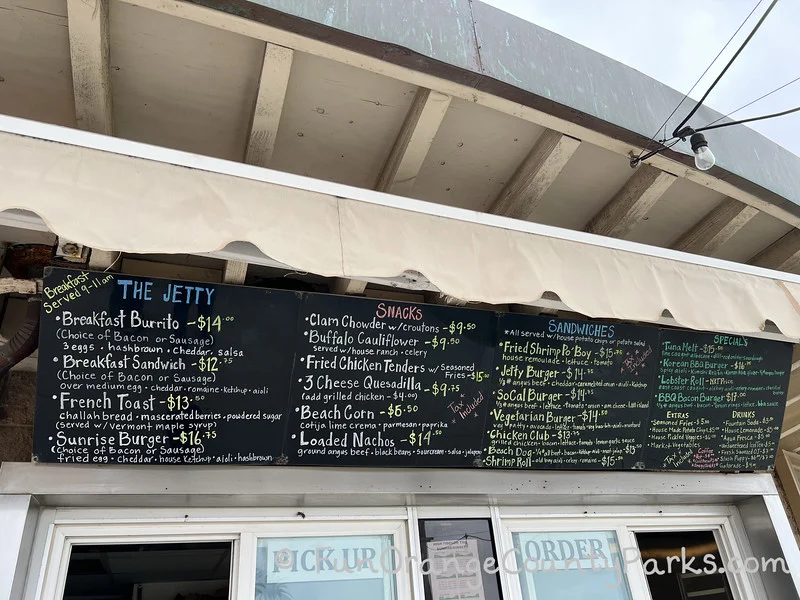 What makes The Jetty special? I'm a bit of a chowder snob because I try it wherever I go. I love it. I have to say that I would go back for this Clam Chowder. It was truly tasty and came out steaming hot. My lunch dates both wanted burgers so we all shared the Korean BBQ Burger and the Jetty Burger. The seasoned fries on the Extras menu were also yummy! The food came out in boxes so it would be easy to carry to a spot on the beach. A neighboring table all got the Beach Dog which looked like a sizable and satisfying portion.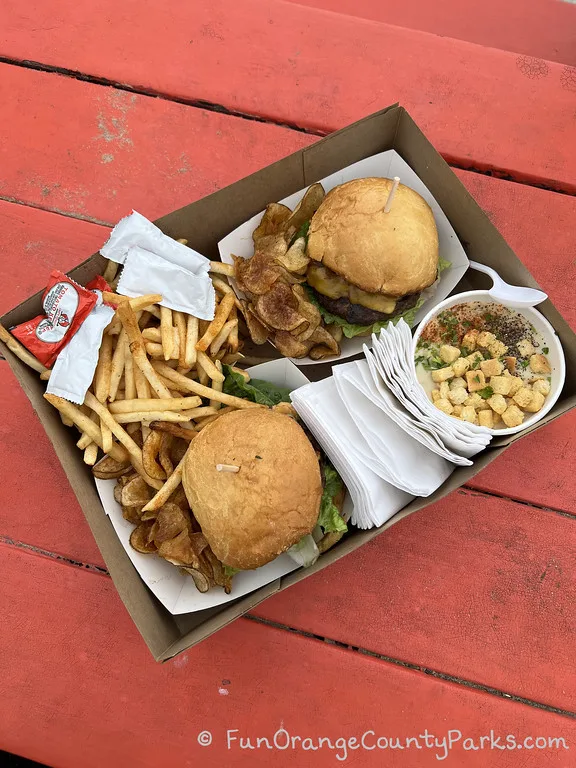 Accessibility: You can drive down the hill to the beach and park right outside the restaurant. The seats were on a paved concrete patio. You can watch the waves crash as you eat lunch.
Parking: We paid for our parking at the kiosk. The prices here are steep. Even though it is officially a California State Beach, it is managed by the City of Newport Beach. So you must pay the Newport Beach prices. We paid for 2 hours of parking ($7.10 per hour) which came out to over $14. To stay for the whole day would have been a better deal since the max is $25/day. In our college days we would grab free street parking at the top of the hill and walk down. Street parking can be pretty full, but if you go early you might have a chance at finding one of those spots.
No Trolley Runs This Section of the Coast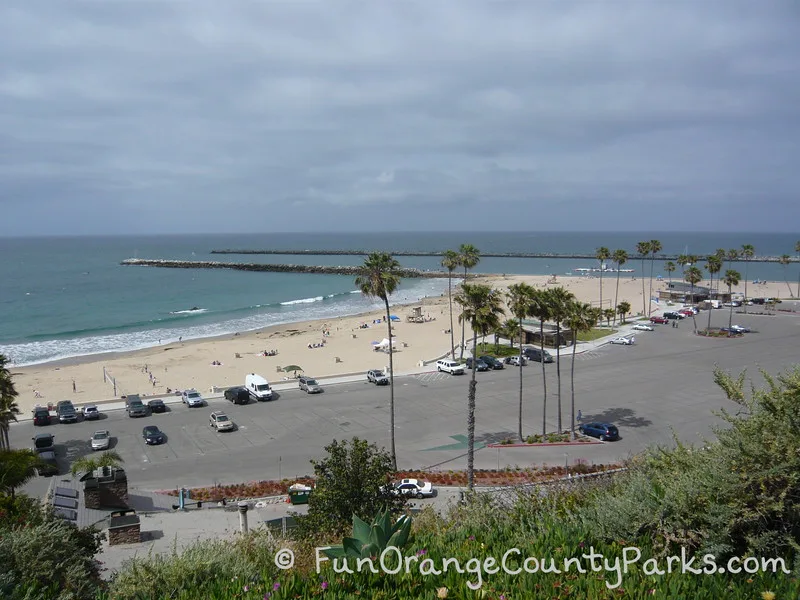 Other beach restaurant options for families in Newport Beach:
The Newport Beach coast is so diverse. You start at Crystal Cove State Beach, then Corona del Mar and the shores of Newport Harbor. The Balboa Peninsula has calm inner harbor waters and also smashing Pacific waves on the outside edge. Upper Newport Bay and Newport Dunes take you to the calm wetlands and bay. There's also Balboa Island and a bit more of the coast until it hits the Santa Ana River and switches to Huntington Beach.
I'm thinking Lighthouse Cafe next to Marina Park and playground would have made it to this list, but there is no beach right at the cafe location.
Crystal Cove has Beachcomber Cafe which is a true sit-down restaurant a little on the fancy side for family-friendly. There's always the Crystal Cove Shake Shack, but it's not right on the sand. Both have the issue of complicated parking and getting there which don't make them as family friendly as others on this list.
There's a Ruby's on the Balboa Pier, but again, not super close to the sand while dining. We tried some locations like a donut shop and grabbed breakfast burritos on the Peninsula, but those restaurants didn't make the cut.
I'm going to have to check out Moe B's inside Newport Dunes to see how close you can get to the beach.
Huntington Beach and Seal Beach restaurants are coming up next! Stay tuned.
In the meantime, you can get help planning your beach trips by reading my blog posts on: