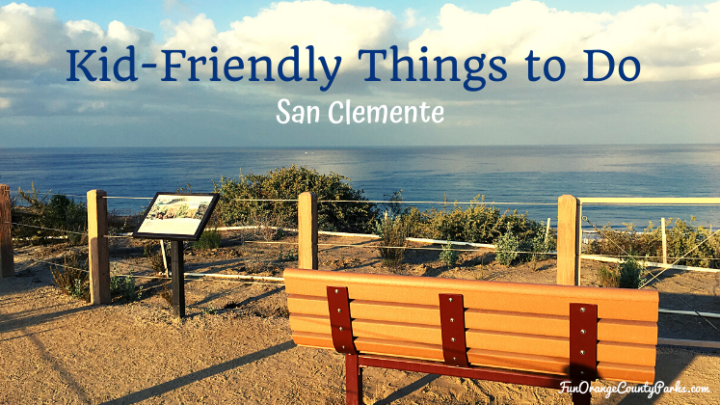 What are some kid-friendly things to do in San Clemente? Well, here are some ideas for ways to play in San Clemente for families.
This is part of my 2021 Summer Play Trips BINGO game that I'm running on my @ocplayparks Instagram and also through my weekly email list. This post will help get you details for marking off squares on your card — or it's just a stand-alone for fun things to do anyways!
Each week, I try to cover a variety of options from beaches to parks to walks to restaurants or picnic spots. All are designed to be very simple and hopefully easy to access without a lot of trouble. When something costs $, I've tried to add an alternative that is free.
There are two restaurant options to pair with these San Clemente experiences, although there are countless more restaurants in San Clemente. Del Mar is the main street running through town and that's where you will find the majority of eating establishments. Here are the restaurants I picked for this week:
Even though parking can be impacted, it's pretty easy to find a spot at the Outlets at San Clemente and run in to grab an Auntie Anne's soft pretzel for a snack. There's also a Ruby's Diner, Bowlology, Blaze Pizza, u-swirl frozen yogurt, among others.
Moulin is perfect for a picnic! It's right near North Beach and Pico Park. Grab a sandwich or breakfast to go.
The last square on the BINGO card that isn't covered by its own post is "Find a Sunset View." There are a lot of potential sunset views in the posts from the list below.
9 Ways to Play All Day Near San Clemente
Our Summer Play Trips BINGO theme for this week is: San Clemente. This is the southern-most city in Orange County so why don't we start here?
Even though all the options are right inside San Clemente - the places I've included are close enough to make a day out of it.
During Summer 2021, you can get a printable version of these BINGO cards (sample from email from the first week of Summer Play Trips) by subscribing to my weekly email.
Here are the posts that go along with your San Clemente BINGO game card . . .
San Clemente Fast Facts for Families
Is San Clemente family-friendly? San Clemente is full of outdoor spaces to enjoy together as a family. It's also fun to stroll along Del Mar, visit the Friends of the Library bookstore, walk the pier, and spend days at the beach.
How far is San Clemente from Los Angeles? San Clemente is about an hour from LA.
How far is San Clemente from San Diego? San Clemente is also about an hour from San Diego. Closer for North County residents.
Summer Play Trips BINGO – San Clemente
I hope you have fun with this 2021 Summer Play Trip near San Clemente! What should you do after you complete your BINGO card? You can take the pressure off and do NOTHING. Seriously, who needs more on their To Do List?
But, if you or your kids want some recognition for your efforts, send us one self-addressed, stamped envelope at the end of summer along with your card or some artwork or a note to tell us of your adventures (or multiple envelopes as you complete them) and I'll mail you back a personal note and stickers — for as long as I can keep up!
Address to send your self-addressed, stamped envelope: Michele at FunOrangeCountyParks.com, c/o Play Parks Creative LLC, PO Box 52451, Irvine, CA 92619
[This info is provided by FunOrangeCountyParks.com is presented as a community service to those wanting to enjoy the outdoors in Orange County. You may used this information with the understanding that FunOrangeCountyParks.com makes no warranties, although every attempt will be made to make sure the information is accurate. This blog is not intended to replace official sources and information should not be considered error-free or not be used as the exclusive basis for decision-making. The use of the information provided by this blog is strictly voluntary and at your sole risk. FunOrangeCountyParks.com assumes no responsibility for liability whatsoever associated with the use or misuse of this data.]