The hardest thing about a trip to Calafia Beach is pronouncing it! It's part of San Clemente State Beach, except you'll pass the State Beach entrance on your left and continue to the parking lot at the end of Calafia.
It's a skinny strand of beach, so you'll definitely need to watch the tides to time your visit.
How to Get to Calafia Beach at San Clemente State Beach: Take Interstate 5 to San Clemente. If you are coming from the north, exit at Avenida Calafia (some maps show the spelling as Avenida "Califia" with an "i" – but all the signs say: "Calafia"), continue straight through the stop and park in the metered spaces at the end of the street. If you are coming from San Diego, you'll have to exit at Christianitos and wind your way around to the left on Avenida del Presidente to the left on Avenida Calafia. MAP TO CALAFIA BEACH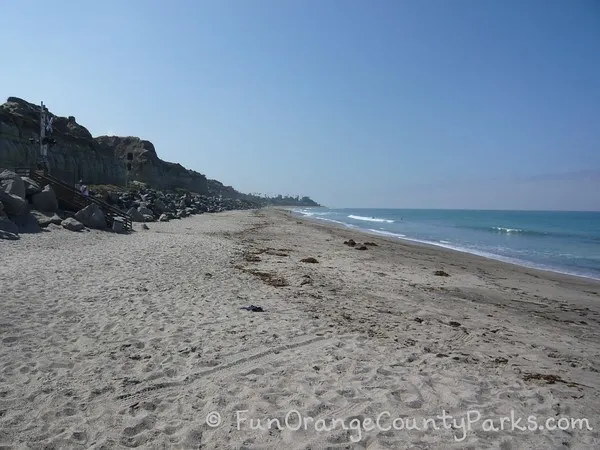 Highlights:
I meet my friends from San Diego at this beach because it's easy on/off the freeway and parking is a breeze for me with my annual pass.
The water is a beautiful shade of blue and the waves are perfect for close to shore toe-dipping.
It's the furthest point south on the San Clemente Beach Trail, so you can either start or end your walk here.
We like to see the trains going by.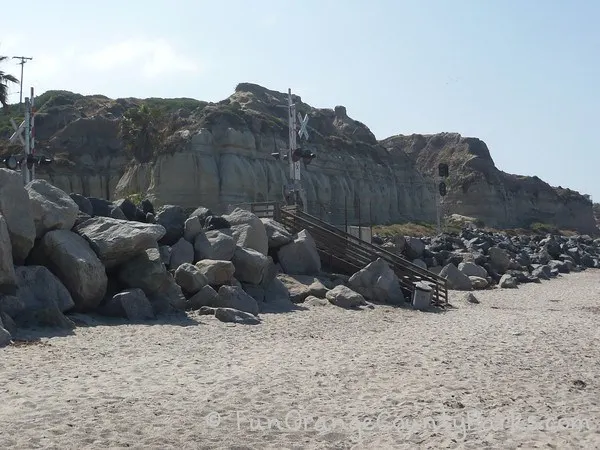 Be Aware:
Bring quarters for the meters if you don't have an annual pass!
There is not a lot of beach, especially during high tide.
You must cross the train tracks to access the beach. There ARE regular trains so be careful!
It can be extremely busy during the summer.
Use the same cautions you use at any beach. I'd recommend talking to the lifeguards (during summer) about rip tides and swimming conditions. On our recent visit there was a huge drop-off about 5 feet into the waves. The ground was level, then VERY deep (over the heads of little kids), then it smoothed out to knee height again. You should test out the depth before your kids go in.
The beach can be rocky at certain times of year.
Don't sit back by the rocks during the summer, the lifeguard Jeeps travel up and down the beach near the rocks.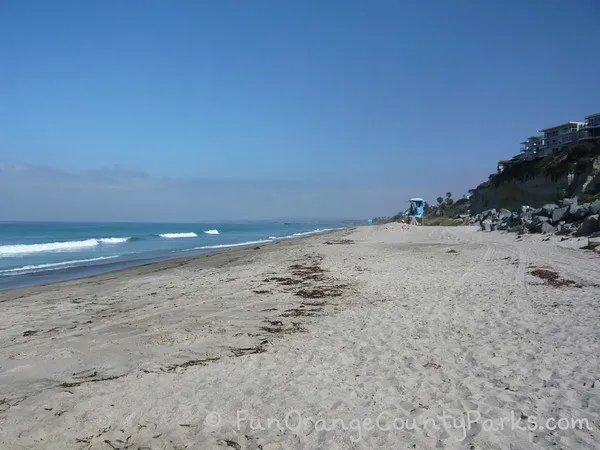 Checklist:
Originally published in June 2010.