What are the 6 free trolleys in Orange County? The six free trolleys in Orange County are: San Clemente Trolley, San Juan Capistrano Weekend Trolley, Dana Point Trolley, Laguna Niguel Summer Trolley, Laguna Beach Trolley, and Balboa Peninsula Trolley in Newport Beach.
We all know they are there, but they can be intimidating to attempt. Especially with kids!
This post will tell you EVERYTHING you need to know to learn how to ride the free summer beach trolleys. I will be updating as I ride them this summer, because there are always changes. But this should help you figure things out a bit.
If you can't find your answer in this post, please email me or contact me via social media so I can research and include in future edits of this post.
Is the trolley free in Orange County?
Yes. All our local trolleys are free to ride. In most cases, the trolley is funded by a nonprofit or city to reduce traffic impacts on the city during the summer. The trolleys are free to encourage even more riders to take them.
You may need to pay for parking while you use the trolley, but if you plan well you can find free parking options.
How to Ride the Trolley in Orange County
Find the website or app.
Here are all the trolleys running in Summer 2023.
Trolley website links: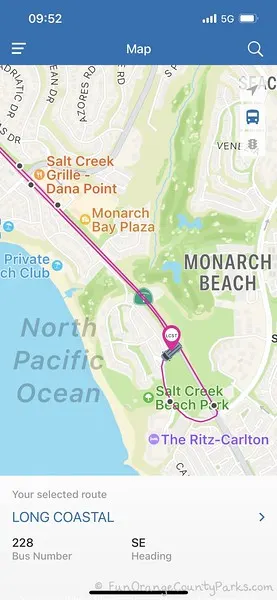 Trolley tracker pages or apps: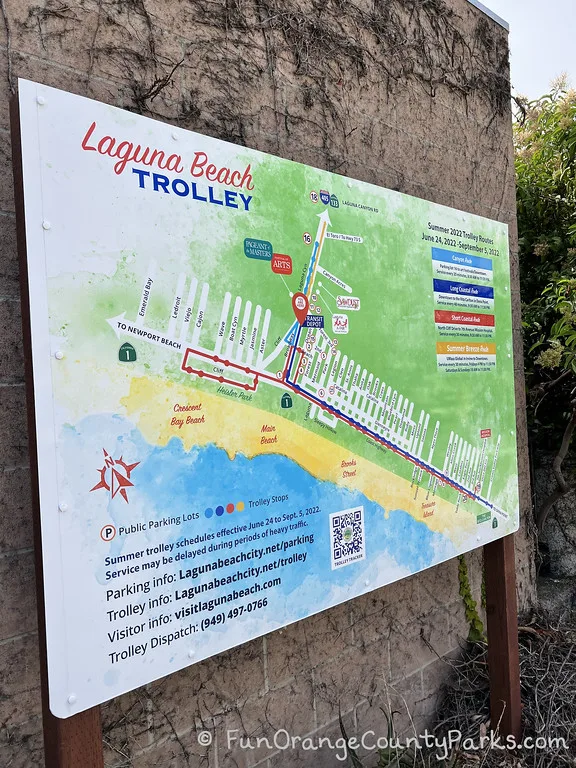 Print out the trolley map and route schedule.
If possible! Sometimes you can only figure this out through the app. I would link to the downloadable maps, but routes can change over the summer. So it's best to go directly to the websites I've listed and download directly from those pages.
A printable trolley map will show you a map of the service area, but it won't go into very much detail regarding the actual stops.
The best maps also have the route schedule with stops listed. Then you can plan your route and when you want to get off.
Make note of the days/times the trolley line runs.
When I was looking for a weekday ride, the Laguna Beach Trolley started at 9:30am — but the San Clemente, Dana Point and Laguna Niguel versions didn't start until noon.
Definitely know what is the LAST run of the day and give yourself plenty of time to make it. You don't want to be stranded somewhere.
Also, keep in mind your parking situation. You will want to pad in time for getting back to your lot if you are parked in a time-limited zone.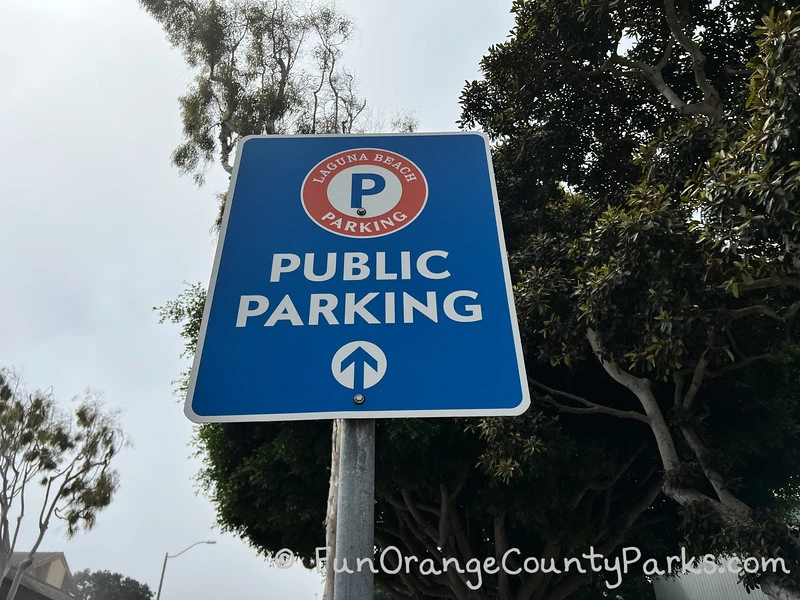 Figure out where to park.
Especially look for free parking with lots of capacity! For instance, San Clemente has parking at the Outlets which is free with no time limits and PLENTY of spots. I would pick this trolley as a good one to "practice" trolley riding because of the super easy parking situation. Try it yourself and see if you can come up with something that fits your needs. I'll try to come back here and add more suggestions as the summer goes on.
Know your directions.
You will need to board the trolley on the side of the street in which you want to travel. You need to match it with the map.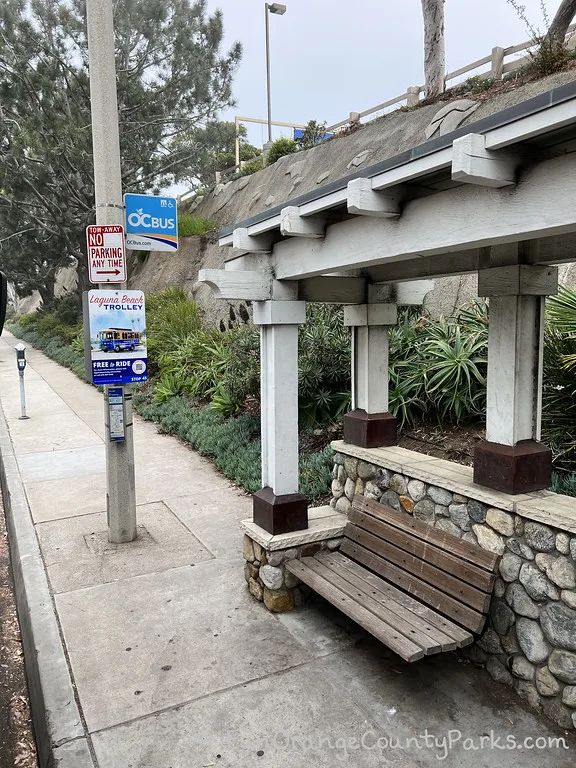 Allow yourself a big window of time for your first outing.
At least 2 hours, because there is travel time and there are stops. You will spend some of your time waiting.
Expect to wait for the trolley to come.
It may come on the first pass, but during peak times it may be full and you may have to wait longer.
DO A TEST RUN WITHOUT KIDS!
Make it a date night or friend outing. Try it without kids first and see if it's worth it or if it's just too overwhelming for you with your kids at this age/stage.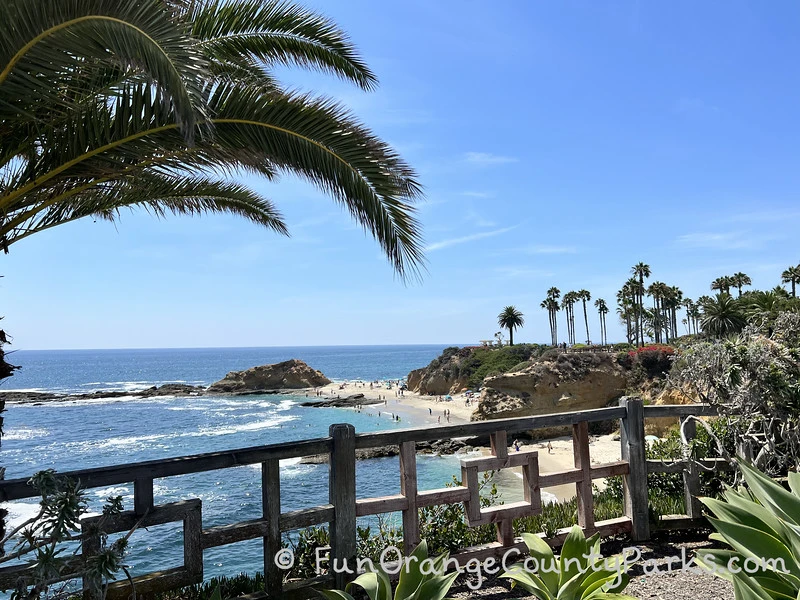 Be nice to the Trolley Operator.
They are your best resource for getting where you want to go. Make sure to use your pleases and thank you's. Ask them questions when they are at a stop (not while they are driving).
When in doubt, ask the Trolley Operator: "Is this the right trolley to get to: My Location?"
They will let you know and you can make adjustments by waiting for the correct trolley or crossing the street to the right stop.
Be prepared to do it WRONG.
We all make mistakes when trying a route or something for the first time. This is definitely true with public transportation. The mistakes help you really figure things out. You can almost always get off at the next stop and walk to the correct stop.
To get off at the next stop, pull the cord.
The yellow cord will either alert the driver either by making a sound or lighting up a notice for the driver. It will alert the driver you want to disembark. Babies and toddlers will be tempted to pull and it can be embarrassing, yet it happens. Oh well!
Hop on. Hop off.
That's how it's meant to be used. Quick trips to the next location and you can jump back on to do more travel.
Or ride the route.
Another option is to "ride the route" and not get off at all. Just stay on to enjoy the view and let someone else do the driving. It gives you the opportunity to tour your community.
The only time this doesn't work, is if it's the last run for your trolley. You may need to get off and board another to get back where you came from.
Family-Friendly Stops on Each Orange County Trolley Line
Now that you know how to ride the free trolleys in Orange County, let's explore some of the family-friendly stops on each line!
Family-Friendly Stops on San Clemente Trolley
Family-Friendly Stops on Balboa Peninsula Trolley in Newport Beach
This was one of the first free trolleys to serve OC families during the summer, so I wrote up an entire blog post with ideas for each stop. Read Balboa Peninsula Trolley to Balboa Pier if you'd like the info on this trip.
Try these Newport Beach blog posts for more inspiration:
Sorry for leaving you hanging! I am going to add a Family-Friendly Stops section for each trolley.
More Ideas for Trolley Trips in Orange County
Here are some of my favorite posts from my blog which might give you some inspiration on where to go and what to do when you are planning your trolley trip.
Frequently Asked Questions about the Trolleys
Can I bring a stroller on the trolley?
Just because you can, doesn't mean it's easy. Strollers are definitely allowed. However, I'd recommend using an umbrella stroller if you must — and go without if you can.
Unfortunately, this outing isn't the best for strollers or if you need accessible options. There are stairs to get on and off. It can be crowded on busy weekends. There may be limited sidewalks at the drop off points.
Is there a trolley from Dana Point to Laguna Beach?
Yes. You can take the Laguna Beach Trolley from Salt Creek Beach and the Ritz Carlton there to downtown Laguna Beach on the Long Coastal Route.
You can also chain trolley routes together. For instance, the San Clemente Trolley leaves from the Outlets and has a "Dana Point Transfer" from Stop 19. So you can then board the Dana Point Trolley and ride to Salt Creek Beach from there. When you get to Salt Creek, you'd transfer to the Laguna Beach Trolley. A note of caution if you try this: Make sure you check the schedules to make sure the trolley hours match up! Trolley services have different start/end times and you wouldn't want to get stuck without the ability to make your transfer.
What should I pack for my trolley ride?
Definitely pack your patience! This is public transportation and there is often a wait. Go into it knowing that things are out of your control and have another plan for a pick up by a friend or family member if you are worried about time.
If you don't like your hair flying around in the wind, you might want to pack a rubber band to tie your hair back and a brush to fix yourself up when you get to your destination.