Crown Valley Park in Laguna Niguel sports a new forest theme and splash pad thanks to a total renovation in Winter/Spring 2015 which included an amphitheater, restroom building, splash pad and new forest-themed play equipment. The City of Laguna Niguel calls it a "sprayground."
Crown Valley Park has evolved over the years from a tiny pocket park near the YMCA to a full-blown Crown Valley Community Park with amazing sports facilities and state-of-the-art classrooms for community education. It has everything from biking trails to a botanical garden to scenic picnic areas.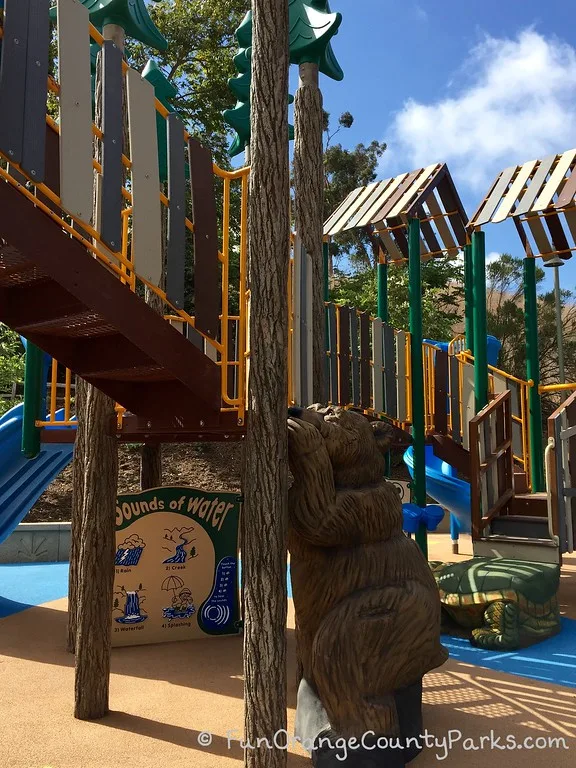 How to Get to Crown Valley Community Park Splash Pad: From the Interstate 5, take the Crown Valley offramp and drive toward the beach. Pass over Moulton and La Paz — but make a right into the YMCA parking lot before you hit Niguel Road. If you are coming from PCH, it's the first left past Niguel Road. [Address: 29751 Crown Valley Parkway, Laguna Niguel] MAP to Crown Valley Community Park in Laguna Niguel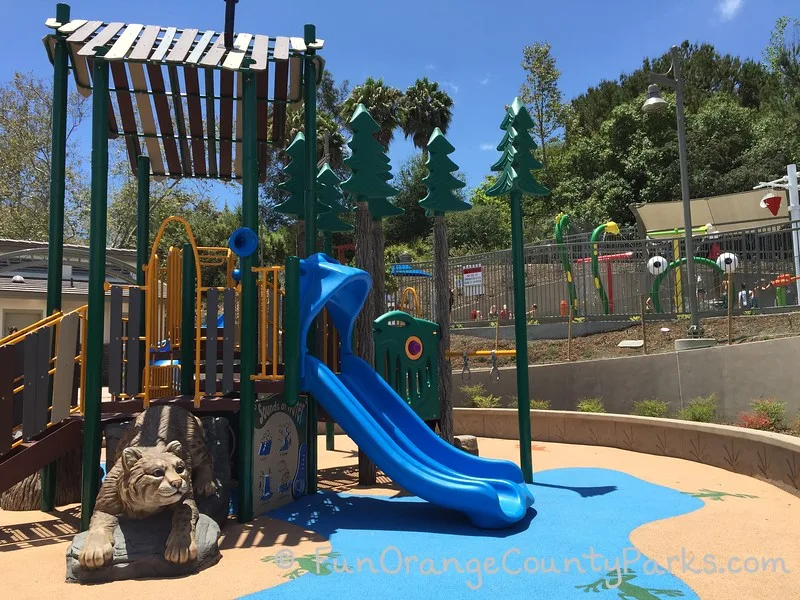 Playgrounds
Free! With all the amenities of a true community park.
Forest animal theme is very cute complete with a pretty artistic inlay in the sidewalk at the entrance gate. Kids will love the bobcat, bear, and raccoons. And also the frogs and ponds stamped into the recycled rubber playground surface.
Two play structures – both have interactive nature sound boards.
Smaller one is near the restroom building with logs and a bobcat.
Larger one has curvy slides and monkey bars and rocks to climb – with some higher drops near the ladders.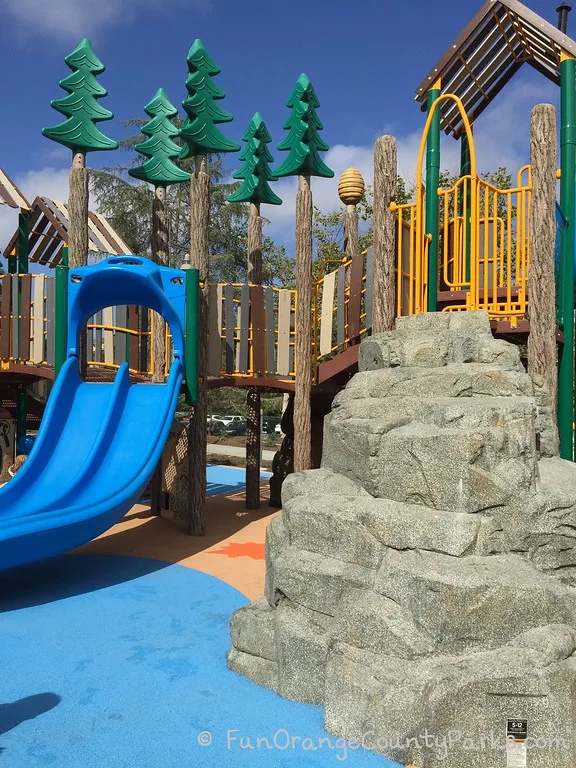 Playground slides are especially fun when kids are wet from the sprayground.
Lovely to have Niguel Botanical Preserve is so close with trees and trails right beside the upper level of this park. The nature trail – what an adventure!! The kids led us all around the hillside. Absolutely amazing! You can see the care every volunteer put into it. Lots of lizards, rabbits, and squirrels – plus beautiful flowers. We entered the preserve right above the playground. Not too steep of an ascent to the top.
You can combine a playground trip with a library trip to the Laguna Niguel Public Library right down Crown Valley towards the beach.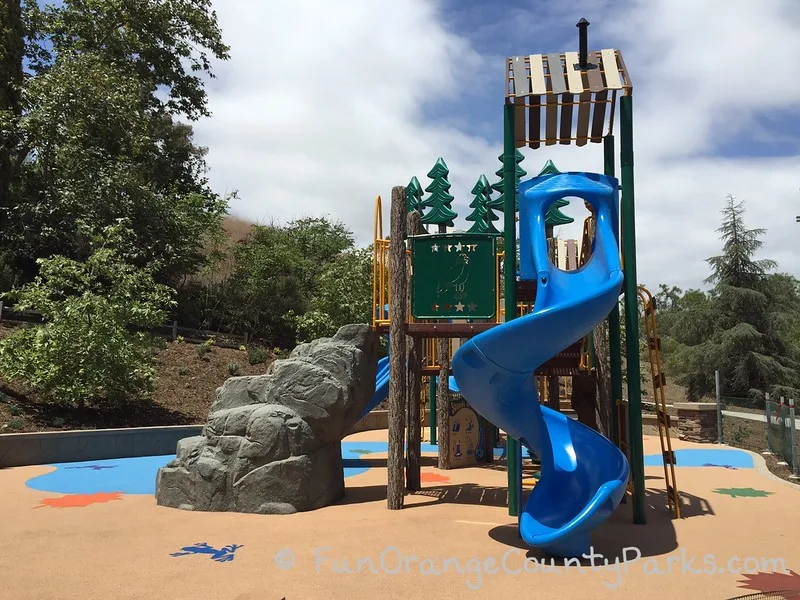 Laguna Niguel Splash Pad at Crown Valley Park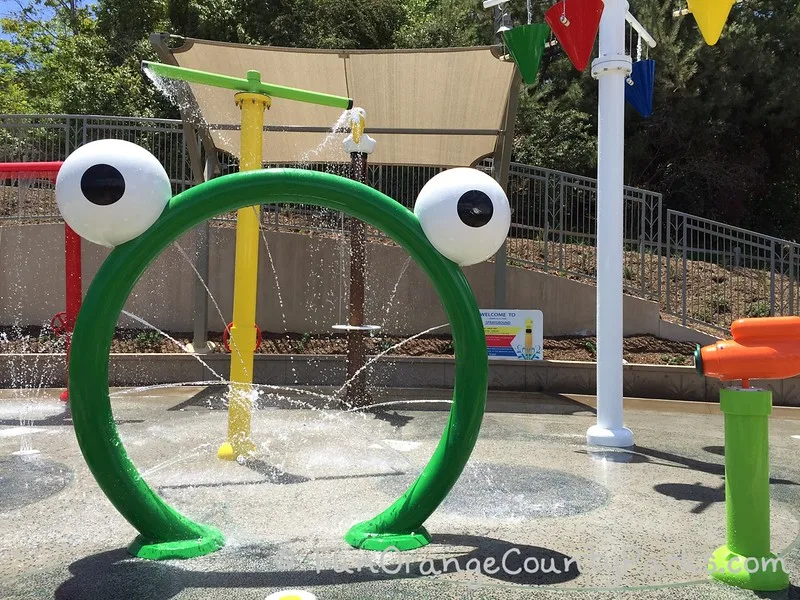 Opens June 15th (2022) and is open every day 10am to 4pm – consult official Laguna Niguel sprayground website for hours
Children under 10 must be directly supervised by an adult
Two lifeguards on duty when we went
Water at sprayground is recirculated and filtered – so it's drought-friendly but not okay to drink
Wet concrete surface can be slippery — go barefoot or wear water shoes
Fun for all ages, even babies (must wear swim diapers and plastic pants if not potty-trained)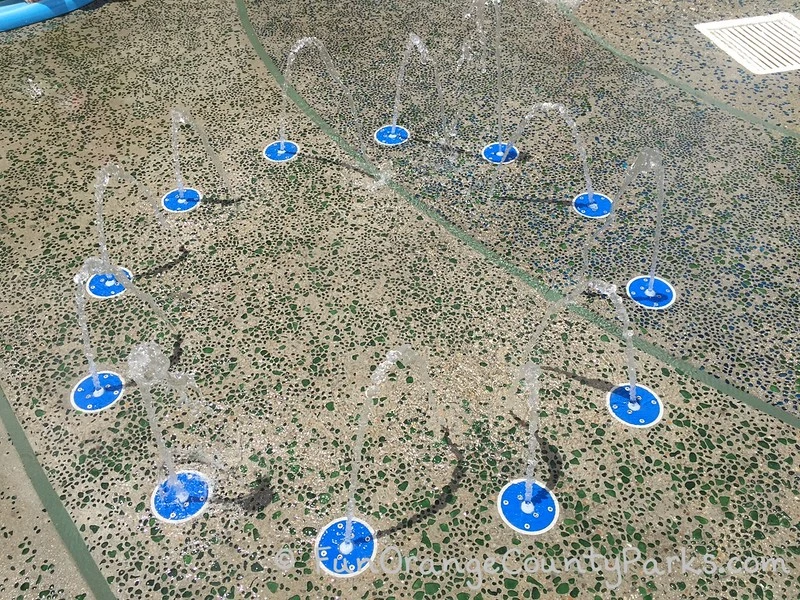 Be Aware:
Shade structures limited to four tables tables on upper level by sprayground. No shade on lower level by playgrounds.
Stairs and long accessible ramp from lower to upper level.
Sprayground is only open during the summer.
It is near the parking lot, but there are perimeter fences.
This community park is the site of concerts and many parks and recreation activities. Check the calendar if you are crowd averse.
No swings (baby or otherwise).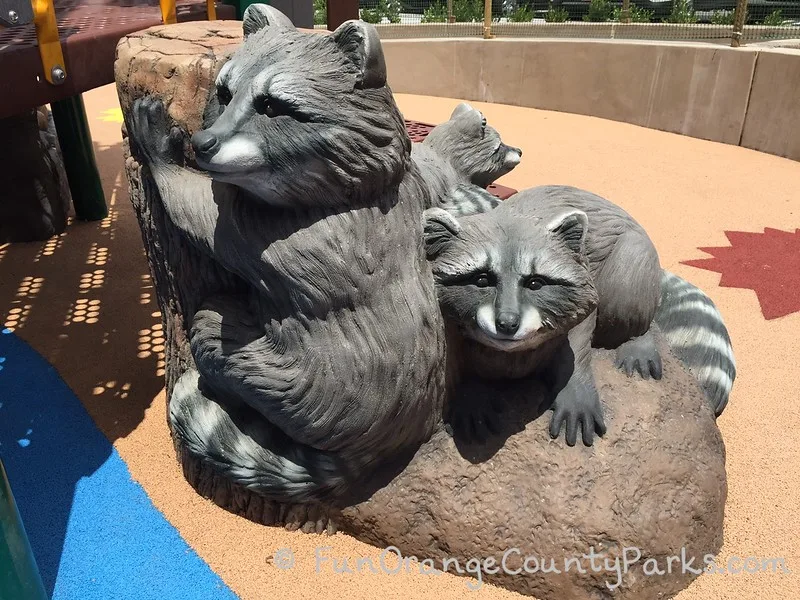 Checklist:
Dedicated parking lot shared with the entire community complex which includes a pool, amphitheater and sports fields
Play surface: Recycled rubber on playground
Restrooms

Two regular stalls (unisex)
Two accessible stalls (men or women)
Key code locks on each stall door accessible individually from outside
Key code is posted on each door with instructions to knock before entering
Faucet to wash hands is outside the building

Plenty of picnic tables and seating on low planter walls
Shaded picnic tables nearer to the park entrance by the amphitheater
Community pool, sports fields, bike path
Nearest public library branch: Laguna Niguel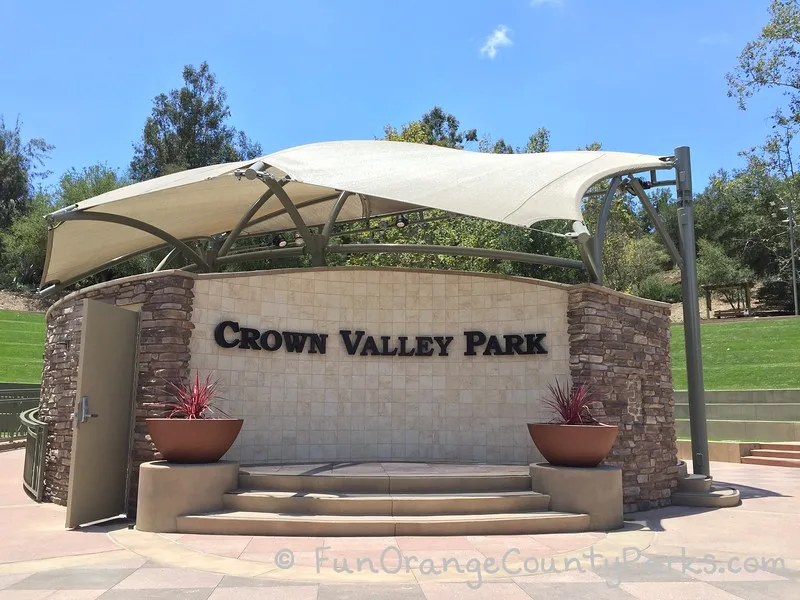 Nearby parks:
Photos and park report courtesy of Karen Geraci & Family, Volunteer Park Reporters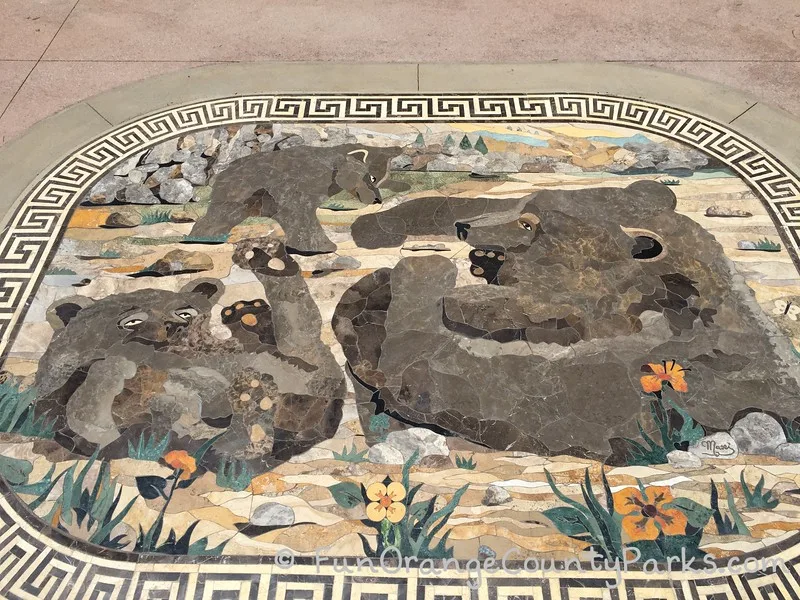 Originally published in July 2015.