Bluebird Park is one of my most highly recommended parks.
According to an article in the Laguna Beach Coastline Pilot by Joan Gladstone (Sounding Off: Woman's Club Has Long History, June 26, 2008), the Woman's Club of Laguna Beach is responsible for "spearheading the creation of a playground at Bluebird Park."
They started a fundraising drive back in 1959 and their efforts came to fruition at the dedication on May 1, 1962.
Neighboring the Boys and Girls Club, the park continues to provide "recreational facilities for our youth." It remains a top class play area.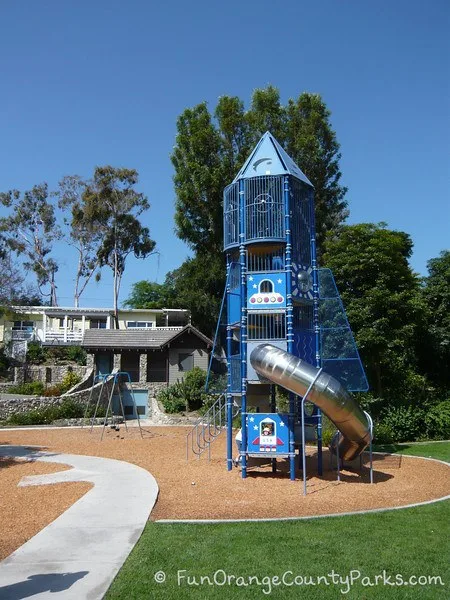 Directions to Bluebird Park in Laguna Beach
From Pacific Coast Highway in Laguna Beach, turn away from the ocean on Cress Street which turns into Blue Bird Drive. Follow the street past a few stop signs and the park is on the right. (Address: 798 Blue Bird Canyon Drive, Laguna Beach). MAP TO BLUEBIRD PARK IN LAGUNA BEACH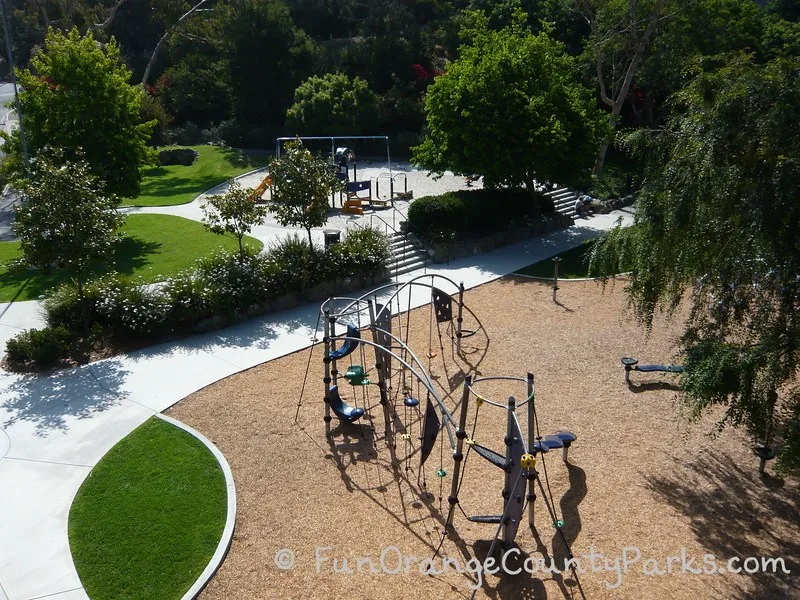 Highlights:
The kids call it Rocketship Park because of the fun 4-story structure that greats you when you walk through the gate
An immense fenced-in park with a number of "rooms"

(1) a dedicated small fry scooter/trike path complete with bridges, tunnels and hills,
(2) small fry play area with baby swings and a baby 4-kid teeter-totter,
(3) bigger kid play area with jungle gym dome, spinning & climbing equipment, and swings
(4) sidewalk around big kid park good for scooters and bikes,
(5) slide hill with steps to 2 steep metal slides and one curvy fiberglass slide,
(6) a gem-studded turtle sculpture for climbing and photo-ops,
(7) a small half-basketball court,
(8) a picnic area with barbecues, and
(9) a wide expanse of grass for running and picnics.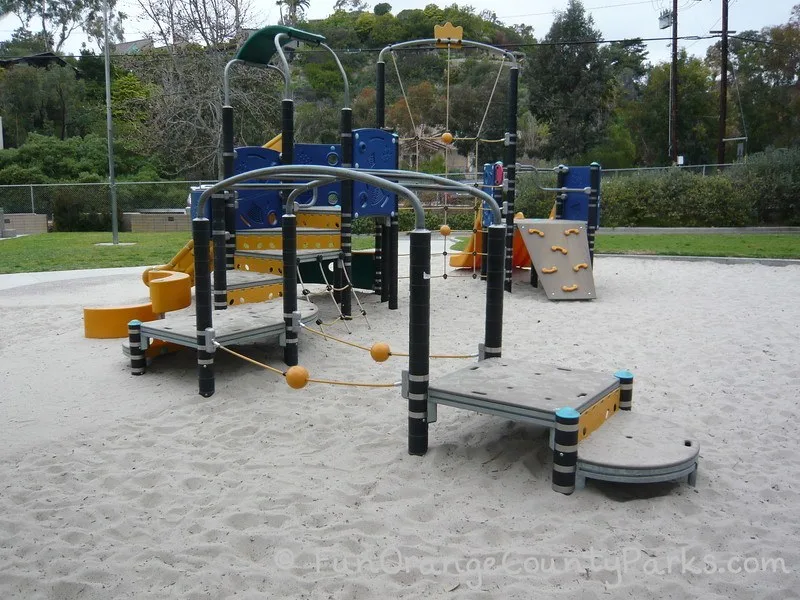 Did I mention the park is fenced-in?
Caregivers can see almost every part of the park from a central, shaded picnic table.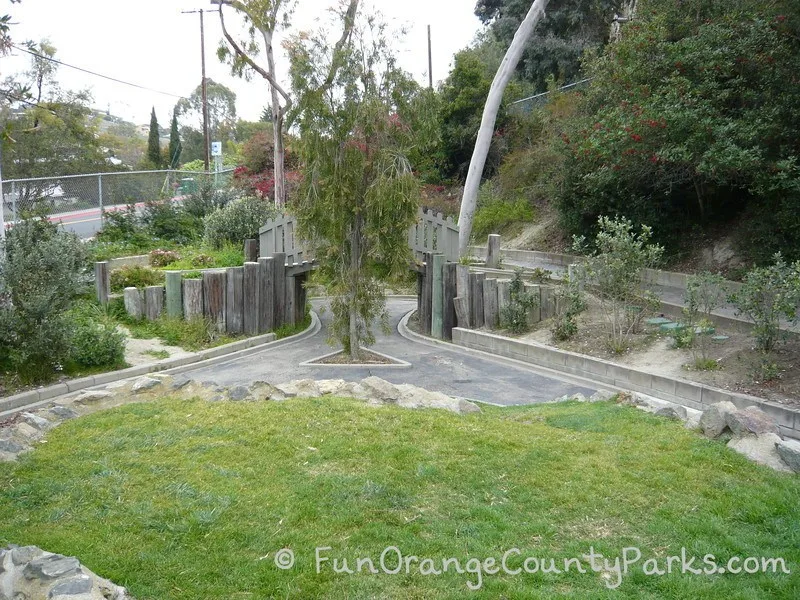 Be Aware:
The metal slides get HOT on sunny days
No dogs allowed
There is access to the Boys & Girls Club parking lot if your child travels up the ramps to the bathrooms or behind the wall-slides — just be extra watchful here
There may be extra play traffic in the park during afternoons when the Boys & Girls Club kids visit
When sand gets spread on the small fry play structure – it gets super slippery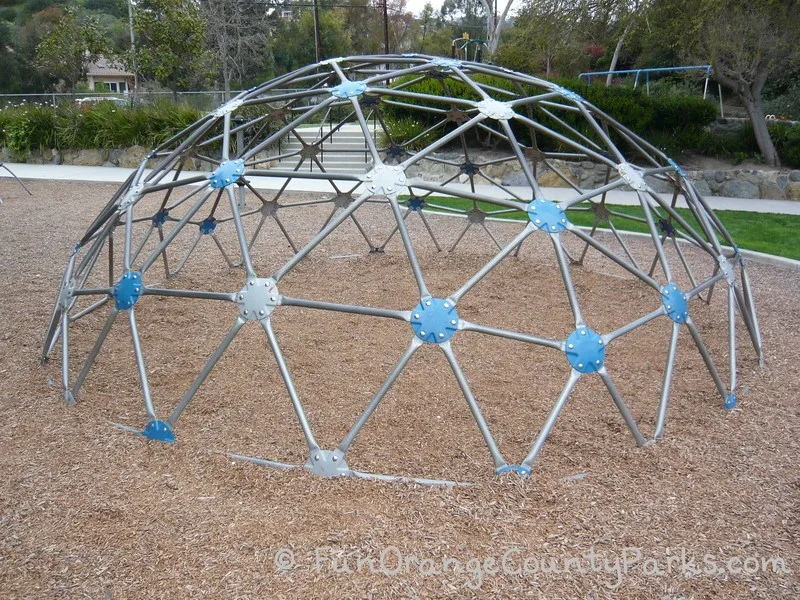 Checklist:
The bathroom building is visible in the photo above behind the rocketship – really nice and equipped with one little kid potty and sink (close to the ground), in addition to adult stalls
Drinking fountain on small fry playground and near bathrooms
All different play surfaces: lawn, sand, bark, and some recycled rubber
The small fry play area has sand & recycled rubber
The scooter/trike track is asphalt
The big kid walkway/bike lane is sidewalk
There's bark under the big kid play area
Cool in the summer b/c of proximity to beach
Avila's El Ranchito Restaurant and Subway on the corner of Cress and Pacific Coast Highway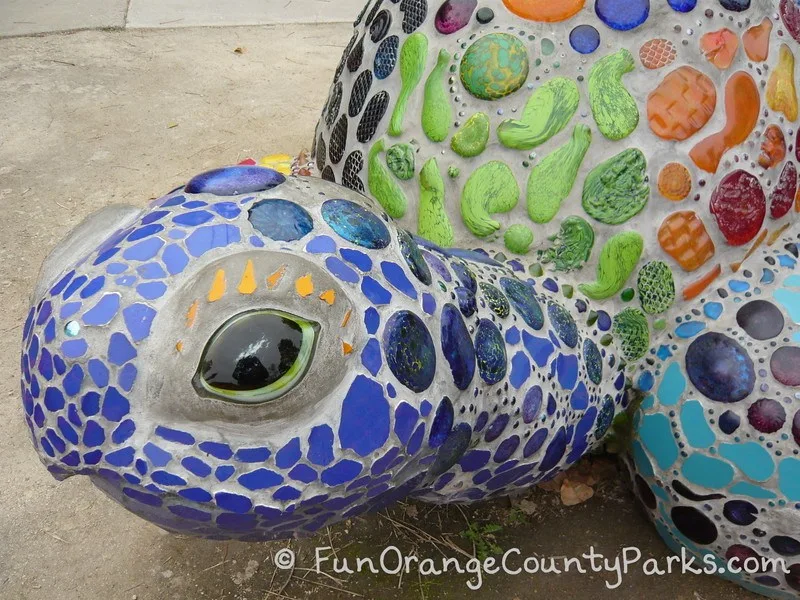 Parks nearby Bluebird Park in Laguna Beach:
Originally published March 2009.