Photos of Atlantis Play Center in Garden Grove say more about this park than I could ever relay in words. It's funky, fun, and HUGE!
The number one comment I hear from visitors is that Atlantis Play Center feels safe because the kids are contained and outsiders can't come in without paying admission.
In fact, the City website states "Adults are not allowed without kids, and kids are not allowed without adults."
Shuree recommended this park to me back in 2009. I'll put Shuree's insider info in italics: This is one of the best parks ever because of its size, ample shade, and famous sea dragon slide. It's been there since I was a kid and it only costs $2 to get in. Adults must be accompanied by children, and children must be accompanied by an adult – so you don't get any creepy people lingering around.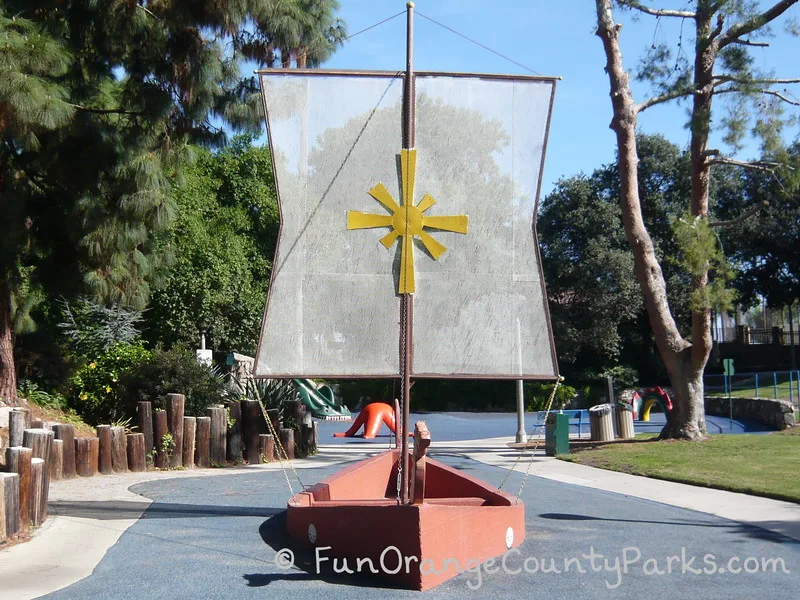 Directions to Atlantis Play Center in Garden Grove: The Atlantis Play Center is in Garden Grove Park. It's an expansive public park with playspace of its own. Follow Atlantis Way past the public park until it dead ends in the parking lot. The back wall of Atlantis Play Center is actually the sound wall for the 22 Garden Grove Freeway – so the 22 provides the most direct access. Exit the 22 at either Brookhurst or Magnolia and take Westminster Avenue to the park. From the 405, I would take Brookhurst, turn left onto Westminster Avenue, and right onto Atlantis. [Address: 13630 Atlantis Way, Garden Grove] MAP to Atlantis Play Center in Garden Grove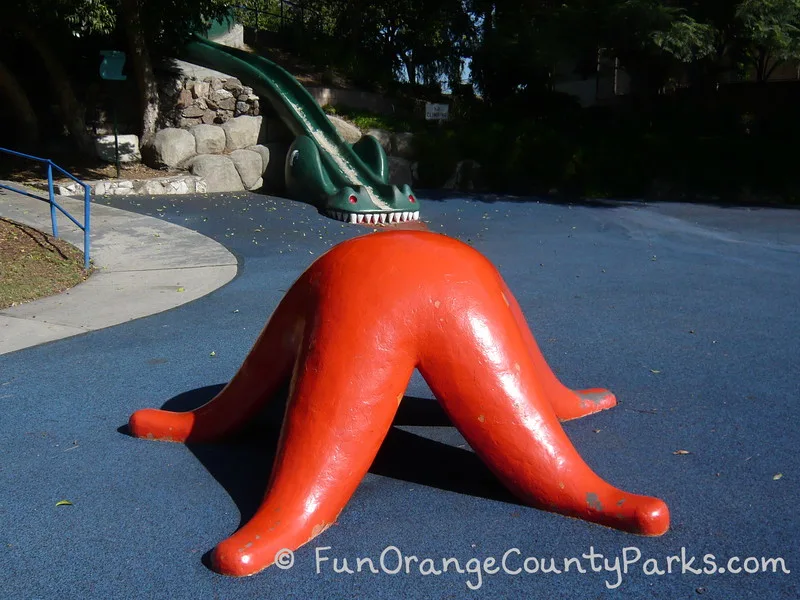 Recommended by: Tiny Oranges in November 2008
Recommended by: Shuree in August 2009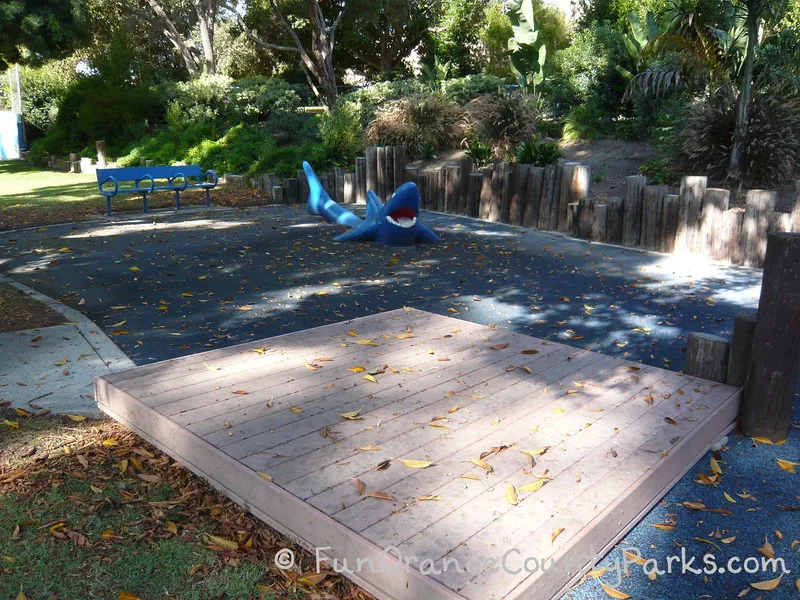 Highlights:
I love how kids can roam and explore this park. There's something whimsical and unexpected around every corner. The old shade trees make it just a lovely spot to hang out.
Ocean theme engages kids immediately. Fun rhyming signs accompany each animal.
Live animals roaming around grounds (we saw chicken and bunnies).
Funky play equipment – something for every age.
Solitude, privacy, safety are all pluses.
Great for birthday parties and small playgroups – shell pavilion with King Triton is an amazing space for an Ariel birthday party
Clam shell drinking fountains built into rock
Splash Pad is included in the entry fee – CLOSED SUMMER 2022
They even have a snack bar in the summer that serves Otter Pops for 25 cents and other inexpensive food items.
It's run by the city of Garden Grove. It's clean, nice, and full of nice families with young kids.
Baby swings and bench swings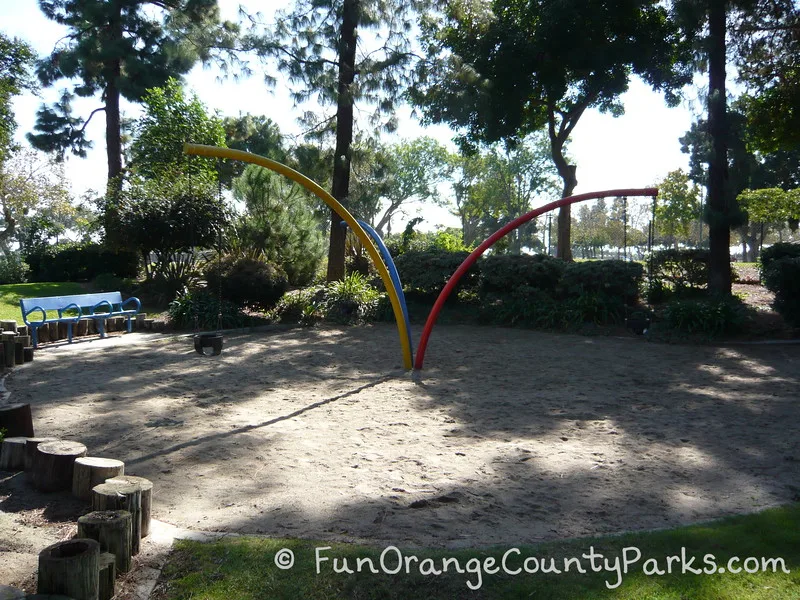 Be Aware:
Equipment is dated and paint is chipping in some spots – what it lacks in bright/shiny it makes up for in charm.
CASH ONLY – Entrance fee of $2 (sign on window notes that they don't take bills larger than a $10) – kids 2 and under are free.
Also a sign reading "no waxed paper" – guess it makes the slides go faster?
Closed on Mondays and limited hours of operation compared to a traditional park. Once I went there and it was closed.
Sometimes there are large groups of day camp elementary aged kids during the summer.
Sometimes kids come down the slide too fast and bump into the child in front of them. I usually stand near the bottom when its my kids' turn to come down.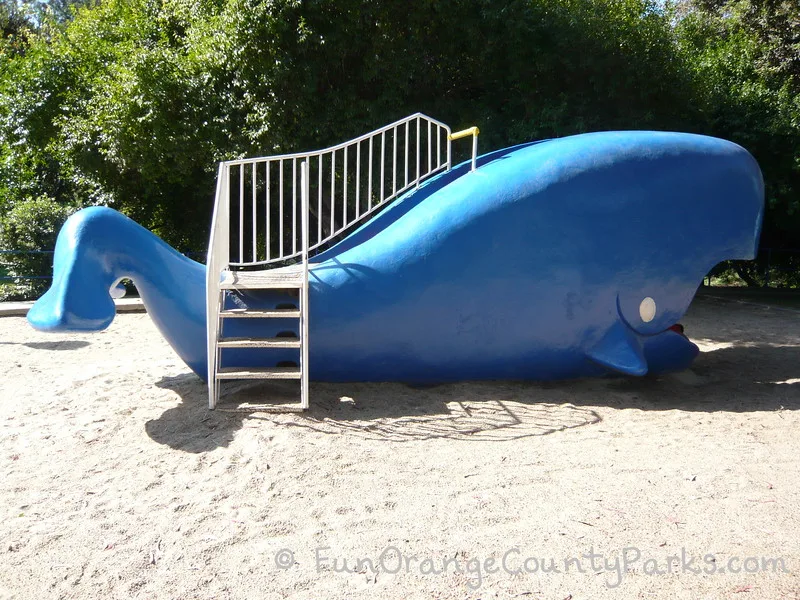 Checklist:
Dedicated free parking lot
Sand and recycled rubber play surface
Restrooms near the entrance (decorated with Mermen and Mermaids murals)
Very large trees provide shade and there is shade cover over picnic areas
You could easily lose sight of your child here because of its great size – so it's definitely more active supervision. At least it's fenced!
Very large picnic area
Splash Pad in the summer – CLOSED SUMMER 2022. Will reopen June 2023.
Atlantis Play Center Hours: Closed Mondays. Tuesday – Friday: 10am – 2pm. Saturday: 10am – 4pm. Sunday: 12pm – 4pm. Hours of operation are fluid. Please check the official hours. These are the hours listed on the official website.
Closed on 4th of July, Thanksgiving, and for exclusive events
Birthday party packages and exclusive rental available
Check the official Atlantis Play Center website for hours and closures. That page also has a link to their informative Facebook page.
Read this OC Weekly article about Reliving the Joy of Atlantis Park with more photos of the location including the splash pad.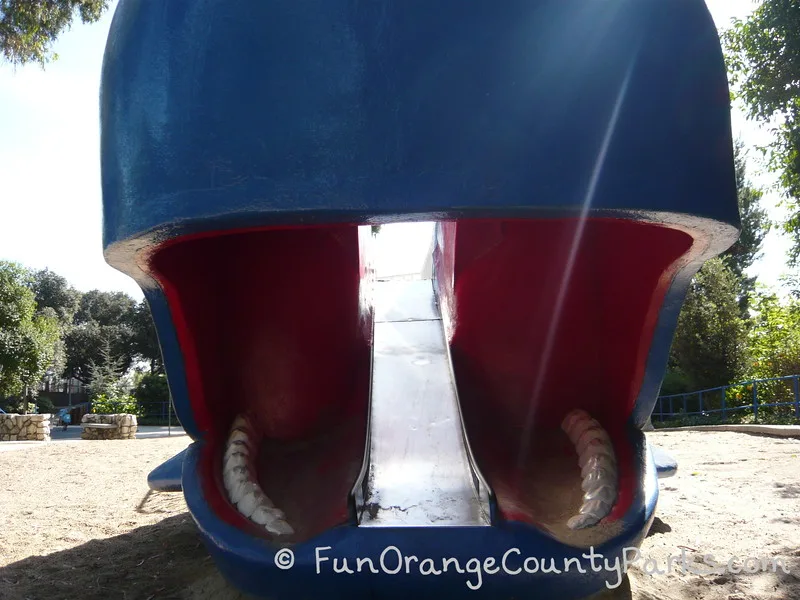 Parks nearby Atlantis Play Center in Garden Grove:
Originally published in November 2008.