Beckenham Park or "Turtle Park" flashes a rainbow-colored play surface and uses those concrete turtle playground sculptures from when I was a kid.
It's set up in a neat little circle with benches around the center. The bigger surrounding park has lots of grass areas and a little sidewalk loop to take around the park.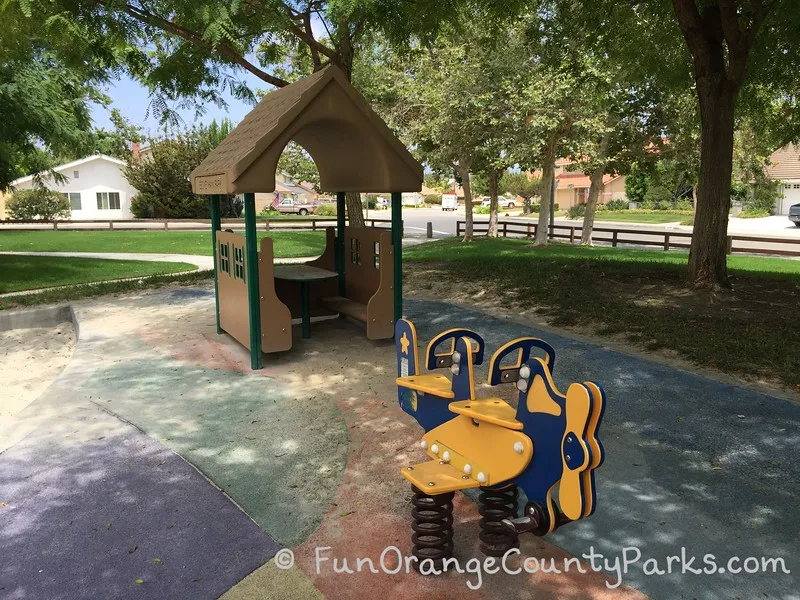 Directions to Beckenham Park in Laguna Hills (Park Address: 24901 Wilkes Place, Laguna Hills, CA): It's a little tricky to find this park because many of the surrounding streets are not through-streets since the city placed traffic break gates to prevent drivers from cutting through this neighborhood. From Paseo De Valencia, turn onto Beckenham and drive past the Laguna Arts Medical Office Buildings to park along the street. Or find it off Alicia Parkway by turning on Costeau near the I-5 and the road will dead-end into the park. MAP TO BECKENHAM PARK IN LAGUNA HILLS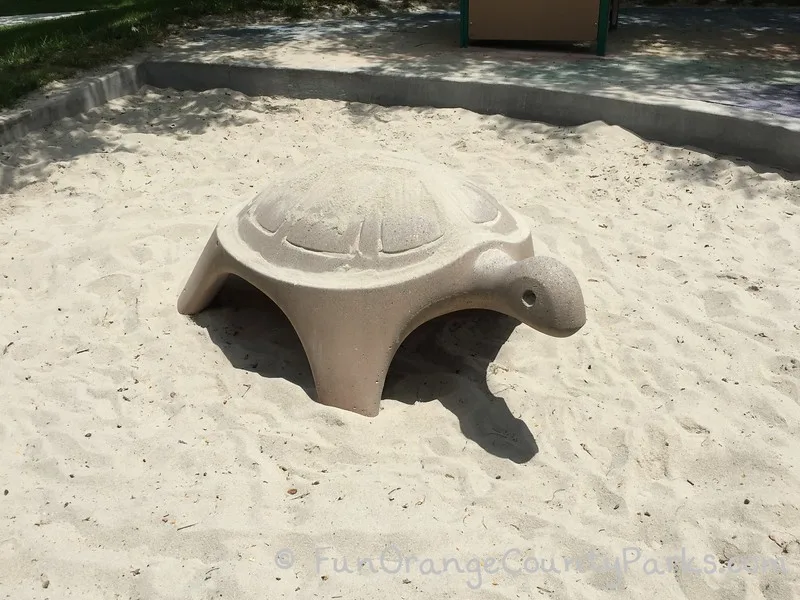 Highlights:
Park opened in April 2008 – a lot more shade since the trees grew in!
Sand area with one ceramic turtle we all love from our youth (Can you find the other 2?)
Rainbow play surface makes it especially cheery
Easy viewing of children from nice shady benches or seating on large central planter
Kids love the small airplane and little house for pretend play
Perfect for all ages
Lovely large grassy area with small hills for rolling
2 bench swings, 2 baby swings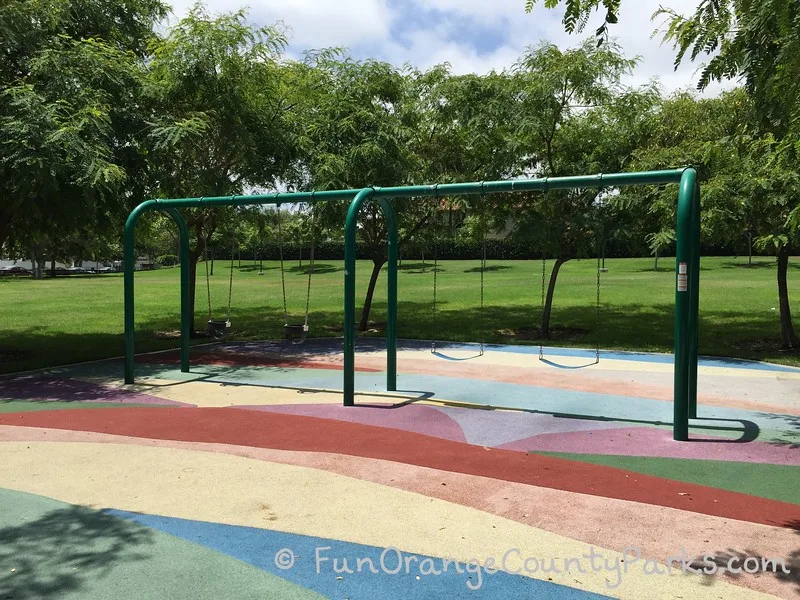 Be Aware:
NO restrooms
The red rope bridge on the big kid play structure is the biggest hazard
Dogs (usually on leash) frequent this park which even sports a dog drinking fountain
Sprinklers tend to go on in the evening hours and are a huge draw for kids during summer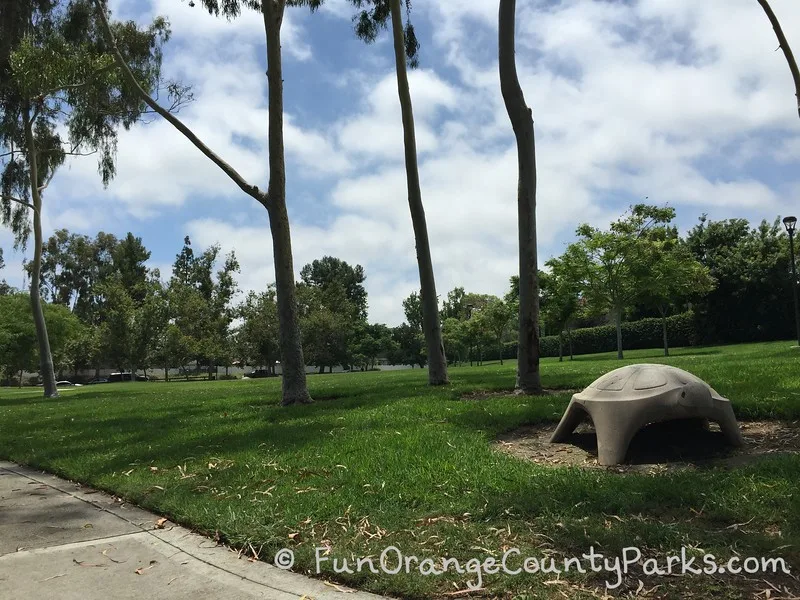 Checklist:
Recycled rubber play surface with sidewalks and sand pit
NO bathrooms
Drinking fountain for kids, as well as one for the dog
Very large gazebo with at least 3 picnic tables
Ample street parking on Beckenham or Cousteau/Wilkes – public parking only allowed on the park side of the street
Nearest Public Library: Orange County Public Library Laguna Hills Technology Branch with small children's section (inside Laguna Hills Community Center)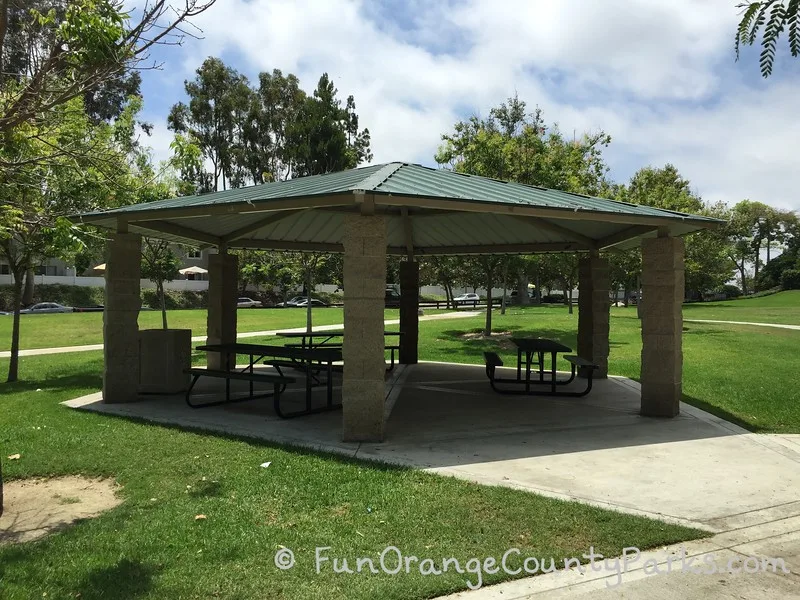 Parks near Beckenham Park in Laguna Hills: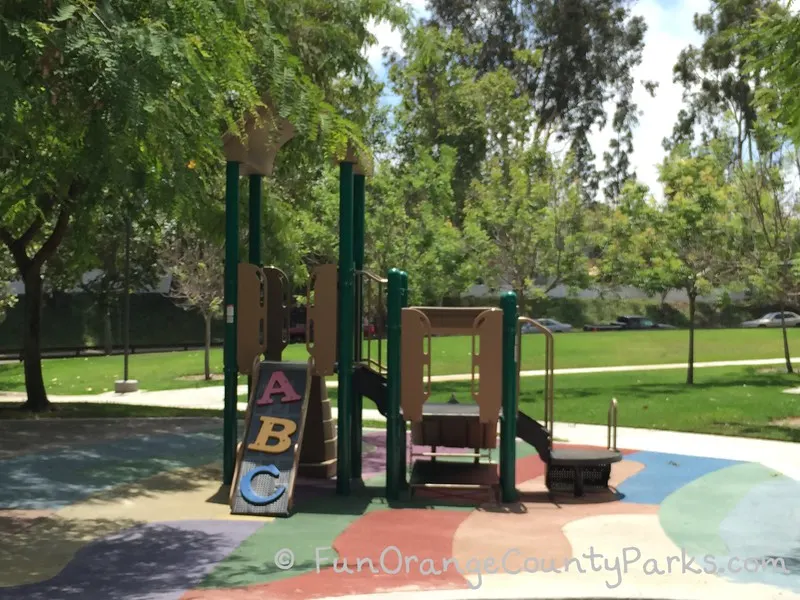 Originally published in April 2009.