Where can families go on a train trip in Orange County?
Thanks to reader, Aimee, who requested a list from me: "I'd love a list of fun things to do for 3-5 year olds within walking distance of train stations (that are reasonably priced, of course). Destinations could be LA, OC or San Diego."
So for Orange County train trips, I will be looking at:
3-5 year old age range (let's call them preschoolers)
walking distance (which has a different definition for 3-5 year olds, than it does for adults)
reasonably priced (ooooooh! That's always a toughy.)
not limited on location: LA, OC, or San Diego (I'll focus on OC for this post.)
I'm going to provide a list, but I'm also going to provide links at the end so you can plan something yourself! You just have to promise to share with the rest of us after you return! I want some guest blogs from readers on this topic.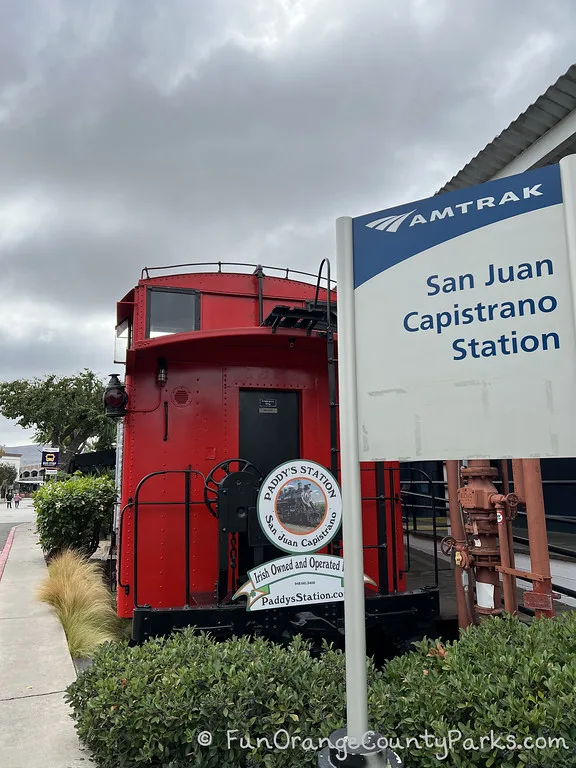 5 Options for Family-Friendly Train Trips in Orange County
Places to Go near San Juan Capistrano Station (OC Train Trip #1)
This was the first spot that popped into my head! I've spent lots of time wandering around this area of San Juan Capistrano.
There's so much more to see here than just petting zoo!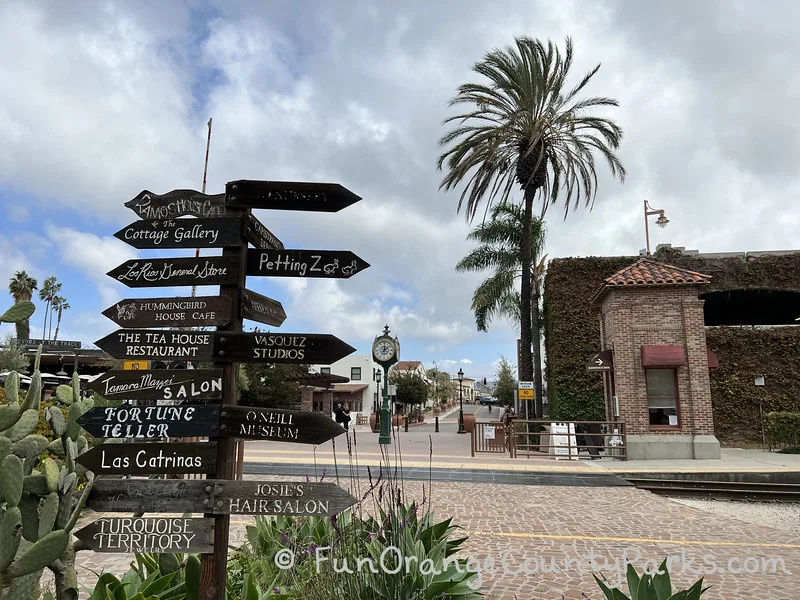 River Street Ranch
There is a whole new development going in near the San Juan Capistrano train station called River Street Marketplace which is set to open early in 2023.
What used to be called Zoomar's Petting Zoo is now re-branded to Zoomar's at River Street Ranch. It is a spot for petting guinea pigs and pony rides, but also has a playground and a few fun attractions including a train ride. I tend to shy away from this place because of the hefty price tag. I just think it is too expensive for what you get especially since there are extra expenses for attractions once you get inside, but maybe you want to treat yourself?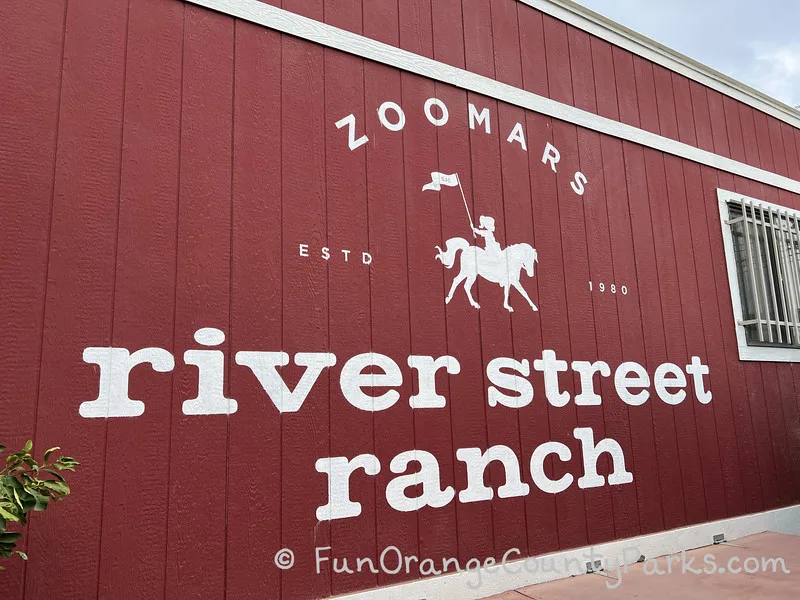 Los Rios Historic District
From the train station, you can cross the tracks to enter the quaint Los Rios Historic District.
Did you know there's a GREAT playground in walking distance from the station? It's called Los Rios Park. There are also public restrooms near this park.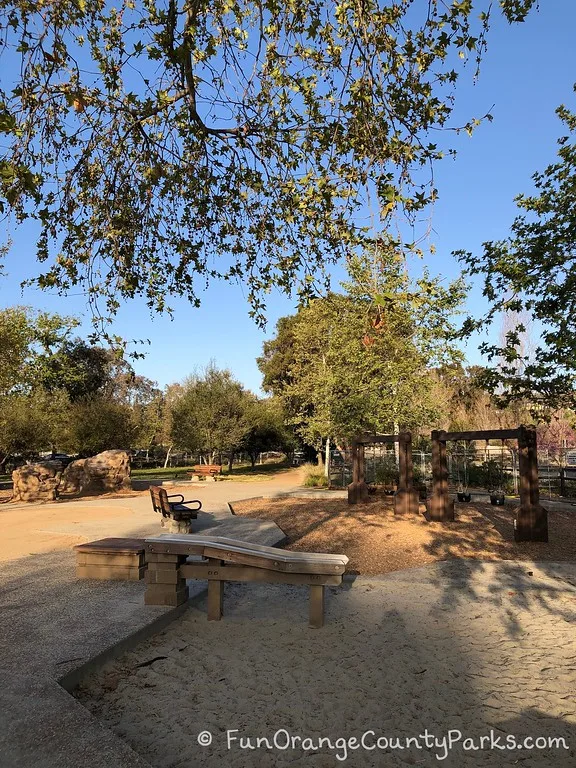 Take a walk around the historic neighborhood. You will loved the tree-lined street, quaint shops, and playground.
There is a coffee spot called Hidden House Coffee with places to sit outdoors. You might want to bring a friend because it is up a short flight of stairs to order and can often be crowded in line with a wait.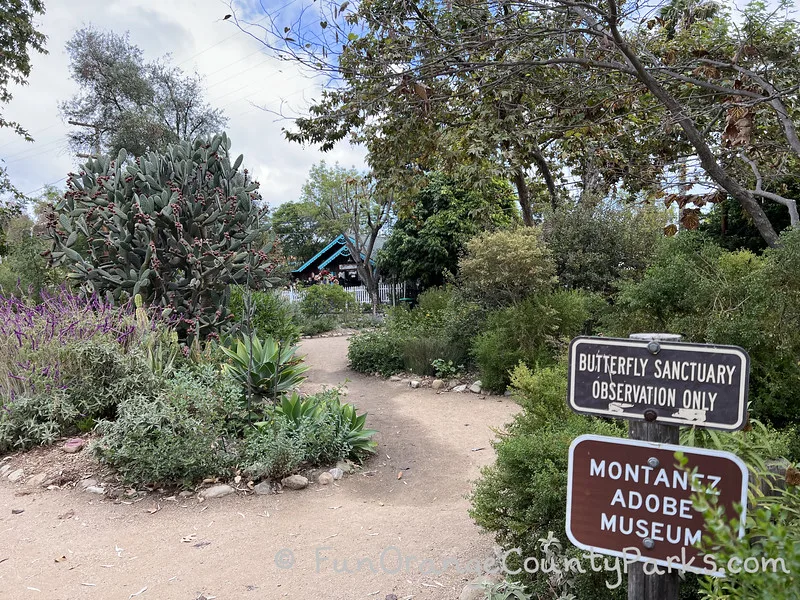 Also inside the Historic District is a butterfly garden and the Tea House on Los Rios which is also a relatively expensive treat, but I think this one is worth every penny!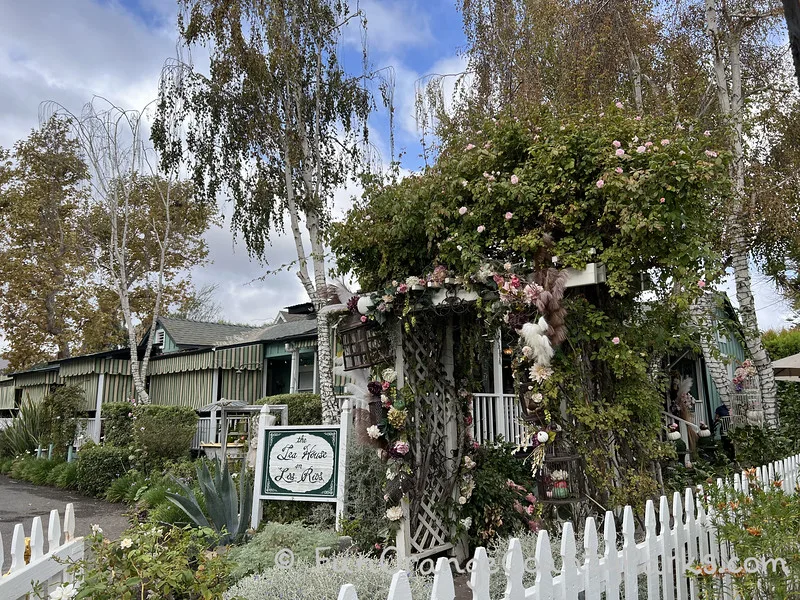 If you are up for a bigger walk, you can take the bike path along San Juan Creek towards the ocean and hit Descanso Park (but if I were you I would stick around this historic and downtown area).
Downtown San Juan Capistrano
On the station side of the tracks, you can walk along the station on the parking lot side to see the train car facade with real train cars. There are a few restaurants with bars like Paddy's Station Irish Pub, Hennessy's Tavern, Bueno Bueno Mexican Kitchen, and Trevor on the Tracks. There's also some wine bars and a fancy restaurant called Mayfield.
The more kid-friendly restaurants in this area are Selma's Chicago Pizzeria & Tap Room and Heritage BBQ. I also love this area for breakfast options! Breezy (Breakfast, Brunch, & Lounge) just opened here and a little ways down Camino Capistrano is Ellie's Table at Egan House.
I know it's not necessarily something you want to do on a day long train trip, but there is also a Regency Theater that is popular with the locals for catching a movie. If I were a kid, I would think that was a pretty cool outing, especially if it was a movie I was anticipating!
If you wanted to do this for a "date night" or an outing with older kids, I'd suggest hitting the Cedar Creek Inn (looks fancy, but the food is really good and the price is worth what you get). Then stroll around Mission San Juan Capistrano.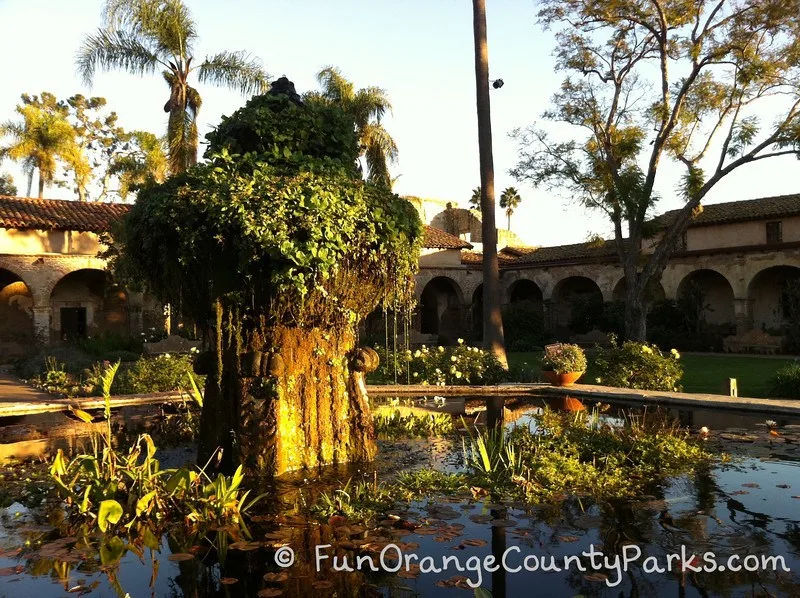 Places to Go Near San Clemente Station at North Beach and San Clemente Pier Station (OC Train Trip #2)
There are TWO San Clemente train stations!
San Clemente (stops at North Beach)
The main station is way north of the pier at North Beach. It's called "San Clemente." Trains stop here more frequently because it's more of a commuter stop.
There used to be not much to do at this stop except get off the train to enjoy the beach and swings written up here: San Clemente North Beach Walk.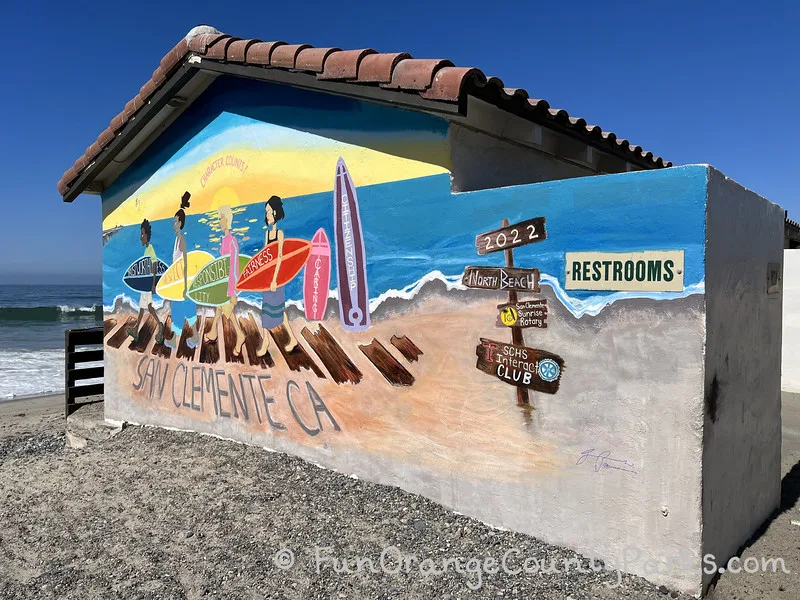 The best part of this stop are all the opportunities for hiking, exploring, and playgrounds at Sea Summit (stairs visible from Coast Highway).
Pico Park is also very close to the station.
Rent a bike at Bicycles San Clemente and ride to Dana Point Harbor along the dedicated and flat path.
There's an awesome place for coffee or breakfast called Moulin in the casino building past the Ole Hanson pool.
The Outlets at San Clemente are well within walking distance – and the Rainbow Sandals outlet is also up Avenida Pico on the opposite side of the street from the outlets.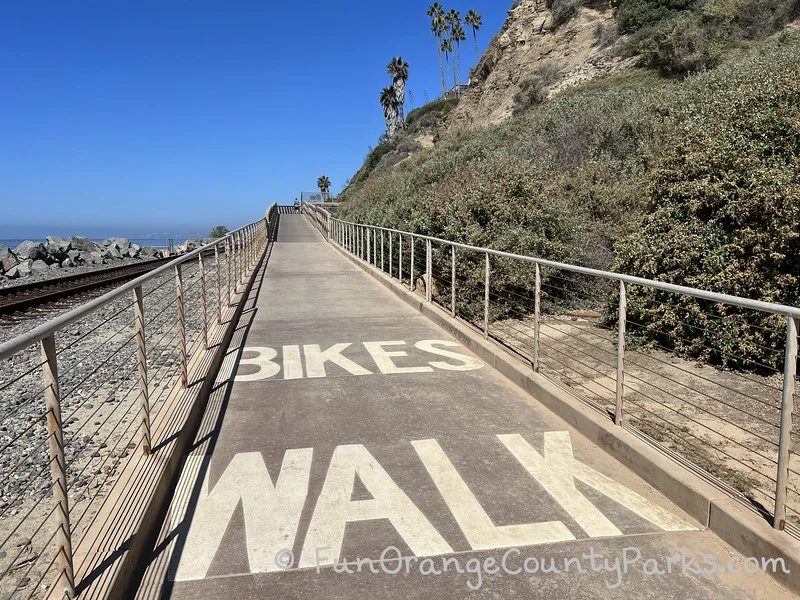 San Clemente Pier
Make sure you check the train schedules for San Clemente Pier! Metrolink will only stop here on weekends.
Ahhhh, the beach! What more can I say? It's free and it's fun.
I've already written up quite a bit of the outdoor happenings in San Clemente. Check out: San Clemente Pier and San Clemente North Beach Walk.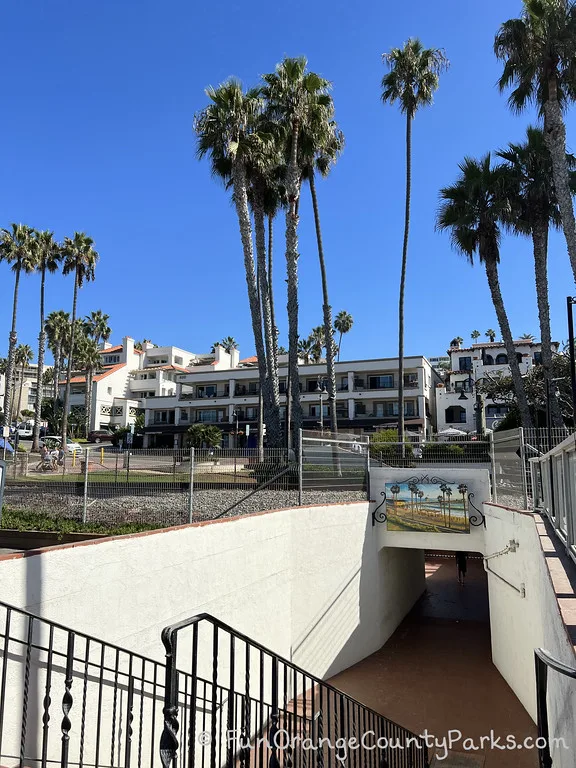 The beauty is that you can walk on the beach trail and end up at a playground (Linda Lane) not too far away.
Bring a picnic or eat at one of the restaurants on the pier or nearby. The restaurant on the pier is called Fisherman's and there is also a snack bar version called The Fisherman's Galley if you don't necessarily want a sit-down meal.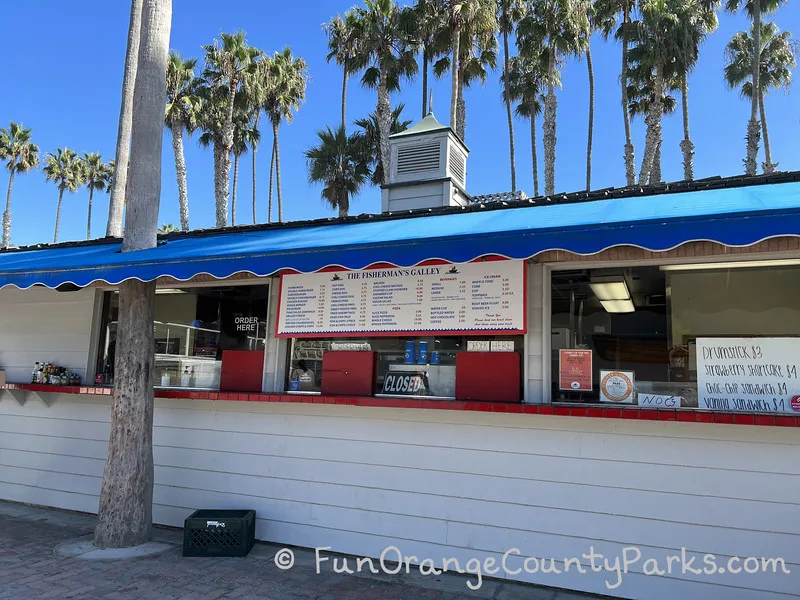 You can even head all the way to Calafia at the south end of the beach trail.
There is a breakfast spot on the way called West Toast Cafe serving coffee, smoothies, and breakfast bites.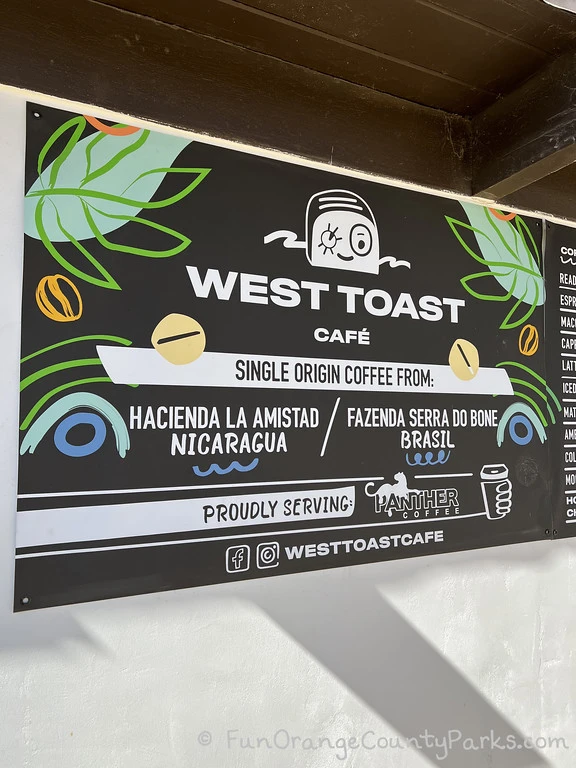 If the kids get tired, just turn around and play at the beach. In the meantime, you get to watch the waves, walk a nice path and see the trains go by!!!
You can hike up the hill to Casa Romantica Cultural Center and Gardens to tour the gardens. Or you can head further into downtown San Clemente and eat along the main street called Del Mar – but it's uphill.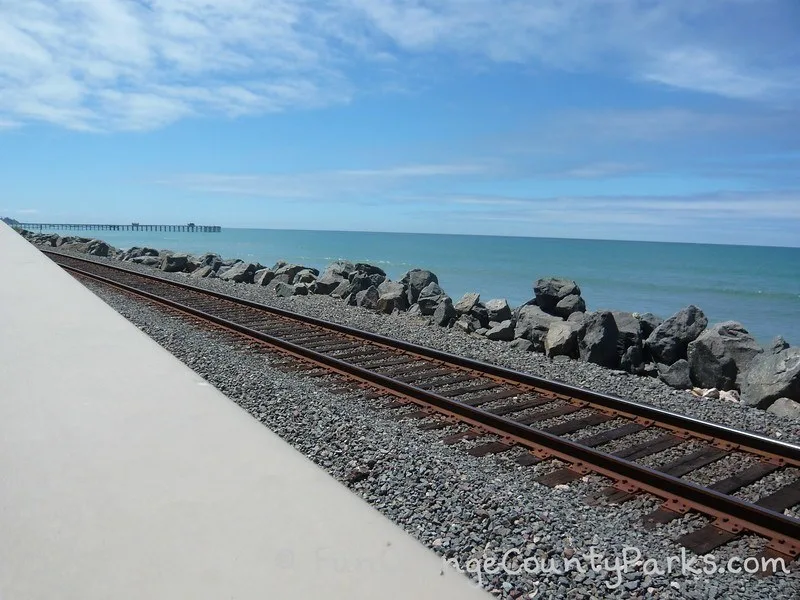 Places to Go Near Fullerton Station for The Old Spaghetti Factory (OC Train Trip #3)
The Old Spaghetti Factory was voted in Parents Magazine as one of the Top 10 best family restaurant chains (Kids Menu). They even have gluten free pasta. They offer "complete meals" so there's no extra charges for drinks or dessert.
The Fullerton Museum is straight up the street from the train station on Pomona.
The Downtown Fullerton Market is Thursday evenings from April to October from 4pm-8:30pm. It's a real family-friendly event.
Other Places to Go Near Orange County Train Stations
City of Orange Train Station and Old Towne Orange (OC Train Trip #4): There's lots to see in Old Towne Orange and they have a good handle on showing you around. These places are family-favorites within walking distance: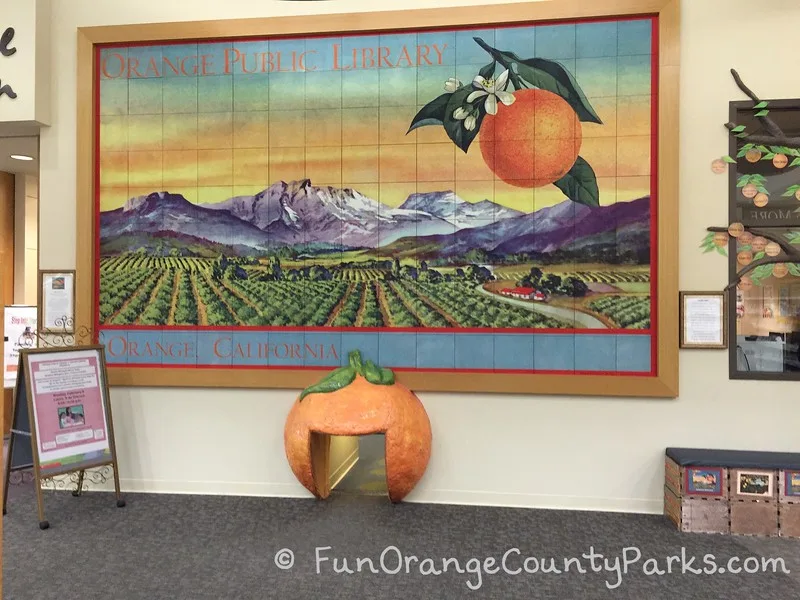 Ruby's Diner at train station
Plaza Park (Orange Circle)
Snooze A.M. Eatery
Urth Caffe
Dragonfly Shops & Gardens
Rutabegorz
And you can go to the City of Orange website for a map of Old Towne Orange and even a walking tour of historic buildings. It can be a challenge to park here, so it's actually a really nice option to take the train.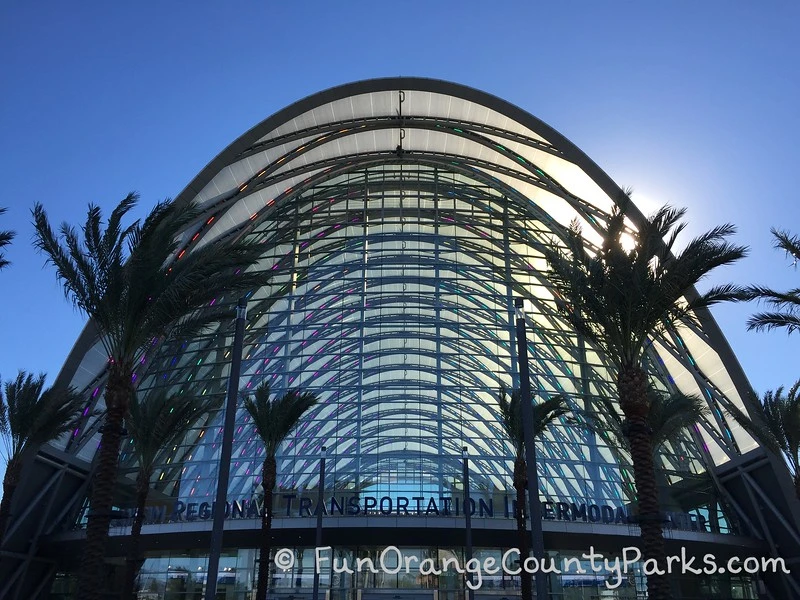 ARTIC Station in Anaheim (OC Train Trip #5): Metrolink often offers promotions for taking the train to Angels Stadium. Read more about ARTIC and get trip ideas and itineraries from their website.
Train Trip Planning Resources
Use the Amtrak website where children ages 2-12 ride half price every day and kids under 2 are free. You'll want to consult the Pacific Surfliner route and schedule.
Metrolink is another great option! I'd definitely recommend consulting their website to learn more about traveling by train. It seems much more user-friendly to me than Amtrak AND the trains share the same tracks and stations. I'd recommend reading their "How to Ride Guide." If I were planning a trip, I'd go Metrolink. And they have a $10 Weekend Day Pass option for travel on Saturday OR Sunday.
If all that sounds like too much, just head to a "train park." I have a list of them at Train Parks: Play Places for Train Lovers.
FYI – Unlike most of my posts, I've never made any of these trips myself! So I make no guarantees for how it will work out and if the attractions are worth it. However, we will be trying them – now that I've done all the research.
Post originally appeared in June 2011.