Thanks to reader, Aimee, who requested a new list from me: "I'd love a list of fun things to do for 3-5 year olds within walking distance of train stations (that are reasonably priced, of course). Destinations could be LA, OC or San Diego." So for Orange County train trips, I will be looking at:
3-5 year old age range (let's call them preschoolers)
walking distance (which has a different definition for 3-5 year olds, than it does for adults)
reasonably priced (ooooooh! That's always a toughy.)
not limited on location: LA, OC, or San Diego (I'll focus on OC for this post.)
I'm going to provide a list, but I'm also going to provide links at the end so you can plan something yourself! You just have to promise to share with the rest of us after you return! I want some guest blogs from readers on this topic.
Train Trips
TRAIN TRIP #1 – San Juan Capistrano and the Los Rios neighborhood
This was the first spot that popped into my head. I've spent lots of time wandering around downtown SJC – and I've read other blog posts about this trip. For instance, Jen at Tiny Oranges just featured a guest post about an "Un-Birthday Party" train trip celebration. Jen also wrote about her own train trip to SJC with her sister way back in 2009. There's so much more to see here than just petting zoo!
Zoomar's Petting Zoo with playground (open 10am-5pm)
Did you know there's a GREAT playground in walking distance from the station? It's called Los Rios Park. There are also public restrooms near this park.
Take a walk around the historic neighborhood.
If you are up for a bigger walk, you can take the bike path along San Juan Creek towards the ocean and hit Descanso Park.
Ruby's Diner (& Sky Ranch Saloon) is also a favorite with my kids and it's a little different because it's upstairs.
If you wanted to do this for a "date night" or an outing with older kids, I'd suggest hitting the Cedar Creek Inn (looks fancy, but the food is really good and the price is worth what you get). Then stroll around Mission San Juan Capistrano.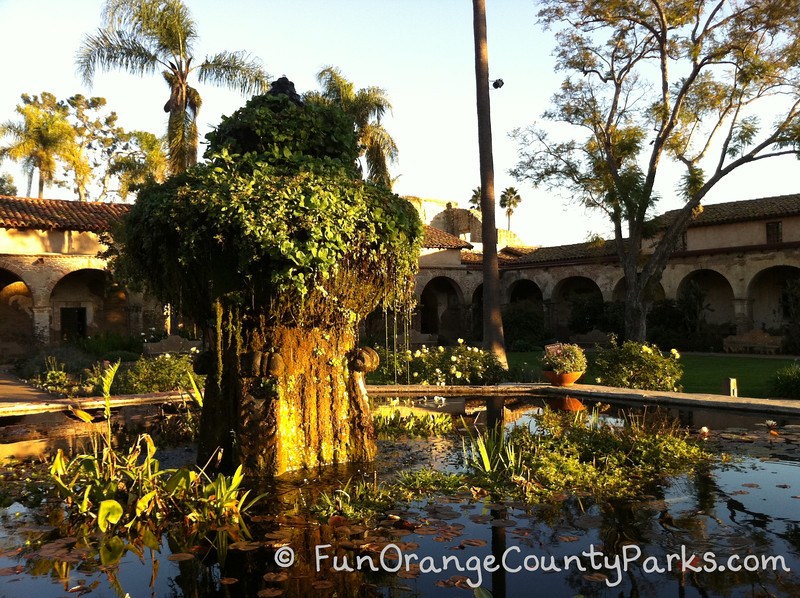 TRIP #2 – San Clemente Pier and Beach
There are TWO San Clemente train stations!
Trip A
Trip B
Make sure you check the train schedules for San Clemente Pier! Metrolink will only stop here on weekends.
Ahhhh, the beach! What more can I say? It's free and it's fun.
I've already written up quite a bit of the outdoor happenings in San Clemente. Check out: San Clemente Pier and San Clemente North Beach Walk. The beauty is that you can walk on the beach trail and end up at a playground (Linda Lane) not too far away. You can even head all the way to Calafia at the south end of the beach. If the kids get tired, just turn around and play at the beach. In the meantime, you get to watch the waves, walk a nice path and see the trains go by!!!
Bring a picnic or eat at one of the restaurants on the pier or nearby.
You can hike up the hill to Casa Romantica to tour the gardens. Or you can head further into downtown San Clemente – but it's uphill.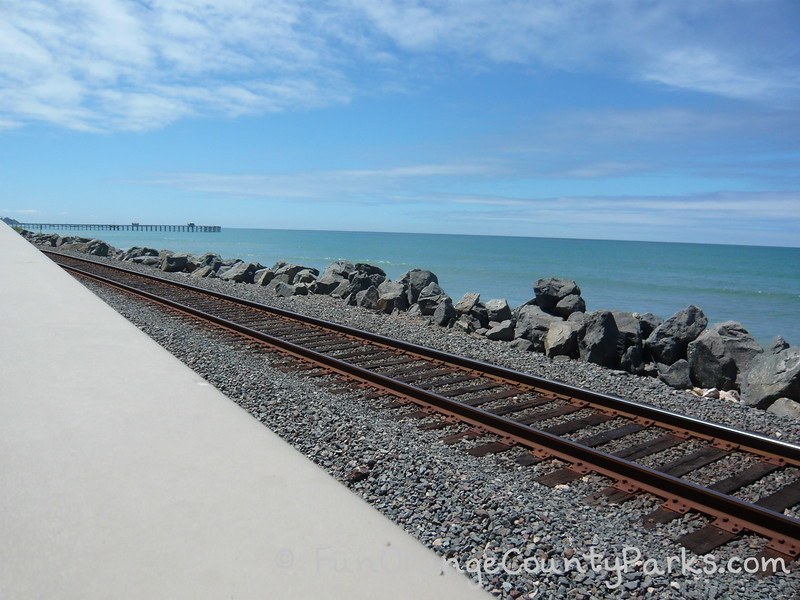 TRIP #3 – Fullerton Station for The Old Spaghetti Factory
The Old Spaghetti Factory was voted in Parents Magazine as one of the Top 10 best family restaurant chains (Kids Menu). They even have gluten free pasta. They offer "complete meals" so there's no extra charges for drinks or dessert.
The Fullerton Museum is straight up the street from the train station on Pomona.
The Fullerton Market is Thursday evenings from April to October from 4pm-8:30pm. It's a real family-friendly event.
Honorable Mentions
I know there's lots to see in Old Towne Orange, but I couldn't think of anything special for the 3-5 year old crowd. Please leave a comment below if you have any ideas!
Planning Resources:
Use the Amtrak website where children ages 2-15 ride half price every day and kids under 2 are free. Click here to find a station and then consult the schedule.
Metrolink is another great option! I'd definitely recommend consulting their website to learn more about traveling by train. It seems much more user-friendly to me than Amtrak AND the trains share the same tracks and stations. I'd recommend reading their "How to Ride Guide." If I were planning a trip, I'd go Metrolink. And they have a $10 Weekend Day Pass option for travel on Saturday OR Sunday.
If all that sounds like too much, just head to a "train park." I have a list of them at Train Parks: Play Places for Train Lovers.
FYI – Unlike most of my posts, I've never made any of these trips myself! So I make no guarantees for how it will work out and if the attractions are worth it. However, we will be trying them – now that I've done all the research.
Post originally appeared in June, 2011.