I know San Onofre State Beach well. I drive by it every time we head to San Diego. I think I've memorized the placement of every picnic table and fire pit at the San Onofre campground.
Have I ever stopped? No. I assumed there was not much to see beyond my view from the Interstate.
Just like many of California's state parks and beaches, the parts you can see driving by are only the tip of the iceberg when it comes to all the park's offerings. Although it's officially in San Diego County, it's closer to San Clemente than Oceanside.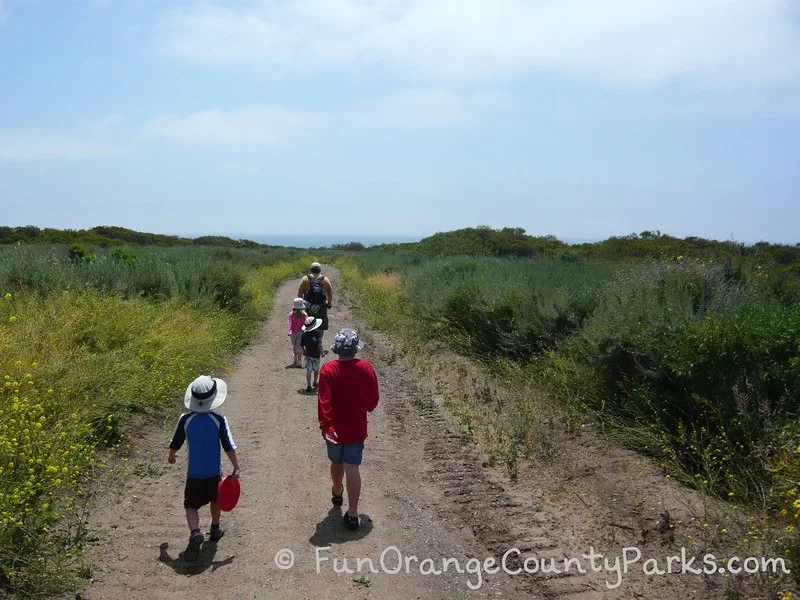 How to Get to San Onofre State Beach
Exit Interstate 5 south of San Clemente at the Basilone/San Onofre exit and drive toward the beach. The frontage road will take you past on-street parking for surf spots and turn-offs for Edison and the San Onofre Nuclear Generating Station (SONGS).
Keep driving south parallel to I-5. There's a small kiosk where you'll need to pay your hefty but worthwhile $15 day use fee. I highly recommend getting an annual pass. You'll want to visit again! MAP TO SAN ONOFRE STATE BEACH
San Onofre State Beach Basics
There are 6 trails leading down to the beach from the bluffs. Guess what they are named? Trail 1. Trail 2. Trail 3 and so on. Dogs are allowed on Trail 1 and Trail 6 (but not in between).
The San Onofre Foundation has some great hiking and cultural info about the beach. That's why this section of the park is called "Trails."
San Onofre State Beach Trail 6 to Trail 5 Loop
We drove all the way down to Trail 6 which is almost even with the Border Patrol Checkpoint on Interstate 5. Day use parking is on the left, closest to the freeway, and camping spots are on the right.
There are so many different ways to do this, but we parked near Trail 6 (no longer a nude beach — apparent from the conspicuous Nudity Prohibited sign). But I'm not making promises!
We hiked across a beautiful field of wildflowers across the top of the bluff. You'll come to the ocean and see the breathtaking sandstone bluffs with the grand Pacific as a backdrop. Make sure you bring your camera and get some pics of the views from the top.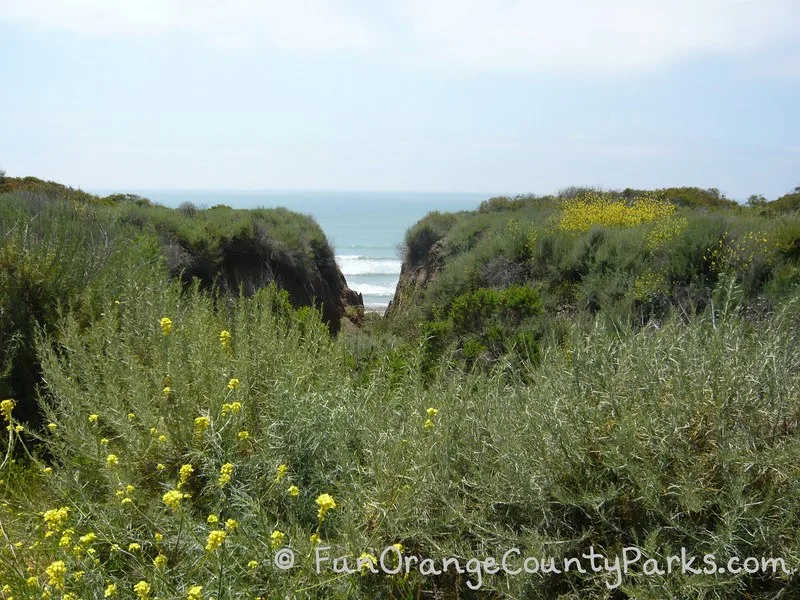 We walked down the hill and planted ourselves on the beach. There were rocks to stack and debris washed ashore which the kids used to build a fort. We had a picnic on the beach watching the surfers and enjoying the view.
My sis brought her dog, so she hiked back up Trail 6 and Mr. Play Parks and I took our kids and nephews on an adventure. Then we walked along the base of the bluffs back north to Trail 5.
Trail 5 has a completely different landscape. The kids felt like they were in living a scene from Indiana Jones. Flooding has washed out much of the lower trail, but it's still accessible with a few big steps and ropes marking the trail. We came out at the top of Trail 5 and walked along the paved road back to our car.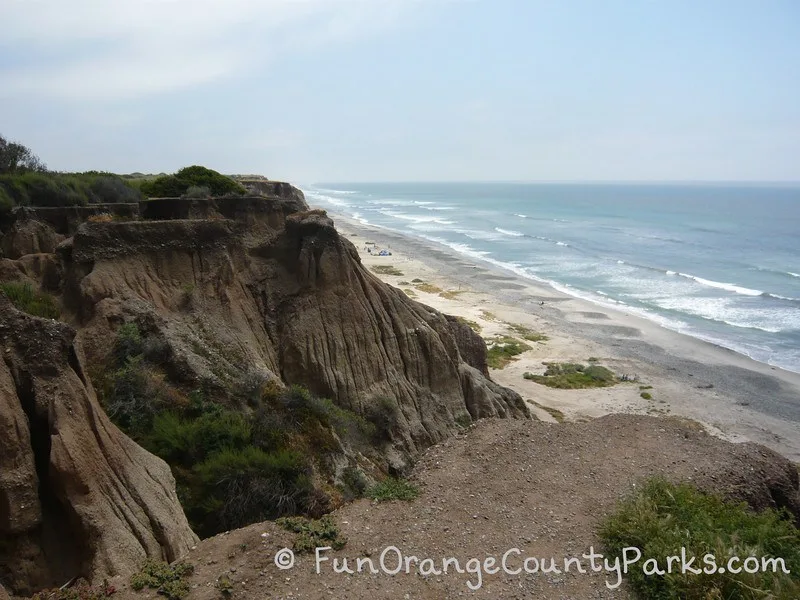 San Onofre Beach Trail 4
It took us — um, 10 years! — but we tried a new-to-us trail.
Much of the park and parking information is the same, but I have photos of this new exploration and a description of Trail 4 for you in a separate post. Feel free to click over there to get details about San Onofre State Beach Trail 4.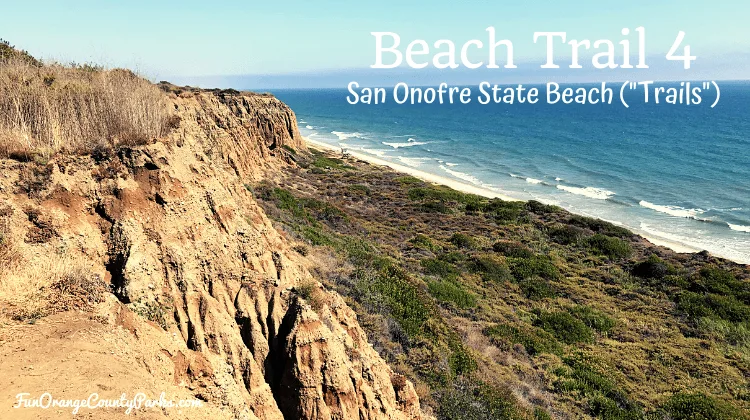 San Onofre State Beach Highlights
Easy hike/beach visit combo
Beautiful wildflowers in April/May
Incredible views of the ocean and bluffs
Sand closer to the bluffs and nice piles of smooth rocks near the ocean.
My daughter brought her nature journal and made note of all the animal tracks we saw in the mud and bees we saw buzzing on the flowers.
We took kids from ages 3-8 and they all seemed to be able to handle the walk okay. If you're looking for a beach without a walk – I always recommend Aliso Beach Park or Calafia at San Clemente State Beach (don't turn left into the campground, just drive straight to the dead end of Calafia).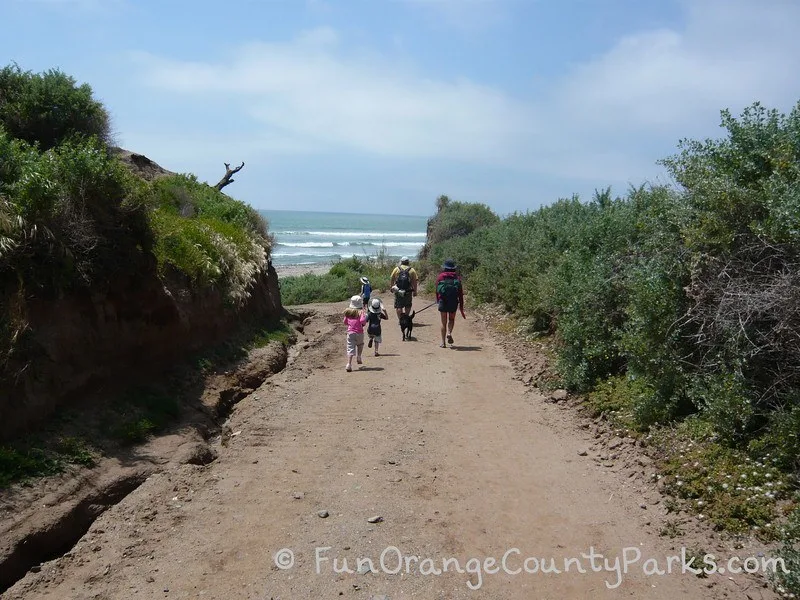 Be Aware
Not really a stroller-friendly adventure. A jogger stroller could get you down Trail 6, but not up Trail 5. A sling or baby backpack would be a better choice.
NO restrooms on the beach. And the ones at the top of the bluff seem to be locked during the off-season.
Great for a family trip or group play date, but felt like it would be isolated for a mom alone during the off-season. Definitely a good idea to use the buddy system.
Parking could be impacted on busy camping weekends and during the summer.
I'd recommend closed-toe shoes for the hiking. The kids can take them off at the beach.
The short walk/hike has hills and it feels like a long way up on your way back.
Not a great swimming beach for kids.
PAY parking – park on the left for day use.
If you're coming from Orange County, don't miss the exit. You'll have to drive through Camp Pendleton and all the way to Las Pulgas before you can turn around!!!
Trail conditions can change based on weather and washed out trails – make sure you ask about closed trails at the ranger station when you enter. It's hard to tell from the top of the bluff.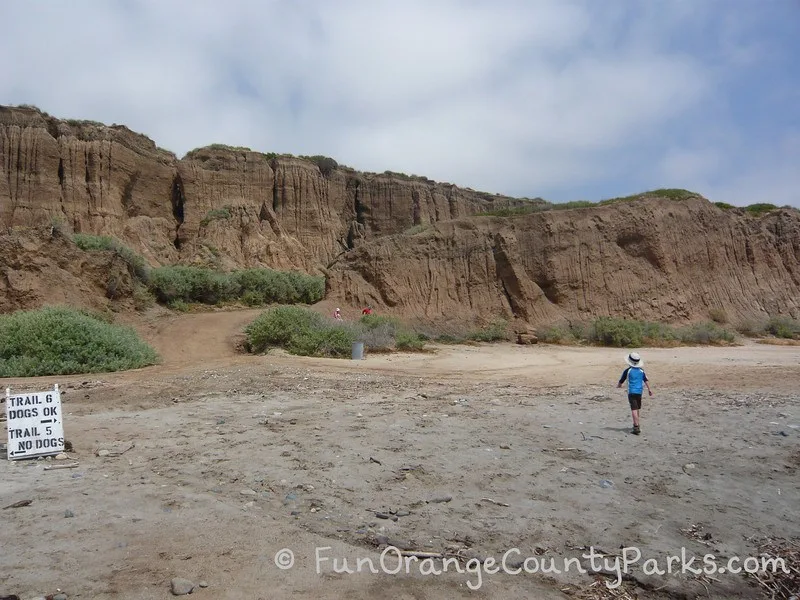 Checklist
Make sure no one needs to use the restroom, before you start on the trail.
Bring snacks, water, hand wipes — and even baby powder and towels to remove sand from feet before heading back uphill.
$15 day use fee for parking.
Leave a change of clothes in the car in case the kids get wet or sandy or dirty.
Wear lots of sunscreen and have fun.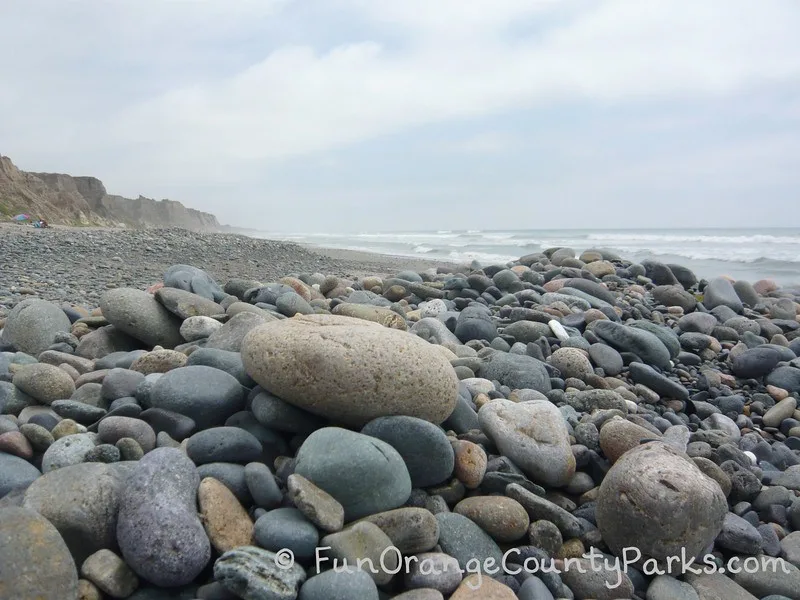 Originally posted in May 2010.