It's no secret that Irvine Regional Park tops my list of favorite parks.
My kids feel the same way, and there is excited squealing and a mad dash for the front door anytime I ask if they'd like to spend some time there.
We are huge fans of the train and zoo so it was a natural for us to check out Wheel Fun Rentals.
We had a blast cruising around on a parent-powered bike as a family unit and seeing our favorite place from a new perspective.
Directions to Wheel Fun Rentals at Irvine Regional Park: Irvine Regional Park is located at 1 Irvine Park Road in Orange. Heading north or south on the 5, exit at Jamboree and head north. You won't miss the park, as Jamboree ends at Irvine Regional Park and curves right around to the entrance. Once inside the park simply follow the signs to park near the bike rental area. (MAP TO IRVINE REGIONAL PARK)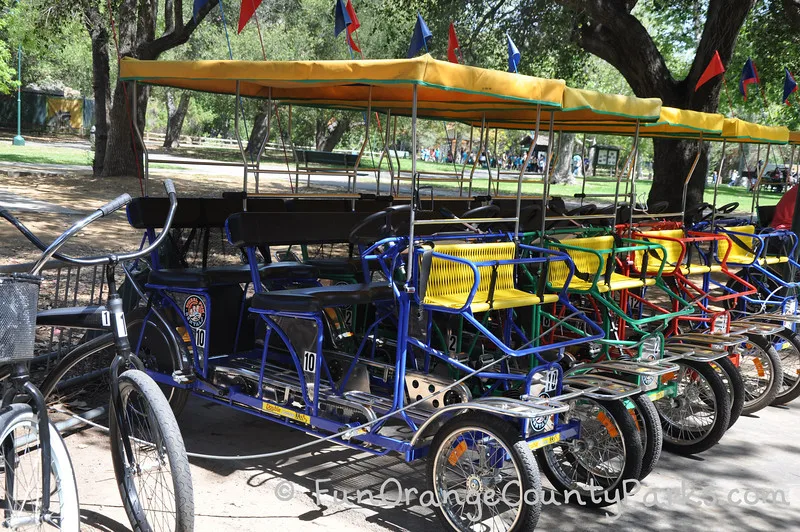 Highlights:
Cruising along the Irvine Park Trail next to Santiago Creek was beautiful.
There was no running water in the creek when we were there, but from that slightly higher perspective looking off into the more rugged areas of the park you really get a sense for what a gem this place is.
We also took note of some areas that would be neat to check out on foot for a future visit.
The kids absolutely LOVED being propelled along by mom and dad. There was a constant "wheeee!" coming from my littler boy, and both kids were just so excited.
Riding around as a family really gave us an opportunity to talk and enjoy each other, especially on the slight downhill parts of our trip when we weren't working as hard to peddle.
Cool info book (attached next to the steering wheel on the surrey we rode) allows you to take a self-guided tour of the park on your rental bike.
There's even a Surrey Scavenger Hunt!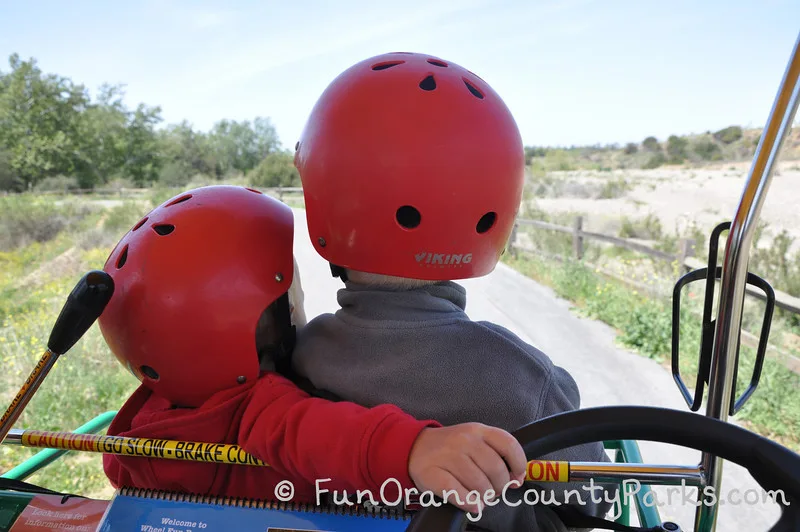 Be Aware:
Give yourself a few breaks and take a little time to rest. Peddling the entire family around on a bike is quite a workout.
Bring water – we had a single surrey and there was a basket on the back that we were able to fit our water bottles into, and we definitely needed those.
Listen to the safety instructions when you are given your bike. There are specific areas that you should not let your feet rest while riding.
Avoid the steep hills next to the lake – we were warned of this when we were given our bike and I can absolutely understand why.
Children under 18 MUST wear helmets while on the bikes – and Wheel Fun Rentals is kind enough to provide them at no charge.
Bike rentals are only available on weekends and holidays in the winter. Check the website for the most current schedule.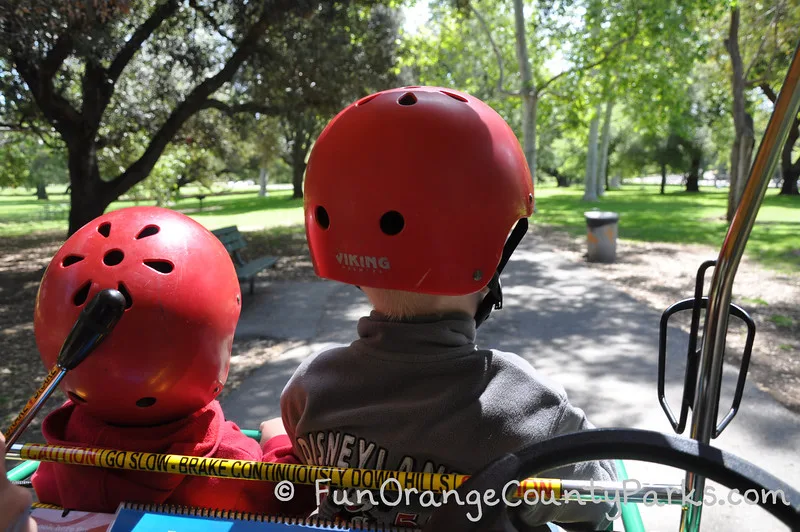 Checklist:
My Tips:
Disclaimer: A complimentary rental was provided by Wheel Fun Rentals. No request was made for a blog mention.