Ocean Breeze Park in Laguna Niguel was a great little discovery for our family.
My son spent his time shooting baskets on the very nice basketball court while my daughter played on all the play equipment and visited with other families out for a play day at the park.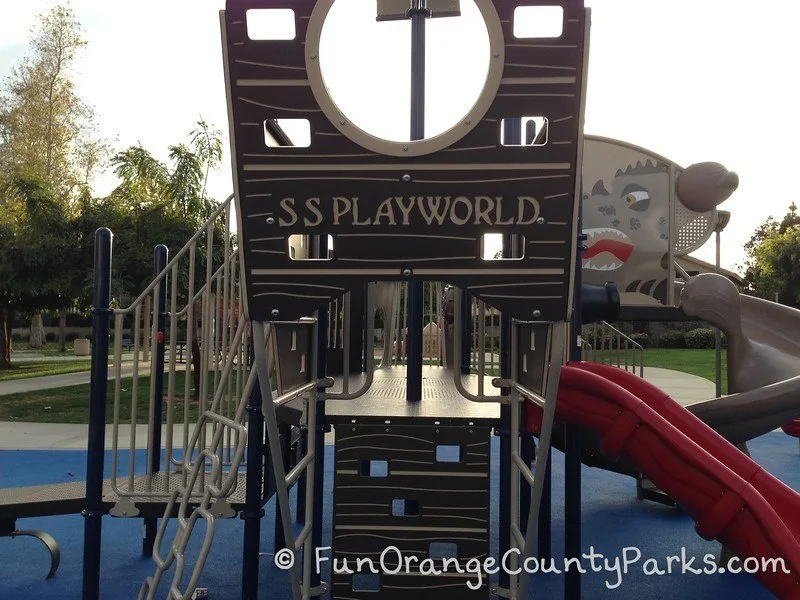 How to Get to Ocean Breeze Park in Laguna Niguel: Ocean Breeze Park is in a neighborhood near the intersection of Niguel Road and Camino Del Avion. From I-5, exit at Camino Capistrano and turn right towards downtown San Juan Capistrano. Turn left onto Del Obispo and travel across the train tracks and past the farm to turn right onto Camino Del Avion. Turn right on Niguel Road, followed by another right on Charles Road. The park is ahead on your left. (Address: 32311 Charles Road, Laguna Niguel) MAP TO OCEAN BREEZE PARK IN LAGUNA NIGUEL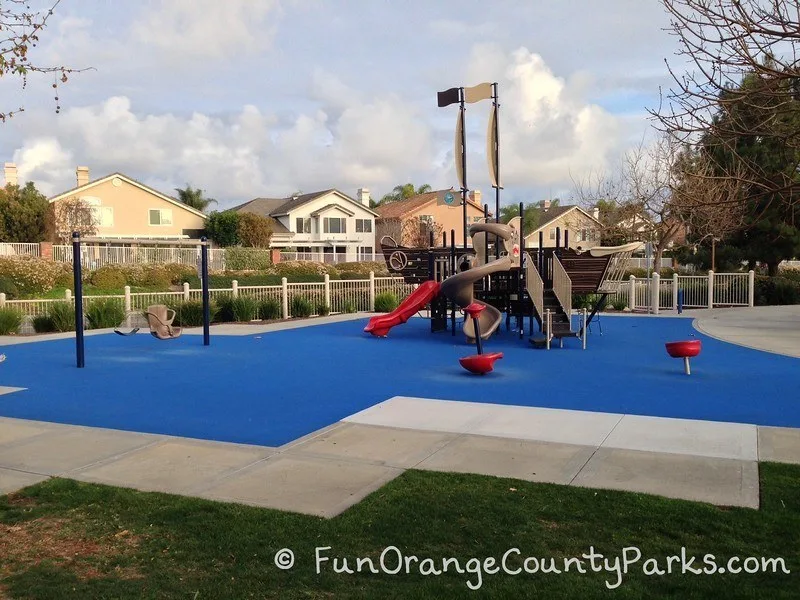 Highlights:
The big kid section was renovated in 2015 with a pirate ship/ocean theme.
The pirate ship structure includes 2 slides, a bouncy plank, a telescope, and the features of a boat. It also has a pretend cannon and two spinning toys (one standing and one sitting).
It's a nice, compact park where you can see your kids from a bench and let them roam and play.
It's mostly fenced, except for a few entrances and exits.
The big kid and little kid play areas are separated by a picnic gazebo in the center of the park.
Families seemed to have a system of eating at the picnic tables, then playing at the little kid area, then moving on to the big kid area before leaving the playground.
The picnic gazebo in the center of the park gives the park lots of character.
As far as swings go, you'll find 2 baby swings, 1 bench swing, 1 chair swing.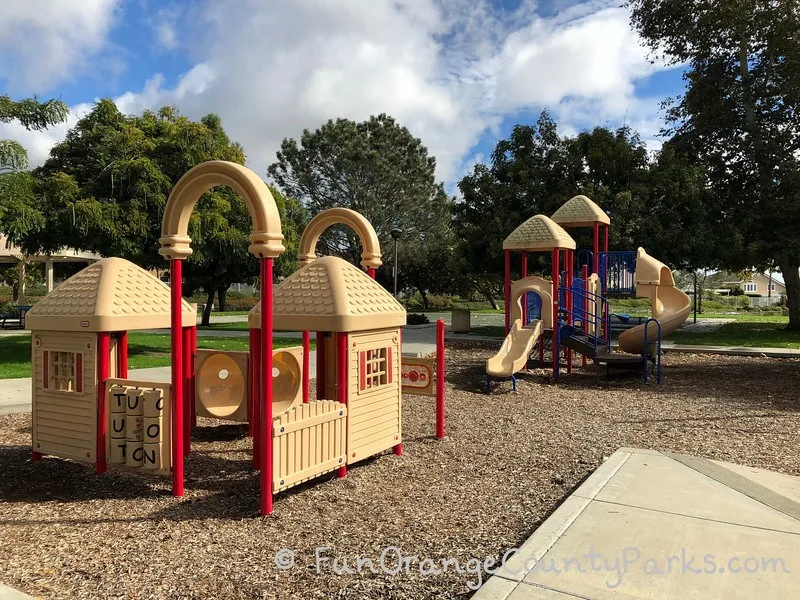 Be Aware:
Malcolm Elementary is right next door to this park, so I can imagine it's much busier on school days.
Parking is on the street, but read the signs carefully because it's not allowed everywhere and between certain hours.
Not a lot of shade on the playground.
Dogs are not allowed to be unleashed but we saw people unleash them.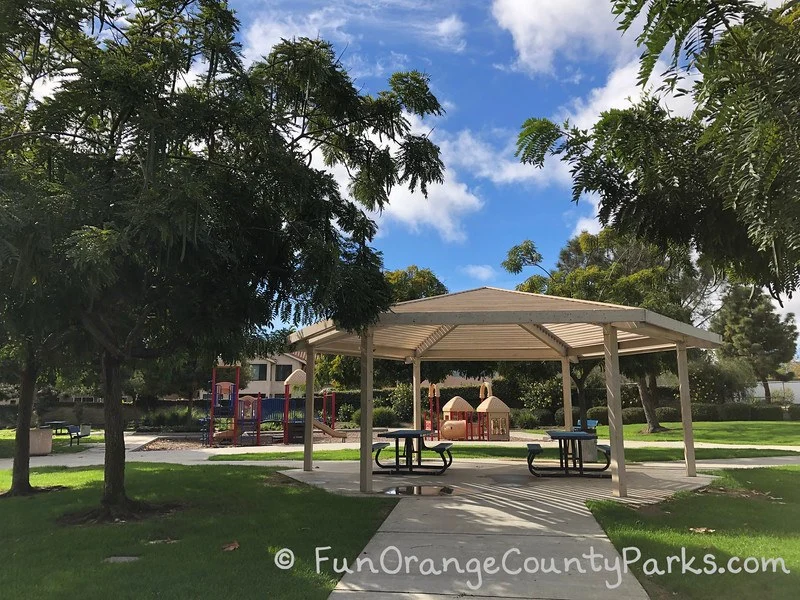 Checklist:
Parking on the street
Play surface is recycled rubber on the new area and wood chips.
NO restrooms
Full court basketball
Drinking fountain near basketball court
Picnic tables near small kids playground
Picnic gazebo in the center of the park
Not much shade on the playground, but there's shade for picnics on the grass
Consult the official City of Laguna Niguel website for more information
Nearby public library branch: Dana Point Public Library (with Friends of the Library Bookstore)
Visit my list of 15 Pirate Parks in Orange County for more pretend play opportunities!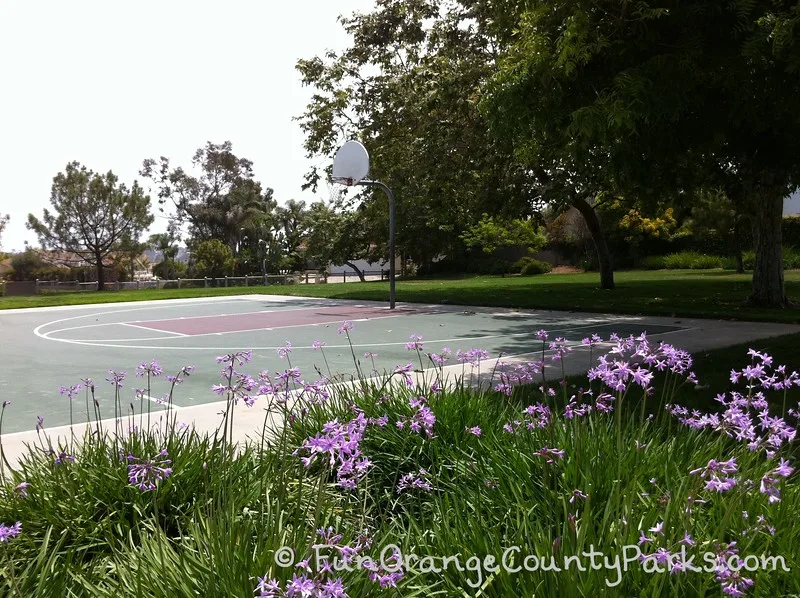 Nearby Parks:
Originally published in July 2011.