North Star Beach in Newport Beach Back Bay is by no means a destination beach for families! Don't head here seeking a beach day because it's really small and there are so many other better options in our coastal county. I will list them at the end of this post!
First and foremost, North Star Beach is home to the Newport Aquatic Center where you can get a membership or rent kayaks and stand up paddleboards (SUPs) by the hour. They encourage guests of all experience levels and have a tutorial session with each rental. But they also recommend calling ahead "to ask if conditions are okay for a 'first-timer'."
So this is primarily a kayak and paddleboard launch. However, there is a SMALL section of beach which families use for toddlers to wade in the water. It's not even really a swimming beach for older kids. Mostly just a place for toddlers to get their toes wet.
Otherwise, Newport Beach Back Bay is known as Upper Newport Bay Nature Reserve (OC Parks & NB Conservancy) and it's also a State Marine Conservation Area.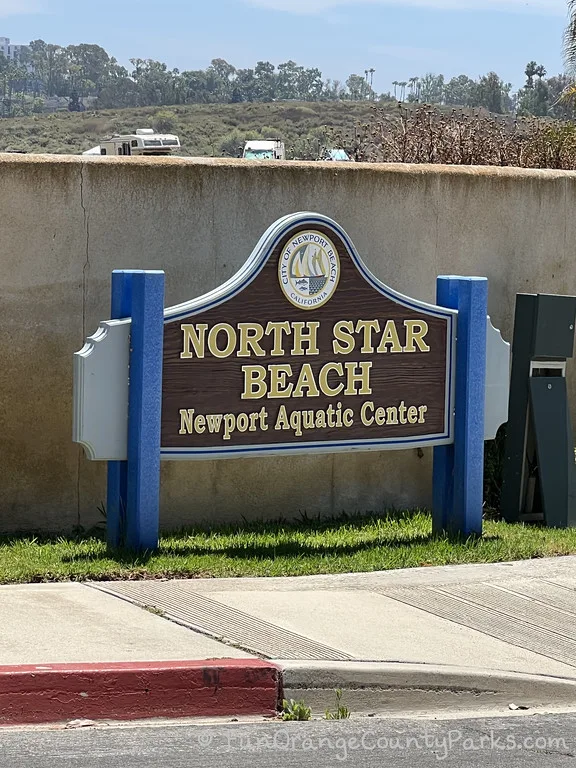 How to Get to North Star Beach and Newport Aquatic Center: You need to drive (slowly, please) through a Newport Beach neighborhood to get to this location. It's basically off of Dover Drive which is reachable from Irvine Avenue. You'll turn onto Westcliff Drive, make your way to Polaris and follow the signs to Newport Aquatic Center on Whitecliffs — or follow whatever directions come up on your navigation. My nav took me in a roundabout way, but I got there. (Address: 1 Whitecliffs Drive, Newport Beach) MAP TO NORTH STAR BEACH IN NEWPORT BEACH
Wading Safety at North Star Beach
The Rules & Regulations page of the Newport Bay Conservancy website says: "Swim only at North Star Beach."
First of all, there are NO lifeguards at this location. If you have a choice, you should always go to a beach WITH A LIFEGUARD.
The Red Cross guidelines on swimming safety emphasizes that you: "Provide close and constant attention to children you are supervising in or near water." For this spot, that means you also need to be a good swimmer.
Like I said above, this isn't an all day beach adventure but more of a place to spend an hour or two where the little ones can wade with no waves.
Keep the following in mind:
There is NO lifeguard at this beach.
I used to be a lifeguard and swim instructor for little 3 year olds and it's very important for you to stay within an arm's length of any child under 4. It may seem like it's unnecessary, but there is really no downside to preventing a drowning and this is the least we can do as caregivers.
Just because they are wearing floaties or floatables, does not mean they don't need you near them.
The water can go from shallow to deep fairly quickly, especially depending on the tide. A lot of parents and grandparents protected for that potential issue by standing in the water and acting as the human barrier for toddlers unaware of the depth.
Still water beaches are the perfect habitat for stingrays. I did not see any on the day we went (yes, I know they can hide under the sand and you might not see them, but I know what to look for). There could be days where there are a lot and days when you don't see any. They tend to like the spots that are warmer.
You can check water quality on the Heal the Bay Beach Report Card app before you go. So many things can impact water quality at any beach (runoff, tides, spills) so just be prepared with Plan B.
I spotted red ants on the sand which can bite, although I didn't see anyone get bitten. Less ants near the waterline.
Watch the tides and be especially aware of picking up your litter because this is a fragile wetlands ecosystem.
Parking is free. There is a paved parking lot at the Newport Aquatic Center, but also a dirt lot which is on the beach side. Just watch the little ones because the spots aren't marked and people can drive fast through here.
There are public restrooms at the Newport Aquatic Center.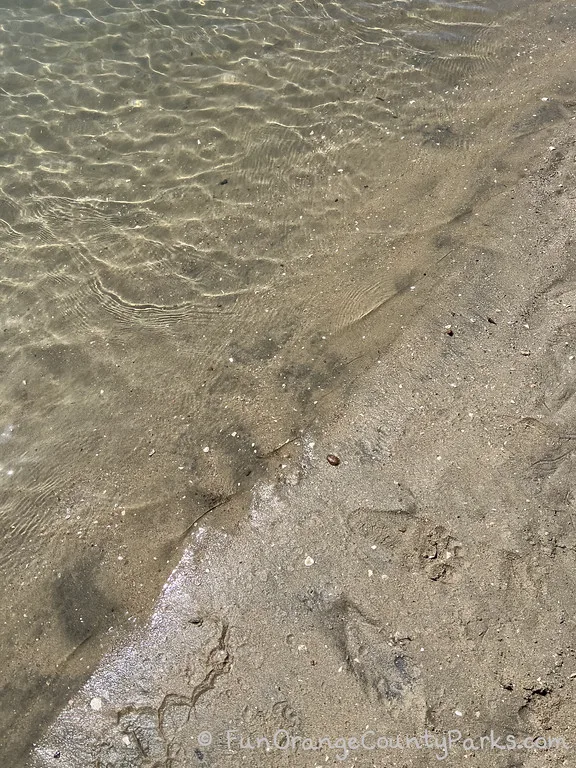 Thankful to those who left helpful advice (and a simple request) on the Instagram post I collaborated on with Heather at @OCParentGuide. Here is what they had to say:
Water shoes recommended because the sand is "a little rocky" which is true – we saw shells and a few rocks mixed in with the sand.
Definite mention of stingrays as small as 5″-6″ – and another said mostly along the grass line and not the beach.
Current can be really strong for inexperienced kayakers and SUPers – and another mentioned to be mindful of the currents because it can be difficult to paddle even for experienced paddlers.
Water is cold (yep – it's ocean water which in the summer only gets to about 68/70).
You can bring your own kayaks and SUP.
My beach umbrella worked fine here, but for those who had trouble with the umbrellas someone said they bring a tent style pop up for shade.
Someone takes their elderly mom here so she can wade in the water – which I think is a WONDERFUL idea!
The simple request: Be kind and pick up your trash! (Enjoy!!!)
All of the rules and warnings make it sound more complicated than it actually is! Go with your kids, kick around with them with your toes in the water for a while. If you go to the beach all the time, this will seem easy. I just wanted to get this all out there for those who are new to going to the beach and maybe intimidated by big waves.
Better options in OC if you aren't super comfortable at the beach with kids yet would be Baby Beach in Dana Point Harbor or even try out Newport Dunes across the way (it has a playground, snack bar, and also has boat rentals).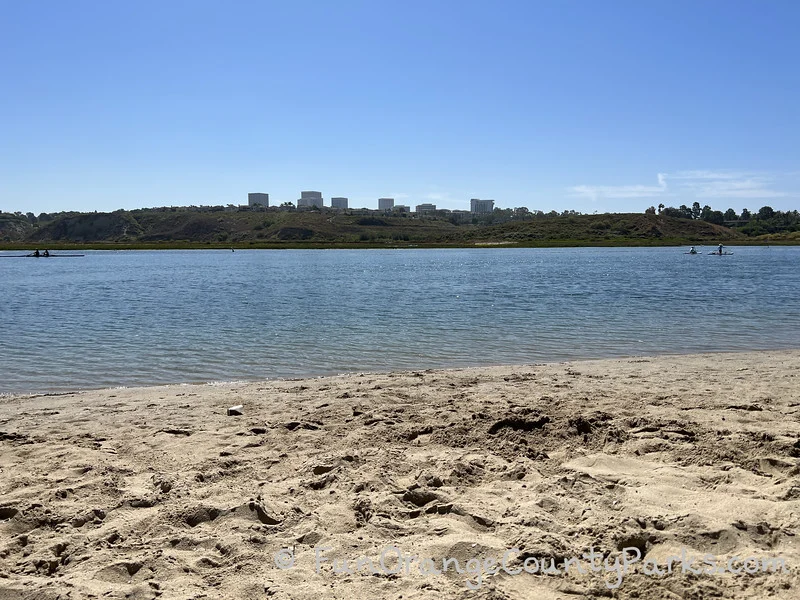 Are dogs allowed at North Star Beach?
Dogs are allowed at North Star Beach with these restrictions noted by the Newport Aquatic Center: "All dogs must be on a leash and accompanied by the owner at all times. The beach in which we are located, follows normal public beach rules, which indicates no dogs between the hours of 9am-5pm." (Found in the FAQs.) And Newport Aquatic Center is super friendly for allowing dogs on kayak rentals – not SUPs.
The City of Newport Beach has the following rules for dogs on their Beach Information page: "Dogs are never allowed on the beach or any beachfront sidewalk between the hours of 10 a.m. and 4:30 p.m., including the ocean front beaches and bay front beaches. Before 10 a.m. and after 4:30 p.m., dogs are allowed, if they are securely restrained by a substantial leash or chain not exceeding six feet in length and controlled by a person who is competent to restrain the dog. Off-leash dogs are never allowed in any public spaces including parks and beaches."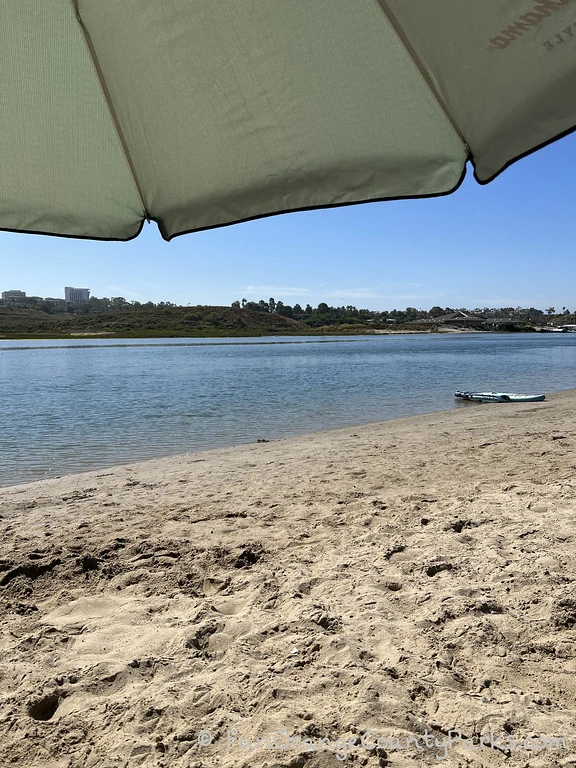 Best sources for official information on Newport Beach Back Bay
Parks and Nature Centers Nearby North Star Beach