Seaview Park in Laguna Niguel and the nearby Aliso Summit Trail saved us from one of those days when we were feeling the need to get into the great wide open outdoors.
This trail was quiet and beautiful. We found it full of rocks to climb and views to take in. I love to see sunsets from up here.
Aliso Summit Trail was the original home of a Fairy Trail which moved to Oso Creek Trail in Mission Viejo during the Summer of 2018 as an art installment. There are no longer any "fairy homes" along this trail, but I am always looking for spots where the fairies might make their new home.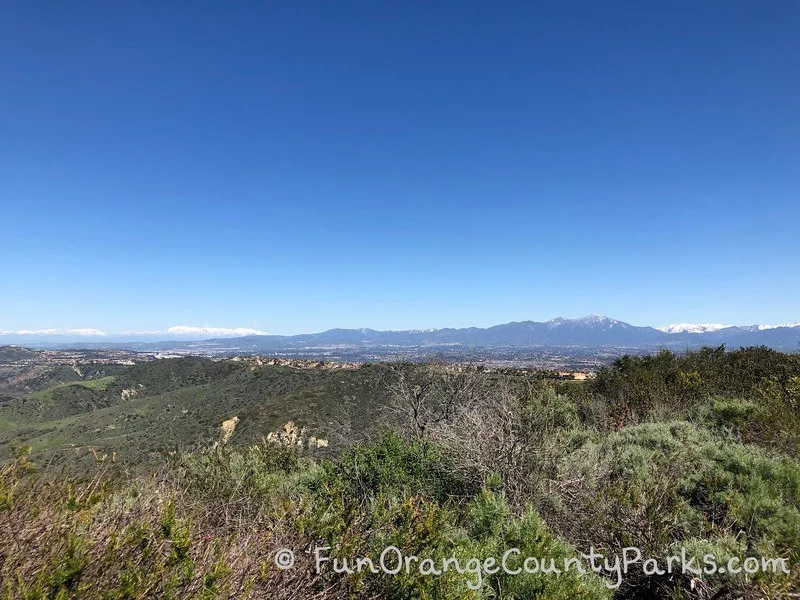 Directions to Seaview Park in Laguna Niguel: It's not close to any freeways or interstates. The most direct way to get here is to take Crown Valley Parkway from either Interstate 5 or Pacific Coast Highway (PCH). Pacific Island hits Crown Valley in two spots. Option #1: If you approach from PCH, take Crown Valley Parkway towards the mountains. Turn left onto Pacific Island (where it turns into Camino Del Avion) and head up the hill. Make another left onto Talavera and park on the right side of the street before the guard gate to the community of Laguna Sur. The trail leads around the houses and out to a scenic viewpoint. Option #2: If you are coming from Interstate 5 and Crown Valley Parkway, you'll need to turn right onto Alicia Parkway before making a left on Pacific Island. Then drive up the hill and make a right onto Talavera. (Address: 22801 Talavera Drive, Laguna Niguel) MAP TO SEAVIEW PARK AND ALISO SUMMIT TRAIL IN LAGUNA NIGUEL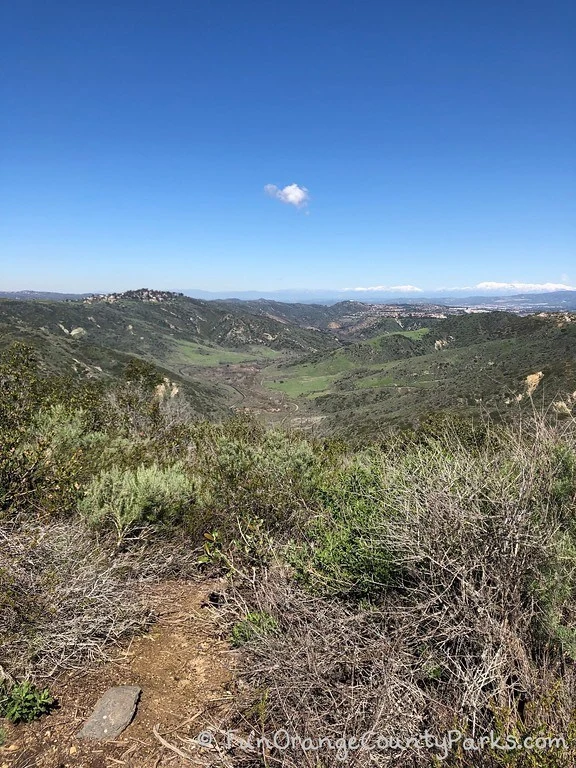 Highlights of Seaview Park in Laguna Niguel:
Easy walk with interpretive signs to identify local plants
Views in all directions
You WILL feel small. It's one of those natural areas that takes my breath away.
See that island out there? That's Catalina.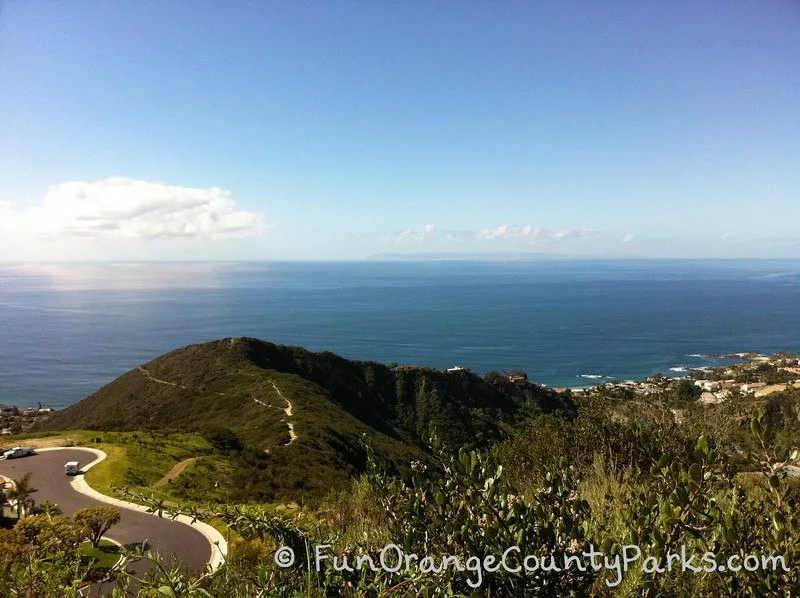 The walk took about 10 minutes in to the viewpoint and you can go further. We just stopped at the viewpoint (a picnic table with some blue metal fencing around).
Picnic nooks all along the path, so it's great for a weekend picnic.
This would be a great place to bring out of town guests. On the day we visited, we could see snow on the mountains and the waves crashing below us.
Definitely wide enough for a jogger stroller. Maybe a little bumpy for a traditional stroller?
Want an amazing workout??? Park at the bottom of Pacific Island in the Albertsons shopping center and WALK up the incredibly steep and long hill. Unfortunately, there are no restrooms at the top.
Grassy area leading up the park with benches for the enjoying the views. I saw lots of people with dogs here in the evening hours. And lots of folks taking family photos.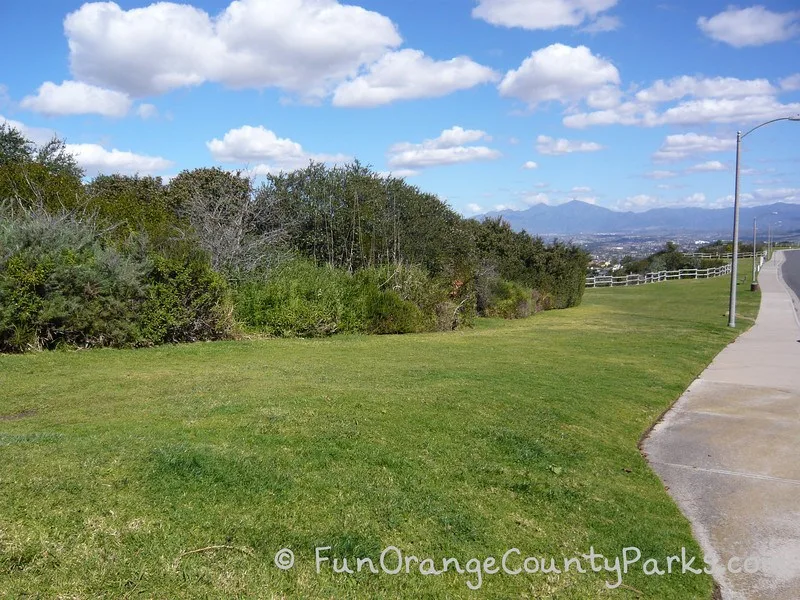 Nature Connection: Be on the lookout for birds. Close your eyes and feel the ocean breeze. Have the kids tell you about the weather. Can you find tracks on the trail?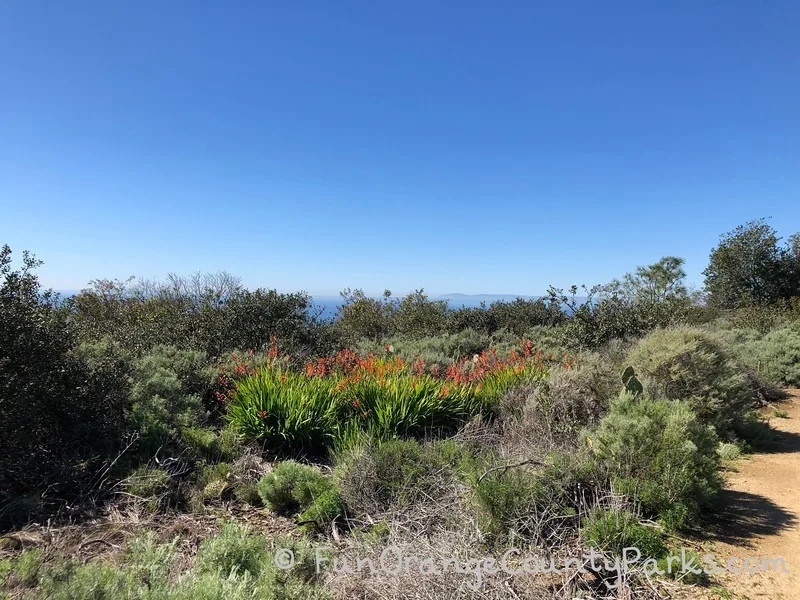 Be Aware:
There are steep drop-offs, but as long as toddlers stay on the wide trail you're okay
It's a wild area so watch for wildlife ("mountain lions, rattlesnakes, poison oak, rugged terrain"). We just don't let the kids run ahead of us on the trail.
NO playground – this is more of a nature walk park
NO restrooms
Dogs must be leashed
Aliso Peak Trail leads off beyond the overlook. It's steep and I don't recommend for little kids. It's a long climb back up.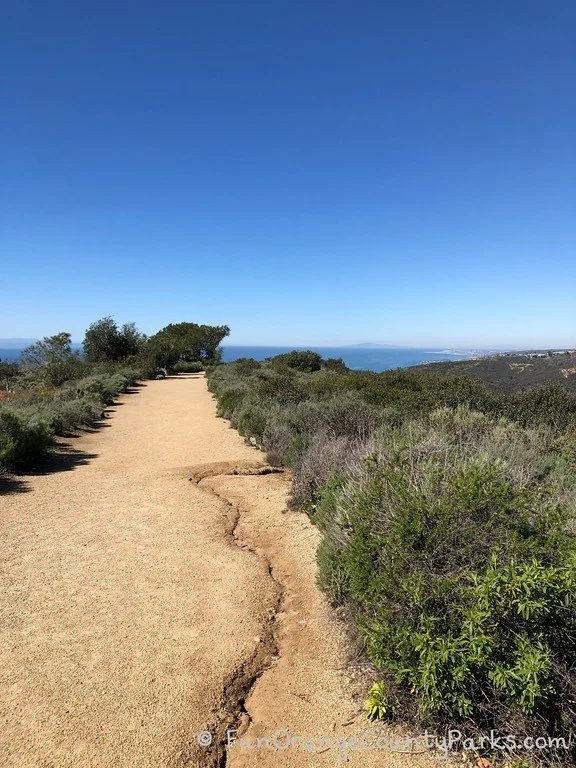 Aliso Summit Trail
The Aliso Summit Trail is down the hill on Pacific Island from Seaview Park. There is an unassuming sign in brown and white "Aliso Summit Trail" and you'll notice cars parked along the hill.
We've only hiked half the trail from Mile Marker 2 to Mile Marker 1.
Due to a wildfire in 2022, this area is of the Summit Trail has much less vegetation and homes that have been damaged line the trail. I am not sure if all of it is open again due to the fires.
Here is the Trail Map from the City of Laguna Niguel.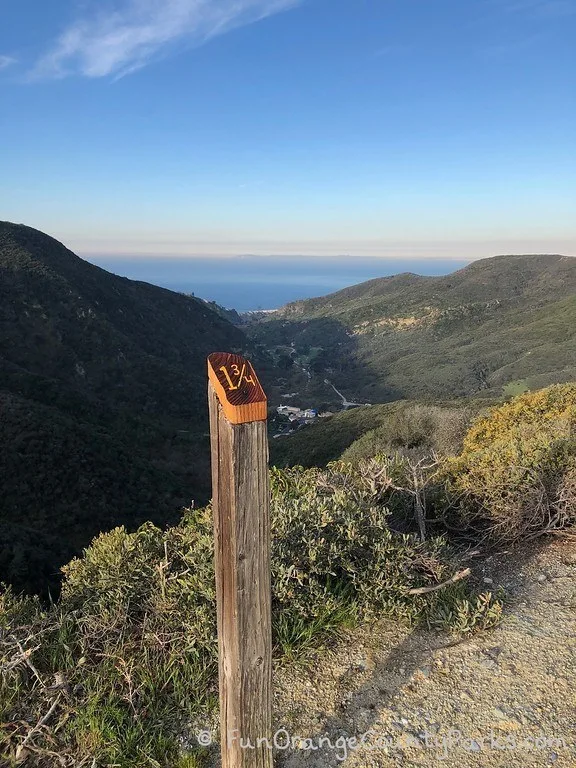 It's mostly flat and wide with a few small elevation gains. You are walking along a service road behind houses, so be respectful of the residents.
Amazing views of Aliso Canyon and the ocean across to Catalina Island.
VERY steep drop-offs which would be scary with a toddler. I'd keep little ones in the jogger stroller or wait until they know to stay on the trail and not venture towards the edge.
Checklist:
Parking on the street
A very slight elevation gain
Drinking fountain at the head of the trail
Serves as an entry point to Aliso Wood Canyon
Grassy area is good for views, even if you don't take the trail toward the ocean.
Keep dogs on leash
Open 7am-Sunset (Oct 1-Mar 31) and 7am-10pm (Apr 1-Sept 30)
No alcoholic beverages
The park is owned and operated by the County of Orange, but it's located in the City of Laguna Niguel. Official City of Laguna Niguel info about the Aliso Summit Trail.
Nearest library branch: OC Public Libraries Laguna Niguel branch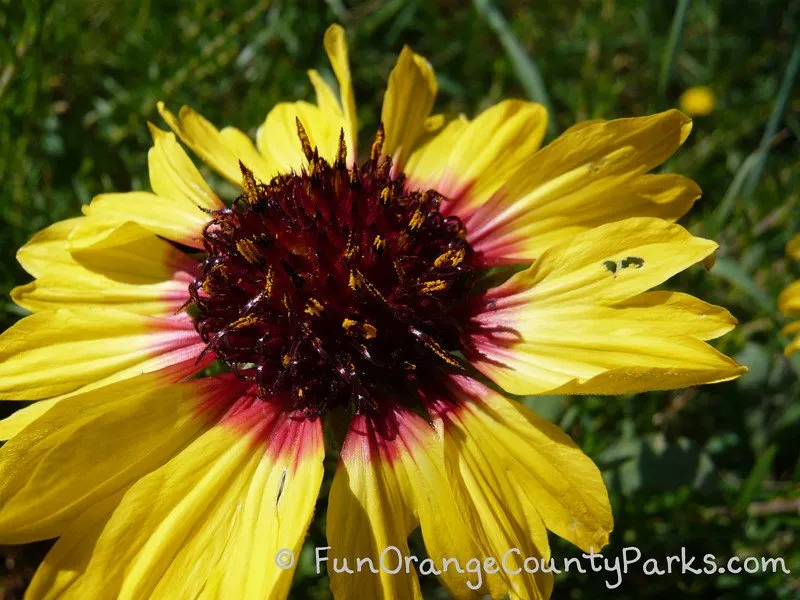 Parks nearby Seaview Park in Laguna Niguel:
Originally published April 2011.