Things are changing fast! If you are here to find free summer concerts, I don't have them up yet. But you can try 2021 Orange County Concerts in the Park over at Sandy Toes & Popsicles.
The schedule for Orange County Free Summer Concerts seems totally overwhelming! I don't usually put together lists like this, but since I had so much fun volunteering at some of the outdoor concerts and movies one year I thought I should put together a list for you. There's something about being outdoors on our lovely SoCal summer nights and taking part in some family events at beaches and parks that makes me think family memories will be made!
I don't even know where to start! By date? By location? (Make sure you check OFFICIAL sources before you head out the door! I can't guarantee that there aren't changes in schedules or cancellations due to weather, etc.).
Let's start with how to get the official information on concerts by region + city:
South Orange County Concerts – Free Summer Concerts
Links to Official Information on Free Concerts
Aliso Viejo Summer Concerts
Dana Point Summer Concerts
Lake Forest Summer Concert Series
Laguna Beach Music in the Park
Laguna Niguel Free Summer Concert Series
Rancho Santa Margarita Summer Concerts
San Clemente Summer Concerts
San Juan Capistrano
OC Parks Summer Concert Series in Dana Point
Schedule by Date for South OC Free Outdoor Concerts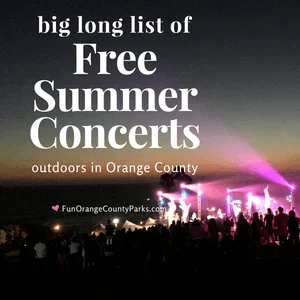 Central Orange County – Free Summer Concerts
Links to Official Information on Free Concerts
Costa Mesa Concerts in the Park
Fountain Valley Live Concerts in the Park
City of Irvine Sizzlin' Summer Concerts
City of Los Alamitos Music & Movies Event Series
City of Newport Beach Concerts on the Green
City of Orange Concerts in the Park
City of Seal Beach Summer Concerts
City of Tustin Concerts in the Park
City of Villa Park Summer Concert
OC Parks Summer Concert Series in Irvine + Orange + Fountain Valley
Newport Dunes Summer Concerts (Not listed below because you have to pay for parking, but the concerts are free)
Schedule by Date for Central OC Free Outdoor Concerts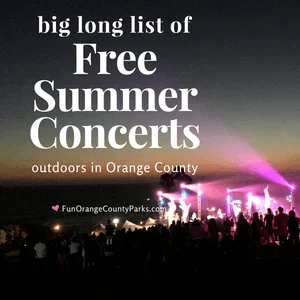 North Orange County – Free Summer Concerts
Links to Official Information on Free Concerts
Anaheim Concerts in the Park
Buena Park Summer Concert Series in the Park
Fullerton Summer Concert Series
Garden Grove Free Summer Concert Series
Placentia Concerts in the Park
Yorba Linda Concerts in the Park
OC Parks Summer Concert Series in Fullerton
Schedule by Date for North OC Free Outdoor Concerts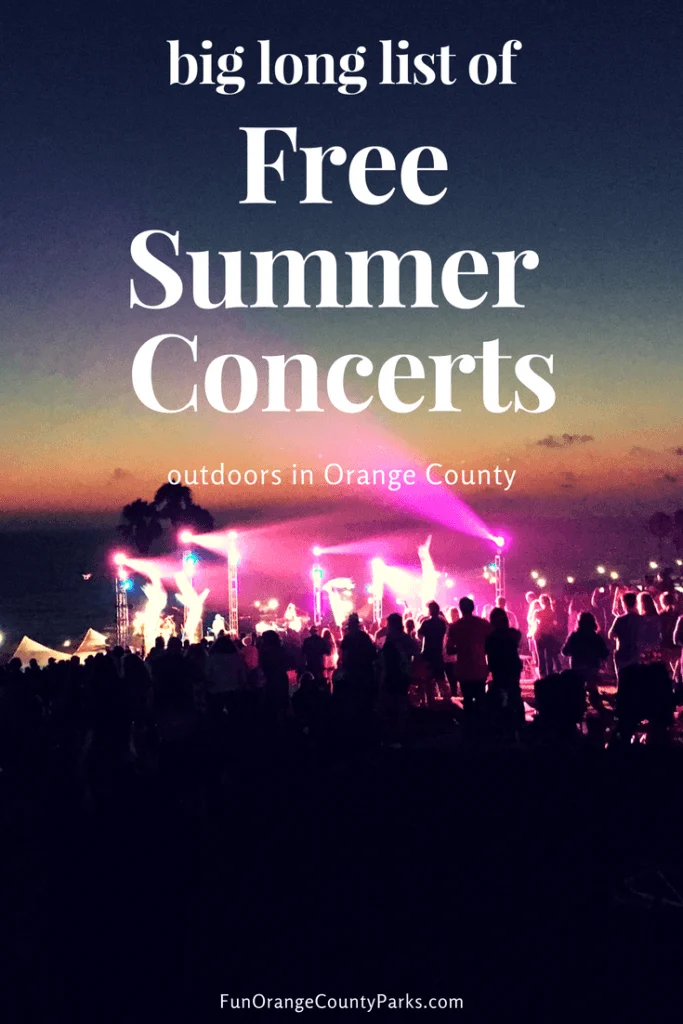 If you are interested in getting more info on parks in Orange County, try these park pages: