The Christmas Train at Irvine Park Railroad opens for 2022 on November 25th.
Christmas train tickets for the 2022 season SOLD OUT.
You can still enjoy Santa's Village even if you don't end up getting train tickets! On Lisa's visit (Volunteer Park Reporter) this area of the park really wasn't very busy, and it was easy for her kids to experience all of the activities that they were interested in, plus they were able to take a good amount of fun family photos.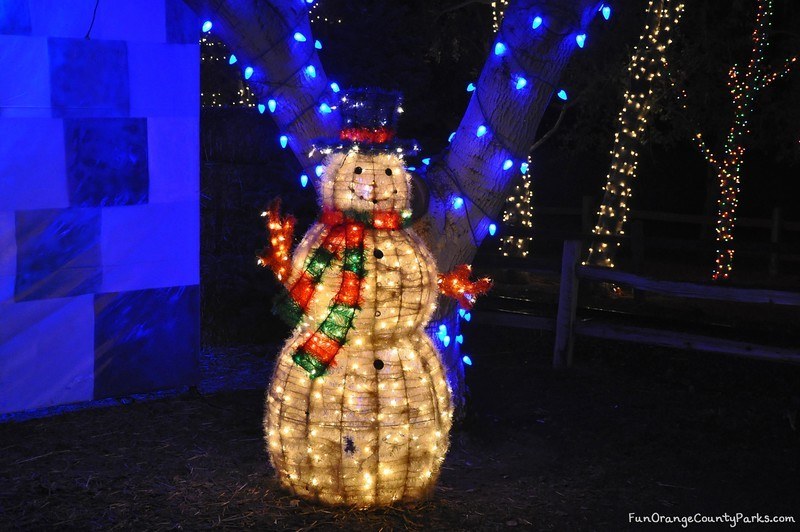 How to Visit the Christmas Train at Irvine Regional Park
Every year, it seems they add more lights and the location becomes more festive.
Irvine Regional Park is the first place you need to know about. Head towards the foothills on Jamboree Road and you'll dead end into the park. You need to have an annual pass or pay $3-$5 for entry. UNLESS you arrive after 5pm and then parking is free. Bear to your right as you go through the entrance and follow the signs to parking at Irvine Park Railroad.
Santa's Village (FREE to visit with some paid activities) is located right at the train station. You can wander around and take in the holiday lights. If you want to do some of the paid activities, you can buy single tickets or a pack of them.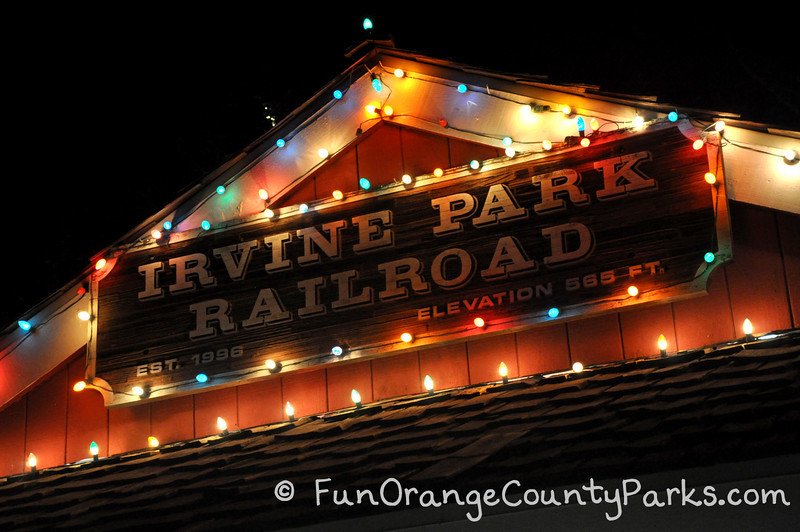 The Christmas Train is the only way to get to the North Pole where the kids see Santa. They can hear stories read by Mrs. Claus at Santa's Village — but the big guy is only reachable by train. TRAIN TICKETS MUST BE PURCHASED ONLINE AND IN ADVANCE. No tickets available on site. They sell out within minutes online. Tickets went on sale (and sold out) this year on November 7th.
The North Pole is where you take the train to see Santa. Only accessible by the Christmas Train ride.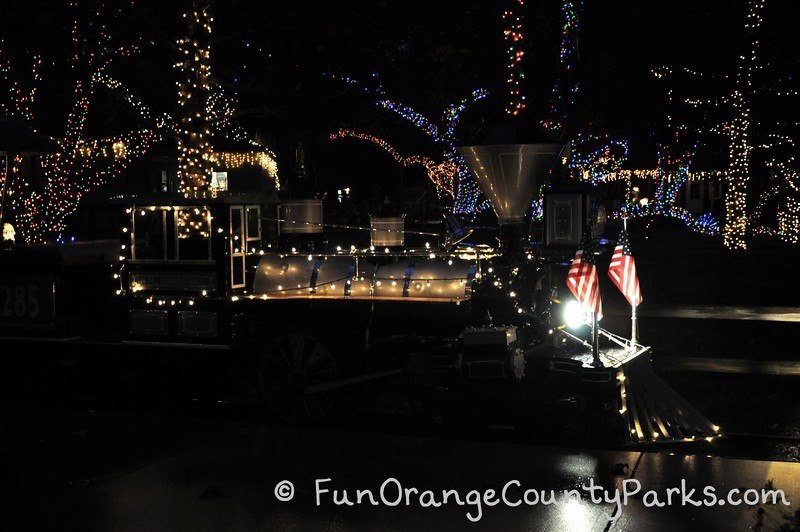 Santa's Village
Free to visit and enjoy even if you don't wish to ride the train to visit with Santa. All paid activities cost one ticket each – and tickets are $6.00 for one or you may purchase a book of fifteen tickets for $80.00 (a $10.00 savings). [This is the same pricing as 2021.]
Free activities in the village in the past included:
a coloring corner,
story time with Mrs. Claus,
and countless beautiful holiday lights and photo opportunities with picture stands.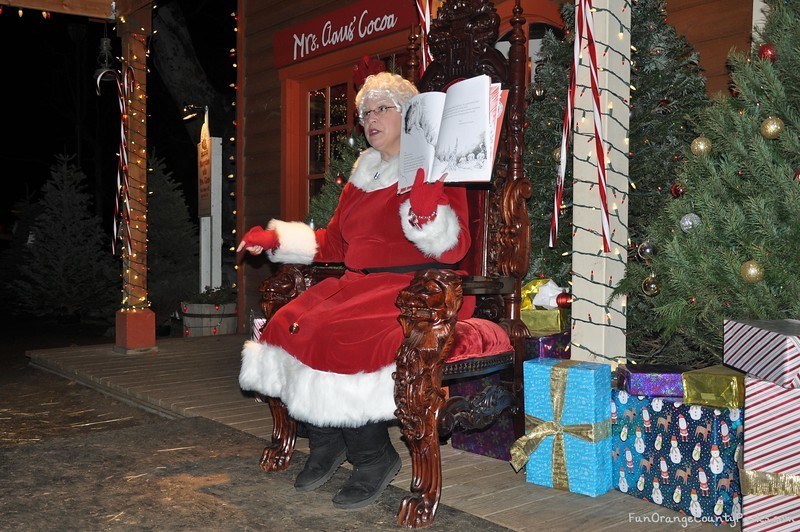 Activities requiring tickets include:
themed moon bounce (10 minutes of jump time),
blizzard balls,
Rudolph racers,
carnival games with prizes,
cookie decorating (big cookies with usually lots of frosting!),
craft corner,
and ice fishing.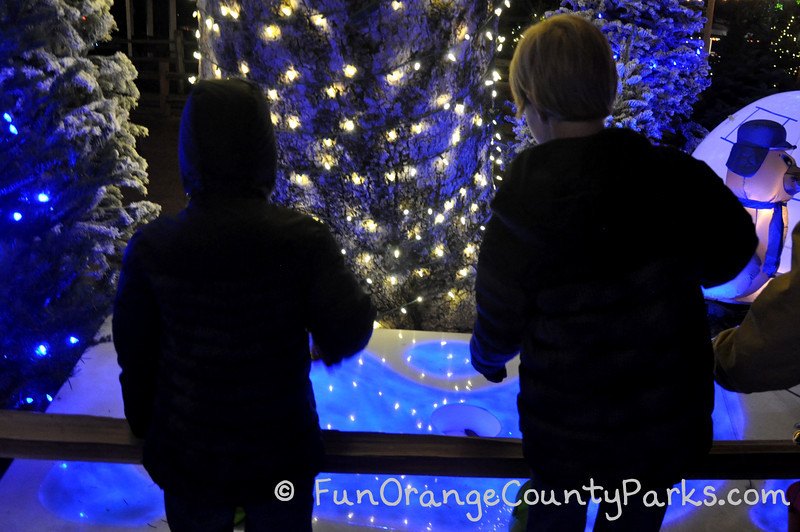 Christmas Train and North Pole
Riding the train through the beautifully decorated park to visit with Santa at the North Pole is a real treat. You will board the train at the station and then take a ride through the lights to the "North Pole" where Santa awaits.
He sits on a stage surrounded by decorated Christmas trees where you can take your own photos or purchase the ones they take there.
You'll have time to grab some hot cocoa (or drink some from your Thermos) and then return to Santa's Village on the train.
It's quite a different experience to be at the park at nighttime. Full details regarding the Christmas Train, including days and hours of operation plus tickets are available here.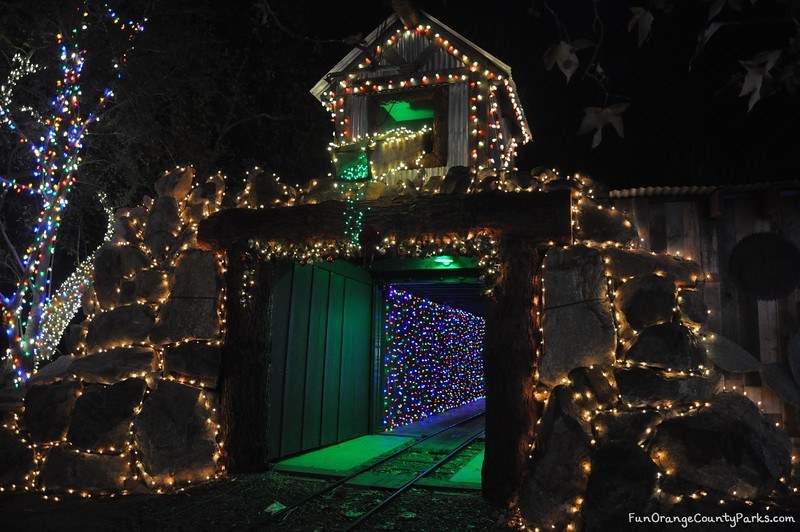 Christmas Train Tips
Christmas Train tickets must be purchased online and sell out every year (mark your calendar for next November!). The cost is $20-$35 for the train ride (children 24 months and younger ride free) and it's the only way you get to go see Santa Claus. You will need to pick your day and time and reserve your spot on the train. There is also an online processing fee of $10.00 per order (not per ticket) so reserve for your whole family all in one order to make sure you get on the same train. Read all the details in the FAQ section towards the bottom of their Christmas train page before you buy.
Food at the Christmas Train: Eat dinner ahead of time, bring a picnic dinner, or purchase a meal from the kid-friendly full kitchen menu at the train station. Coffee, hot chocolate, freshly-popped popcorn, hot pretzels and cookies are also available at the the Elf House Snack Bar at the North Pole.
How long does it take? Plan to spend at least an hour before or after your trip to visit Santa experiencing all of the fun that Santa's Village has to offer. Santa's Village opens one hour before the Christmas Train begins taking passengers to the North Pole.
What should we wear? Dress in layers! It can feel comfortable at Santa's Village and downright chilly when you reach the North Pole.
How to save a few bucks: Irvine Regional Park charges a fee to enter during regular operating hours – $3.00 on weekdays and $5.00 on weekends and $7.00 on holidays. Arrive after 5:00pm for free entry to Irvine Regional Park – or come even earlier to get your money's worth out of the park entrance fee to enjoy all that Irvine Regional Park has to offer in addition to this special holiday event.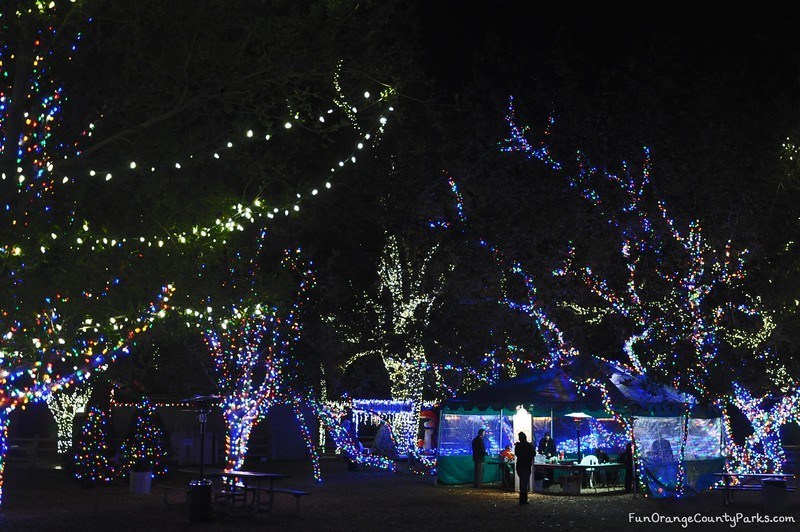 Other Holiday Lights posts on my blog:
Disclosure: In the past, we've received complimentary access to Irvine Park Railroad during their media preview night. However, the Christmas Train at Irvine Park Railroad is an annual tradition for my family and we go anyways! Read full disclosure policy.
Photo credit: Lisa Lasater