Sycamore Park in Mission Viejo is well-known by nearby residents and dog walkers, but tucked away along Aliso Creek so it's almost like a secret treasure.
Right now, during December and January 2022, it's also home to a magical fairy trail. The fairy trail will be here through January 7th so don't wait too long to visit!
If you want to read the history of the Fairy Trail and see some of the past installations, you can read my blog post about when it used to be at Oso Creek Trail.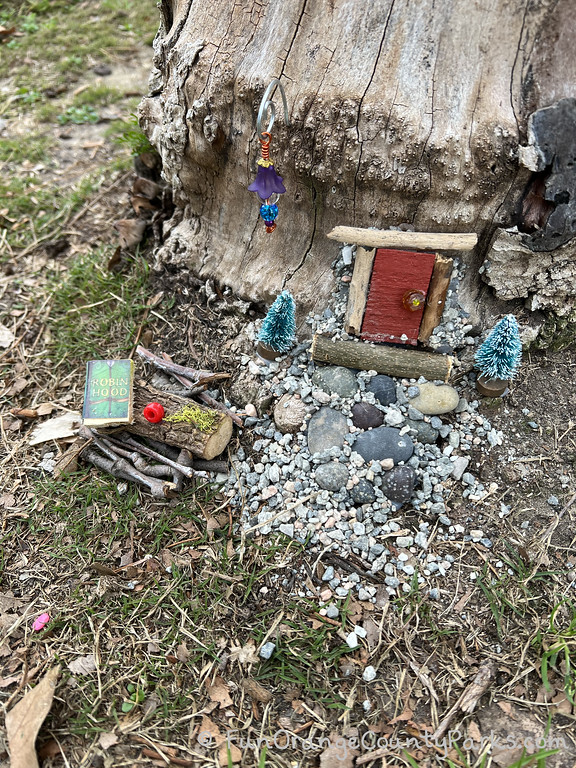 How to Get to Sycamore Park in Mission Viejo: It's right off the I-5 at Alicia Parkway. If you head towards the Target at the freeway offramp (left if you are coming from the north, right if you are coming from the south) — then you will make an immediate left off of Alicia onto Charlinda. Charlinda will dead end into Sycamore Park. (Address: 25101 Charlinda Dr, Mission Viejo) MAP TO SYCAMORE PARK IN MISSION VIEJO
Highlights:
The Caring Fairies have made their way back to Mission Viejo and have set up their homes in the sycamores and pines near the creek. If you are parking on Charlinda, the fairy trail starts at the bottom of the small hill and leads off to your right along the sidewalk.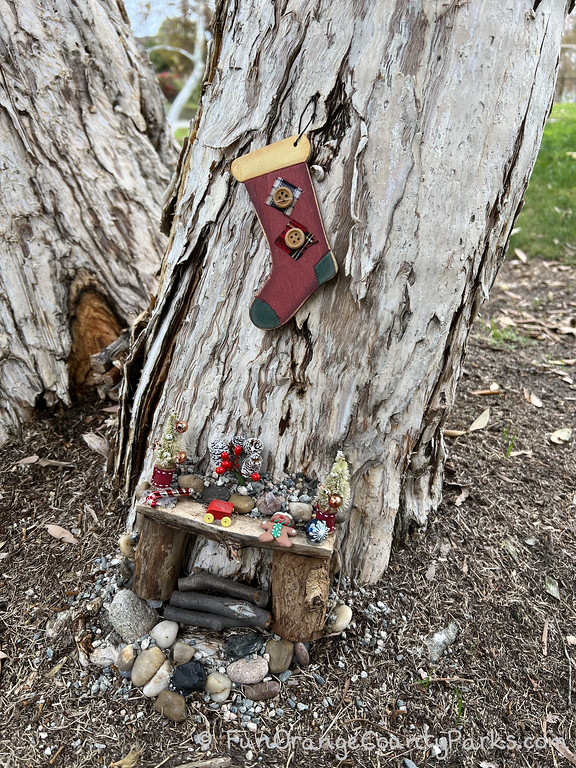 The playground is pretty simple, but it's a wonderland for pretend play. There's an "island" in the middle of the sandy spaces with two steering wheels for piloting a pretend boat or ship.
The bridge somehow makes it feel nautical.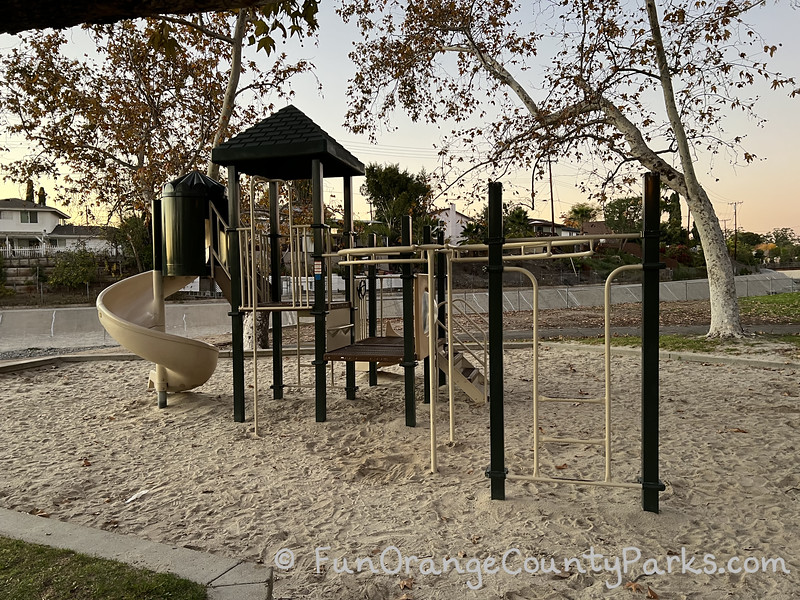 The playground equipment is mostly monkey bars with a spiral slide and a fire pole.
There are two ride-on spring animals and an airplane in the sand somehow looking like they are ready for a race.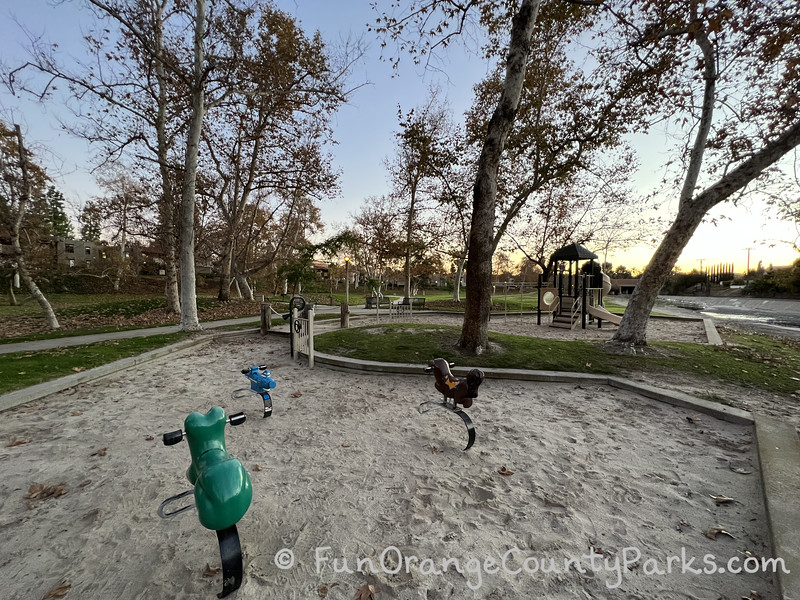 It's an awesome park for scooters because you can see the kids ride from a distance.
On the three times I've visited in December, it seems like it's mostly a walk-thru park for nearby homeowners and apartment dwellers. It's popular with dog walkers because of the long sidewalk.
I loved all the bird watching I could do from this park. It seems like it's a world away from the hustle and bustle of Alicia Parkway. I saw egrets, a belted kingfisher, and lots of songbirds in the trees.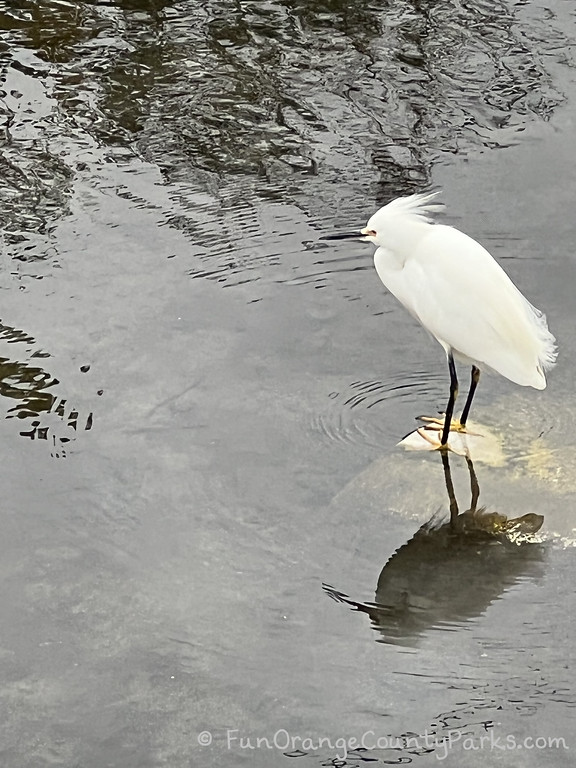 Beautiful sycamore trees provide shade all through the park and over the playground.
This is Gabrieliño Tongva land. Learn more about the Gabrieliño/Tongva Nation.
There are historical markers on the freeway end of the park about the Aliso Creek adobes and ranchos and how this park was a stop for travelers on the El Camino Real.
There are benches right on the playground and a picnic area across the sidewalk with a barbecue grill.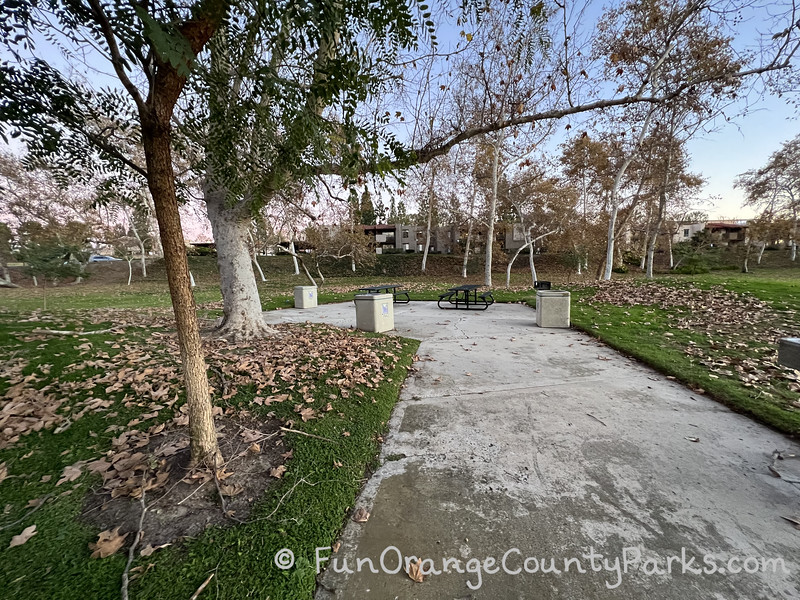 Be Aware:
Sycamore Park in Mission Viejo is one of the more isolated parks in the city since it sits at the dead end of a street near the freeway underpass. I felt safe on my visits, but my mommy instincts tell me that it's a good park to visit with a group.
My first visit was before the big storm we had and everything was pretty pristine. After the storm, there were definitely branches down and trees toppled over. So be careful for falling branches if you visit on a windy day.
Another stormy day consideration is the water that will fill this creek on rainy days. I wouldn't be wading in the water here and I'd stay away on particularly wet days.
I said this place is popular with dog walkers, so there was definitely evidence of dogs left in the grass. Watch your step!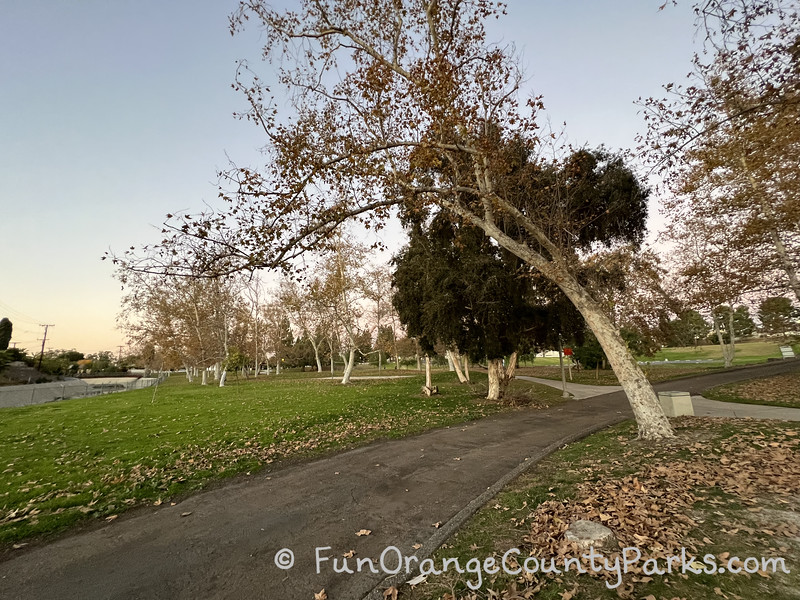 Checklist: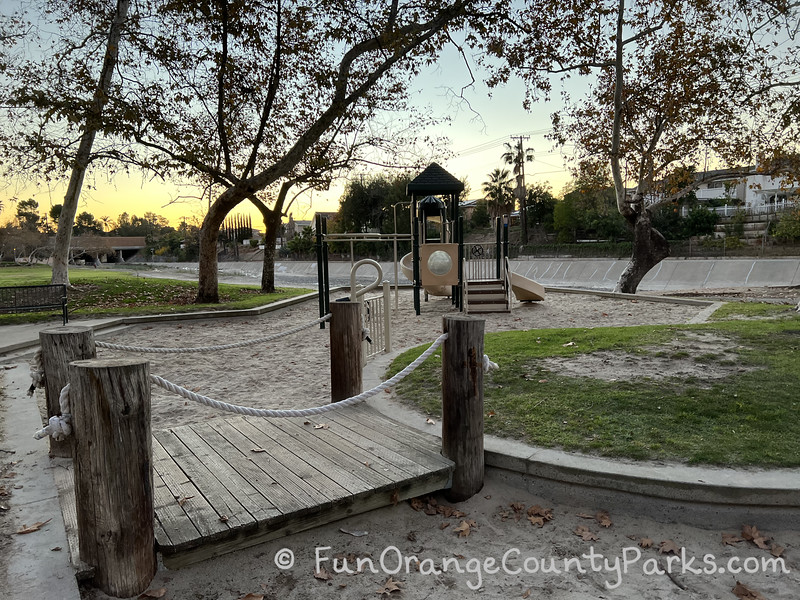 Nearby Parks: