Peppertree Park in Tustin is possibly the most well-known and located near the historic Old Town Tustin neighborhood, so there are plenty of restaurants nearby with community events often scheduled at the park.
For instance, summer concerts and movie nights are often located at Peppertree Park – and events like the Tustin Street Fair & Chili Cook-Off.
So this park falls more into the popular park category rather than a quiet low-key park, although I'm sure it has its quiet moments.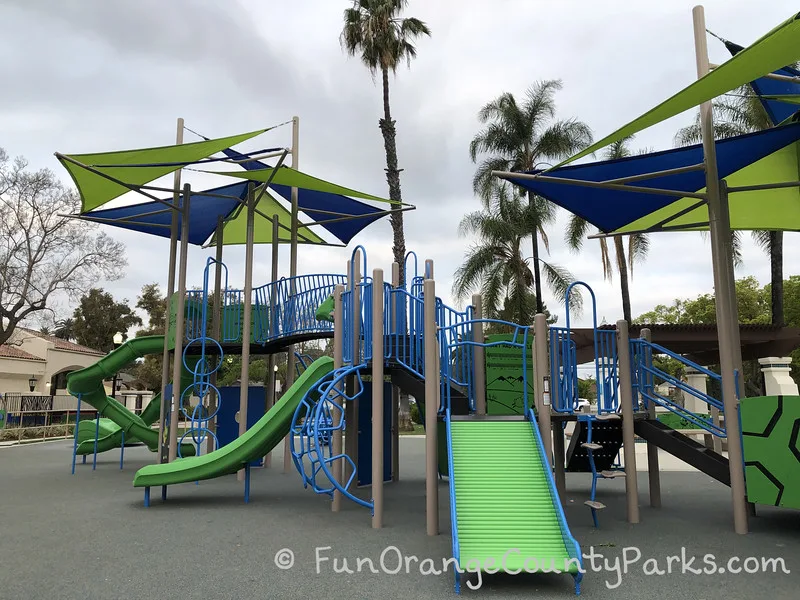 Directions to Peppertree Park in Tustin: The park is right inside the neighborhood where I-5 and the 55 Freeway meet in Tustin. It is off West 1st Street between South B Street and South C Street. Maps will most likely take you to the Irvine Blvd exit from the 55 Freeway and cut down to First Street via Yorba Street. Parking is on both sides of the park on B Street and C Street. The playground is towards the bottom of the park nearer to I-5. (Park Address: 230 West First Street, Tustin) MAP TO PEPPERTREE PARK IN TUSTIN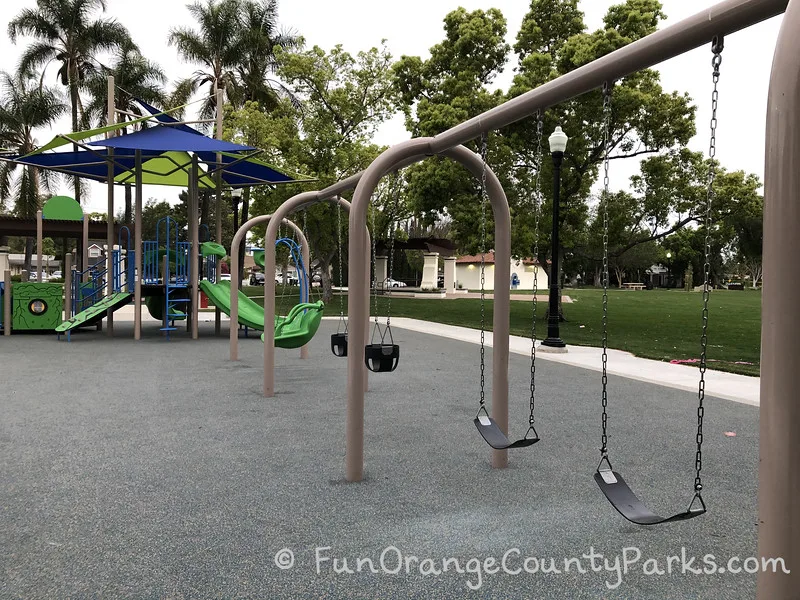 Highlights:
It's a nice compact playground where you can see the kids from all angles.
Kids love the roller slide and multiple ways to climb up to access the playground.
Two bench swings, two baby swings, and two kinds of accessible swings.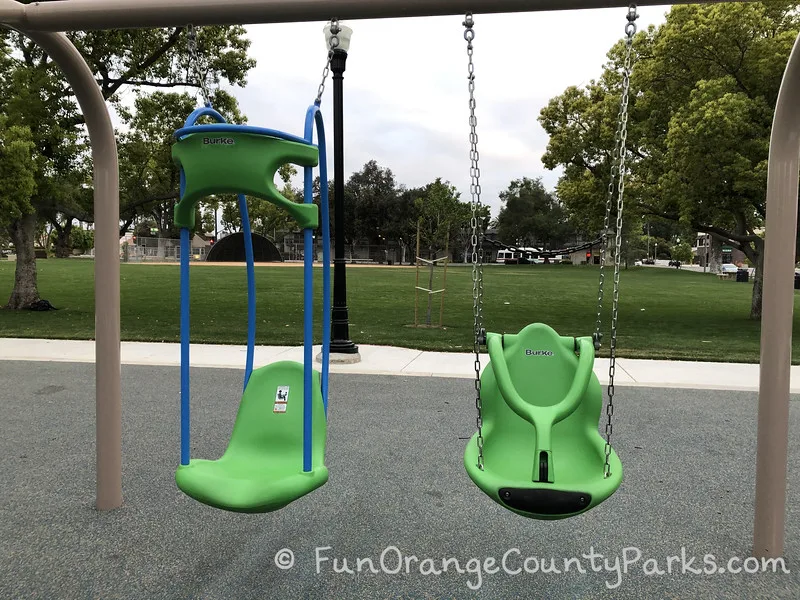 You can walk the paved sidewalk around the park.
Popular for parties because the picnic shelter is right on the playground. Just bring extra trash bags and pack out your trash if the receptacles are full (but you should do this at any park where you have parties).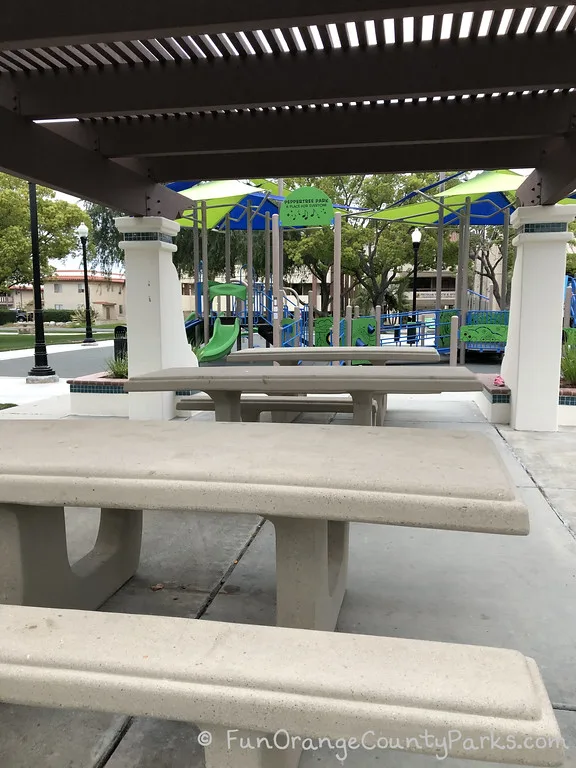 There is a chunky plastic merry-go-round and a 4-person teeter-totter on springs.
Kids who love music will love the musical instruments at this park with an extra drum section!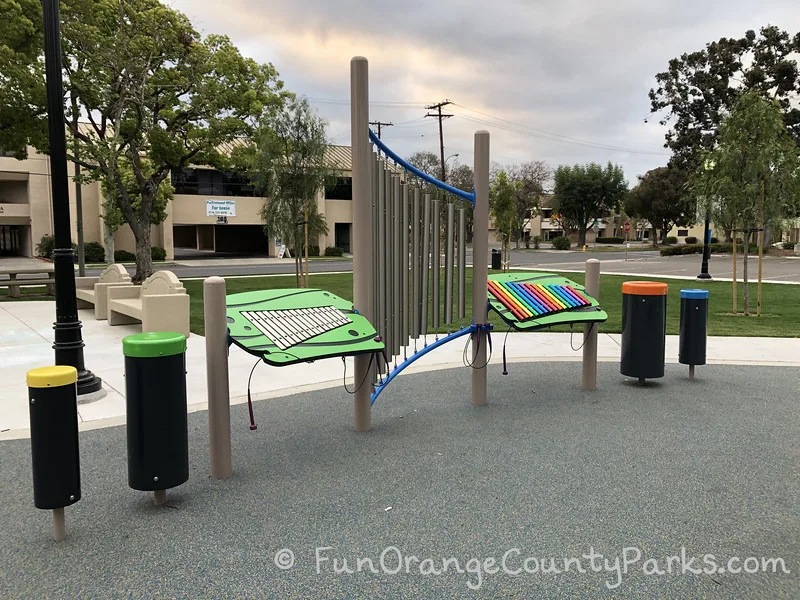 Be Aware:
Since it's more of a central city park rather than a neighborhood park there is always lots going on here with auto traffic and foot traffic on all sides of the park
Over the years, different parents & caregivers have shared their love or hate relationship with this park. Some families absolutely love it and like the entire community feel around here. And some parents are turned have reported having a bad experience here. I think it is a matter of personal preference and comfort levels.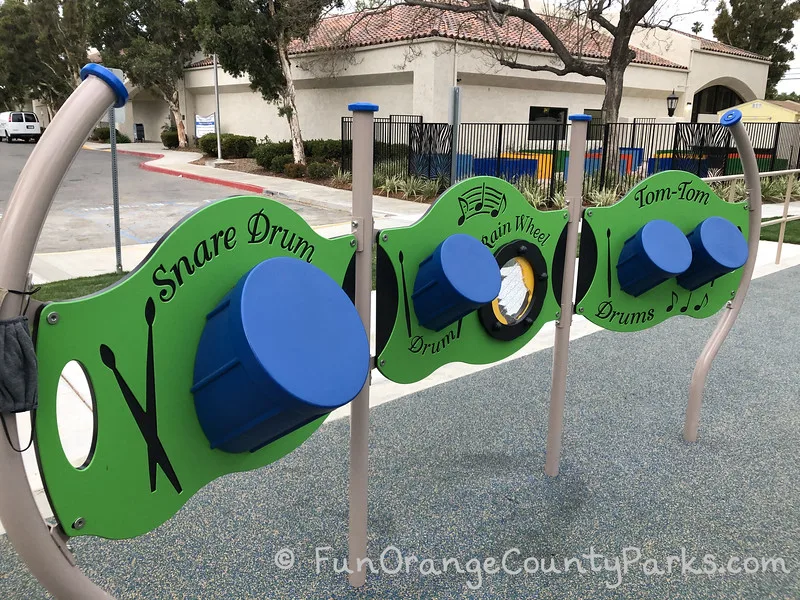 Checklist:
Dedicated parking spots near the playground
Restrooms nearby the park
Play surface: recycled rubber
Picnic shelter near the playground
Baseball/softball diamond and large grassy area for play
Bocce ball court with turf and rules posted.
Park is open from 6am to 10pm daily
Nearby library branch: OCPL Tustin Public Library is nearby on Main Street
A favorite family-friendly independent bookstore nearby is the Arvada Book Co.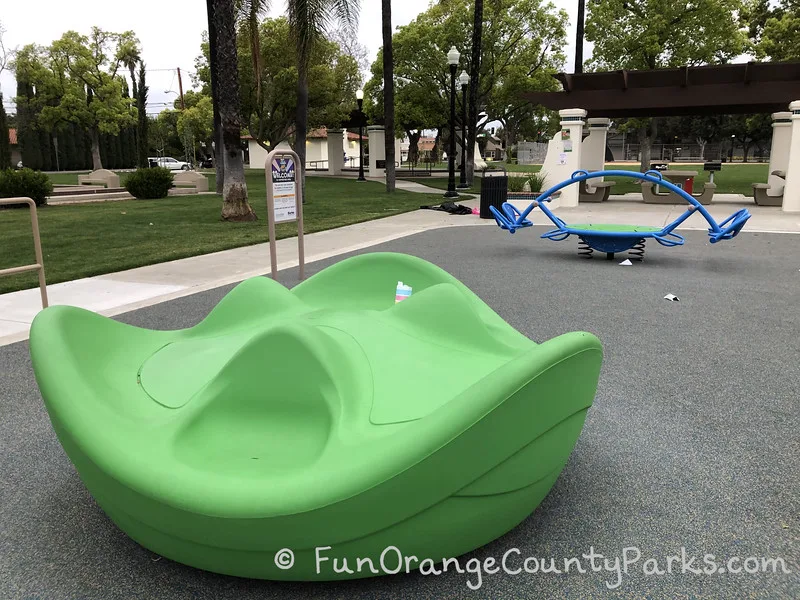 Parks nearby Peppertree Park in Tustin: