The Newport Dunes Christmas lights in Newport Beach might be the most under-appreciated holiday light display around. My husband and I were in the area and wanted to check it out to see if it was worth bringing our kids back and/or recommending to you.
When we first visited, we drove around all angles from outside the grounds of Newport Dunes Waterfront Resort. We could see the lights, but couldn't get a clear view for photos or to really enjoy the display.
We really didn't want to pay, but decided to go through the gates and ask the attendant about our options.

How much does it cost to see the Newport Dunes Christmas lights?
Well, it was FREE to park for up to 30 minutes! What? FREE.
Plenty of time to see the lights, but once the sands of the hourglass tip even a second past 30 minutes it costs $10 for parking up to 2 hours. What a deal! Seriously.
I think this Christmas light display is easily worth $10.
Also free parking if you are getting your tree from the on-site tree lot.
If you would like to park longer, the parking rates are: First 30 minutes FREE, 30 minutes to 2 hours $10, 2 to 5 hours $15, 5 to 8 hours $20, 8 to 24 hours $25.

Why are the Newport Dunes Christmas lights worth a visit?
It's breathtaking! We came on a still night and the reflections of the lights on the dark water were just amazing.
We had the place ALL to ourselves. It was a Friday night during the holidays and there was NO ONE there to enjoy the lights, except us.
It would be worth taking a stroll from the entrance area all the way to the footbridge that goes over the bay. That's what would make this visit take more than 30 minutes.
You can get a hot drink and snack from the market and enjoy it while looking at the lights.
On Saturdays and Sundays, cocktails and food available from 9am-5pm from Moe B's Munchies beachfront grill for getting an early start on a family picnic.
If you have little ones who like airplanes, the flight path from the airport goes right over this area, so we got to see/hear planes taking off over our heads.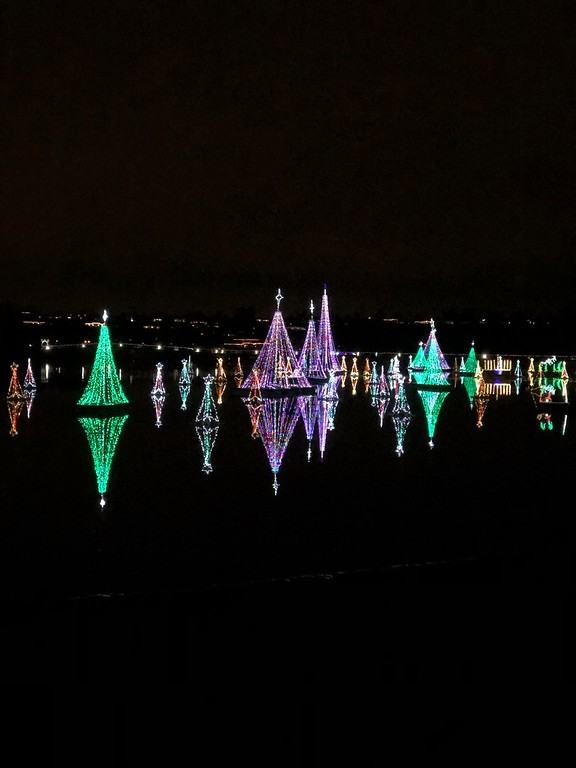 When can you see the Newport Dunes Christmas lights?
Newport Dunes' Lighting of the Bay is open for public viewing. Whether viewing the display from the car or while strolling along the beachfront promenade, the Lighting of the Bay offers guests and the community a responsible attraction to look forward to this holiday season. The resort's nightly bay lighting will last through New Year's Day and is free to view. Parking rates apply.
The Lighting of the Bay starts Friday, November 25th, 2022. Get ALL the details on the Opening Night event which only costs $10 for parking with food concessions available and Elf will be shown that night, too.
The lights are then turned on each night at dusk through the holiday season.
The parking lot closes at 10pm.
So if you want to get a full 2 hours out of your $10, make sure you make it there by 8pm at the latest. But since it gets dark around 5pm, you can go earlier and make it an early night.
The lights are on through January 1st, 2023.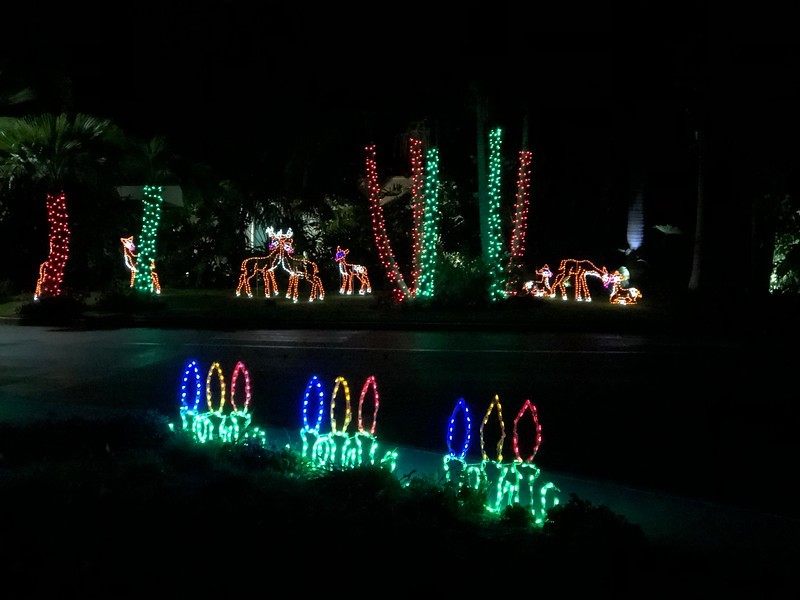 You can even get your Christmas tree at Newport Dunes Tree Lot!
As one of Southern California's premier locations to pick top-of-the-line pines, Newport Dunes receives their trees from Salem Oregon in five to six farm-to-lot deliveries before Christmas.
The highest quality, fragrant trees are handpicked and delivered within 16 hours of being cut, given a second cut upon arrival, and immediately placed in stands with fresh water.
Fresh wreaths and garlands are also available for purchase.
The tree lot will be open from 10 a.m.–9 p.m. daily beginning November 22 through December 24, and closed Thanksgiving Day.
Holiday Tree Lot customers receive complimentary parking.
Find your perfect pine and stay to view the Lighting of the Bay. For more information visit NewportDunes.com/event/christmas-tree-lot.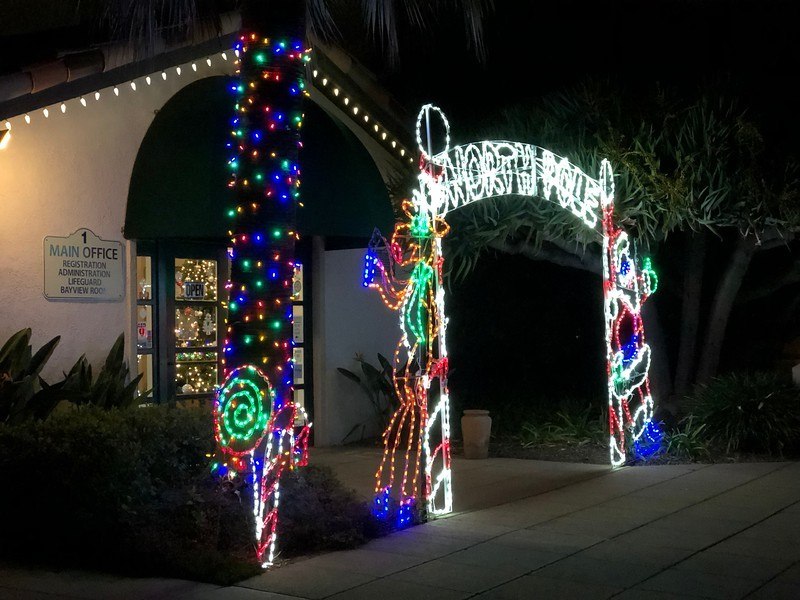 How to Get to Newport Dunes and Official Information
Here's a PDF Newport Dunes Property Map so you can orient yourself – we parked right next to the swingset at the Pirate Park playground (too dark for nighttime play, but would be fun during the day)
Directions: Newport Dunes is basically where Jamboree Road meets Coast Highway in Newport Beach. You'll just turn right past the Hyatt Newport onto Back Bay Drive and make an immediate left into the parking lot. It is well-lit with kiosks.
Address: Newport Dunes Waterfront Resort, 1131 Back Bay Drive, Newport Beach
Tip: If you walk out on the beach, your shoes will get sandy. If you are bothered by sand in your car, make sure you bring towels or something to wipe feet!
Be Aware: This is in the vicinity of Newport Harbor and it may be impacted by road traffic from the Newport Beach Christmas Boat Parade on boat parade nights. You will NOT be able to see any boats from this location. For 2022, the boat parade is December 14th-18th.
Other Holiday Lights posts on my blog: