Creekside Park in Dana Point sits right off of Stonehill Drive near Interstate 5. Many call it Stonehill Park. It's super easy for freeway access and very near Dana Point Harbor.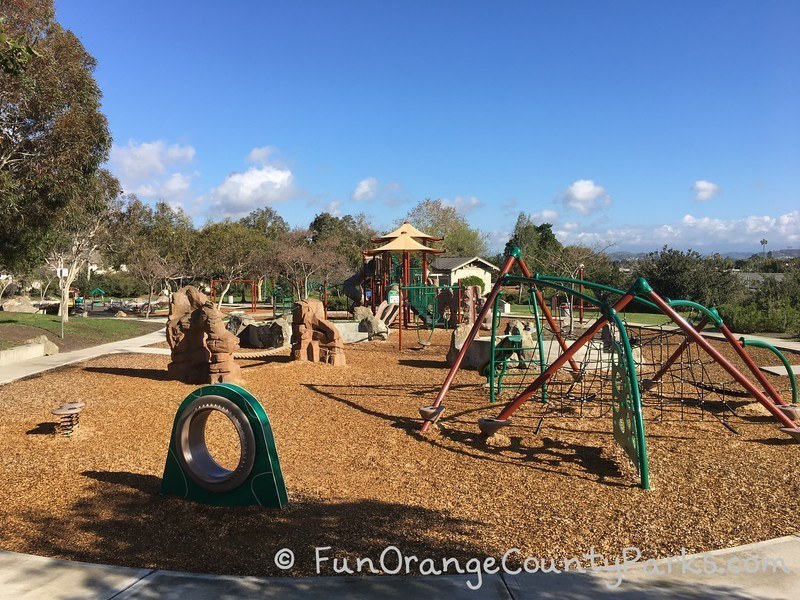 I used to describe this park as the one with the climbing wall, but since its update in 2016 it's more of a climbing and spinning park with multiple opportunities to do both!
This is still one of those parks which feels like it has different rooms for the kids to wander.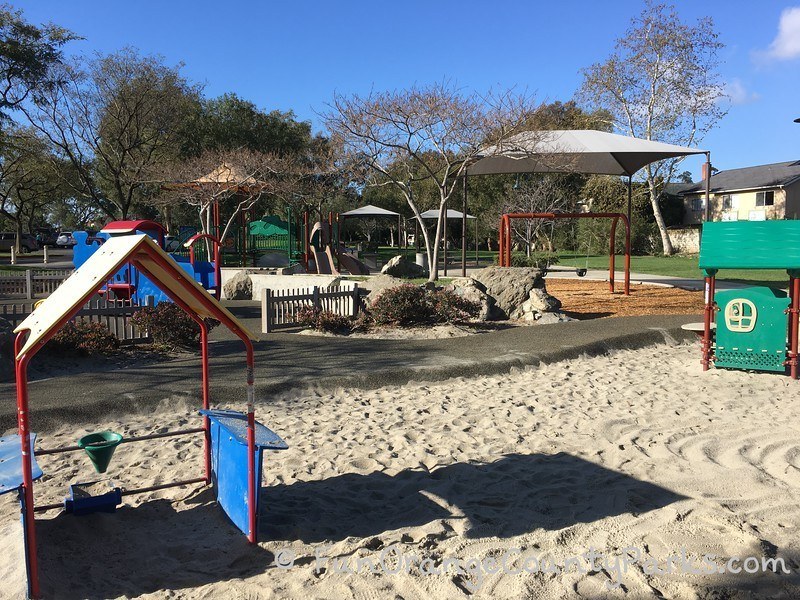 How to Get to Creekside Park in Dana Point: On Stonehill between Camino Capistrano and Del Obispo along the San Juan Creek Trail. (Address: 25743 Stonehill Drive, Dana Point) MAP to Creekside Park in Dana Point
Highlights:
Big windy tunnel slide and open spaces
Climbing wall, spiderweb, and thick tightrope close to the ground with rocks at either end are a big draw
Lots of different kinds of spinners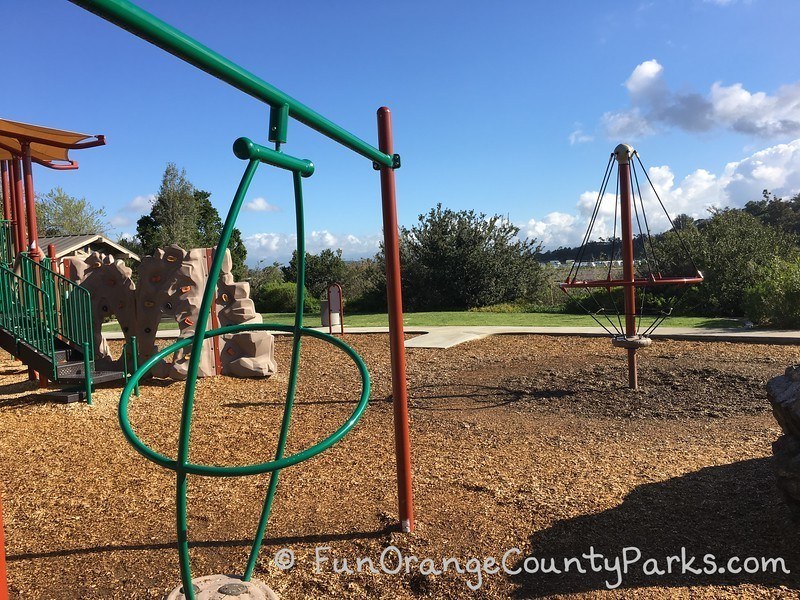 Lots of space for horizontal climbing and stepping stone balancing
A separate, smaller play area for toddlers with a teeter-totter, train slide, and play panel
Also a transitional play equipment (between toddlers and school age) with a small slide and also what looks like a carousel, but is actually a large spring toy that bobs instead of spins
Close to the beach and freeway – so nice breezes and easy access
2 baby swings in toddler area, 2 bench swings (but only one present at the moment)
Parents will like the many places to sit and watch the kids – I especially like that the benches are interspersed with big boulders making it have a more natural feel
Half basketball court
Shade covers over picnic tables near toddler area and baby swings, plus smaller shade covers over bigger play structures
Great park to bike or walk to if you live in the area since the bike trail is accessible from here (or park her to bike or walk to Dana Point Harbor, Doheny Beach, or even Del Obispo Park). Don't attempt to cross the street here – the bike trail makes it very easy to pass underneath busy Stonehill to catch up with the path across the street.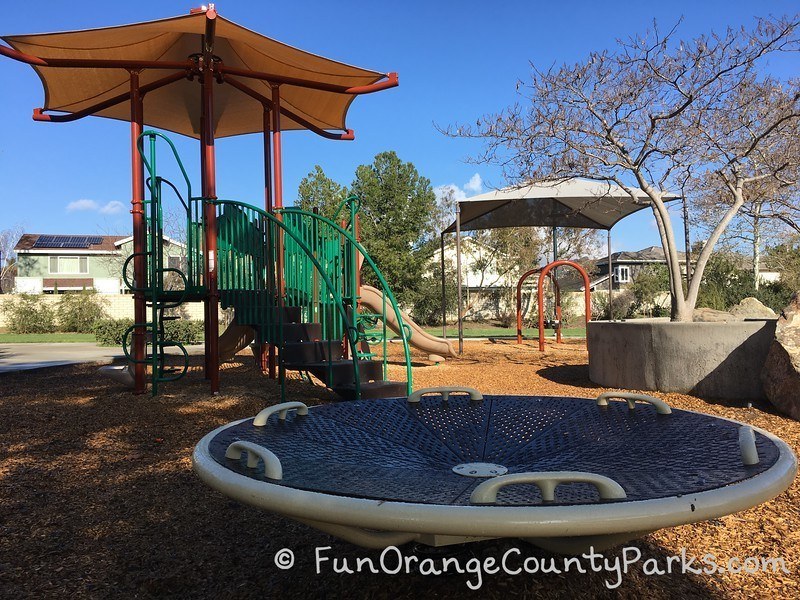 Be Aware:
I've experienced a small bee swarm and a few annoying gnats from the creek
Fairly isolated and accessible to outsiders from the bike trail (if you come here alone)
Some find it difficult with 2 or more small children – because 2 separate play areas can make close supervision difficult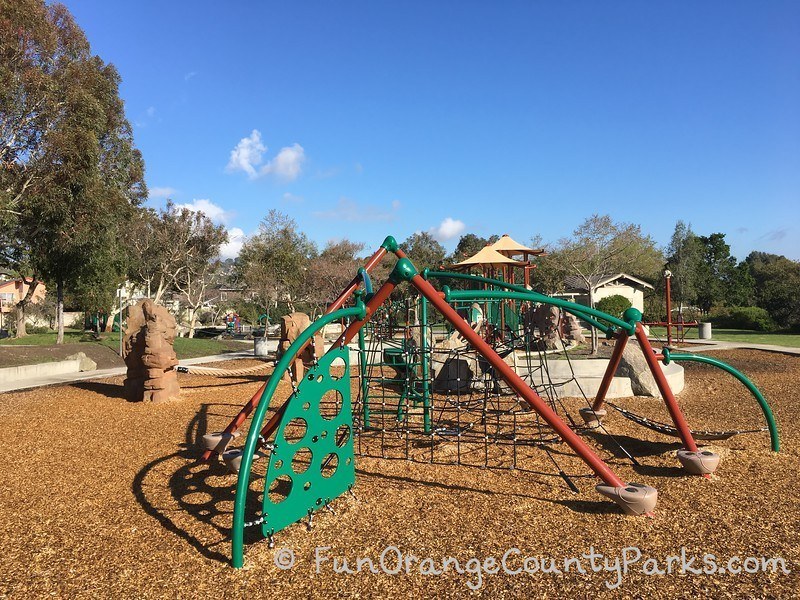 Checklist:
Play surface is mostly bark
Small dedicated parking lot with extra parking along Stonehill
Not a lot of shade on play structures, but shade trees for parents on edge of playground
Restrooms very close to the play area
Small grassy area for picnicking
Enclosed dog park nearby
Weekend birthday party locale
Nearest public library branch: Dana Point Public Library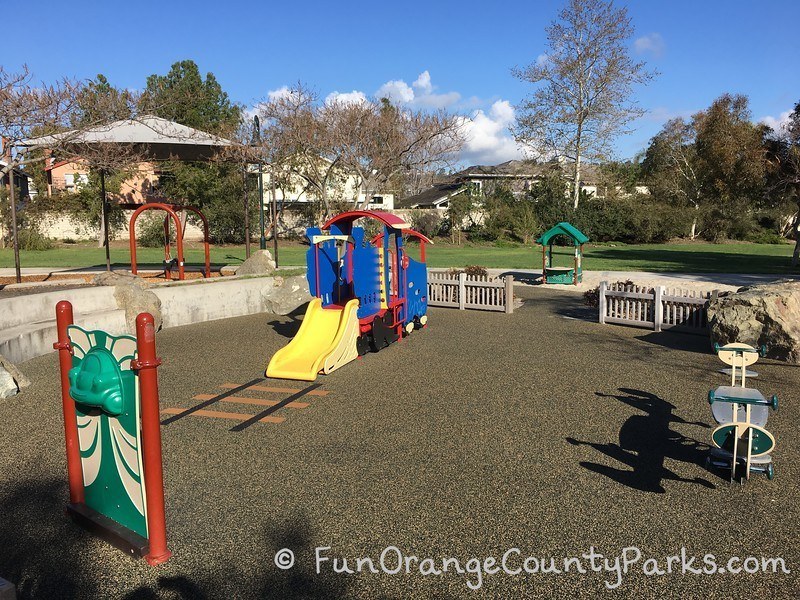 Nearby parks: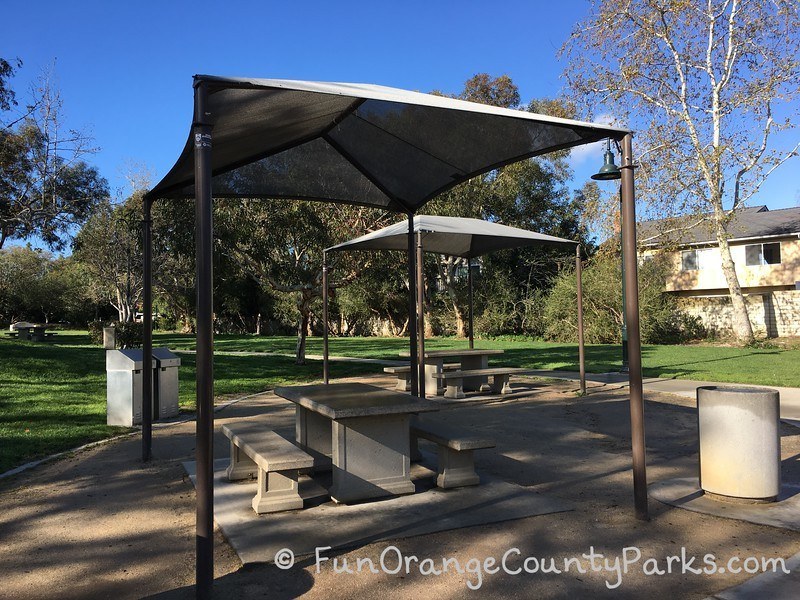 Originally published September 2009.