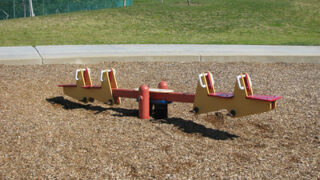 Toyon Park in Anaheim has a sports park feel to it and includes baseball diamonds, soccer fields, sand volleyball and basketball courts. The park is officially in Anaheim, but it's across the 91 Freeway from Yorba Linda.
Location: Exit the 91 Freeway at Weir Canyon Road and follow it in the direction of the 241 Tollroad. The park is ahead on your right. (Address: 945 S. Weir Canyon Road). MAP TO TOYON PARK IN ANAHEIM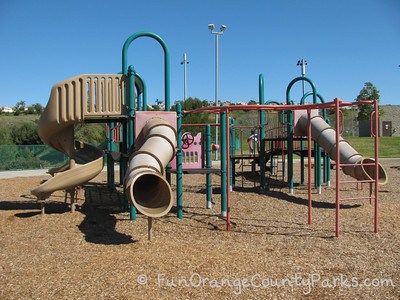 Highlights:
Fun play structures featuring multiple slide tunnels!
This is a very active park that boasts a four person teeter-totter, multiple things to ride on and some large square metal spring-loaded stand- and/or ride-ons.
Huge open grassy area that's perfect for flying kites, picnicking or just plain running around.
Two baby swings, two bench swings AND two accessible swings!
There's a fairly long path that goes around the entirety of the play structure and grassy area that's perfect for bikes and trikes.
Accessible via horse trail.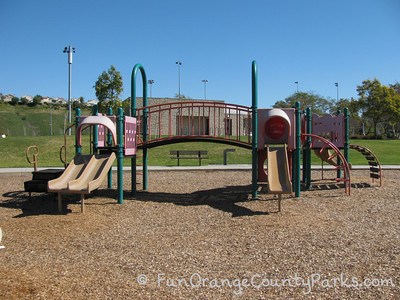 Be Aware:
Because of all the sports fields and courts it may get busy at times.
The bases of the play structures are a bit high off the ground – a smaller toddler would most likely need assistance to the lowest steps or ladder rungs.
The slides leave you a bit high off the ground as well, so you may not want to send a little one down them without someone spotting at the bottom.
Up in the hills of Anaheim with no shade on the play structures – definitely a sunscreen and hat park in the warmer months.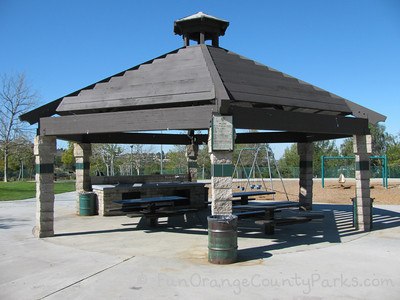 Checklist:
Dedicated parking lot
Bark play surface
Restrooms
One shaded picnic shelter near the playground and another across the lawn area.
More picnic tables with grills scattered around, but only trees for shade.
Basketball court
Sand volleyball
Soccer fields
Baseball diamonds
Official City of Anaheim page for Ronald Reagan Park (formerly Toyon Park)