The newer baseball-themed Riddle Field Park in Laguna Beach opened in March 2023 on opening day of the Little League season. Just like most parks in Laguna Beach, it's hidden in a neighborhood or canyon or top of a hill — and people passing by on the street would hardly know it's there. This one used to be called Boat Canyon Park.
It's unique with its local history! Did you know Laguna Beach resident, Jack Norworth, wrote the lyrics to Take Me Out to the Ball Game??? I didn't either! This playground taught me some baseball and local lore. In fact, there is a really cool story of local historian, Chris Epting, and others rallying to get a new gravestone at Melrose Abbey Memorial Park in Anaheim honoring the lyricist.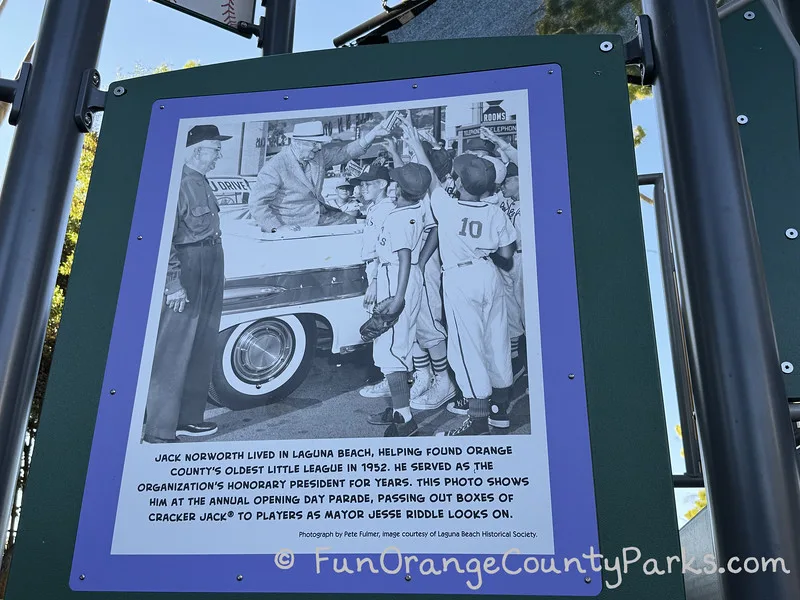 Directions to Riddle Field Park in Laguna Beach: Riddle Field is right behind the Pavilions reachable from Boat Canyon Drive off Coast Highway. If you think of Pavilions as being at the S on the bottom of a compass, then you can imagine High Street running up and down the E side of the compass and Hillcrest Drive running along the N side of the compass. You can park along Hillcrest for really easy access to the playground or drive just a big further to the dark brown wooden restroom building and make a right. There are plenty of parking spaces when no events are taking place. (Park Address: 555 Hillcrest Drive, Laguna Beach) MAP TO RIDDLE FIELD PARK IN LAGUNA BEACH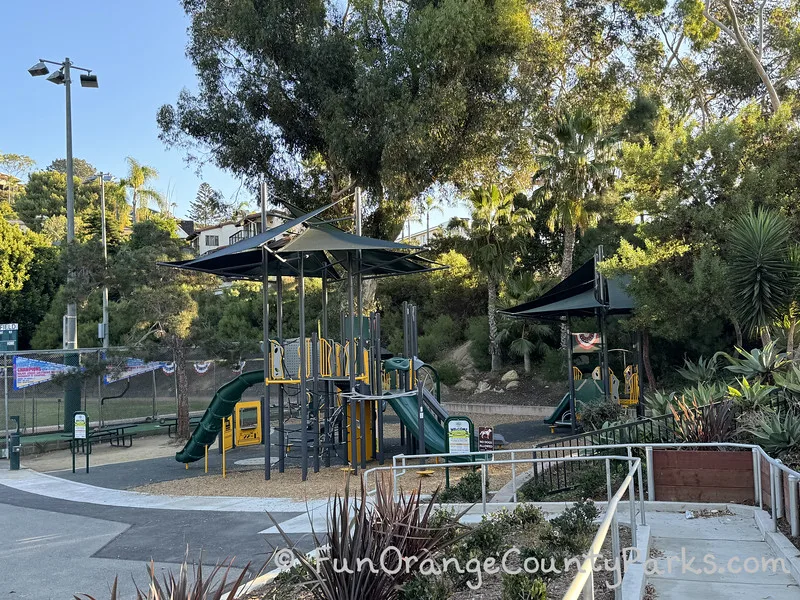 Highlights:
I just loved the baseball theme! It wasn't as much baseball in terms of a ball, but more the MOOD and fandom of baseball with the lyrics to Take Me Out to the Ball Game and historic photos of former Mayor Riddle (get it, Riddle Field?) and Mr. Norworth right there printed on the play equipment.
On the morning I visited, there was even a baseball glove placed perfectly like a prop on the picnic table by the playground!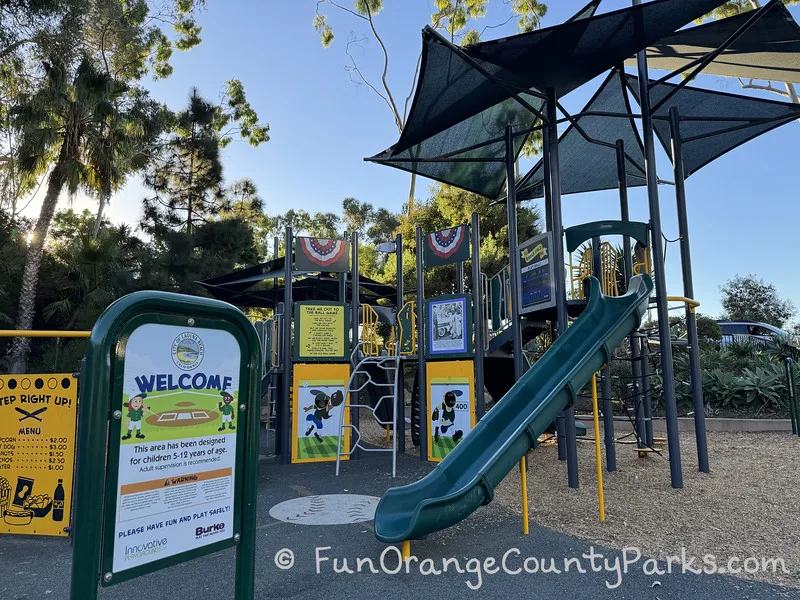 It's compact, so if you can see the kids playing from almost all angles and it feels fenced because it is sunken down where the field is located. NOTE: Not truly fenced all around, because there is a ramp to the sidewalk and a clear shot to the ramp to the parking lot across the way, but some kids just need the feeling of being enclosed to stay put on the playground.
There is the older kid playground with lots of climbing opportunities and even some artwork with photo opp stands.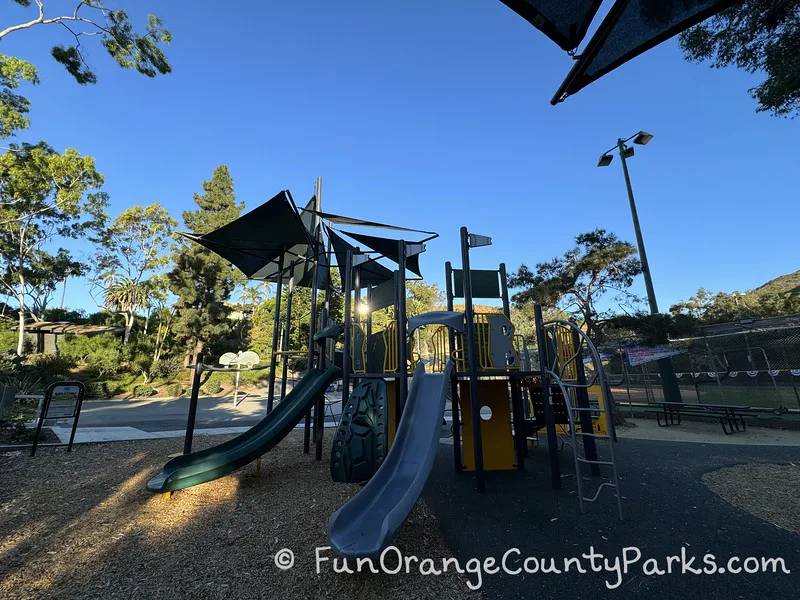 Do you have a little one who loves to pretend they are running the restaurant or snack bar? This part of the play equipment was right on point with its cheery bright yellow color and realistic menus (on the other side).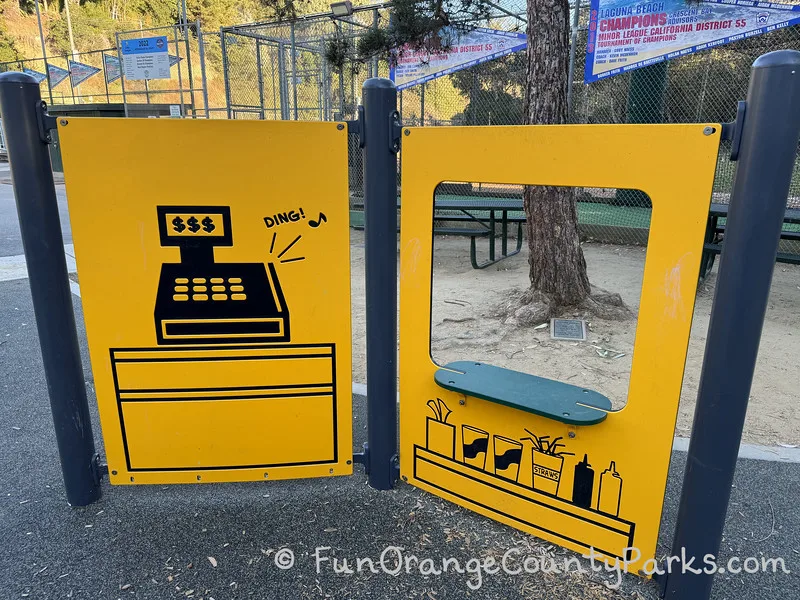 There is a smaller size part of the playground which might not be as attractive to your little one as the draw from the more exciting big kid playground, but it is there and it has a tiny slide.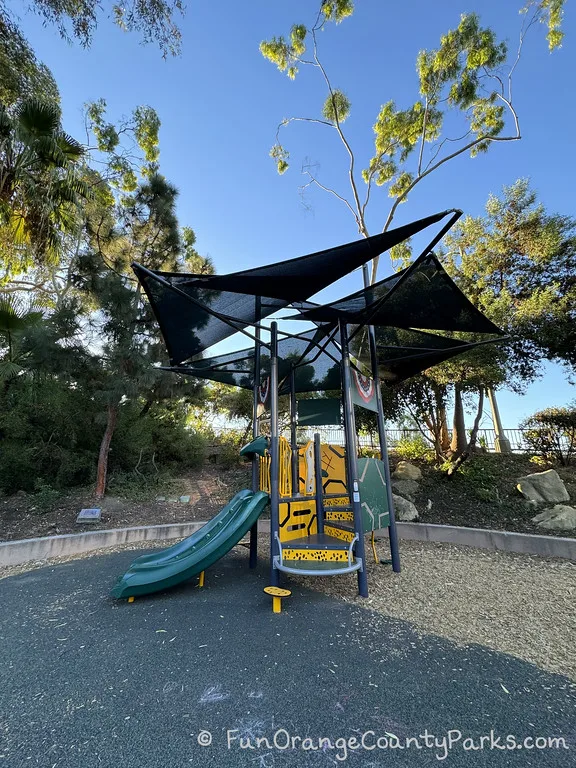 There is actually a good variety of swings for such a small playground. 1 Burke "Freedom Swing Seat," 1 Burke "Konnection Swing" which is designed for an adult and child to swing together, and 2 bench swings.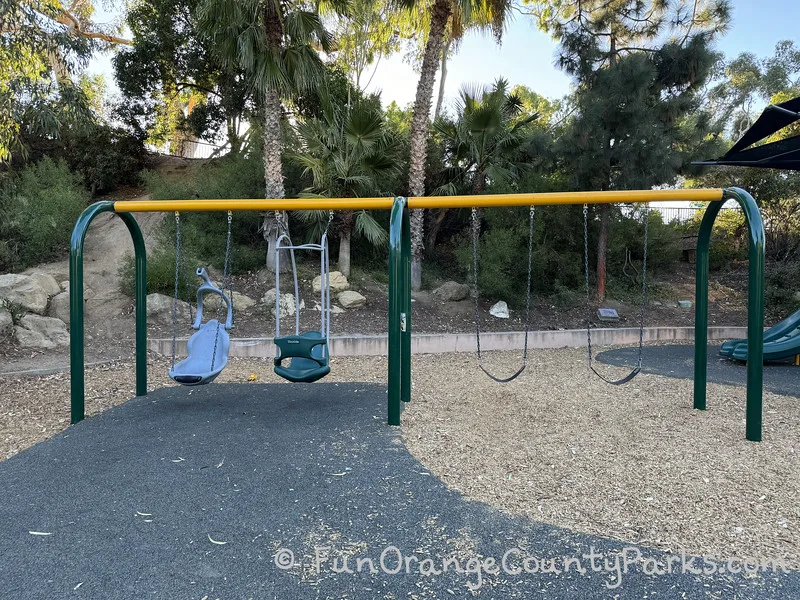 I loved having the picnic tables close to the playground.
There was lots of natural shade, especially in the morning hours.
2 half court basketball courts on asphalt are also near the playground.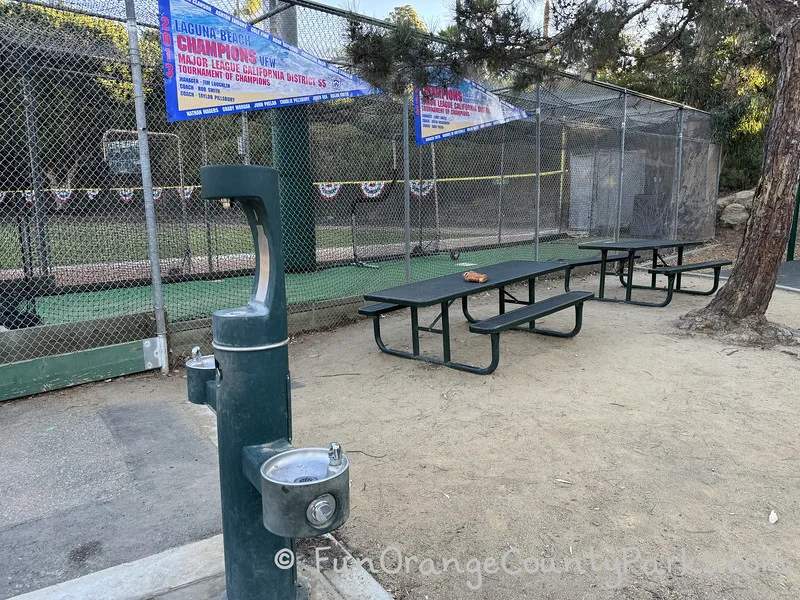 Be Aware:
This is MAINLY a big kid playground for the 5-12 year olds (which I was a little puzzled about knowing that it's usually the younger siblings stuck watching their older brother or sister in practice or at a game). It will also be fun for all the kids to free play before or after their sports.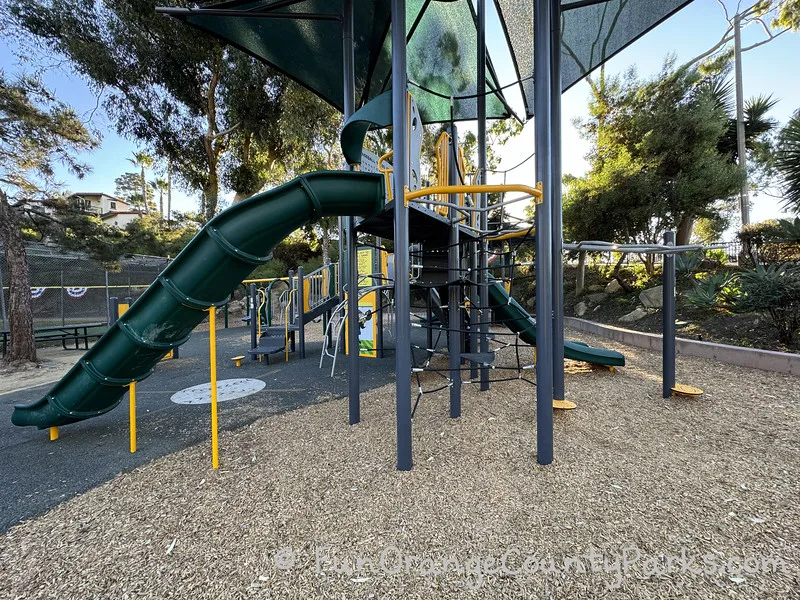 It is a placed in a very compact area so it is TALL off the ground with a lot of vertical play opportunities, instead of spread out into horizontal movement. I felt myself looking UP very high to the 2nd level of the main equipment with some pretty good drop zones.
When we were there in the morning, there were joggers and dog walkers going by. I imagine it the parking lot fills up during Little League season.
If you turn down the private street to park, you will need to follow it through since it's one-way and comes out on the other side of the park.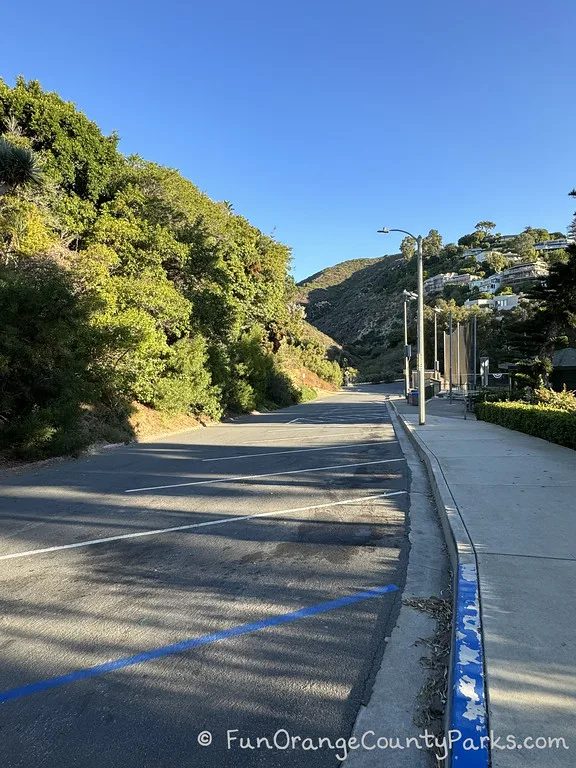 Checklist
Restrooms in the brown wooden building at the top of the stairs near the parking lot
Dedicated parking lot (free parking) and a few spots along Hillcrest
Playground surface: Mostly bark with some recycled rubber surfaces
Water refill station and drinking fountains right next to the playground
Nearest public library: OCPL – Laguna Beach Library branch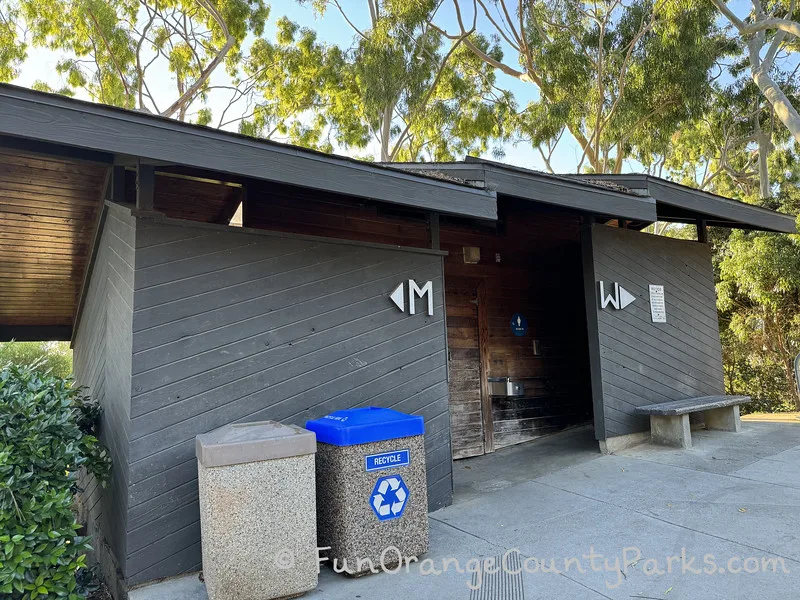 Parks and beaches nearby Riddle Field Park: