I'd never heard of Pirate Park in Bellflower until one of my readers pointed it out to me. (Thanks for telling me about it, Cat!).
It's a VERY small park and really geared towards the younger kids for that very reason. I think preschoolers and Kindergartners with BIG imaginations will love to play pirate here.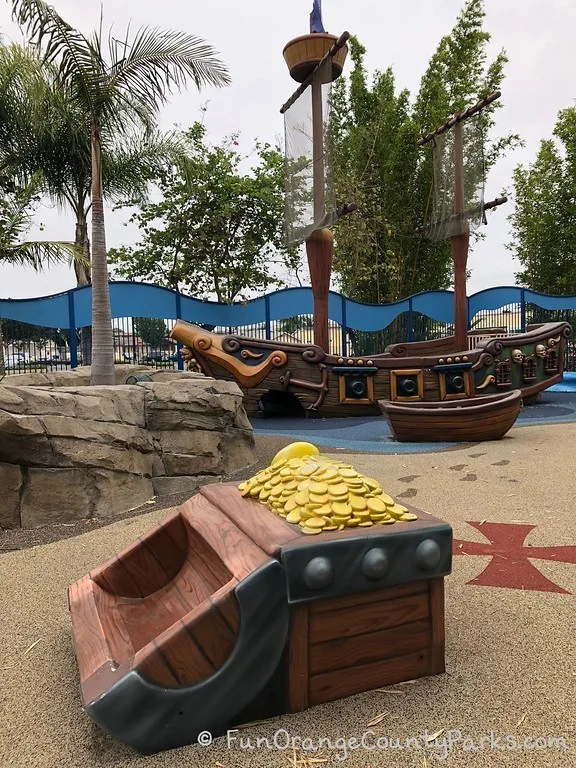 And, yes, I realize that Bellflower is NOT in Orange County. It's actually in LA County across the 605 Freeway from Orange County near Cerritos – which is also NOT in Orange County. But I like to cover parks along this corridor because #1 – it's a great place to meet friends from LA and #2 – if it's a neat park then I figure you want to know about it.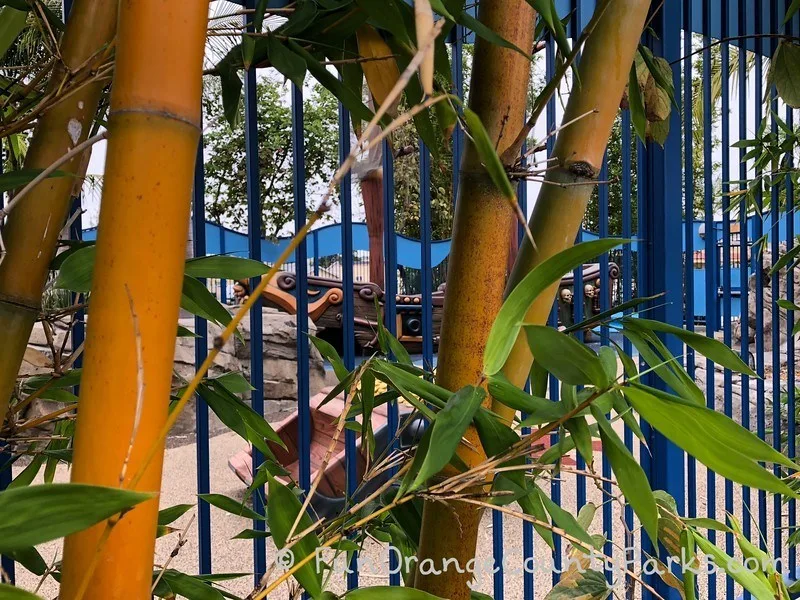 Directions to Pirate Park in Bellflower: The park is reachable off the 605 Freeway with a short jaunt on the 91 Freeway to exit at Bellflower Blvd. (Address: 16559 Bellflower Blvd, Bellflower) MAP TO PIRATE PARK IN BELLFLOWER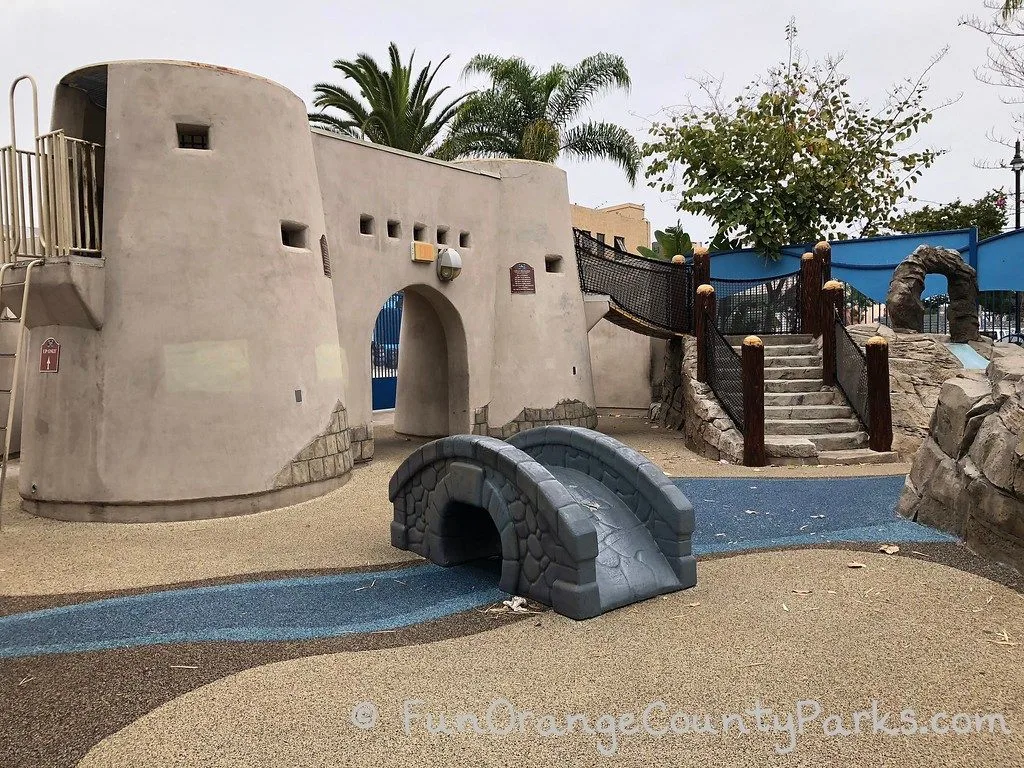 Highlights:
This has all the makings of pirate pretend: a fort, a bridge, a row boat, a pirate ship, treasure, and a skull cave
The playground is gated and has operating hours
Near restaurants (Subway, Ricci's Italian, 600 Degrees Pizzeria, Johnny Reb's True South – and more)
Even though the park is basically in the middle of a parking lot, the perimeter is planted with bamboo and other view blocking plants so it feels very lush and tropical inside the park
My favorite part of the whole playground isn't even inside the gates — the mural outside sets the mood!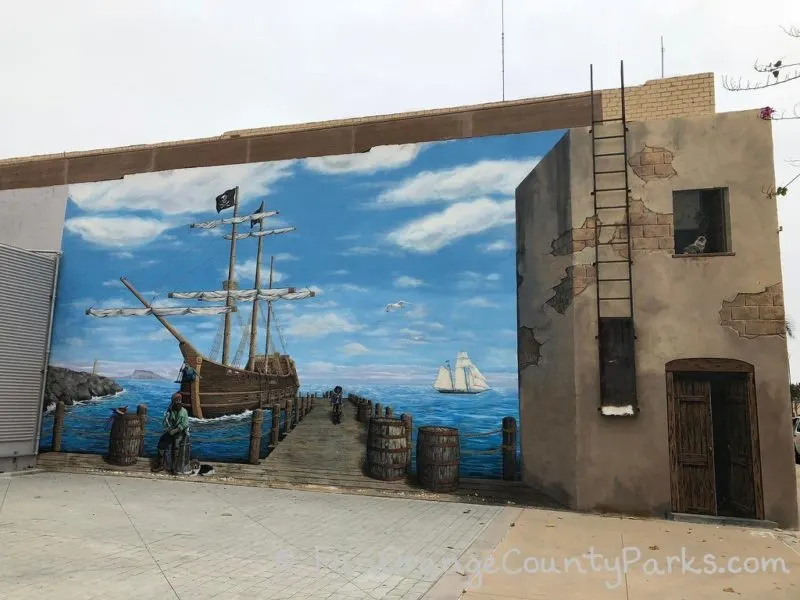 Be Aware:
Did I say the park is small? Well, it is. I think some children might be able to spend hours playing and pretending here. Some kids will be ready to move on rather quickly. I wouldn't block off a whole morning or afternoon for a visit, but rather pair it up with another park outing nearby.
The park is not always open. There are monthly hours posted on the gate and a PDF download called "Pirate Park Hours Calendar" on the city's page that shows hours every month. For example in January 2022, it's mostly open around 9am/10am to 4pm.
There is a Bellflower Sheriff substation right next to the playground. I have no knowledge of crime in the area, but just thought I should share that as a "heads up." The location is right off the main downtown strip of Bellflower Blvd so it felt pretty safe to me when we visited early on a Sunday morning.
There's a note on their official web page that it is NOT rented out for private parties
The sign below offers up other "be aware" warnings about hot surfaces, shoes required for kids, and for caregivers not to wear heels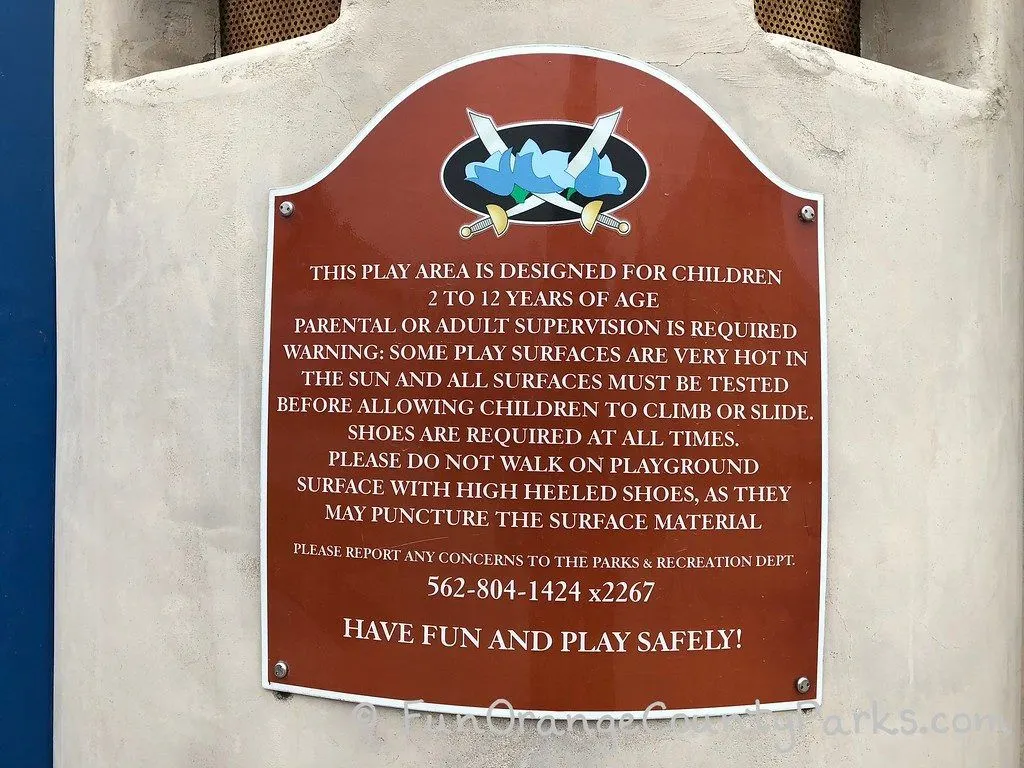 Checklist:
Recycled rubber play surface
Free parking in a lot dedicated to the surrounding businesses/restaurants
Not sure about restrooms because we visited before the park was open (there are definitely NO restrooms inside the small playground)
Drinking fountain
Official Bellflower page for Pirate Park – click on the PDF called "Pirate Park Hours Calendar" to get official hours.
Visit my list of 15 Pirate Parks in Orange County for more pretend play opportunities!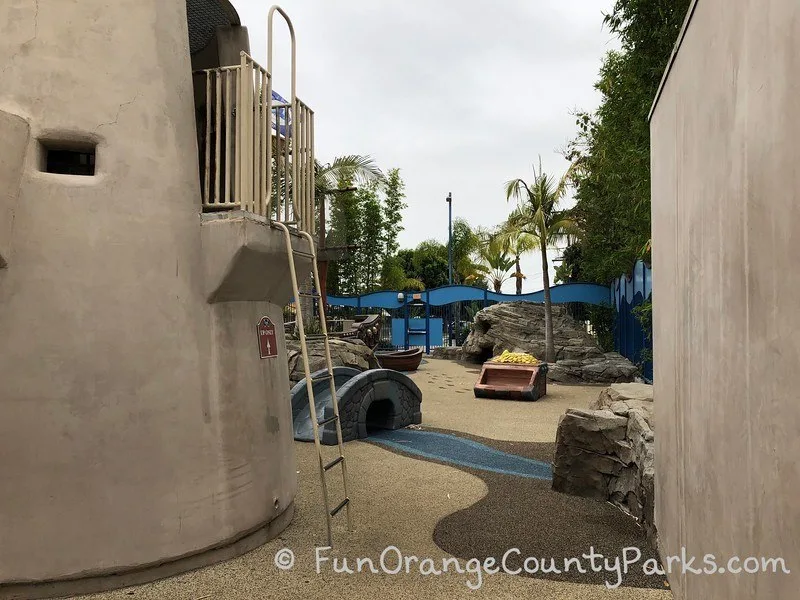 Parks Nearby Pirate Park in Bellflower:
Originally published in June 2018.