MacKenzie Park in Laguna Hills may be a small neighborhood park but the equipment really lends itself to creative play.
Put on your tennis shoes and have fun playing lava monster, hide-and-seek, and mountain explorer with your kids.
It's a good spot to meet friends off Interstate 5 — except for no restrooms. However, there's a Starbuck's and McDonald's on your way back to the freeway.
Directions to Mackenzie Park in Laguna Hills: From I-5 exit La Paz heading toward the ocean. Go right on McIntyre, left on Pike and follow to Mackenzie. Parking on street. MAP to MacKenzie Park in Laguna Hills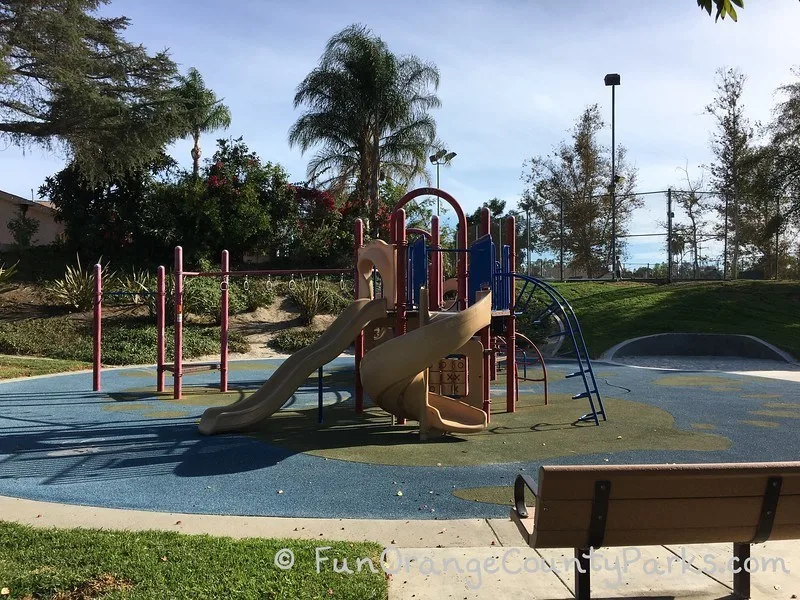 Highlights
Mostly known for its 2 tennis courts.
There are steps, ladders, and alternating round discs all around the play equipment. My son had fun as I chased him around the playground and then giggle as he called "Safe!" once he climbed on one of the ladders.
Since the park is small and there are benches surrounding the play structure, I found it easy to sit down, enjoy the view of Saddleback Peak and keep an eye on my little guy.
There are individual rings that you can swing on like monkey bars, 3 slides and a bridge to help you find your way across the equipment.
A walkway leads you from the playground to an open grassy area. We watched a Frisbee game in action and a family setting up a picnic under one of the trees.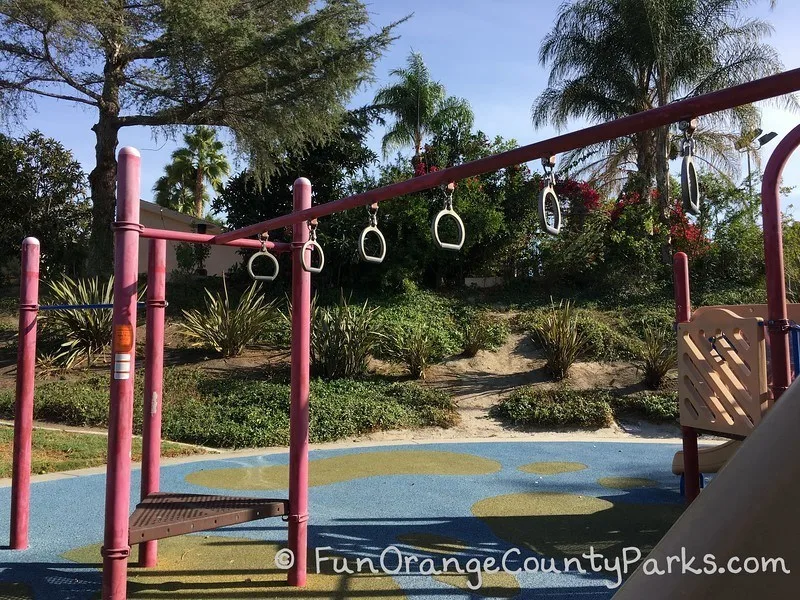 Be Aware
On one side of the sand pit there is a concrete ledge that separates the sand from a grassy hill. One of the first things my son tried to do was jump from the concrete ledge into the sand pit. It is an easy jump for bigger kids but my little guy ended up with a mouthful of sand followed by plenty of tears.
The play equipment is geared toward bigger kids (5-12 years old). There are some openings on the equipment that lead to curved ladders. The ladders are fine when climbing up but are tricky when trying to climb down.
The play equipment is rather old with spider webs from lack of use. Some of the structure is even boarded up because of no slide.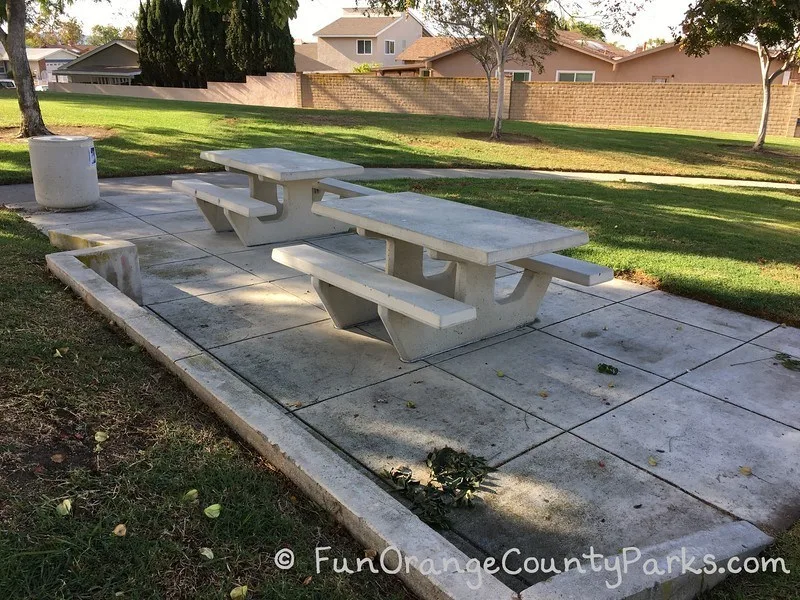 Checklist:
Recycled rubber play surface with separate sand pit
No swings
No restrooms
Drinking fountain
Three concrete picnic tables and four benches surround the play area.
Tennis courts are open from sunrise to sunset. The court is closed during tennis lessons but there is a schedule posted on the court door to help you plan play time. Schedule changes frequently.
Nearby restaurants: Hot Off the Grill (yummy breakfast burritos) and Villa Roma (pick up frozen empanadas for dinner)
Nearest public library branch: Laguna Hills Technology Library
Parks Nearby Mackenzie Park
Originally posted in March 2010.