When I first discovered La Plata Park in Laguna Niguel, I thought this small neighborhood park would entertain my 2 year old for only 20 minutes. Wow, was I wrong!
Yes, the play equipment is simple but there are side by side slides that inspired many excited screams of, "Wanna race, Mama?" Not only did we race our bodies down the slides, we raced toy cars, pieces of bark, pine cones and leaves. Before I knew it, twenty minutes had easily turned into two hours!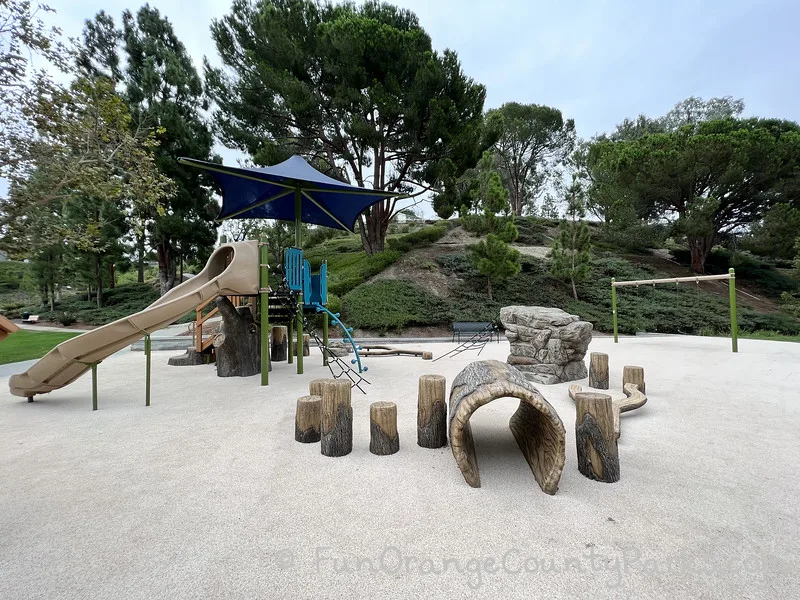 Directions to La Plata Park in Laguna Niguel: From I-5, exit in Mission Viejo at Crown Valley Parkway. Go west towards the ocean and turn left onto La Plata Drive. Follow the road until you see the La Plata Park sign on the right hand side. The park is not visible from the street but a short walk on a sidewalk path will take you there. Parking is on the street. (Park Address: 25006 La Plata Drive, Laguna Niguel) MAP to La Plata Park in Laguna Niguel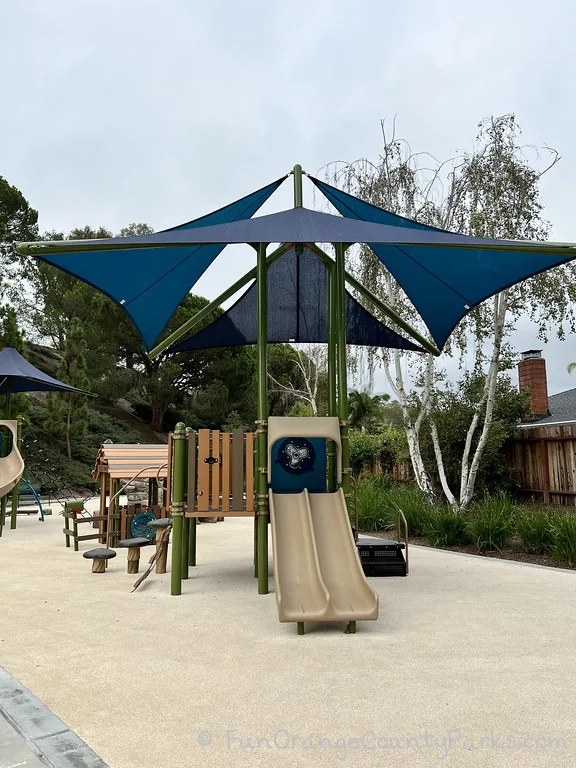 Highlights
The park is nestled in a neighborhood canyon and sits far away from the street. I found it easy to keep my eye on multiple kids during a play date.
Tot lot includes two play areas combined into one with sort of a treehouse/woodsy theme complete with logs and little animals blended into the playground. Signs will point you to which equipment is suitable for 2 to 5 year olds and which for 5 to 12 year olds.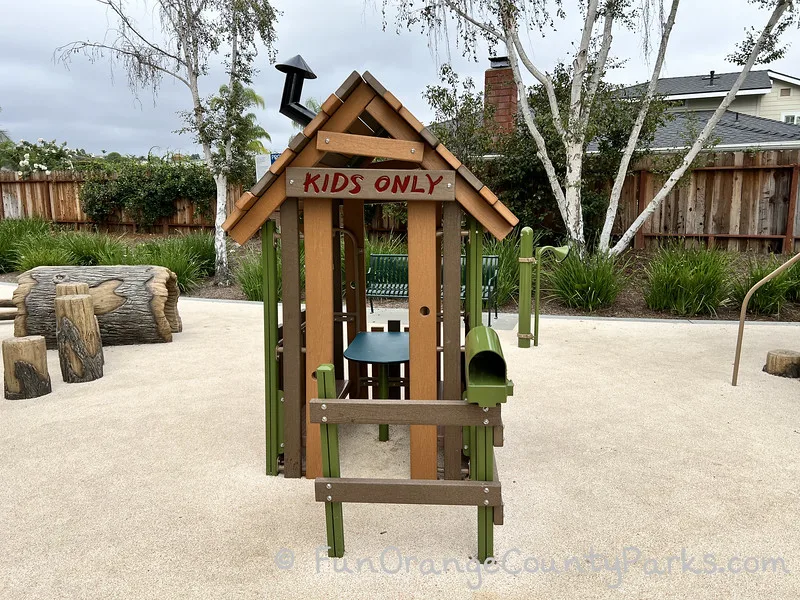 2-5 year old playground: spinner, small structure with double slides, stepping pedestals and ladders leading to the equipment, and a clubhouse.
5-12 year old playground: 2 bench swings, tons of horizontal climbing features (rocks, ropes, logs, tunnels, ladders) for playing "hot lava" and not having to touch the ground on a loop back the play structure, one slightly taller slide.
Neither structure feels too tall or particularly scary and the entire play surface is recycled rubber.
The playground equipment is simple and there is a wonderful grassy area surrounded by a sidewalk loop. After my son and I raced on the slides we raced our scooters around the loop.
There is a sidewalk path that goes up a hill and leads into another part of the neighborhood. My son had a blast walking up and down the hill collecting pine cones and pine needles from all of the trees.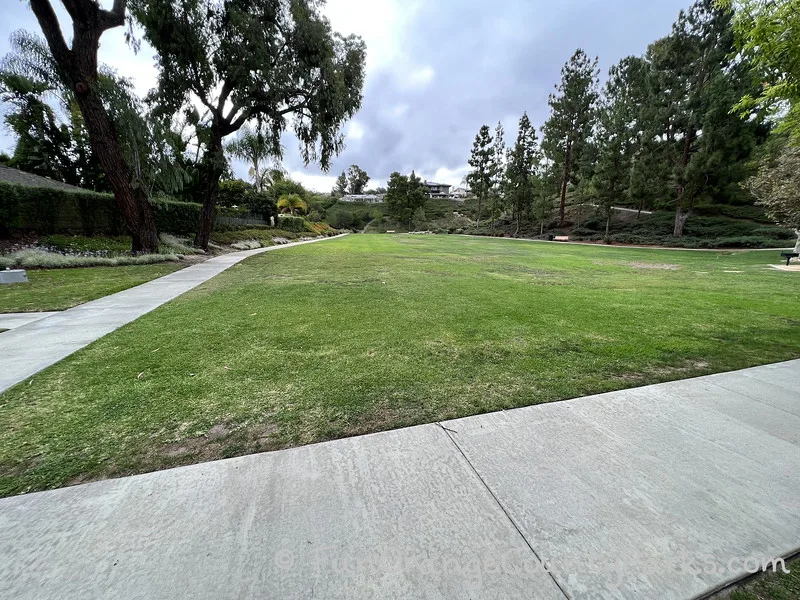 Tall trees provide surround the playground and park.
Be Aware
Bring a jacket for early morning play time. It can get quite chilly near the beach.
There is a concrete drain channel past the swings.
You are very close to homes here, so be respectful of the neighbors.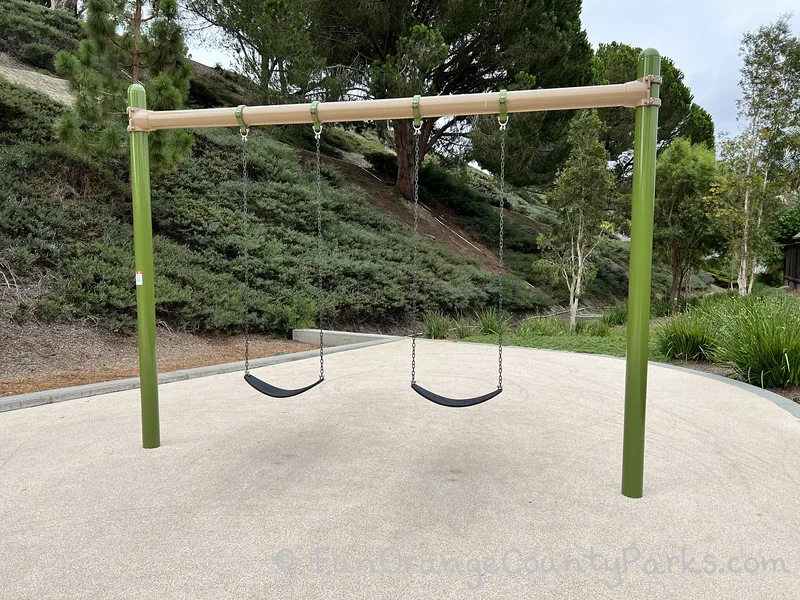 Checklist
Parking on the street
Play surface: Recycled rubber
NO restrooms
Drinking fountain
Two picnic tables with a grill
Two park benches – one on either side of the park
Nearest public library: Laguna Niguel Library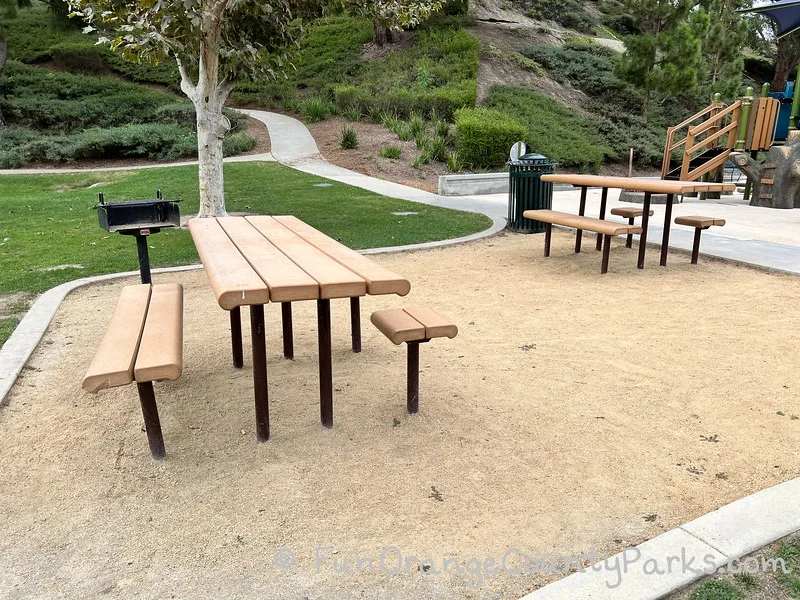 Parks Nearby La Plata Park
Originally published in February 2010.