Chapparosa Park in Laguna Niguel is at the dead end of Chapparosa Park Road off Golden Lantern near the Laguna Heights Marketplace. The park got a major renovation and reopened in September 2022.
This park links to the many of the Laguna Niguel "Sea Country Trails" with a path leading to Niguel Road Park – and eventually down to Salt Creek Beach.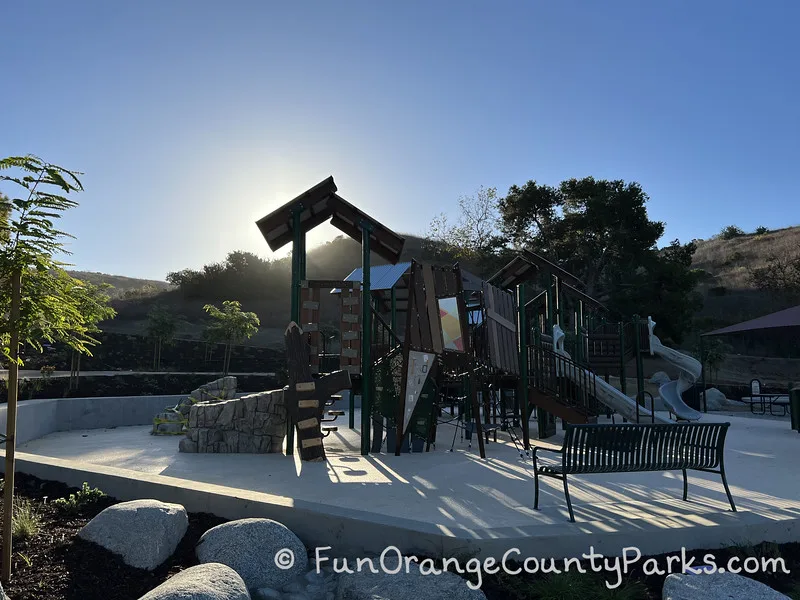 How to Get to Chapparosa Park in Laguna Niguel: Take Moulton/Golden Lantern and turn onto Chapparosa Park Road. You will dead end into the park. (Address: 25191 Chapparosa Park Rd, Laguna Niguel) MAP to Chapparosa Park in Laguna Niguel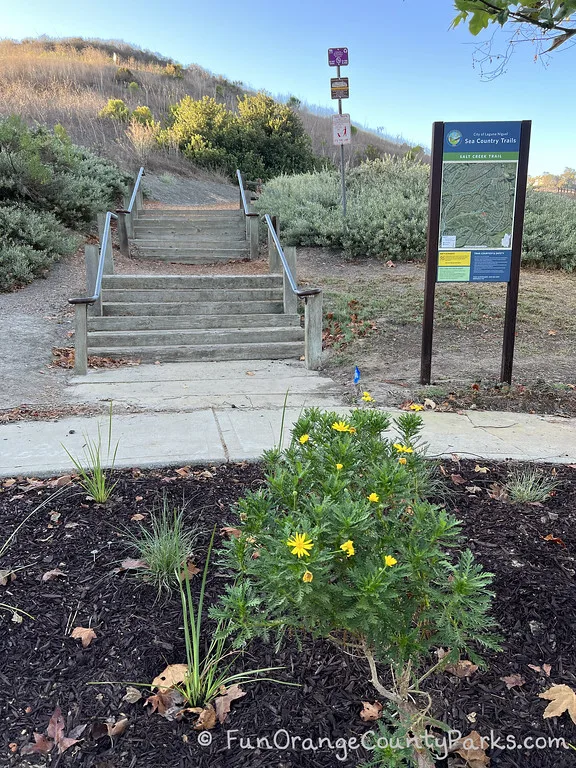 Hiking and Biking around Chapparosa Park
First of all, Chapparosa is in a bit of coastal valley/canyon so you will be hiking or biking uphill or downhill from this spot — almost no matter which direction you go. It's going to be hilly!
The first sign pictured below is right next to the playground and the wooden steps leading up to a trail where you can reach Reef Node Park.
The second sign is another version of the trail system at the dead end of the road where you can catch up with the trail that will lead you to Salt Creek Beach.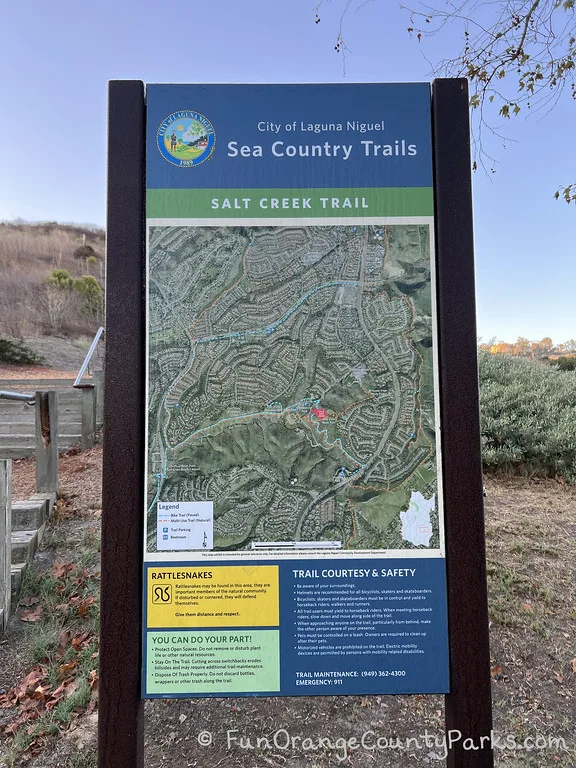 Fun Fact: The sign states there are "over 80 miles of public riding and hiking trails and bikeways in Laguna Niguel." You can view all of Laguna Niguel trails page on their website.
I know you CAN get to Salt Creek Beach from here, but I've never tried going all the way there. I have walked from the playground to Niguel Road. And a separate section of Salt Creek Trail from Camino del Avion to the beach in a loop past the library and up Niguel.
But I found someone who has! @mattitudehikes on Instagram just posted about the hike from Chapparosa Park to Salt Creek Beach on Weekend Sherpa. He says it's 7.7 miles round-trip and I like their route — but if I were you I might save this for a date day instead of trying it with the kids.
Regardless, you can take any of the trails for short nature walks and to get a view and then come back to the park. If you do hike up to Reef Node Park, then this will be your view back down to Chapparosa (old playground and winter months with greener hills pictured).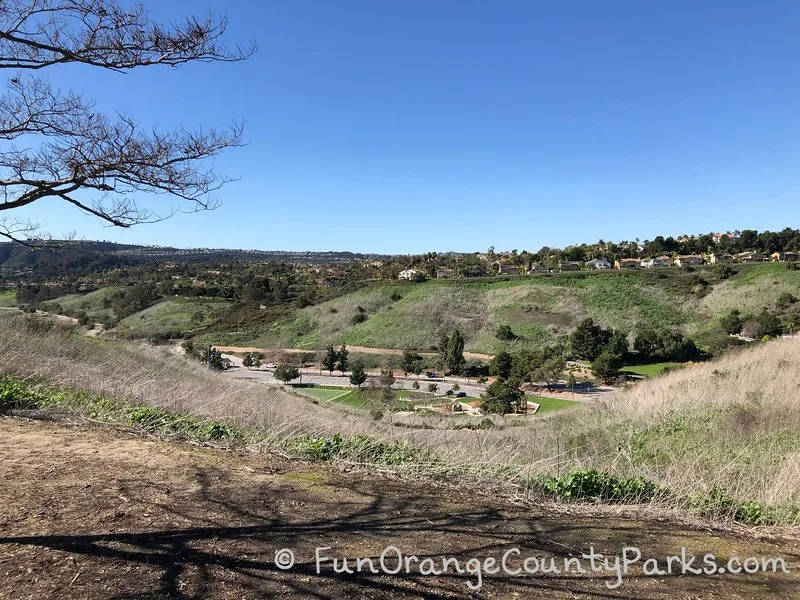 If you have questions about hiking here, just email me! I'm happy to answer your questions.
Playground Highlights
Chapparosa used to be themed as an Old West fort with panels which looked like a log cabin. I like this update which retains some of the log cabin and woodsy feel without the settler implications.
The footprint of the park looks the same as before when viewing from the street: big kid playground on left, little kid playground on the right, covered picnic area in the middle.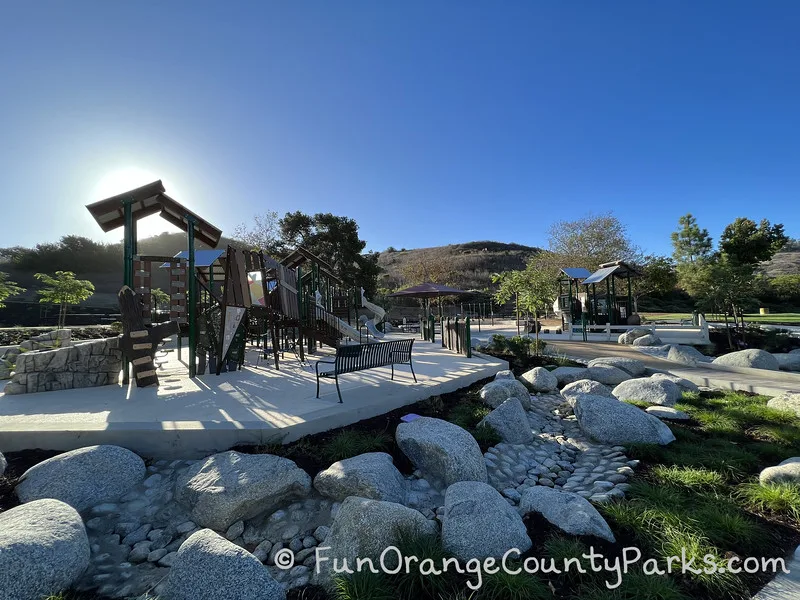 I predict that kids will love this playground. There are so many play elements and opportunities for pretend. So much thought went into every bit of it!
Big Kid Playground:
Lots of climbing opportunities: ladders, climbing walls, rocks, monkey bars, rope ladders, log-type wall, and horizontal panels to get across the equipment.
I liked all the bridges and balancing components.
Slides! There is a twisty slide and a straight slide, plus a dual slide on the back.
Little Kid Playground:
I loved the slightly separate smaller kids play area with a lemonade stand for pretend play and logs for tunnels and balance.
Do you SEE this slide??? The bottom touches the ground so there isn't a big thumpy drop at the end. How fun!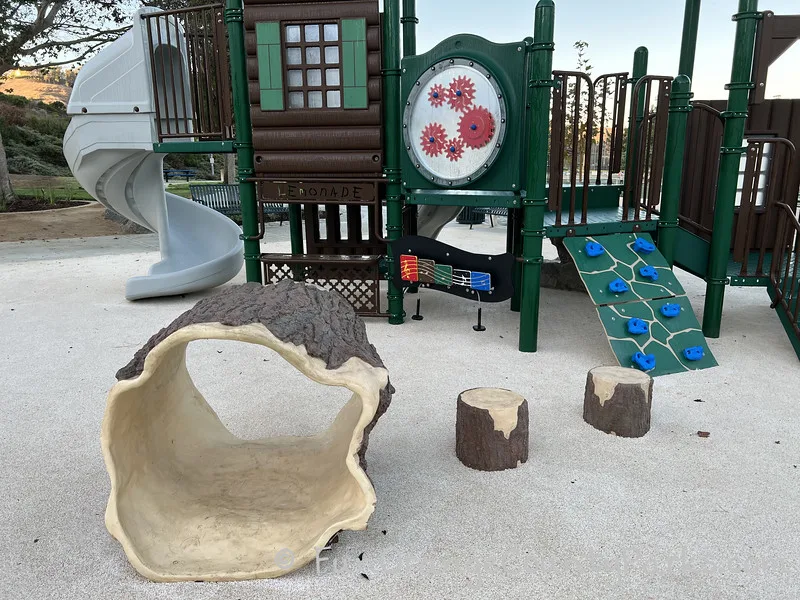 Do you want to see the other side of the little kid playground? Here it is!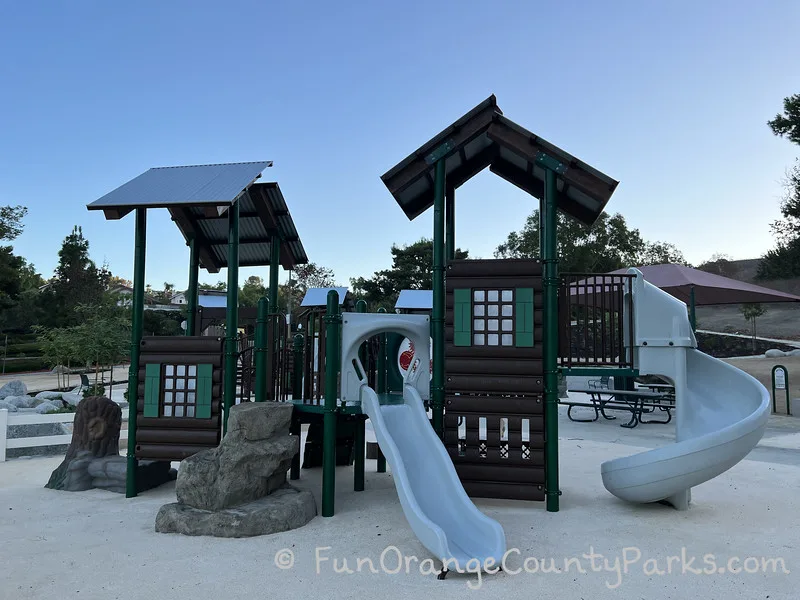 Isn't it cute? Another close to the ground slide and some rocks to climb.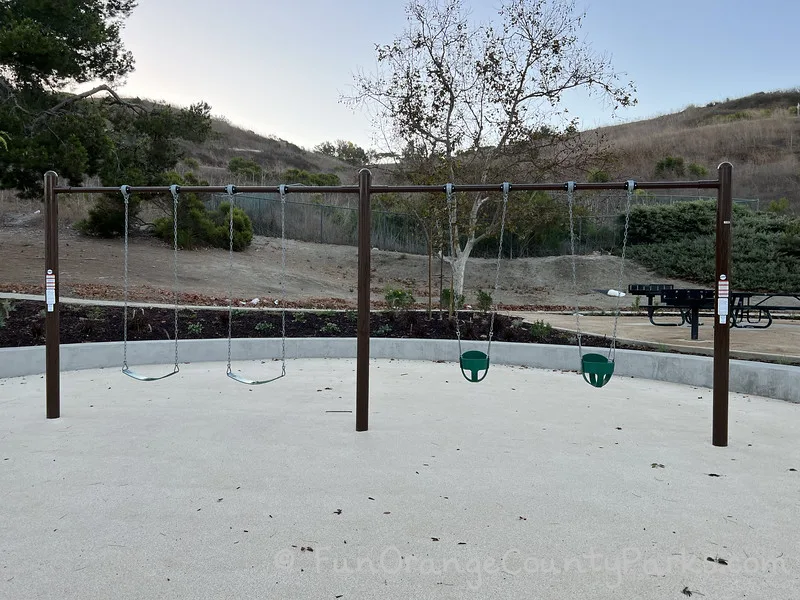 Additions I think you'll like:
Used to not have swings! Now there are 2 bench swings and 2 baby swings.
Bark play surface replaced with recycled rubber.
Boulders for scrambling.
More plants, more trees, and nice landscaping.
Tons more picnic tables! 3 new areas for picnics on all sides of the park.

Under central shade cover: 2 picnic tables. Makes it nice for small birthday party and watching the kids run between the small structure and bigger structure.
On high side of park near big kid playground: 5 long picnic tables + 1 grill.
At the back of the park: 5 long picnic tables + 2 grills.
On lower side of park near little kid playground: 3 long picnic tables grouped together + 2 long picnic tables grouped together + 1 long picnic table (for a total of 6 tables).

Benches throughout and also walls for sitting and watching the kids.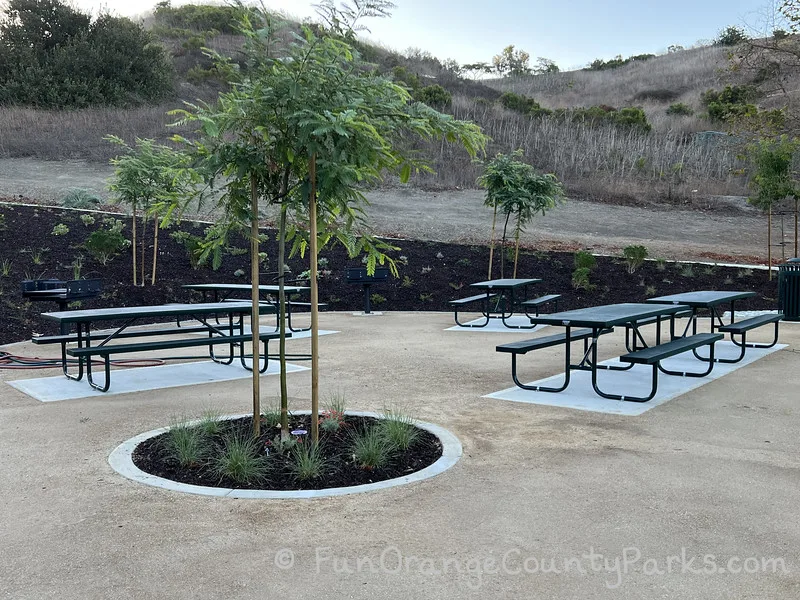 Finally, the basketball courts and volleyball courts are across the street near a grassy area where I noticed people bringing their dogs.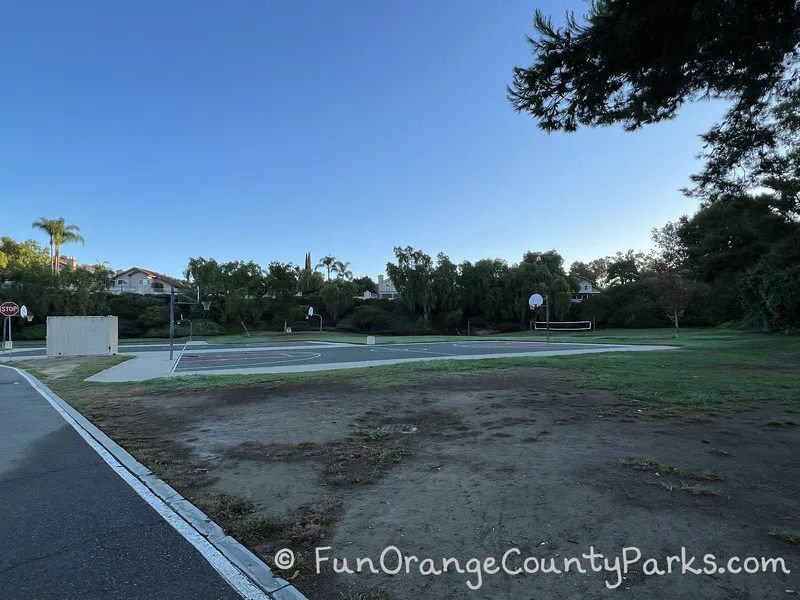 Be Aware
George White Elementary is on this street. Traffic is especially busy at school pick-up and drop-off times (7am-8:10am and 2pm-3pm). The street dead ends into the park so there are no workarounds. Just plan to either already be at the park during these times or at least avoid arriving or leaving then.
Parking may also be impacted if there are sporting events at the park.
It's near the beach so it should be relatively cool – but it's also in a valley which makes it hotter than hilltop parks nearby.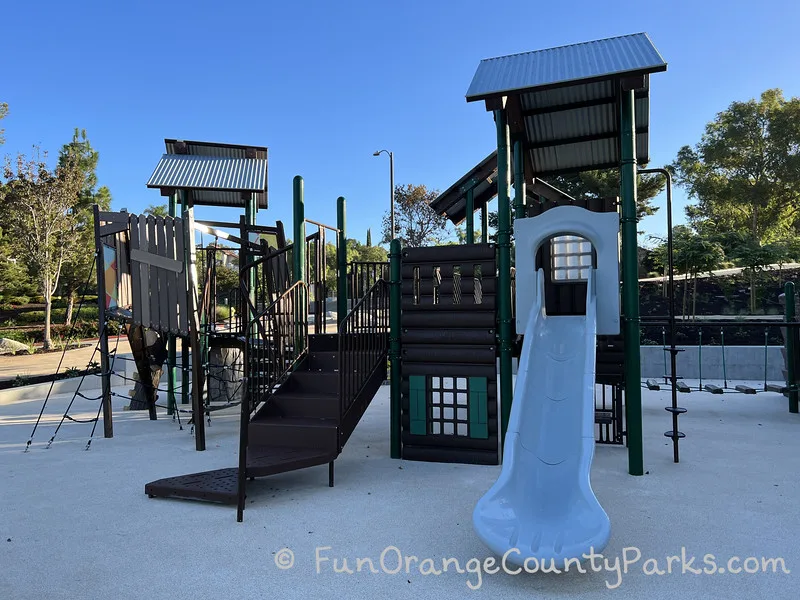 Obviously, there are drops on the structure for 5-12 year olds that might be scary for 2-5 year olds (or at least their parents!).
While I was visiting the park, I noticed a lot of bicycle traffic on the street (e-bikes and regular) even though there is an off-street bike path along the right side of the park near the basketball courts.
No tire swing anymore and less grass right near the playground.
Finally, there are rocks at one end of the big kid playground where the ropes have not been installed yet (September 2022). One rock has caution tape surrounding it. Just be cautious of getting a scrape where the ropes are going to be installed. I'm sure that won't be an issue for very long!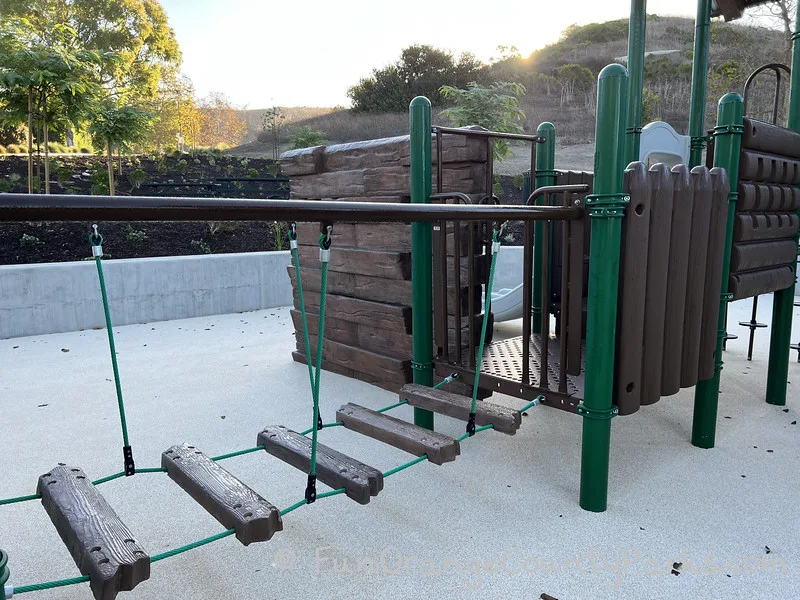 Checklist
Parking in a free dedicated lot
Recycled rubber play surface
Restrooms at the other side of the parking lot by the baseball diamond
Not a lot of shade on the playground, but trees surrounding and a shade cover over the tables
Favorite lunch stops nearby in Laguna Heights Marketplace are: Good Choice Sushi and Asian Kitchen (think about getting takeout from either and bringing a picnic to the park!).
There's also an Albertsons, CVS, Starbuck's, McDonald's drive-thru, Baja Fresh, Subway, donut shop, frozen yogurt, and pizza in this shopping center.
Nearest public library: Laguna Niguel Branch of Orange County Public Library
Photo Archive of Chapparosa Park (from before renovation in 2022)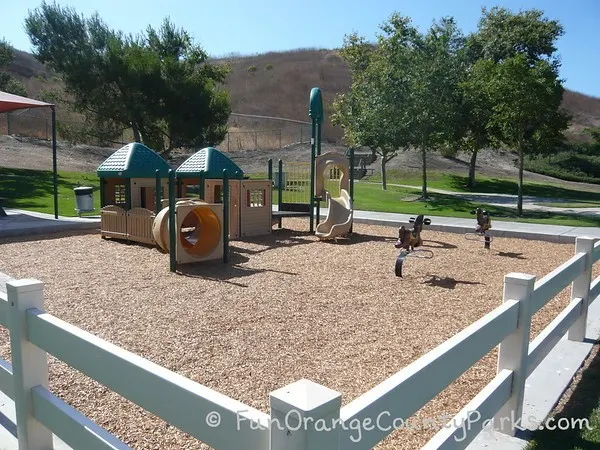 Originally published in August 2009.