Eric Mammen is CHOC's only music therapist. He has two rules: 1) he gets 20% of any patient's future recording contract, and 2) patients must listen to their songs as they drive away from the hospital. Eric would prefer that they put it on "repeat" and blast it with the windows rolled down. This was all explained to me in a jumble of giggles and delight, after a thirteen year old girl on CHOC's oncology floor debuted her first song to my eager ears. What an honor to be there the first time she heard the final cut of her own composition!
Over the course of two months, Eric not only helped this teenager pick instrument tracks and piece them together, but he coaxed some very personal lyrics inspired from her long and isolating treatments. She sings about seeing the sun through her windows, but not being able to feel it during her extended stays in a temperature controlled room. Eric's so obviously proud of her and encouraged her to submit it to Radio Lollipop for the whole hospital to hear. He couldn't sway her shyness by the time I left, but I think he will make a convincing case. Who knows? Her words could help another patient feeling the same things.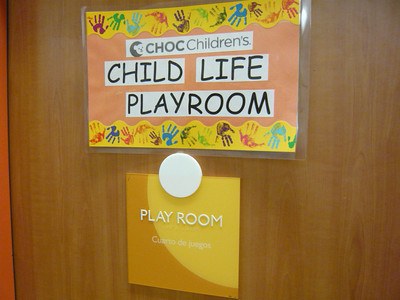 On top of board certifications and extensive on-the-job training, Eric has an undergraduate degree in music with an emphasis in music therapy. By way of contrast, I never learned to play an instrument. I don't know how to read music. I'm an over-the-top music lover, though, with seven days worth of songs stocked in my iTunes Library.
The term "music therapy" seems redundant to me – the words are pretty much interchangeable. I know the power music has over my own moods. Music can make me cry. It can give me chills. It calms me when I'm angry. At its best, it's poetic and resonates with me. At the very least, it can offer me another perspective.
At CHOC, music does more than change moods. It plays an amazing role in pain management and distraction. We visited a five year old little boy recovering from surgery. His room was dim and the privacy curtains were drawn when we arrived. His mother sat by his bedside and told us her son wouldn't be able to sit up today. So Eric handed the boy a drumstick and stacked up drums on the blankets of his hospital bed. The boy only needed to move his wrist to make music. Soon he was tapping out the beat to Life Is A Highway from Cars while Eric sang and played guitar.
I noticed Eric has a different way of interacting with each child. The child and the therapist develop an unspoken form of communication. Eric is very intuitive with the kids and families. With this little boy, he would bang the drum loudly and say "Oi!" to make him laugh. That tactic wouldn't have worked with his next patient: the 7 year old girl we visited in isolation. She remembered every detail of how-we-did-it-last-time. Surprisingly, Eric remembered, too. He knew her requests before she spoke them and they traded winks and nods when he delivered the song she wanted.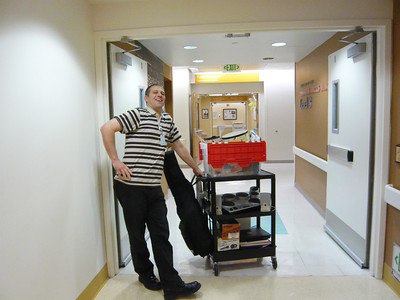 We quickly burned through our two hours of time seeing only those three patients. I wanted to stay and see the music therapy helping more families. So did Eric. His position receives funding thanks to philanthropic support, but unfortunately it only covers part-time hours. Anyone can call the CHOC Children's Foundation with offers to support Music Therapy (714) 532-8690. Eric's always envisioned himself at CHOC. He's hopeful for a full-time future and interns to boot.
My questions for Eric seemed much less important than the needs of the patients, so I kept them to a minimum. At the end of our time, I did ask him to name the best part of his job. He answered, "The parents. And how I can help them by making their kids happy for a little while." I found myself choking up for the first time in our visit. I needed a Kleenex. It was true! That last dad of the 7 year old girl enabled me to really "get" the incredibly positive effect of Eric's job.
That dad wore flip-flops and had a little scruff on his face from not shaving. He was probably just my age. I have a 9 year old and a 5 year old. I didn't want him to be in a hospital room with his daughter. He would have looked more at home hanging out at a backyard barbecue watching her splash around in the pool. In her dad's eyes, maybe she was that mermaid banging on the drums while Eric sang Under the Sea? The dad couldn't stop watching his little girl with a smile on her face. The smile on her face put a smile on his face.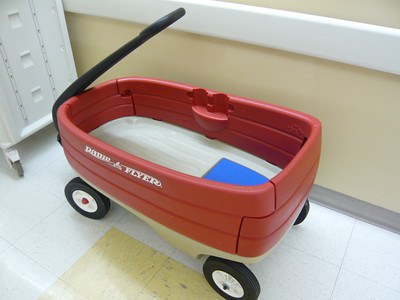 CHOC is different. It truly serves the needs of the FAMILY. There are bubbles and wagons and bright colors. There's a playroom and Radio Lollipop. Child Life is CHOC's program for educating and supporting parents while providing therapy for the kids. At CHOC, the "show" is every child's incredible ability to put on a brave face through all the pain and daily struggle for good health. Eric's music therapy is the show-stopper.
This originally appeared on my "Play Mom" blog at OCFamily.com where 12 bloggers were each assigned 2 hours for a snapshot of 24 Hours at CHOC.