Alton Park in Foothill Ranch (Lake Forest) is one of those rare parks that has everything in one small package – except restrooms.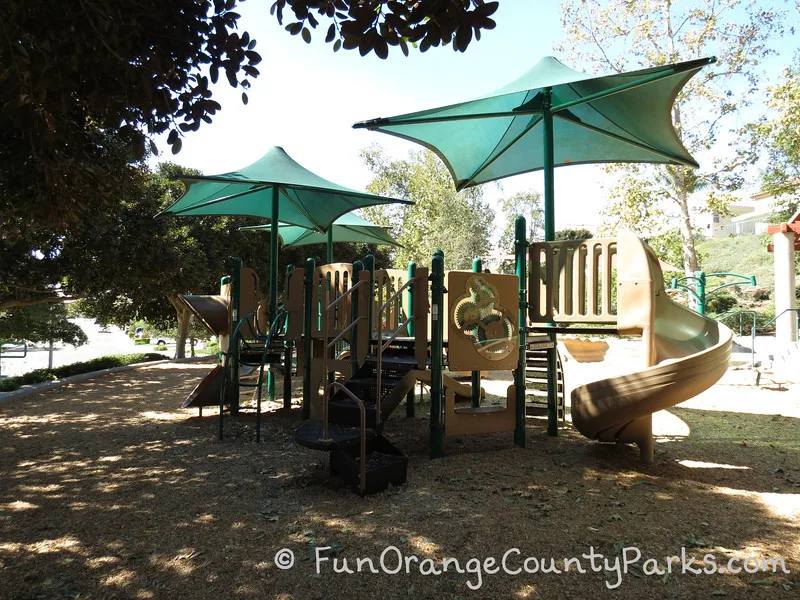 How to Get to Alton Park in Lake Forest: Take Lake Forest Drive or Bake Parkway up to Portola and turn left. Take a right onto Alton Parkway and the park is on your left. Or go ahead and take Alton Parkway all the way from Interstate 5. (Address: 18992 Alton Parkway, Foothill Ranch) MAP TO ALTON PARK IN LAKE FOREST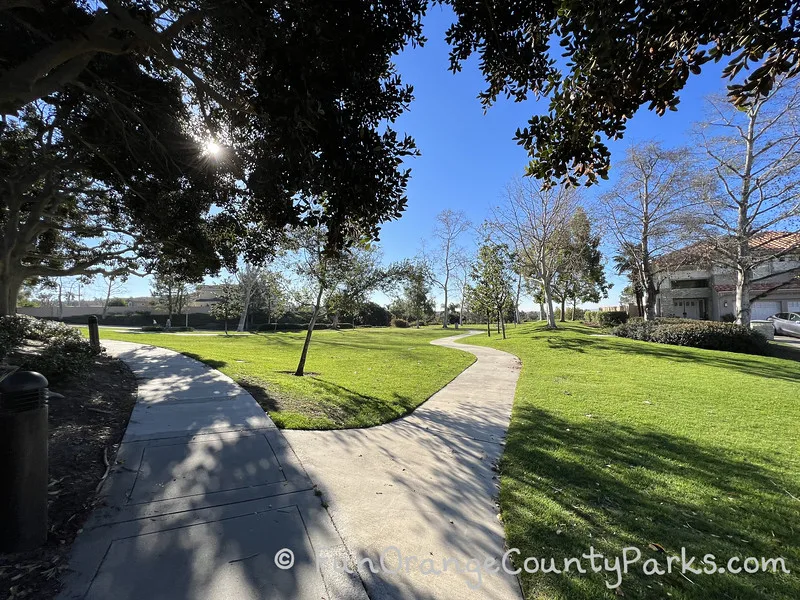 Highlights:
Lots of shade from trees and shade cover! And a very sheltered feel to the playground.
Kids will love the clubhouse for pretend kitchen play — and this one is longer than the typical clubhouse.
Half basketball court for older kids while the youngers are on the playground.
3 person "shower head" spinner.
Bridges, slides, climbing challenges — all on a playground that's relatively close to the ground.
2 bench swings and one baby swing.
Large grassy area for play and sidewalk for little nature walks.
There is a water feature near a sandbox, but it wasn't working when we visited.
Ramp entries to playground, but not particularly accessible equipment.
I was inspired to build "fairy houses" or "gnome houses" with the leaves, sticks, and other treasures I found on the playground. There's even little spots along the hillside where I could see other children had played.
Very near the main shopping centers and restaurants in Foothill Ranch.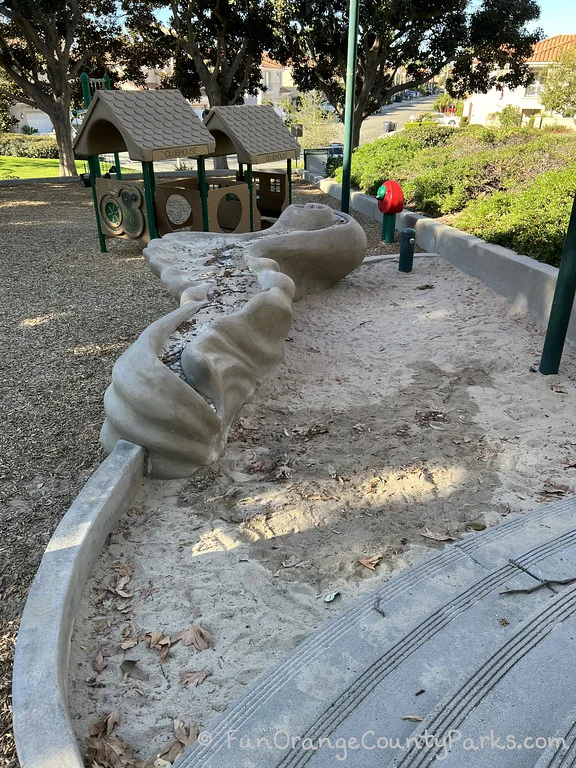 Be Aware:
As always, there are a couple of drop points above the ladders where you'll need to watch younger kids closely.
NO restroom
Not a lot of benches in the shade, but if you bring a camp chair — you'd have prime viewing along the hillside that leads to the rest of the park
Bordered by a cul-de-sac near the playground and Alton on the other side by the basketball court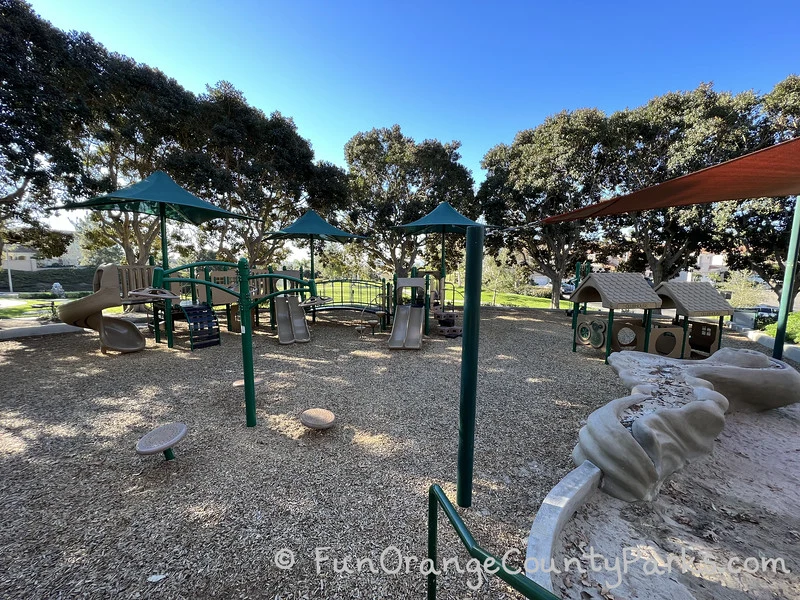 Checklist:
Free street parking
No restrooms
Play surface is wood chips and sand
Half basketball court
3 to 4 tables with grills set up around a grassy area with a view
3 small picnic tables under a shaded cover within view of the playground
Nearest public library: Foothill Ranch branch of OCPL.org website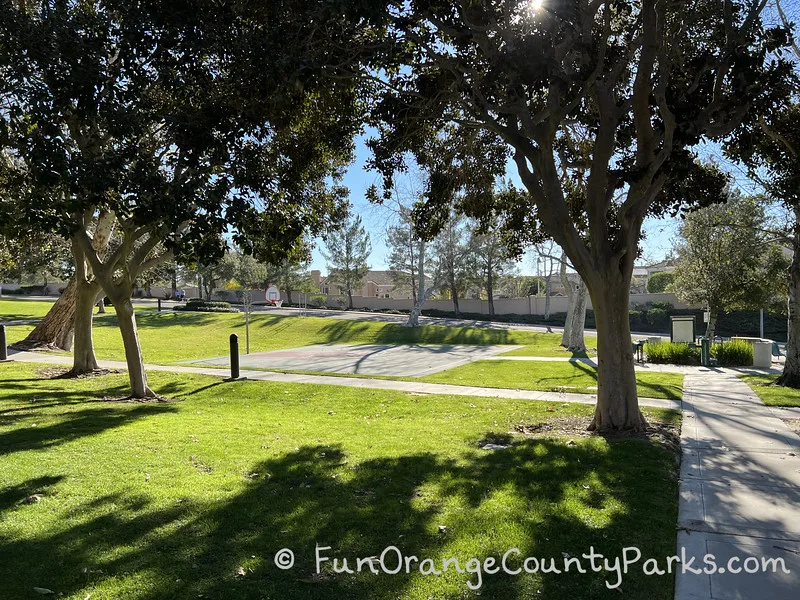 Nearby parks: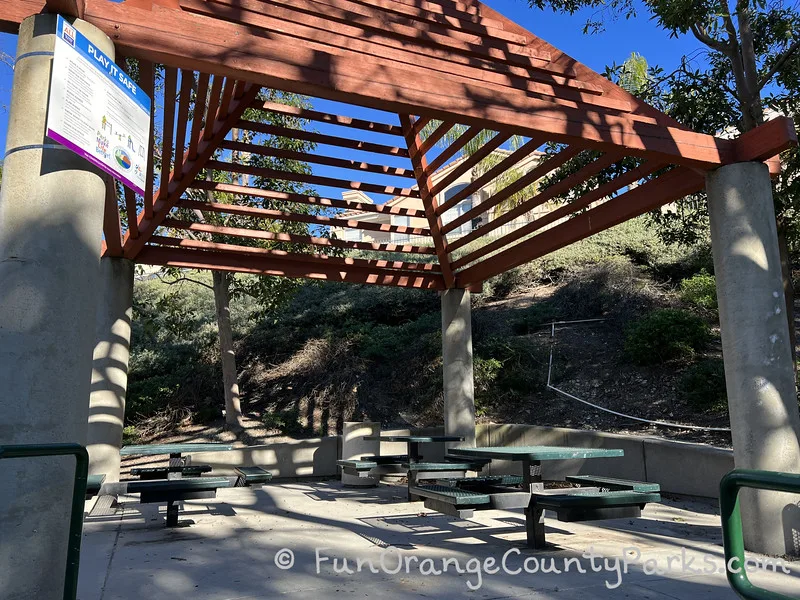 Originally published in October 2013.