We go to Catalina Island every summer. We've been visiting Catalina ever since I was in high school – so that's 20+ years.
I'm surprised how many of my friends have never taken the trip over to the island.
It's a whole other world out there! You feel like you've traveled back in time to wide open California spaces.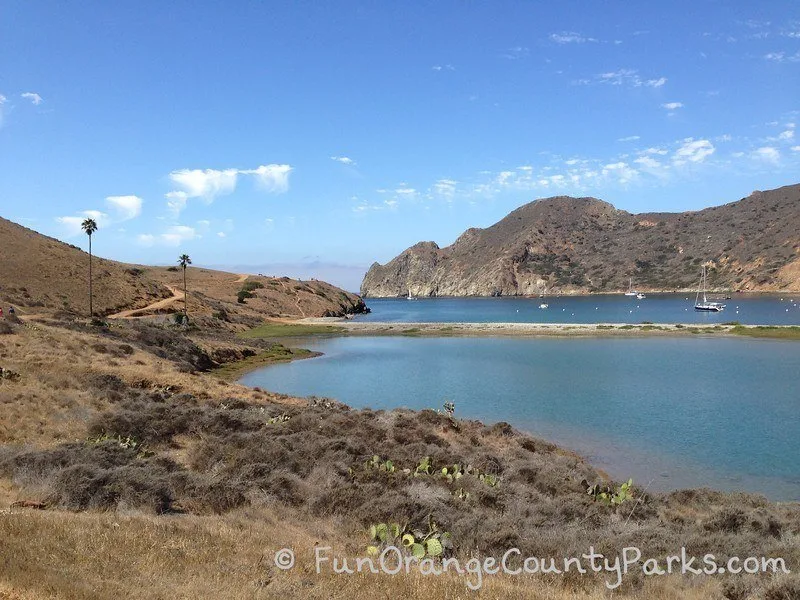 Where is Catalina?
Catalina Island sits offshore from Rancho Palos Verdes Peninsula. It's visible from Orange County beaches on clear days.
Santa Catalina Island is one of the Channel Islands, but not part of Channel Islands National Park (Anacapa, Santa Cruz, Santa Rosa, San Miguel and Santa Barbara islands).
There are two main destinations on the island: Avalon and Two Harbors. Just in case you are wondering, the island is located in Los Angeles County (not Orange County).
I just write about it here, because I know it so well and it's easy to reach even from Orange County.
Where to Go on a Day Trip to Catalina
Visiting Avalon
Avalon is a bustling tourist center with cruise ship visitors, hotels, restaurants, gift shops, and tours. If you want to read more about Avalon, I have a post about the Top 25 Things to Do in Avalon.
Descanso Beach Club is just around the corner from the Casino Building where you can rent out beach cabana and laze away the day — or take part in ocean sports and adventure tours.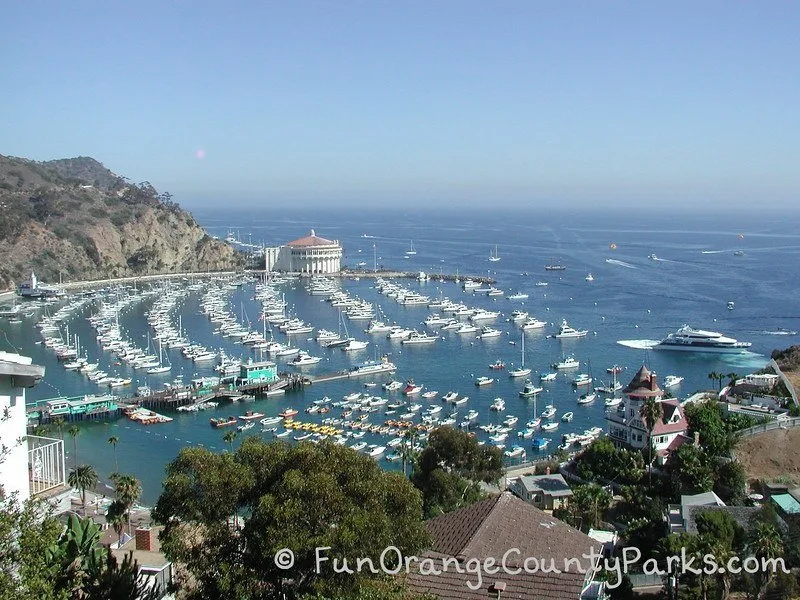 Visiting Two Harbors
Two Harbors (a.k.a., The Isthmus or Isthmus Cove) is a sleepy harbor with a campground, only a few guest properties, one restaurant, one snack bar, and one general store.
If you are standing at the beach in Orange County watching the sun set over the island – Avalon is furthest to your left. Looking to your right, you can see a dip on the west end of the island where the Isthmus sits. The Isthmus and Cat Harbor are what give Two Harbors its name.
The front side of the island, facing the mainland, is where boaters moor at Isthmus Cove.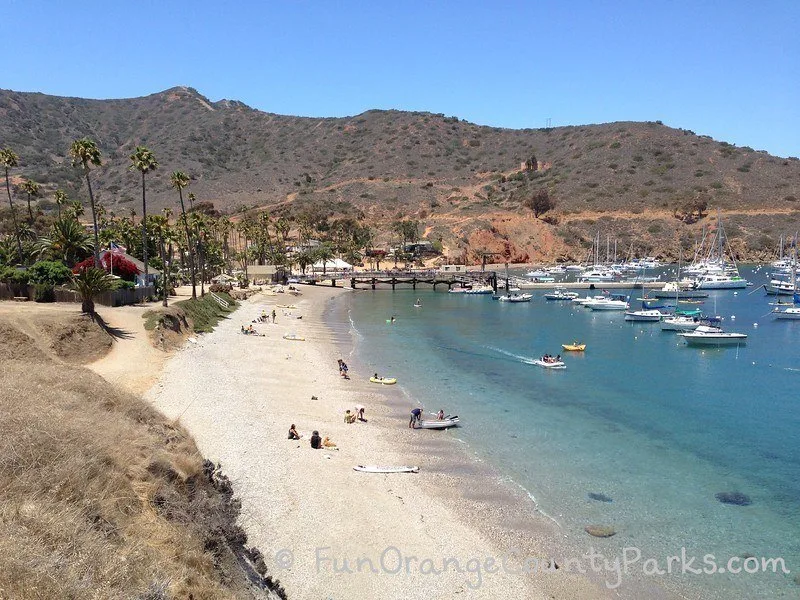 Once on land, you can take a 10 minute walk and put your toes in Catalina Harbor where boaters must approach from the back side of the island. Cat Harbor has a reputation for being an all-weather harbor because of the wind protection from almost every side. It is usually pleasantly breezy here.
Fourth of July, Cherry Cove, and Emerald Bay are places to moor your boat very near The Isthmus. I also wrote about the Top 25 Things to Do on Catalina's Quiet Side, if you want to check it out.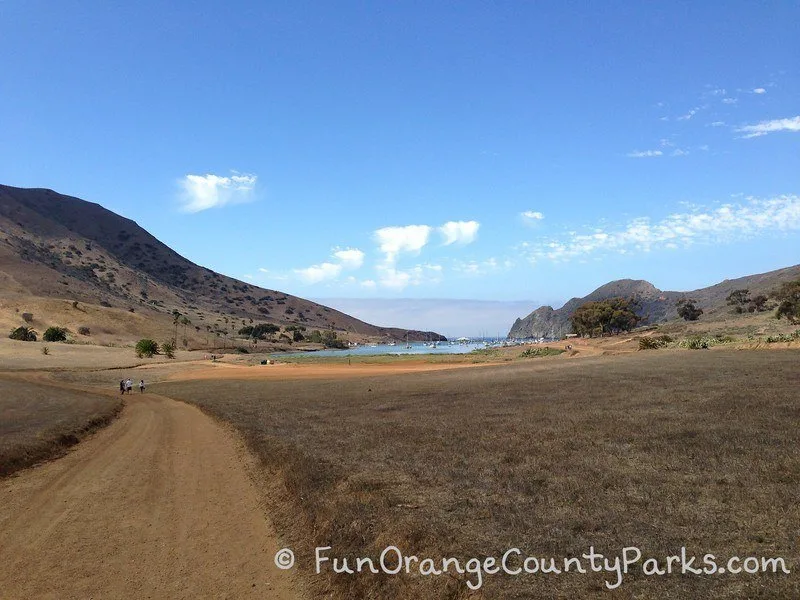 Best Time to Visit Catalina Island
If you were asking about time of day, you'll see I say – go early in the day for a calmer ocean and so you get the longest amount of time on a day trip to the island.
But if you are talking about time of year, summer is the busiest (obviously) but it's also a time when the most services are available – and the weather is generally good on the crossing. September and October can be a perfect shoulder season when water temps and air temps are still up, but the crowds have disappeared.
There is a chance you'll run into some bumpy crossings with Santa Ana winds or surge stirred up from hurricanes down in Mexico. When you are traveling via boat, you just have to be flexible and prepared to postpone or cancel based on a bad weather forecast.
Getting to Catalina Island By Ferry
Unless you have your own boat, visiting the Island isn't cheap. We regularly purchase gift cards from Costco for the Catalina Express ferry (usually available during the summer).
How much is the ferry to Catalina? You can buy $100 gift card for $80 at Costco. This is the ONLY discount that I've ever found. Adult round-trip passage is roughly $83 and the kids are almost $68 round trip. So, for our family of 4, we can save $60 by purchasing three $100 gift cards. The gift cards have a $300 value, but only cost us $240 at Costco.
You must make your reservations BY PHONE if you are going to use this option. They will take your credit card number to reserve/hold your spot, but you actually pay with your gift cards when you pick up your tickets. [Note: Catalina Express isn't the only ferry company. It's just the only one with gift cards at Costco.]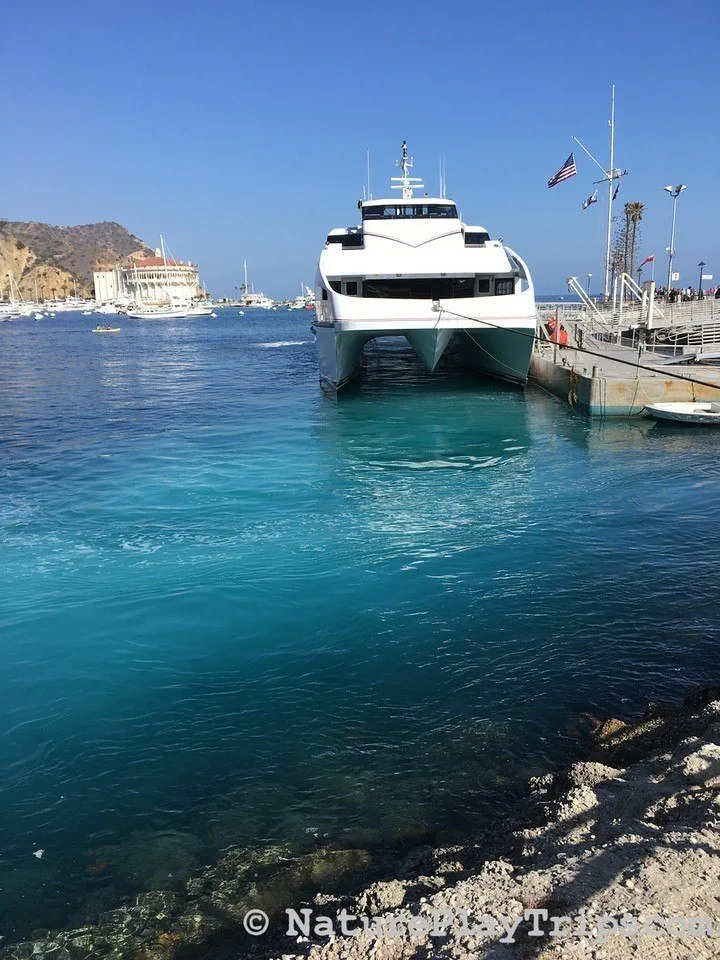 How to Reserve Your Catalina Island Ferry
The first thing you'll need to decide is: whether you are going to Avalon or Two Harbors.
Ferries go direct to both places, but some of the trips on the schedule for Two Harbors will have you stop at Avalon first. It makes the trip a little longer, but it's a beautiful ride where you are close up to the island.
If you are going to Avalon, you can leave from San Pedro, Long Beach, Dana Point, or Newport Beach.
If you are going to Two Harbors, you must leave from San Pedro and sometimes you may need to go via a quick stop in Avalon.
We like to leave from San Pedro because there are multiple sailings and it's the most direct route.
Get links and see schedules from the "How to Get to Catalina Island" page on The Catalina Island Conservancy and the "Getting to Catalina Island" page on The Santa Catalina Island Company.
Of course, you can always visit both Avalon and Two Harbors by taking the ferry to Avalon and then taking the Cyclone to Two Harbors (a high speed open air water shuttle that costs about $17 each way).
Or you can choose other options like the safari bus or bicycling to Two Harbors. Nowadays, people even hike the Trans-Catalina Trail in great numbers.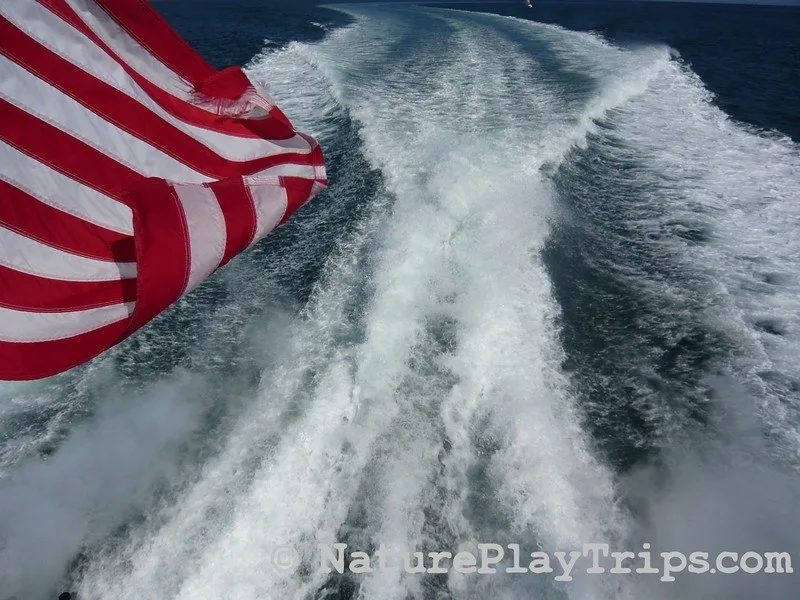 Where to Park When Going to Catalina on the Ferry
Each ferry terminal has its own parking area.
When we leave for Two Harbors from the San Pedro terminal, parking is outdoors in an open lot under the Vincent Thomas Bridge. Tip: Try not to park under a light fixture or the seagulls will dirty your car with bird droppings while you are away.
If you are headed to Avalon from the Long Beach terminal, there is a parking structure right outside the ferry terminal. Unless you are on the top level, your vehicle will be protected from the elements inside the parking structure.
Parking can exceed $20 per day (and that's a 24 hour day) – so if you have the option to get a ride to the terminal or take public transportation, you can save yourself some money.
Seasick much?
I never get seasick, but my kids have each had their bouts with it.
Sit outside and face forward (if possible) looking at the horizon in front of the boat. They will tell you that being up top isn't a good spot, but sometimes it's the only place to get fresh air so that's where I'd go.
Dress warmly if you are going to sit outside. Weather is cooler by the ocean and the boat is traveling fast – so there is a lot of wind and moisture to cool you down.
DON'T go inside once the ferry is underway – not even to get ginger ale. Not even to use the restroom. Just a few minutes indoors can ruin you.
Try to leave early! This is my best tip – the ocean is generally calmer early in the day before the wind picks up. An early crossing usually means smooth seas. (Not such a big deal on the way back since the boat pretty much "surfs" back to the mainland with the waves behind it.)
Read my full post on the Best Way to Cure Seasickness.

Where to stay?
I can't vouch for any of the hotels. We are a boating family – which is pretty much the equivalent of camping on the water – so I have the advantage of getting to stay on a boat when we visit.
Check the links on the visitor sites listed below for hotels. If you're going to spend all that money to get there, why not stay a while?
On our latest visit, I discovered Catalina Island Vacation Rentals for condo and house rental options in Avalon. They also rent condos in Hamilton Cove which is just around the corner from Avalon.
If you want to stay in Two Harbors, you only have the options of staying on a friend's boat, campgrounds or camping cabins, Banning House Lodge Bed & Breakfast or your choice of vacation cottages (Villa Santa Rosa or Villa Santa Cruz).
Best Online Resources for Catalina Island
Search for the 1950's song about traveling "26 miles to Santa Catalina" by The Four Preps. Probably the most famous song about the place. Be careful! It will get stuck in your head.
NO compensation received from any of the companies or websites mentioned at the time of original publication.
My other posts about Catalina
Originally published in August 2010.