Along with Ventura Harbor, Avalon Harbor was pretty much my high school summer hangout. I've written about my boating life before, but I didn't realize how much nostalgia Avalon brings me until my most recent visit. Since we were always on the family boat, we never took advantage of the tour offerings. The Santa Catalina Island Company offers a mind-boggling array of tour activities when visiting Catalina Island. Land Tours include backcountry "open-air, biofuel H1 Hummer" tours and the ever popular Zip Line Eco Tour. But, since you clicked on this post, you are probably wondering how to choose your ocean adventure at Catalina Island.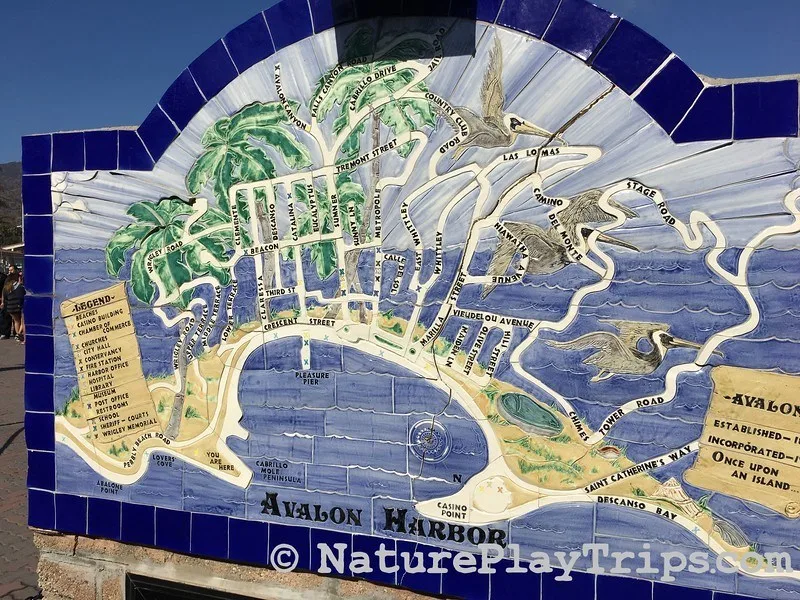 Here are some obvious and not-so-obvious ways to have an underwater adventure . . .
Take a dip at the main beach, snorkel at Lover's Cove, or SNUBA at Descanso Beach
The main beach stretches on both sides of the Pleasure Pier or "green pier" with access to the ocean with very little wave action. Access to the beach varies between just walking onto the sand, taking some steps, or there is even a ramp in one section. There is more swimming area if you take a dip at high tide. Since it's an active harbor, a line of buoys separates the swimming area from the boating area. For your safety, make sure you stay on the beach side of the buoys. The main beaches are staffed with lifeguards during the summer. The water is clear and the temps can get up over 70 degrees. If you prefer a snorkeling experience, Lover's Cove is the place. However, you need to be watchful for all the tour boats that travel in shallow water — plus the water is much rougher in this location outside the harbor. Around the corner from the Casino building is Descanso Beach. They offer something I've never even heard of (let alone never tried) called SNUBA which is a way to SCUBA without being certified. It's only offered seasonally during the summer months. But that includes September — which I personally think is the best time to visit the island.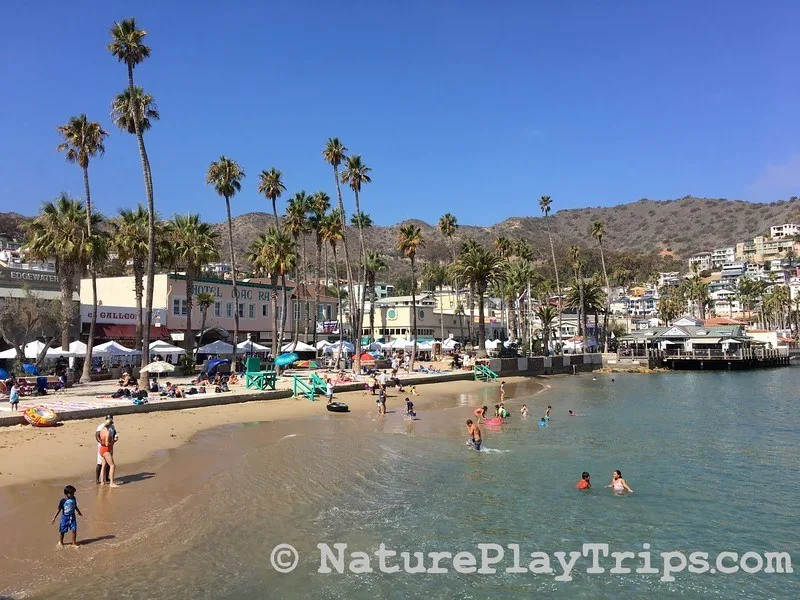 SCUBA Dive off Casino Point
Dive excursions happen in the protected waters off Casino Point Marine Park or you can take guided boat trips, as well.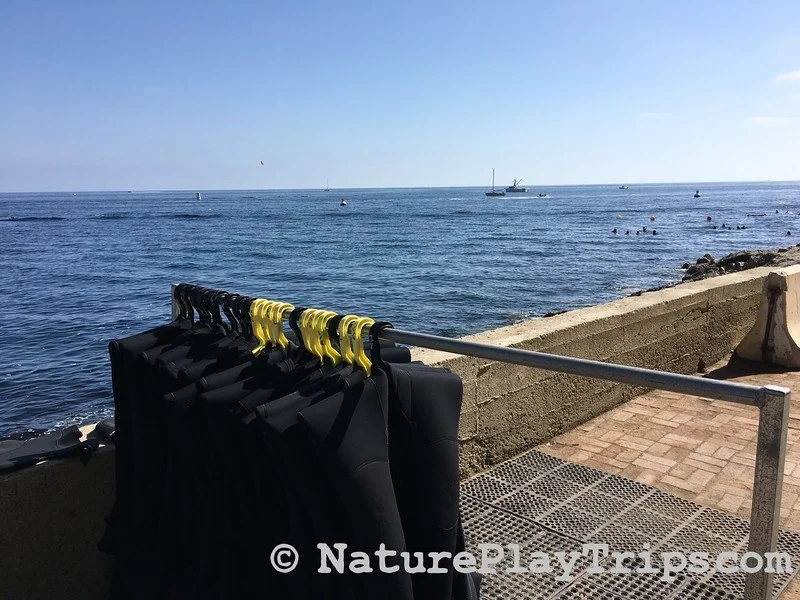 When you come in on the ferry, you'll see what look like submarines and glass bottom boats in Lover's Cove. I'm here to help you sort out which Boating Tour fits your family best. There are two tour companies on the pier. The Santa Catalina Island Company (historic and the one I think of when I think of tour operators at Catalina) which is housed in a little green kiosk that's the same color as the rest of the pier. And then there's Catalina Adventure Tours which tend to have bright yellow boats & subs. For the purpose of the is post, I'm ONLY talking about tours offered by the Santa Catalina Island Company – or the signs that say Catalina Discovery Tours.
Option #1 – The Glass Bottom Boat Voyage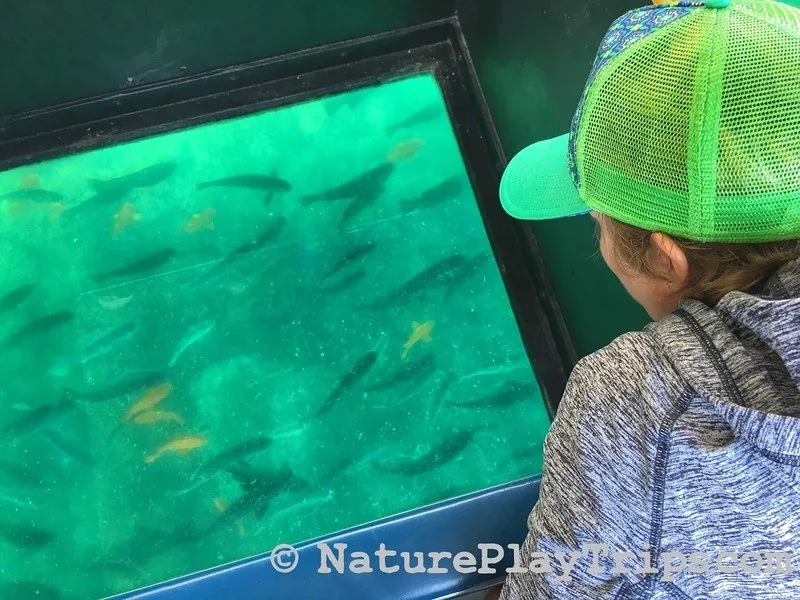 Cost (confirm on official visitcatalinaisland.com): $19 adults and $16 for kids and seniors (Family of Four = $70 for 40 minutes)
My experience:
Interpretive guide gives safety talk and shares all sorts of facts about the fish you see
Informal and easy to see the fish, kids can be loud (and they will squeal with delight seeing the fish)
You're sitting low on the boat with a continuous bench surrounding segmented viewing windows that sink down around 3 feet to the bottom of the boat
Padded arm rests so you can lean over the window
Nice, because you get fresh air and can look up to get perspective for where you are in Lover's Cove
Although the company probably doesn't promise this — you are pretty much guaranteed to see fish so the kids won't be disappointed
Option #2 – Ocean Runner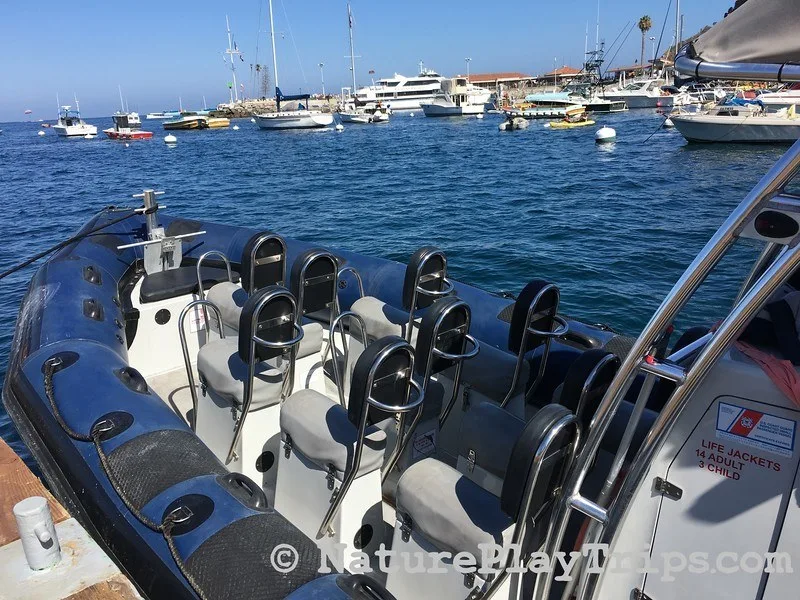 Cost (confirm on official visitcatalinaisland.com): $51 adults and $48 for kids and seniors (Family of Four = $198 for 60 minutes)
My experience:
Felt a little hesitant before the trip because of liability form and warnings about the wild ride
Kids must be at least 5 years old and ages 5-9 must sit on the back bench
No guarantees seeing any wildlife – kind of like whale watching in that you just need to see what comes your way
Once we got going I was totally at ease and loved the experience of riding on the Ribcraft at 500 horsepower near the island
The seats are specially-designed so the impact of hitting the water can be absorbed just by standing and bending your knees
No dolphin sightings this time, but our consolation prize was a buoy with sea lions and some harbor seals on a rock
You feel a sense of comaraderie with the other passengers since you are sharing the ride together
I didn't know what to do with my backpack, but I was able to stow it in front of my seat on the floor of the boat. I thought it might get wet, but it didn't even get a splash.
Better for families with kids over 9 because they can actually sit in the front section of the boat
You can get a little taste of what it felt like with my short video clips (while holding my phone and hoping it wouldn't fly out of the boat!)
Option #3 – Undersea Expedition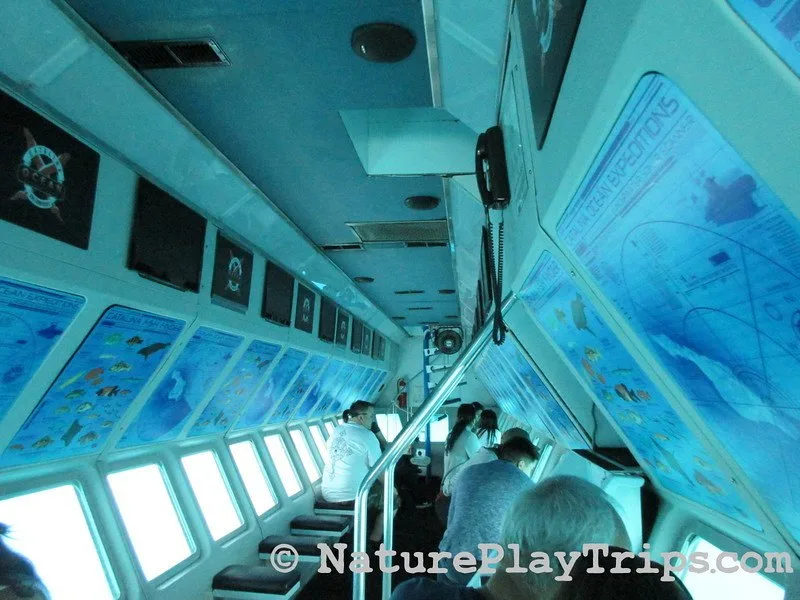 Cost (confirm on official visitcatalinaisland.com): $35 adults and $29 for kids and seniors (Family of Four = $128 for 45 minutes)
My experience:
Felt like you could get eye-to-eye with the fish
Everyone kept comparing it to the submarine ride at Disneyland, but the fish were real and the sub isn't on a track!
An incredible number of fish to view — kids can either listen to the guide or try to identify based on the ID charts above the windows
Boat ride was a little rocky because it was the end of the day and the tide was lower than our morning Glass Bottom Boat Voyage
Great comments from passengers who compared this to snorkeling and were very happy to be inside the boat rather than in the water
On the way back into the harbor, you get to come above and ride on deck to see some awesome views of Avalon and hear a little harbor history (especially nice at sunset)
Here's how shallow you get on this one: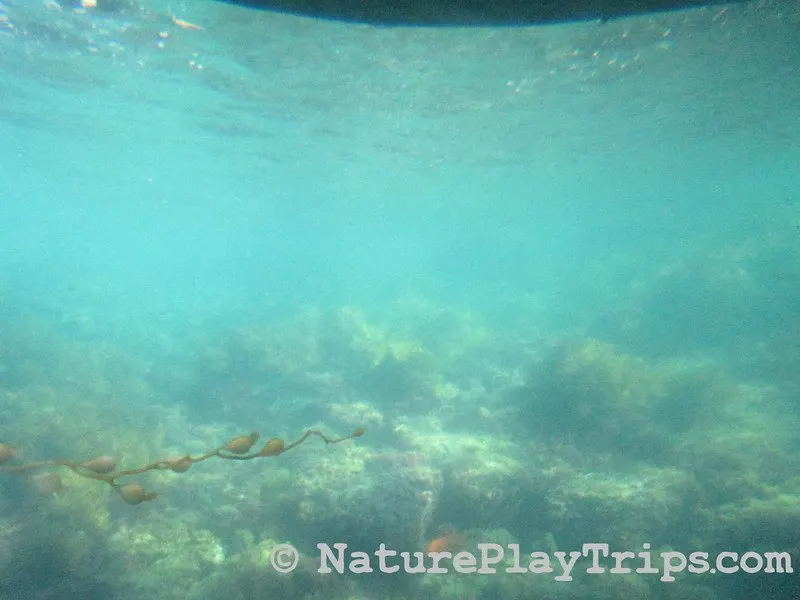 Views with a few fish: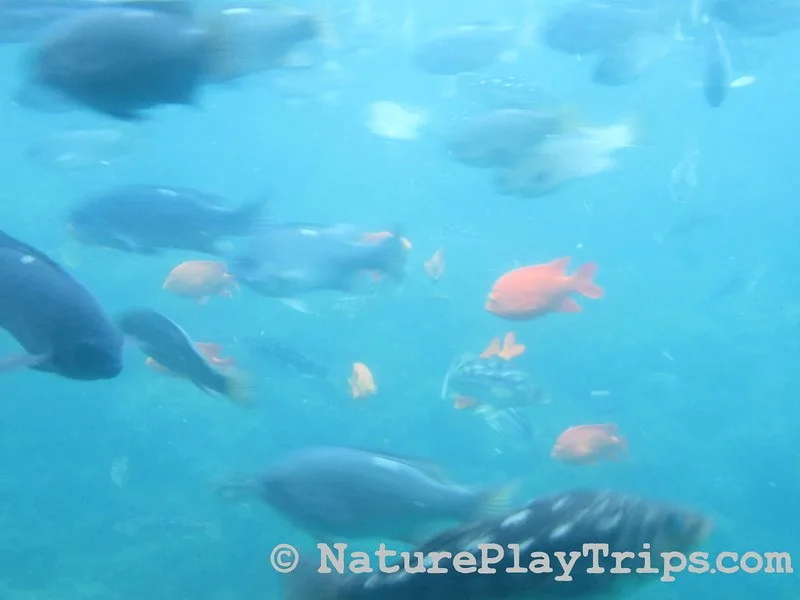 Views during the feeding frenzy: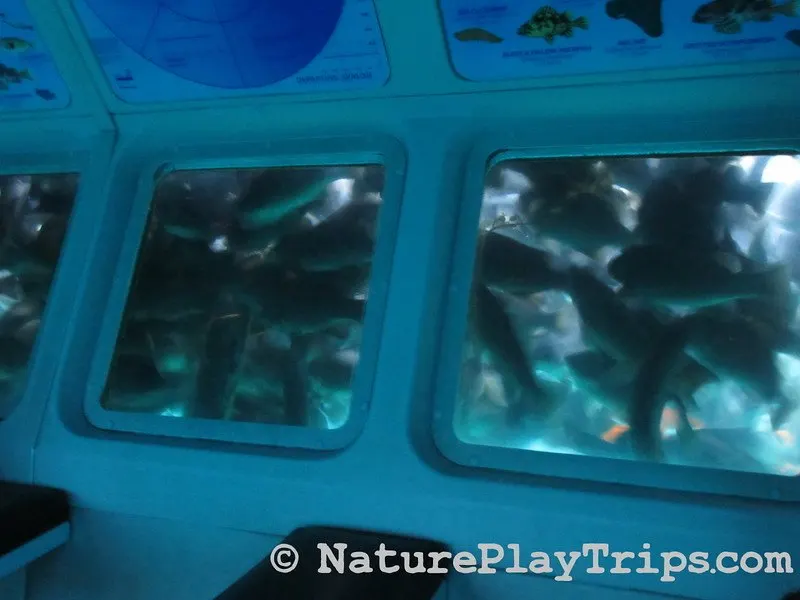 So which one should you choose?
For older kids who like excitement and adventure, I'd pick Ocean Runner. This would be especially fun for a date day or if you come over with a friend.
My favorite adventure for fish viewing was definitely the Undersea Expedition. A really unique experience. I loved this one.
However, if you are prone to seasickness or are claustrophobic — I'd stick with the Glass Bottom Boat Voyage.

How to get to Catalina Island?
I always take the Catalina Express from either Long Beach or San Pedro. Read some of my other posts for tips:
Resources
Disclosure: Catalina Express and the Santa Catalina Island Company granted me complimentary transportation to the island and 3 boating tours – at my request – for the purpose of comparing their offerings. Although we rarely take advantage of these opportunities, we thought our readers would appreciate an unbiased review for families who are trying to make informed decisions about activity choices during their stay. (My visits to Avalon Harbor span over the past 30 years and I've written about the island many times before without any form of compensation.) The companies did not request that any specific opinions be expressed.