Tierra Grande Park in San Clemente, also known as Red Barn Park, is located in Talega which is a planned community in the foothills of San Clemente featuring "acres and acres devoted to private and public parks."
Where is Talega exactly? Take the I-5 to San Clemente, follow Avenida Vista Hermosa or Avenida Pico east.
You'll find a California kid's paradise surrounded by million dollar homes and natural landscaping: oaks, chaparral, sycamores for shade, and every kind of sports field/court imaginable.
(Note: Sand has been replaced with wood chips. I need to get out and get photos of the new surface.)
How to Get to Red Barn Park in San Clemente: Tierra Grande Park is at the top of the development. From Avenida Vista Hermosa, turn onto Avenida Talega near the Talega Ralphs Shopping Center. Drive into the development until the road reaches Camino Tierra Grande. Turn left on Camino Tierra Grande and left onto Via Garona/parking lot. (Address: 399 Camino Tierra Grande, San Clemente) MAP to Tierra Grande Park in San Clemente
Recommended by: Connie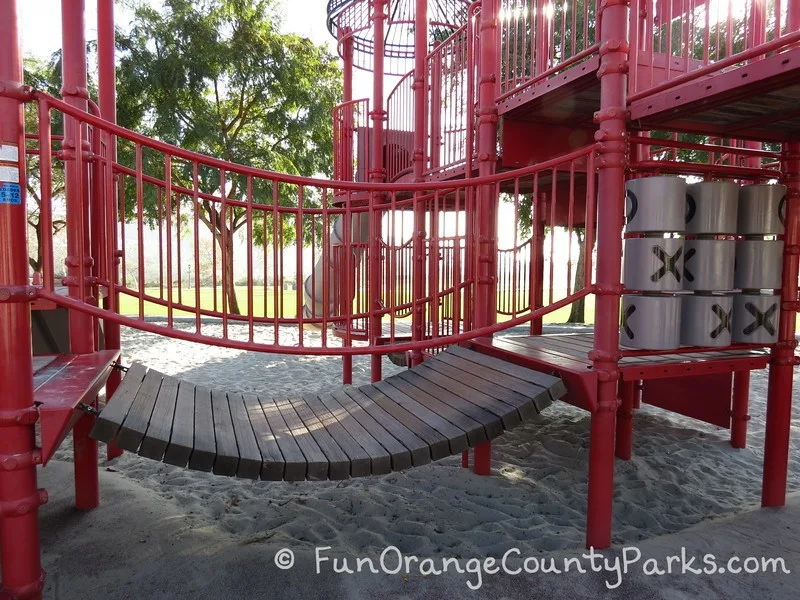 Highlights:
Farm theme complete with corral, tractor truck, and a ride-on farm horse in a corral
HUGE covered picnic area with seating for more than 100, includes 2 outdoor sinks and grills
Kids love the wood bridges and tunnels in the barn
4 big kid swings, 3 baby swings, 1 accessible swing
A variety of "spinners" – one big and round and 3 more stand-on spinners.
Small grass hill right off playground good for rolling and reclining to watch the clouds go by
Small bike path all the way around park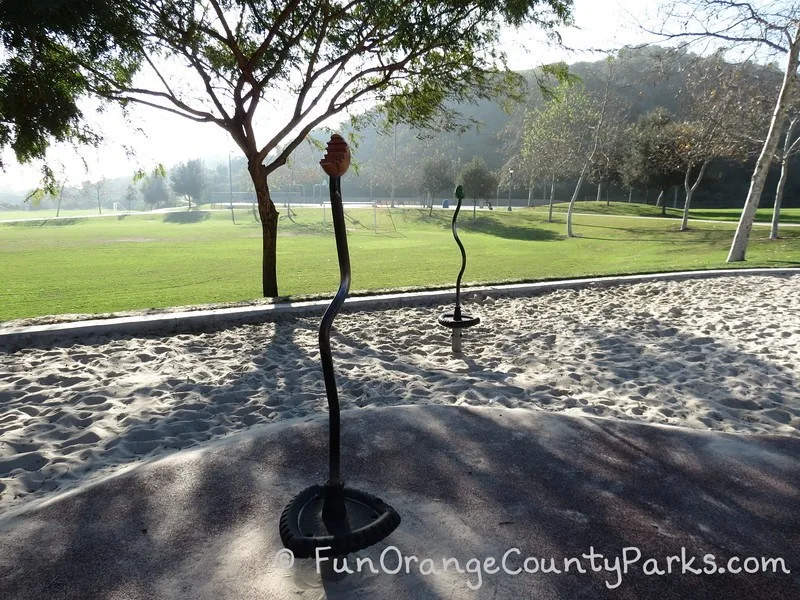 Be Aware:
A local mom (thanks, Mary!) told me slides get hot in the summer
Red Barn has plenty of spots for adults to bump their heads – so keep an eye out for bars and ledges above you
Regular drop-off points for the little ones on the big equipment- fire poles and ladders with open access for toddlers to fall
Bathroom stalls do not have doors
If you let them lose on the field, little ones might be tempted to climb the soccer nets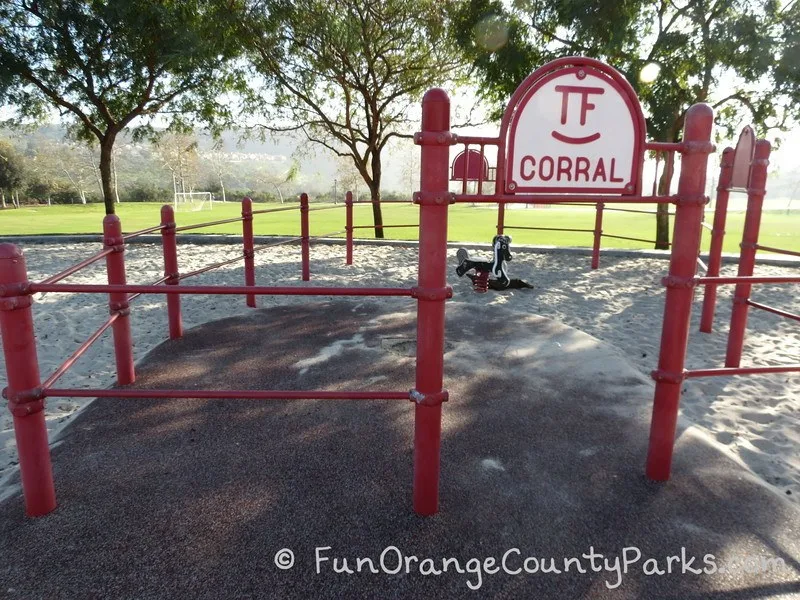 Nature Connections:
Make a game out of finding the shady spots and the sunshine-y spots
Roll down the small grassy hill by the playground
Lie on the grass and watch the clouds
Spot local birds and wildlife – we saw a scrub jay when we were there
Pick up fallen sycamore leaves and sticks to make a fairy house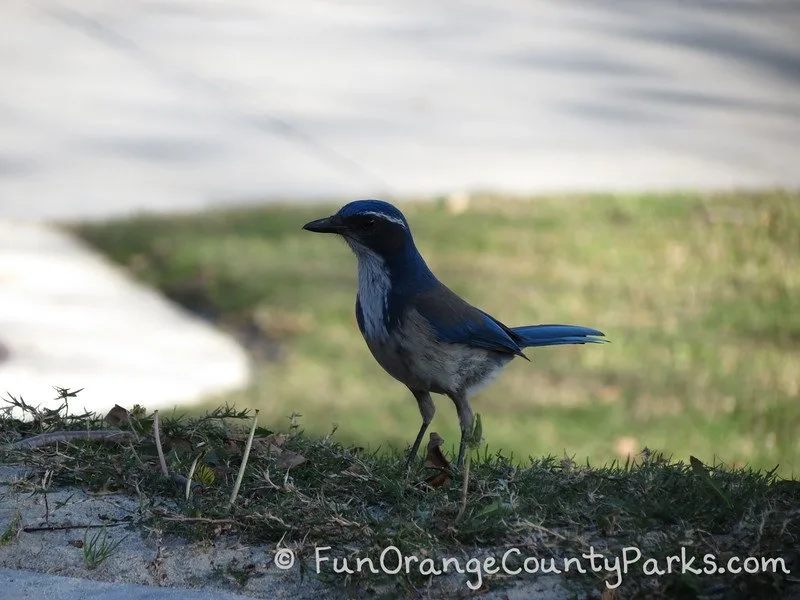 Checklist:
Dedicated parking lot with plenty of spots
Play surface is bark and recycled rubber
Bathrooms are open air style with unprotected skylights and stainless steel toilets – no paper towels
Covered picnic area for shade, plus plenty of sycamores surrounding playground
Really nice benches for viewing the kids – and a curb all the way around the perimeter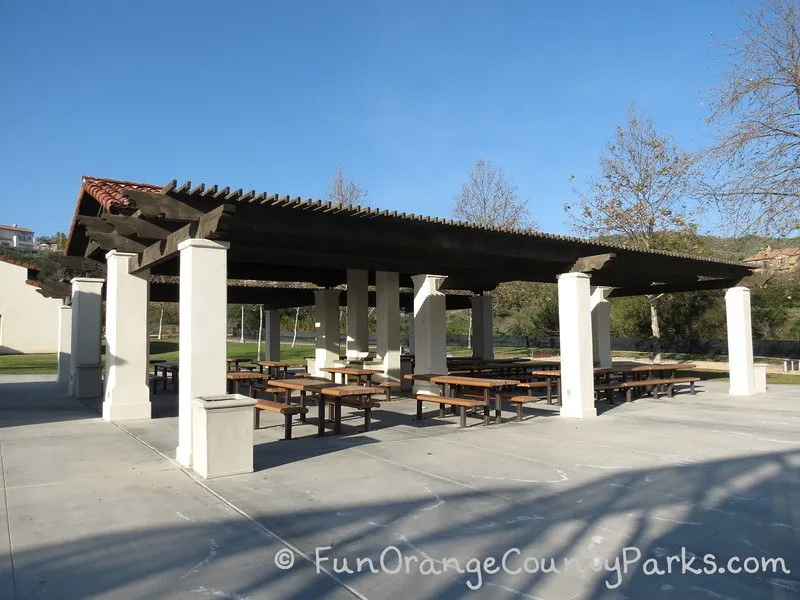 Soccer field
2 baseball/softball diamonds
Lighted basketball court (2 half courts with one full court in between)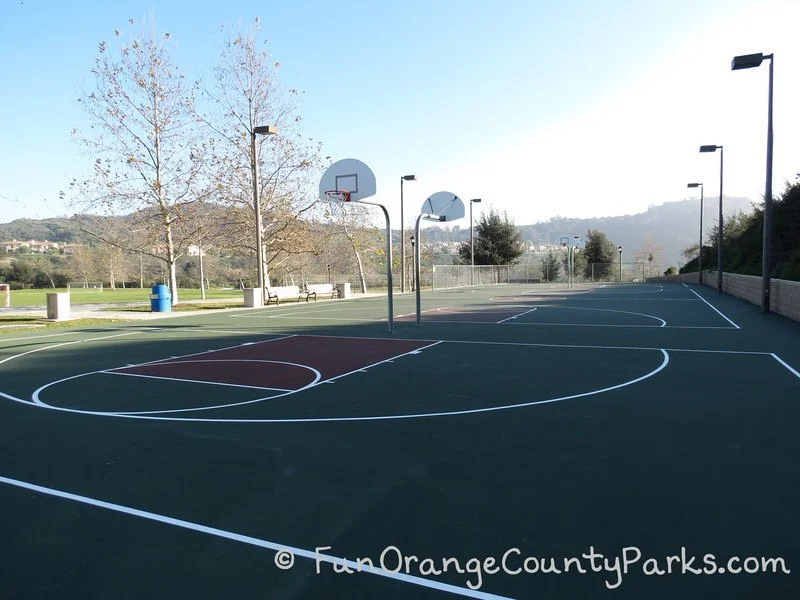 2 horseshoe pits
Definitely bring a lunch to this park to enjoy the spacious, shaded picnic area
Recycle trash bins all around park
3 drinking fountains – one near picnic area
Nearest public library: San Clemente branch of OC Public Libraries
Parks Nearby Red Barn Park in San Clemente:
Originally published in July 2008.