My sis told me about this simple, no-cook dinner dip recipe over the phone. However, it didn't quite capture my interest enough to put it together. Anything with lentils as the main ingredient sounds too healthy for a splurge. Then she brought it to our last Nature Play Club and I'm hooked on this stuff! The 6+ year olds also liked it. I made it for dinner over the weekend and it was super-quick. The kids can even help you make it!
Ingredients:
1 pkg. ready-to-eat steamed lentils (from refrigerator veggie section at Trader Joe's)
1 container bruschetta (also in refrigerator section near guacamole and hummus)
1 small container of feta (in the cheese section)
Mix all ingredients in a to-go bowl. It tasted even better to me after it sat overnight in the refrigerator. Then grab a bag of chips: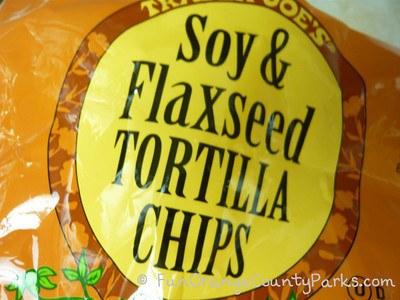 Head to the park for dinner! For Nature Play Club, we went to Chapparosa Park and had a water balloon fight before dinner.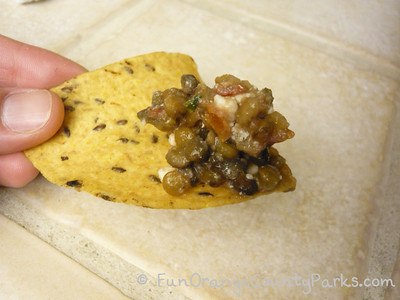 Note: Recipe idea originally from Trader Joe's in-store demonstration station. I'm not making any nutritional claims here. It may not be a great choice for dinner, but it's almost too filling for an appetizer. Of course, watch ingredients if you have food allergies.
Do you have any other simple picnic recipes that kids like? Please send them my way (ocplayparks@gmail.com) and I'll share them.