Make-ahead twice-baked potatoes are part of my strategy to prepare family meals ahead of time to make room for extra play time! I'm sharing some of my favorite make ahead meals, in hopes that you'll have more time to play during the week. Check out some of the MAJOR benefits:
Cooking together with your kids is also play time
Eating meals together is good for the whole family
Kids are more likely to eat what you serve when they help make it – at least it's worked for me
Making meals ahead can make at least one day during the week less stressful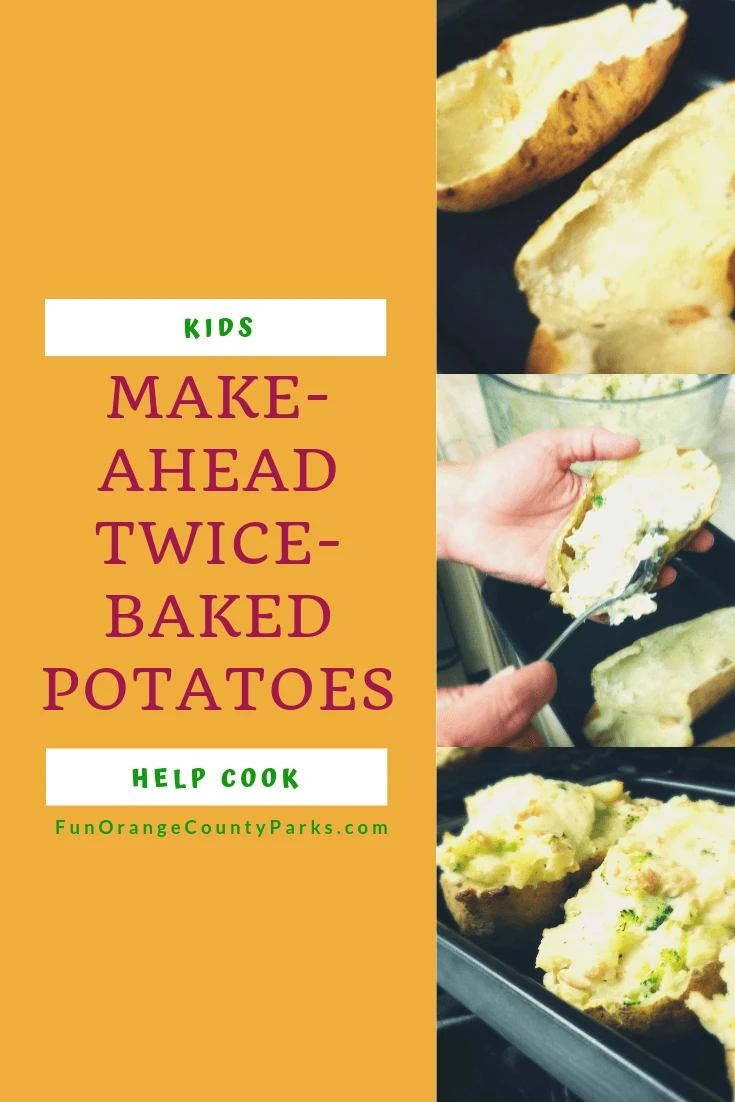 My mom made this twice-baked potato recipe for me when I was a kid. She still makes it for her grandkids since my kids request it. I still crave it and prepare twice-baked potatoes at least once a month.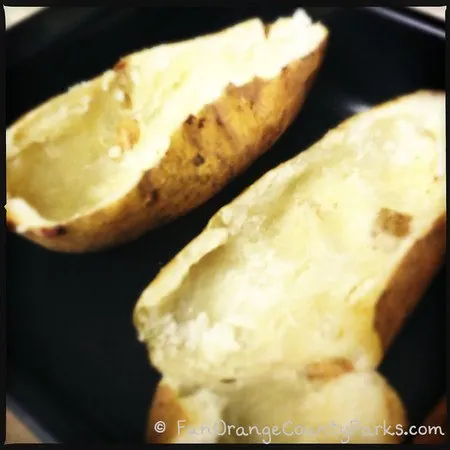 I included some different styles of making it in the recipe card below, but the sky is really the limit. You can add toppings like chili or chicken pot pie filling.
Or you can use sour cream and chives along with the butter and milk for a more classic baked potato flavor.
We find that the recipe is plenty of food especially when paired with a salad, but you can have it with a steak or chicken breast meal.
Yield: Makes 10 potato halves. Serves 4-5.
Make-Ahead Twice-Baked Potatoes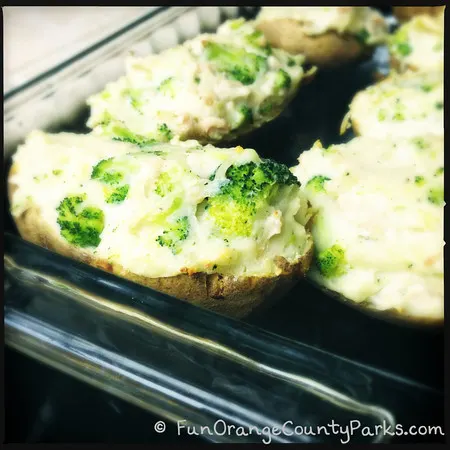 Twice-baked potatoes like my mom used to make them. Make ahead so you can go out and play without worrying about prepping dinner when you get home.

Prep Time 30 minutes

Cook Time 1 hour 30 minutes

Total Time 2 hours
Ingredients
5 russet potatoes
Broccoli
1 lb. ground turkey (or make it vegetarian with more veggies)
Milk
Butter (or Earth Balance)
Garlic salt and garlic pepper
Your favorite cheese, shredded
Instructions
Bake the potatoes for an hour in a 425 degree oven. (I wash the potatoes and bake for 30 minutes on one side. Then I use a knife to poke holes in the potato at the halfway point.)
While the potatoes are baking, I usually brown the ground turkey in a skillet and steam the broccoli in the microwave. (To steam broccoli: Cut into bite-sized pieces, place in a ceramic or glass bowl with a few tablespoons of water, cover - heat in the microwave on high for 4 minutes or until soft).
Pull potatoes out of the oven and cut in half lengthwise.
Hold one potato half in a potholder while you scoop out the baked potato into a mixing bowl. Leave a thin lining of potato on the skin, so that the potato skin stays intact.
Place the potato skins in a 9x13 pan.
Make mashed potatoes in the mixing bowl by mashing the insides of the baked potatoes, then splash about ¼ cup of milk and 2 TBSP butter (to taste) into the bowl - mix with a hand mixer. Add more milk, as needed, to get the right creamy consistency. Sprinkle with garlic salt and garlic pepper, to taste. [Let the kids lick the beaters with mashed potato.]
Now is the fun part! Stir the ground turkey, broccoli, and whatever else you want to add into the mashed potatoes with a large spoon. [Kids can help with this part. Note: If your child likes things "plain" you can add the cheese first - and scoop theirs into their potato skin. Then add all the grown-up stuff to the rest of the batch.]
Spoon potato filling mixture into the remaining potato skins. Let potatoes mound up over the edge of the skin (see photos). [Kids can also help stuff the potato skin.]
If you are saving for later, you can stop at this point, cover the pan with foil and put it in fridge until you are ready for the 2nd bake.
Bake at 350 degrees for 30 minutes (or until cheese melts and tops are slightly golden).
Serve with salad or on its own. We even eat the potato skins. Enjoy!
Notes
Other ideas for stuffing:

Cheeseburger Style - ground turkey and cheese only

Ham/Bacon & Cheddar - diced ham with shredded cheddar

Ham/Bacon & Swiss - diced ham with shredded swiss

Veggie - grilled onions, peppers, mushrooms and spinach + vegan cheese (we like Almond Mozzarella from Trader Joe's)