Make ahead family meals are one of my biggest strategies when it comes to finding extra play time! I'm going to start sharing some of my favorite make ahead meals, in hopes that you'll have more time to play during the week. Check out some of the MAJOR benefits:
Cooking together with your kids is also play time
Eating meals together is good for the whole family
Kids are more likely to eat what you serve when they help make it – at least it's worked for me
Making meals ahead can make at least one day during the week less stressful
I adapted this recipe from my favorite Cooking With All Things Trader Joe's Cookbook.
And my last cooking tip is to use Le Creuset Dutch Oven. They are expensive, but I've had mine for 15+ years. My mom still has hers from when I was growing up.
Yield: Serves 4.
Make-Ahead Winter Chili
Chili tastes better when you eat it the next day! Fine tune the recipe so it fits your family's tastes. You can make it as organic or vegetarian as you like. My kids like it because they can add their own toppings.

Prep Time 20 minutes

Cook Time 20 minutes

Total Time 40 minutes
Ingredients
1 pkg extra lean ground turkey
1 cup chopped onion
1 cup chopped carrot
1 cup chopped celery
1 TBSP olive oil
1 tsp ground cumin
2-4 TBSP chili powder (or to taste)
1 (28-oz) can diced tomatoes
1 (15-oz) can black beans
Half a can of vegetarian refried beans
½ cup of your favorite salsa
2 TBSP barbecue sauce
Chipotle Tabasco, to taste
Salt and pepper to taste (I like garlic salt and garlic pepper.)
2 cups frozen spinach
Topping: Smashed up Fritos or tortilla chips
Topping: Shredded cheese
Topping: Sour cream
Vegetarian version: Replace meat with bell peppers and an extra can of black beans.
Instructions
Heat olive oil in a Dutch oven or large stock pot. Cook onions, carrots, and celery for 5 minutes. Add ground turkey and cook until brown, breaking it up as it cooks. Add ground cumin and chili powder and cook one minute longer.
Add remaining ingredients, except spinach. Make sure refried beans are stirred and dissolve.
Add spinach (no need to thaw).
Bring to a boil and then lower heat to simmer for 10 minutes.
Refrigerate overnight and serve the next day for the best possible results.
The toppings are the best part! Kids love to add toppings to their new recipe.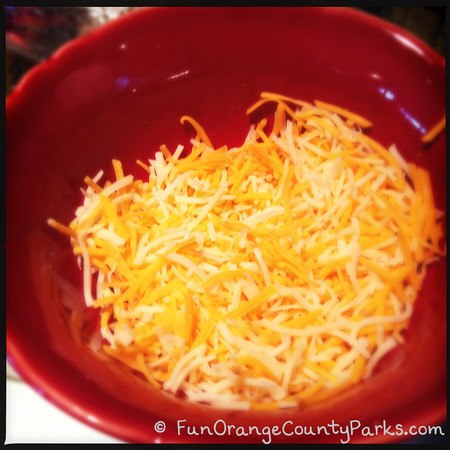 Disclosure: This post contains affiliate links. Read full disclosure policy.