Shapell Park in Yorba Linda is a great, quiet little park for smaller or less-coordinated kids. We usually run into toddlers there. There are some nice views of the surrounding hills, but you don't feel like you're up high and totally exposed like many of the other Yorba Linda parks. It's ideal for picnics.
Location: Shapell Park in Yorba Linda is located in between Imperial Highway and Yorba Linda Boulevard off the 91 Freeway. Exit at Imperial Highway and turn right on E. Orangethorpe Avenue. Then make a left onto Fairmont Blvd, a right onto Village Center Drive, followed by a left onto Vista Del Mar. The park and parking lot are located on your first right. (Address: 5510 Vista Del Mar, Yorba Linda) MAP TO SHAPELL PARK IN YORBA LINDA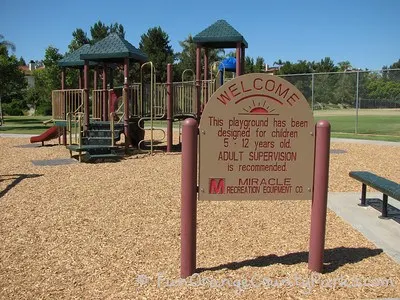 Highlights:
Nice little neighborhood park with a view of the surrounding hills. Wonderful for families with young children.
Small but fun play structure geared toward 5-12 year olds, but it seemed perfect for my toddler.
On the morning we were here there were many bunnies hanging around and munching on the grass. Look for the big ears sticking up to spot them.
Nice full-sized baseball diamond provides more space to run around if no games are being played.
Ample benches and picnic tables, as well as a bbq grill.
2 baby swings, no bench swings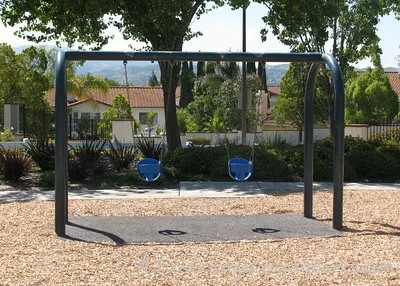 Be Aware:
No real warnings here, except the playground is designed for 5-12 year olds.
No shade on the playground.
No bench swings.
Checklist:
Dedicated parking lot.
Bark play surface
Restrooms are just off to the side of the playground near the parking lot
Drinking fountain
Picnic tables and grills
Baseball diamond
Nearby public library: Yorba Linda Public Library