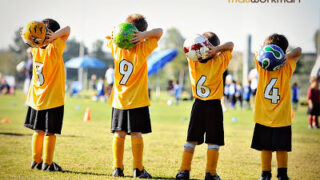 I first met Mali Workman over a year ago at a blogger event. Mali and Noel are our official site photographers. They bring play to life like no other photographers I know. They are responsible for our avatars, logo, and photos in print publications. I can't recommend them highly enough. I specifically asked them to share highlights of anything they might be doing to promote play. Mali came back with a creative fundraising solution:
It all started with my kids' coaches asking if I had any ideas to help raise money for the team.
Every mom has a talent and mine happens to be photography. I had no idea how this could be an asset to the sports team, but it was actually a pleasant fundraising experience for all involved.
The coaches sent out an email to all of the families with a link to Mali Workman Photography. For each family from the team who booked a photography session with me, I donated $250 to the team. The families also received $100 off the portrait session. So the families got a nice discount on their professional photographs and helped their team at the same time.
It's been gratifying to help out local sports teams, because I'm such a believer in sports keeping kids out of trouble.
If you are a parent or coach out there interested in this fundraiser idea for their PTA or sports team, please contact Mali. Even if you just want to gather some info, she's really nice and always has helpful suggestions. Her contact information is on her Mali Workman Photography website.
Want to see more from Mali (and Noel)? Here's a post with a slideshow of our FunOrangeCountyParks.com playful photography session.

*Mali is a friend and one of our official photographers. Read our full disclosure policy.