It says so right on the menu: "Sit, Stay & Play."
Play? At a restaurant? Everything about The Lazy Dog Cafe is playful from the red fire hydrant you see on the way in — to the tiny dog bone shaped mints you grab from the hostess desk on the way out.
This was a perfect lunch stop after our family play day at the park. We went to Heritage Park Play Island in Cerritos from 10-11:30am and then headed to the Los Cerritos location. It was a chance for the adults to wind down in a relaxing and warm atmosphere with top service, while the kids enjoyed coloring in the menu and spotting all the canine accents around the restaurant. The patio would be an excellent option if you wanted to bring your dog.
Mr. Play Parks and I tried the Chicken Lettuce Wraps which were scrumptious. We'd also recommend the Tex Mex Salad. The Campfire Pot Roast and the Smothered Chicken are heartier choices for those who prefer comfort food.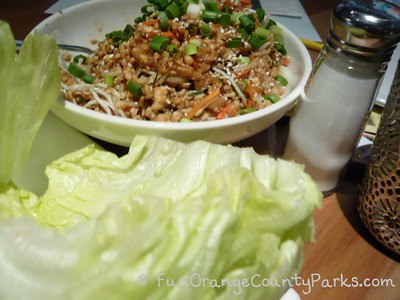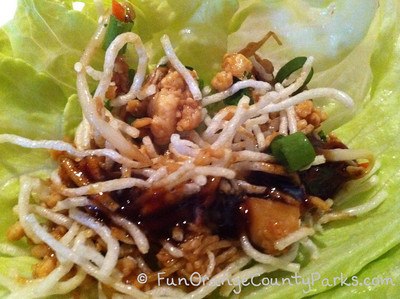 The theme follows through on the Puppy Dog Menu. It's the first kids menu I've seen with "Starters" to satisfy hungry mouths with a healthy selection of edamame, tofu, or carrot sticks before the main meal. My son opted for the grilled chicken with fries, although he could have chosen veggies or fruit for sides. He got a side of barbecue sauce and was thrilled that it wasn't too spicy for his taste. My daughter opted for the Build Your Own Pizza. It's another brilliant idea to keep the kids occupied before the main course arrives. My daughter enthusiastically added toppings to her own pizza and our server marked it with her name and brought it back to the kitchen for cooking.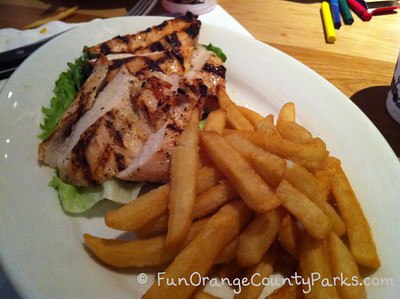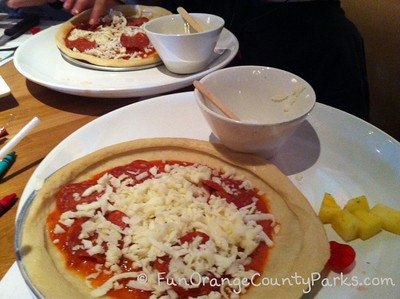 The Strawberry Banana Smoothie was more banana than strawberry and came with a hearty dose of whipped cream on top. It was big enough for the kids to share with Mom and Dad — not that they wanted to share. That's okay, because Mom and Dad enjoyed their "Lazy Dog Favorites," marked by a little dog paw stamp on the menu. The meal ended with the kids making their own dog collar dessert. Now . . . how fun is that?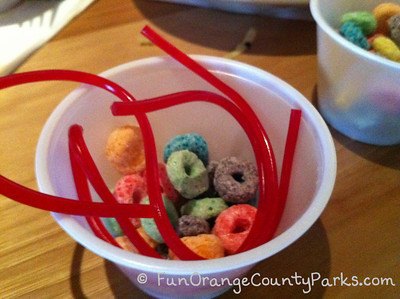 The Lazy Dog Cafe just opened a new location at the Los Cerritos Center off the 605. They already have three Orange County locations: Westminster, Orange, and Irvine. Lunch and dinner is served daily in addition to Saturday and Sunday brunch.
Trivia: Chris Simms is the CEO and Founder of Lazy Dog Cafe. Thomas Simms (Chris's father) and Arthur Simms (Chris's grandfather) created Mimi's Cafe which debuted in Anaheim in 1978. Read this letter from Chris which explains more of the family story and what Lazy Dog Cafe is all about.
GIVEAWAY: We are giving away a $10 OFF "Lucky Dog" Discount Card for use at any Lazy Dog Cafe location. Just leave a comment telling us what you'd order off the menu! The giveaway period ends at 11:59PM tonight (March 16). We'll randomly select a winner and announce it tomorrow.
NO extra entries for a "Like" on Facebook, but check out the Lazy Dog Cafe and our Fun Orange County Parks pages to see what people are talking about. Giveaway is over and Jennifer was our winner.
Disclosure: We received complimentary menu items for the purpose of first-person reporting to our readers. Read our full disclosure policy.